When you've had your fabulous fill in Cape Town, it's time to slow down and explore the Cape Winelands wine farms. An hour-long drive from the city winds its way through patchwork vineyards and dramatic mountainscapes. To a place so beautiful, the French decided to bunker in 400-odd years ago. South African wines combine the best of Old World refinement and New World adventure. Bold reds and whimsical whites make way for delicate blends and local specialities at home amongst the world's finest wines. With hundreds of Cape Winelands wine farms to visit, we've hand-picked 12 of our favourites for you.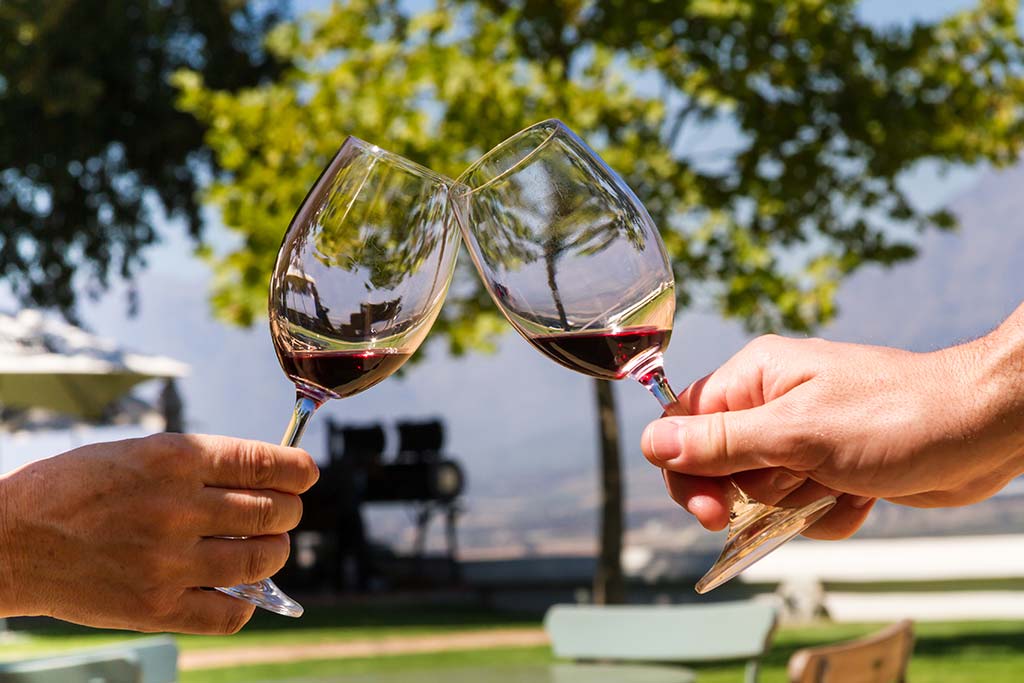 Cheers your way through the Winelands
Top Cape Winelands Wine Farms
1. Mont Rochelle: All-in-one Cape Winelands Experience
Oh, how we love it when Dicky Branson tosses his money around our fair country. You get the feeling he likes a good view and is more than passing fond of a good time. By way of a good view at Mont Rochelle, you'll have hectares of rolling vineyards and manicured gardens framed by the jagged sheerness of Franschhoek's mountainous backdrop. And for a good time… well, we'll leave that entirely up to you, but in-between, you'll love the spa, the restaurants, wine cellar, large well-appointed rooms, quirky detail and welcoming staff. And like you'd expect, the wines are top-notch too.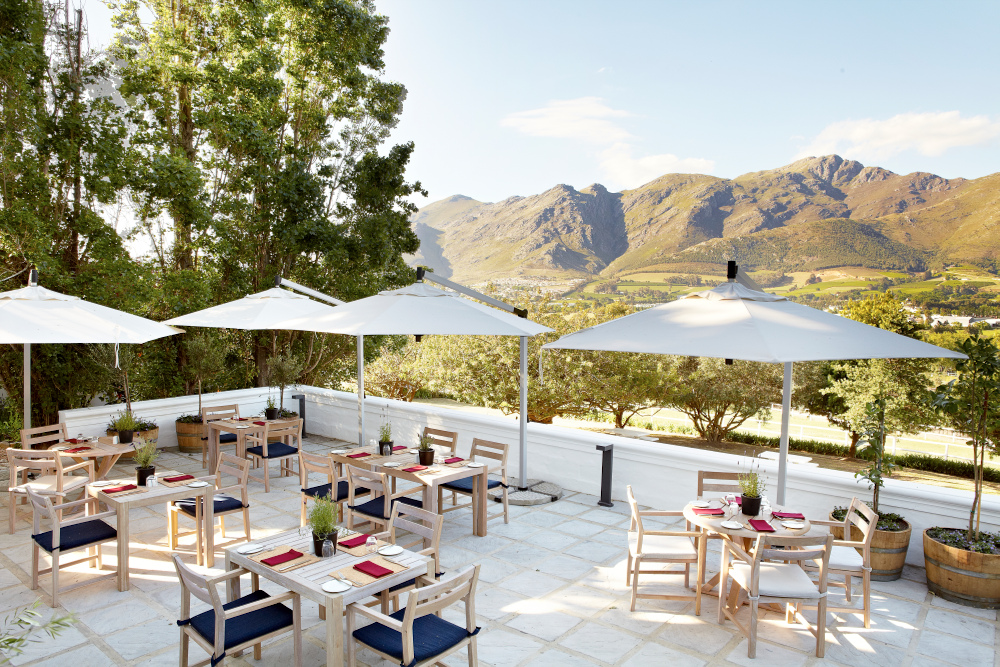 Views, views, and more views, Image Credit: Mont Rochelle
2. Boschendal: Eat, Drink, Sleep, Repeat
Halfway between Stellenbosch and Franschhoek, Boschendal is one of South Africa's oldest wine farms and one of our favourite places to stay in the Cape Winelands. Founded in 1865, the farm delivers historical charm and modern sophistication by the barrel load. Delightful farm cottages serve a generous helping of romance, and the farm-to-table restaurant and its casual deli are a fine excuse to quaff some well-paired estate wines.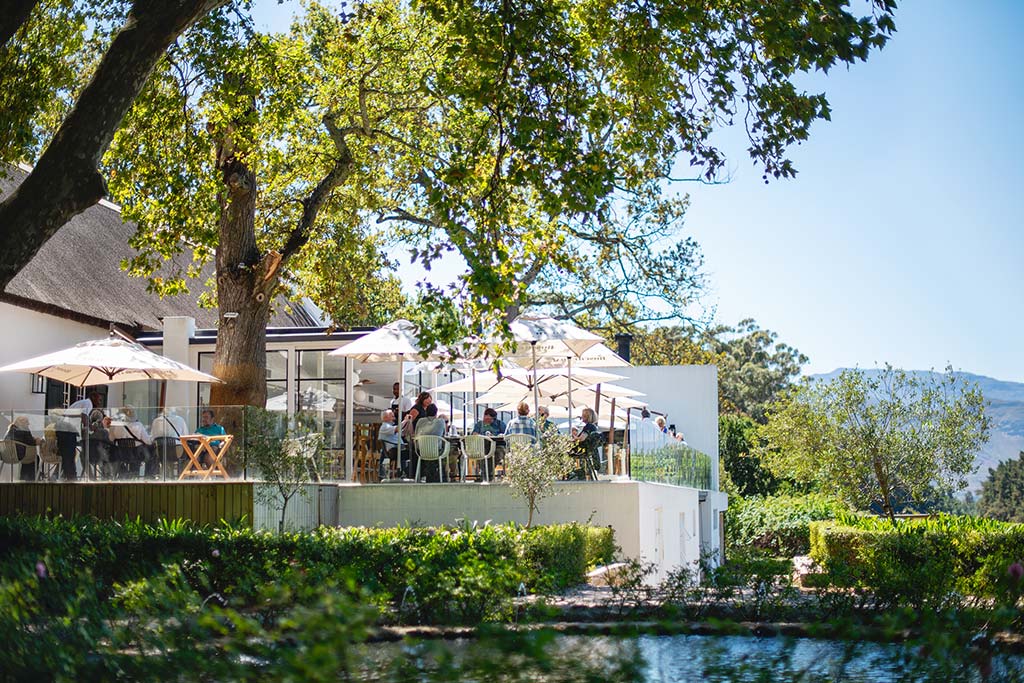 Sip and swirl spectacular wines, Image Credit: Boschendal
3. Babylonstoren: Garden of Eden
New and Old make friends at Babylonstoren with glass boxes grafted onto original 17th-century farm buildings. The restaurant, supplied by an enormous food garden, is booked out months in advance, and its seasonal menu is an ode to the vitally simple pleasures in life: food, wine, friends and a jolly good… time. Top it off with picnics, wine tastings, spa treatments and garden walks, and Babylonstoren is your quintessential Cape Winelands experience. Equidistant between Stellenbosch, Franschhoek and Paarl, you are well-placed for a lazy, boozy trundle through South Africa's wine country.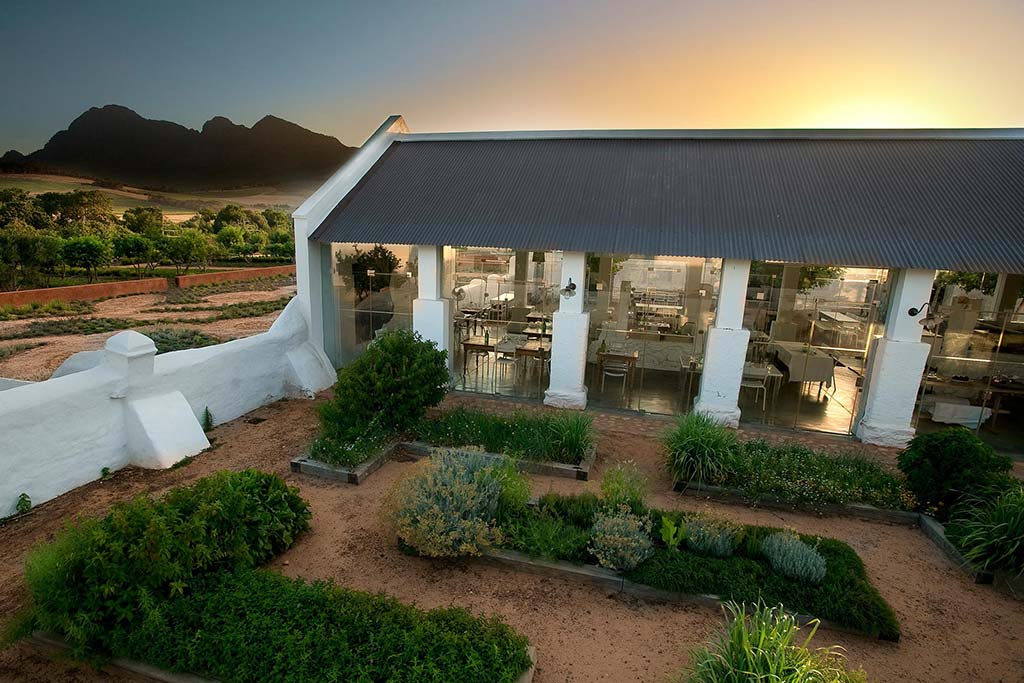 Magical gardens, wine, and all things fine, Image Credit: Babylonstoren
4. Haute Cabrière: It's Pinot Time
If you loved watching the movie Sideways and want your life changed by a pinot, make tracks for Haute Cabrière. Another centuries-old wine farm turned new-world phenomenon in the Cape Winelands, Haute Cabrière is an award-winning winery just outside Franschhoek. Winemaker (and total dish) Takuan von Arnim uses two classics – pinot noir and chardonnay – to make a variety of blended, sparkling and dessert wines. And, of course, single varietal wines lauded by wine buffs globally. Time your visit for brunch or lunch at the Cabrière restaurant and enjoy your valley view with a well-paired pinot.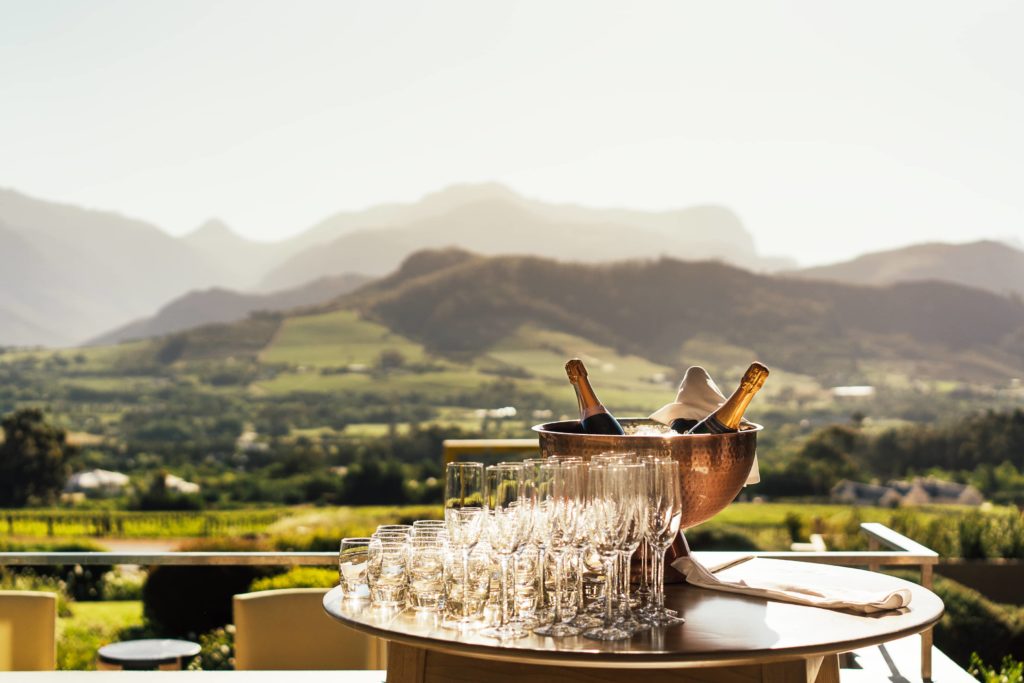 Bubbling over in the Winelands, Image Credit: Haute Cabrière
5. Meerlust: The Grand Old Dame
Another gay-owned behemoth of the Cape Winelands, Meerlust has been raking in awards and accolades for centuries. The original farmhouse dates back to the 1700s, positively palaeolithic by new-world standards. Their flagship Rubicon blend is a Bordeaux-style legend that sets the bar for elegance and finesse in the Cape Winelands region. With just a single white wine, chardonnay, produced on-site, Meerlust is a red-centric homage to French winemaking. Partway between Stellenbosch and the False Bay coast, Meerlust wine estate has two private villas celebrating the setting, history and raison d'être of this magnificent wine farm.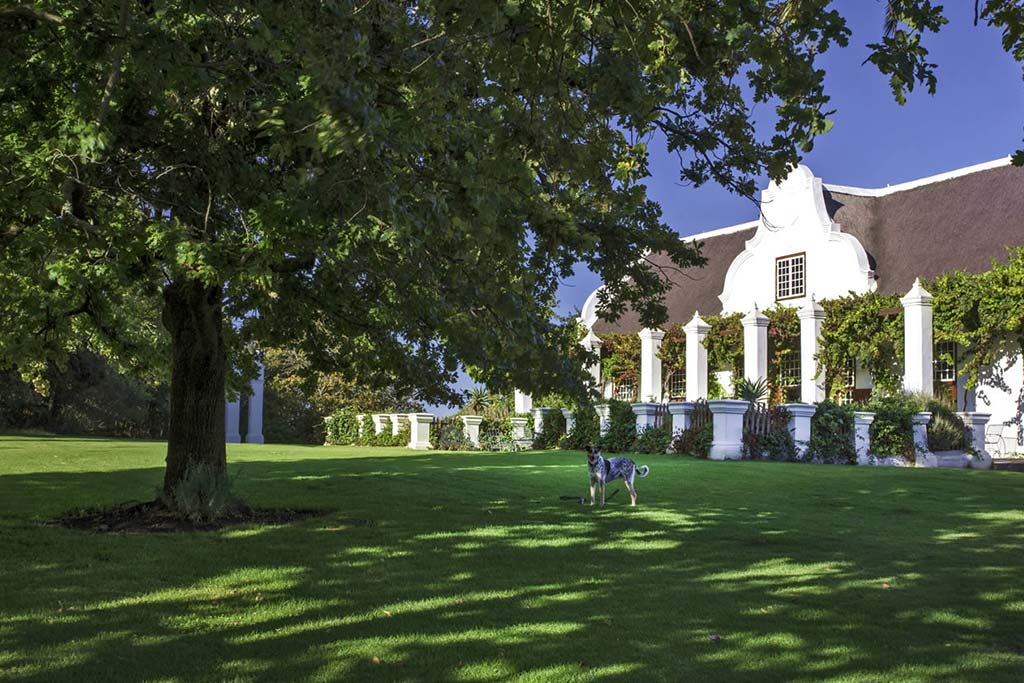 Magical magnificence at Meerlust, Image Credit: Meerlust
6. Holden Manz: Fine Wine, Fine Dining and Fine Art
With all the finery surrounding Holden Manz, it's no wonder this gay-owned wine estate is one of our favourite places in the Franschhoek Valley. Growing only red grapes (and importing white grapes), this wine farm produces high-class wines expertly paired with a tasting menu or pre-packed picnic basket for a riverside retreat. This gorgeous setting will stir the romance, so you might want to stay a night or two at the contemporary-styled county house and spa. HM, as we oenophiles like to call it, is on the Franschhoek Wine Tram circuit, making it an excellent base to explore the whole valley.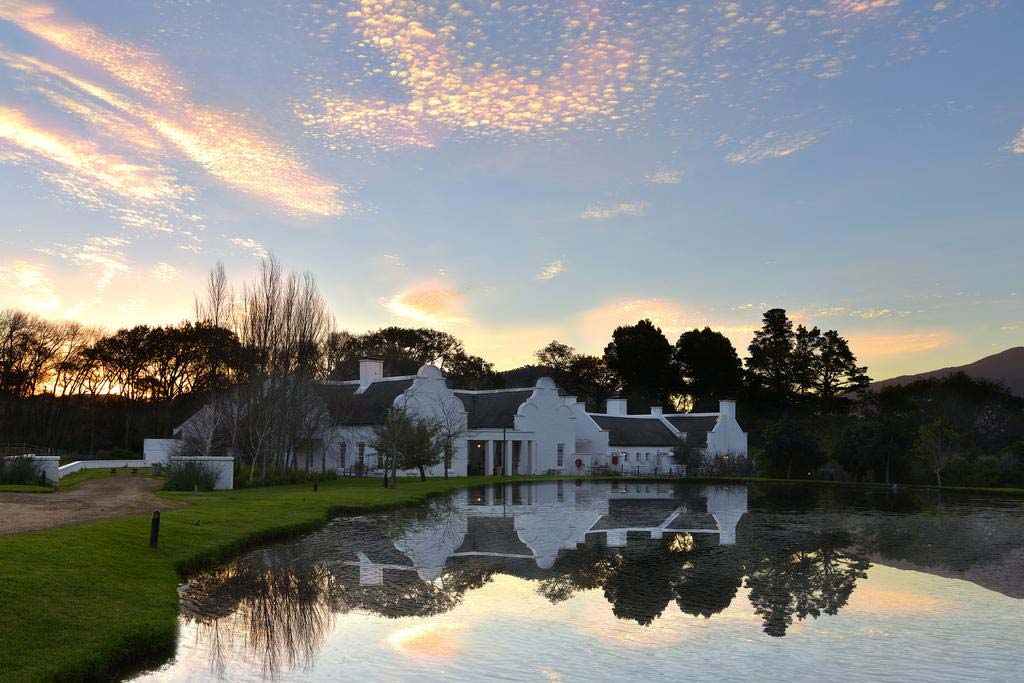 Romance on the dam, Image Credit: Holden Manz
7. Jordan: Seriously Good Wine and Food
Producing a variety of grapes especially suited to the soil and climate, Jordan wines are well-respected for their accessibility and elegance. Just outside Stellenbosch, you'll drink in the view of mountains with immaculate vineyards and wild fynbos in the foreground. And then you'll devour the food. Then you'll devour some more wine. Then you'll probably want to devour each other in your luxury suite.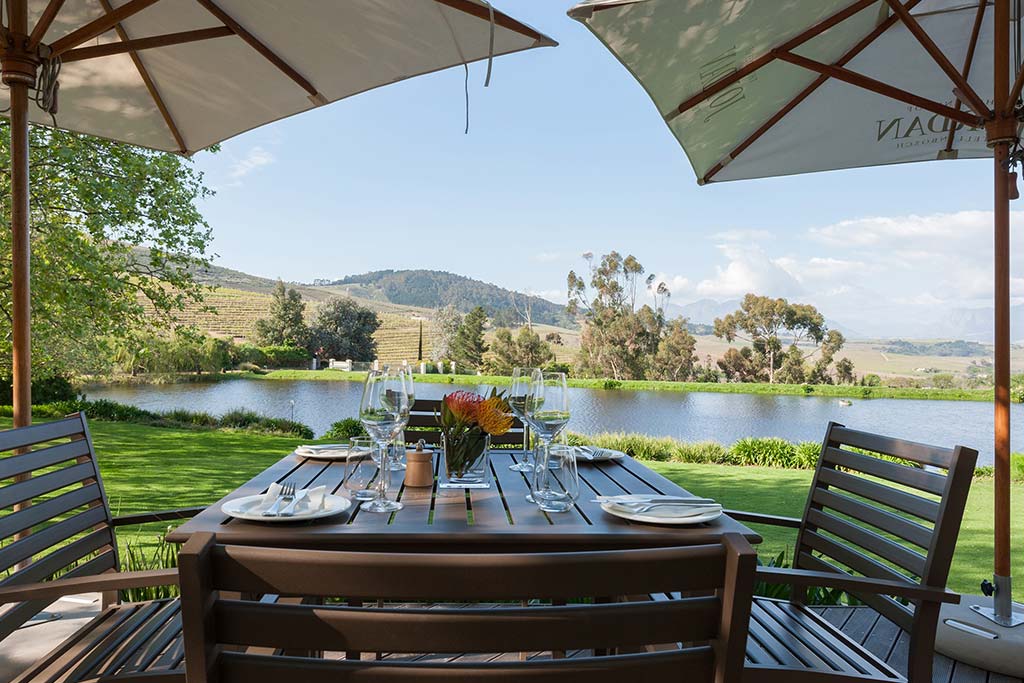 Wine with a view, Image Credit: Jordan Winery
8. Rust en Vrede: Classic South African Reds
Just outside Stellenbosch and in business for several centuries, Rust en Vrede (Rest and Peace) is famous for classic South African reds in a classic South African setting. Out of its original Cape Dutch farmhouse, the restaurant pairs contemporary dishes with the estate's award-winning blends noted for their oaky, dark fruit and earthy tones. The winemaker's lunch features steak or salmon, while the restaurant serves a six-course set menu. Either way, if you plan to dine at Rust en Vrede, come hungry and give yourself plenty of time to enjoy this magnificent Cape Winelands farm.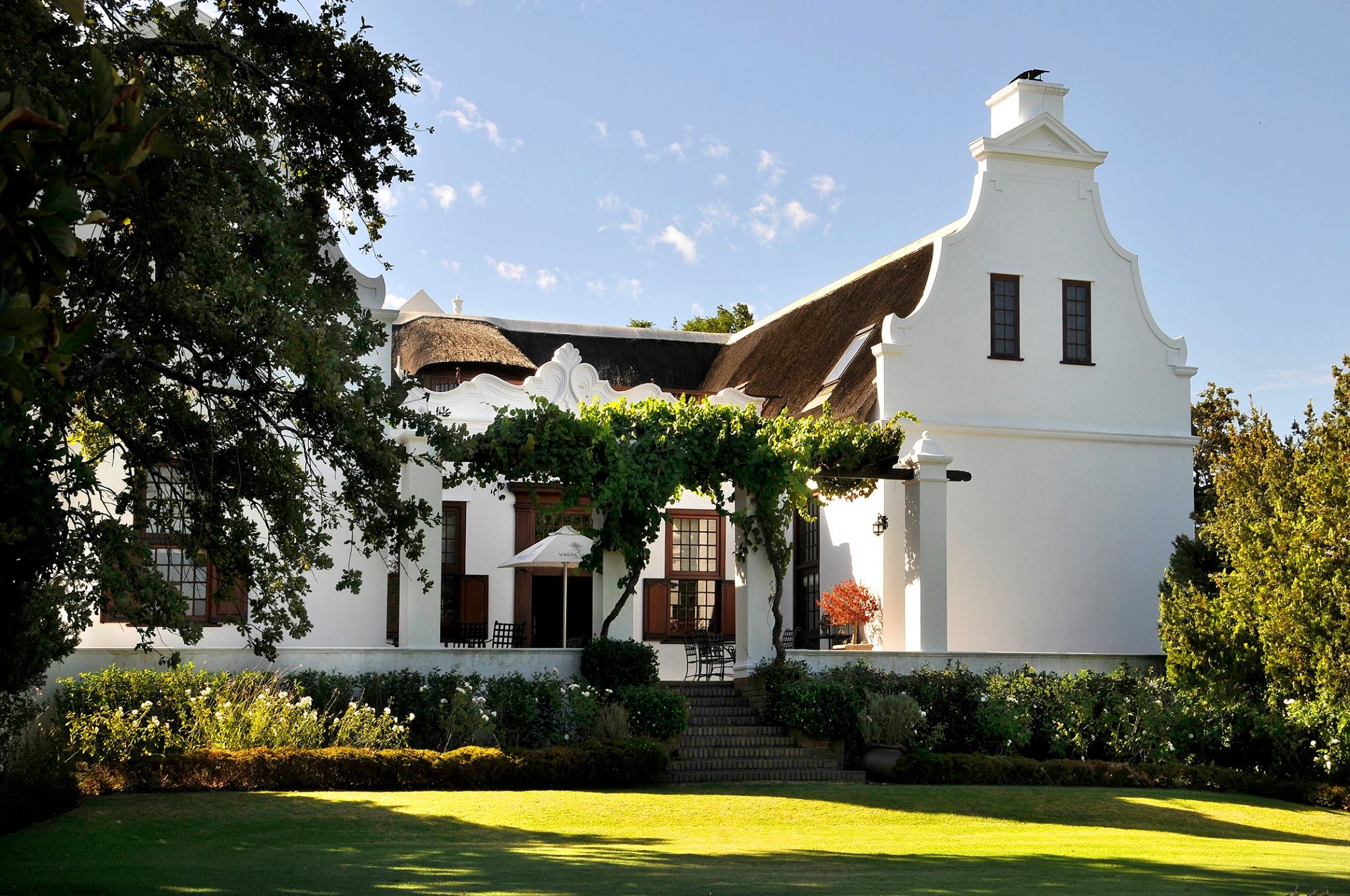 The Vrede en Lust homestead, image Credit: Vrede en Lust Estate
9. Hidden Valley: A View to Remember
With views all the way to the sea in one direction and Table Mountain and Helderberg Mountains in the other, Hidden Valley wine farm makes for a splendid lunch or dinner spot. Their wines are excellent, especially the blended reds and whites, and you can opt for a casual lunch on the floating deck or a multi-course extravaganza in their flagship restaurant. If you've already had a wine-filled day and feel like some air, take your partner and a picnic hamper (and your carefully chosen wine) through the valley to the secluded dam.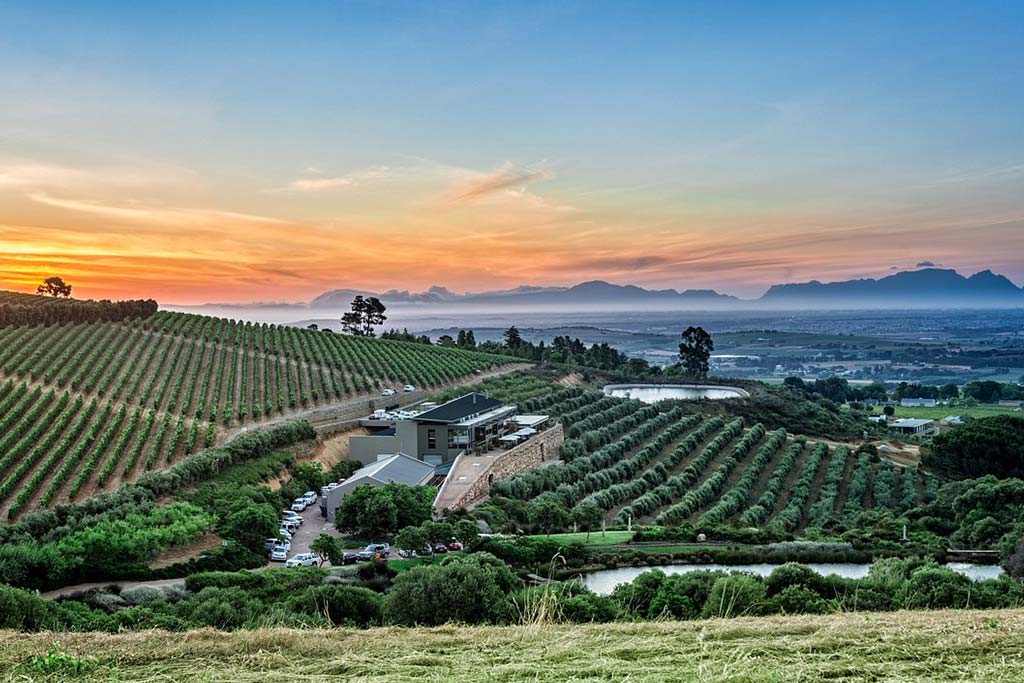 Heavenly views all around, Image Credit: TripAdvisor
10. Anthonij Rupert: Winemaking Giants
Out of L'Ormarins wine farm in Franschhoek, Rupert Wines has grown into one of South Africa's finest vintners. Anthonij Rupert Wyne is their flagship wine from grapes produced throughout the Cape Winelands. Other wines in the Rupert portfolio include soil-specific crowd-pleasers, a fine rosé, several sparkling wines, and a unique range of Italian varietals. Steeped in history and fizzing with adventure, Rupert Wines is a must-visit Cape Winelands experience in the Franschhoek Valley.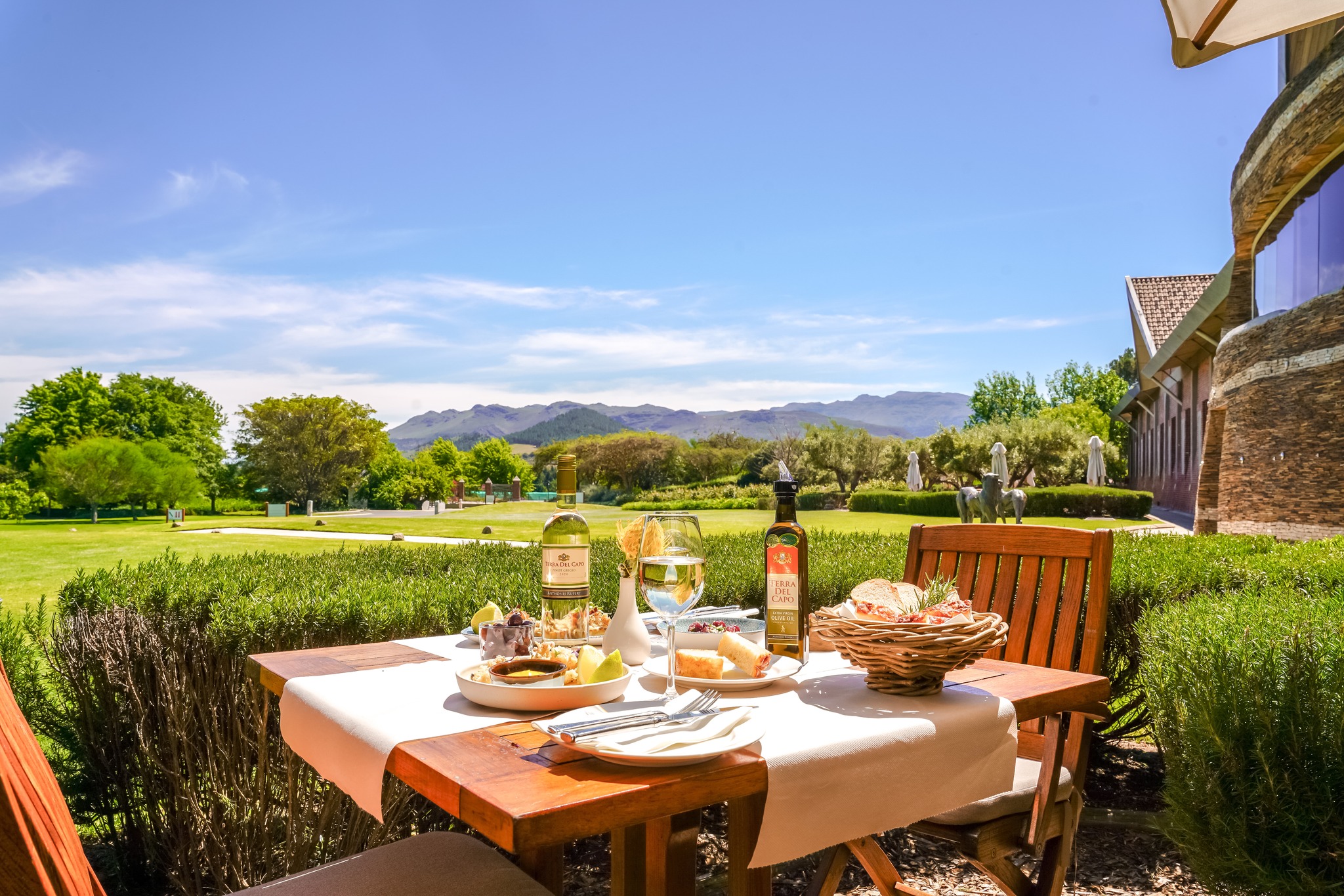 Spend the day wining and dining in the sun, Image Credit: Anthonij Rupert Wyne
11. Oldenburg: Winery for Wine Lovers and Lovers
The wine coming out of Oldenburg Vineyards owes its impressive elegance and depth to the rare terroir of the beautiful Banghoek Valley. Cooler and sunnier than most vineyards in the Cape Winelands, the micro-climate favours French varietals of cabernet, syrah, malbec and merlot. Producing small-batch vintages of exceptional quality, the wines of Oldenburg offer a modern take on classics. A short drive from Stellenbosch brings you to this spectacular and nicely-out-of-the-way valley. Book the villa for a romantic, relaxing and immersive experience of this highly regarded wine farm.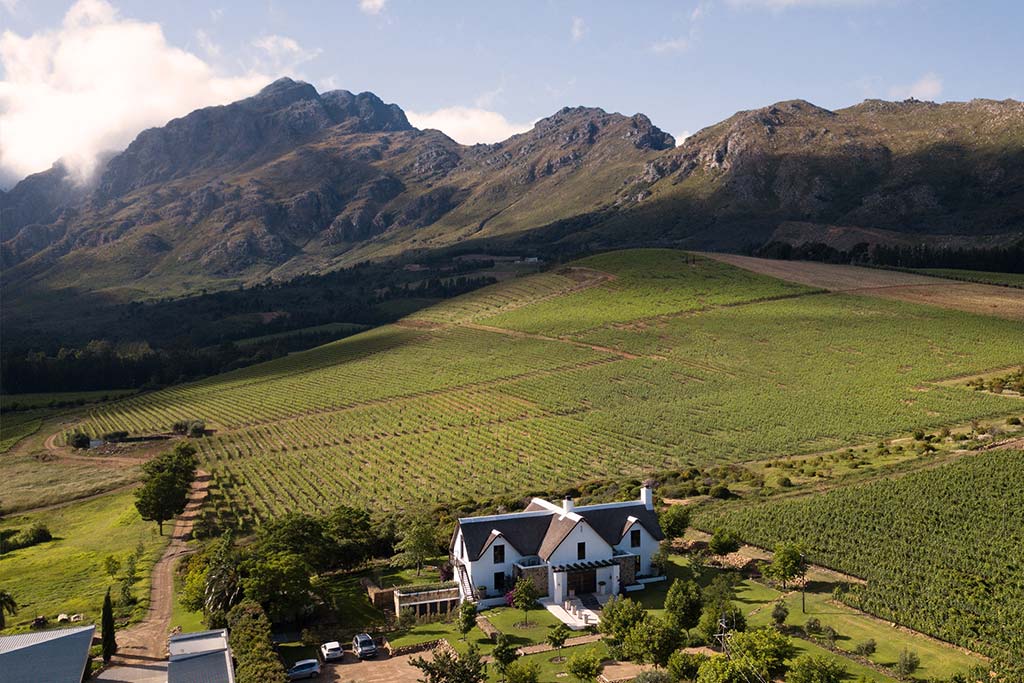 Carpets of vineyards, Image Credit: Oldenburg Winery
12. Glenwood: Chardonnay and Sushi
Glenwood is an award-winning wine farm in the Cape Winelands, just outside Franschhoek. Founded in 1984, the wines are produced in small batches for a sophisticated finish. In a neighbouring valley of equal if not greater beauty, Glenwood is well-known for its excellent whites, especially its elegant chardonnay. Paired with some seriously good sushi, Glenwood is a splendid option if you're looking for a light and sunny afternoon out. Their reds, syrah chief among them, are also sublime examples of South African winemaking ideal for that meat-fest you've got planned.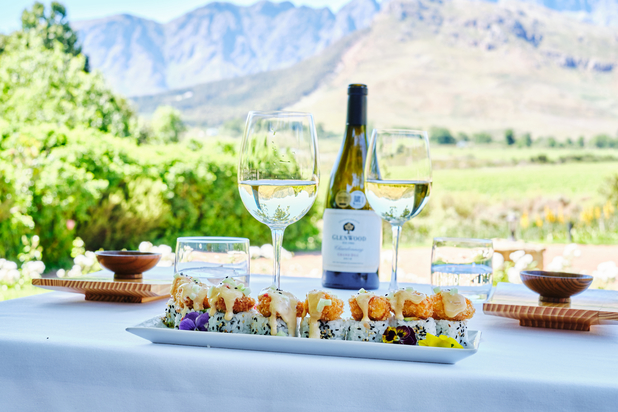 Gourmet sushi and wine, Image Credit: Glenwood Winery
Ready to book your romantic retreat in the Cape Winelands?
Being so close to Cape Town, you simply have to make time to explore South Africa's famous wine country at a leisurely, woozy pace. Amazing food, delightful wines and magnificent landscapes set the scene for a relaxing and romantic retreat. Contact us now to start planning your Cape Winelands escape.