You're finally in East Africa for your gay-friendly gorilla trekking expedition. Lush, steep forested slopes tower around you. The calls of exotic birds and your boots crunching on the ground with each step are the only sounds you hear.
And then you see them, your heart skipping a beat. A silverback male and his family, right there in the middle of the rainforest.
The little ones are playful, wrestling with each other in the foliage. The silverback and females keep a watchful eye on them as they groom each other. It's a heart-stirring moment, and you fight back the tears as you watch one of human's closest relatives in its natural environment.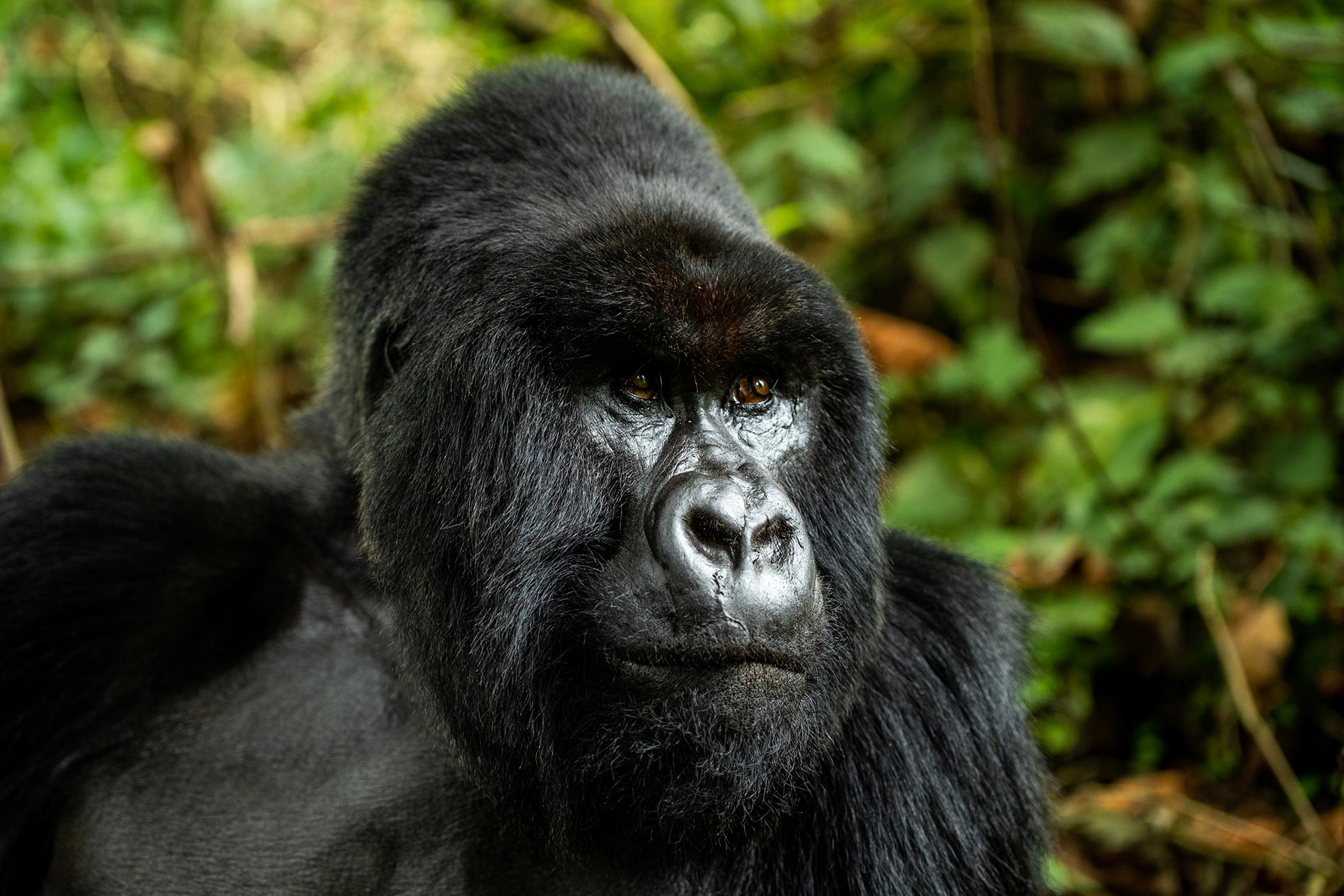 Silverback in its natural habitat, a rare sight. Credit: Rhino Africa
At this moment, you realise that you're one of the few people in the world lucky enough to witness this scene. One of the few who can see and feel the way you do right now. And one of the few who'll get to cherish the memory forever.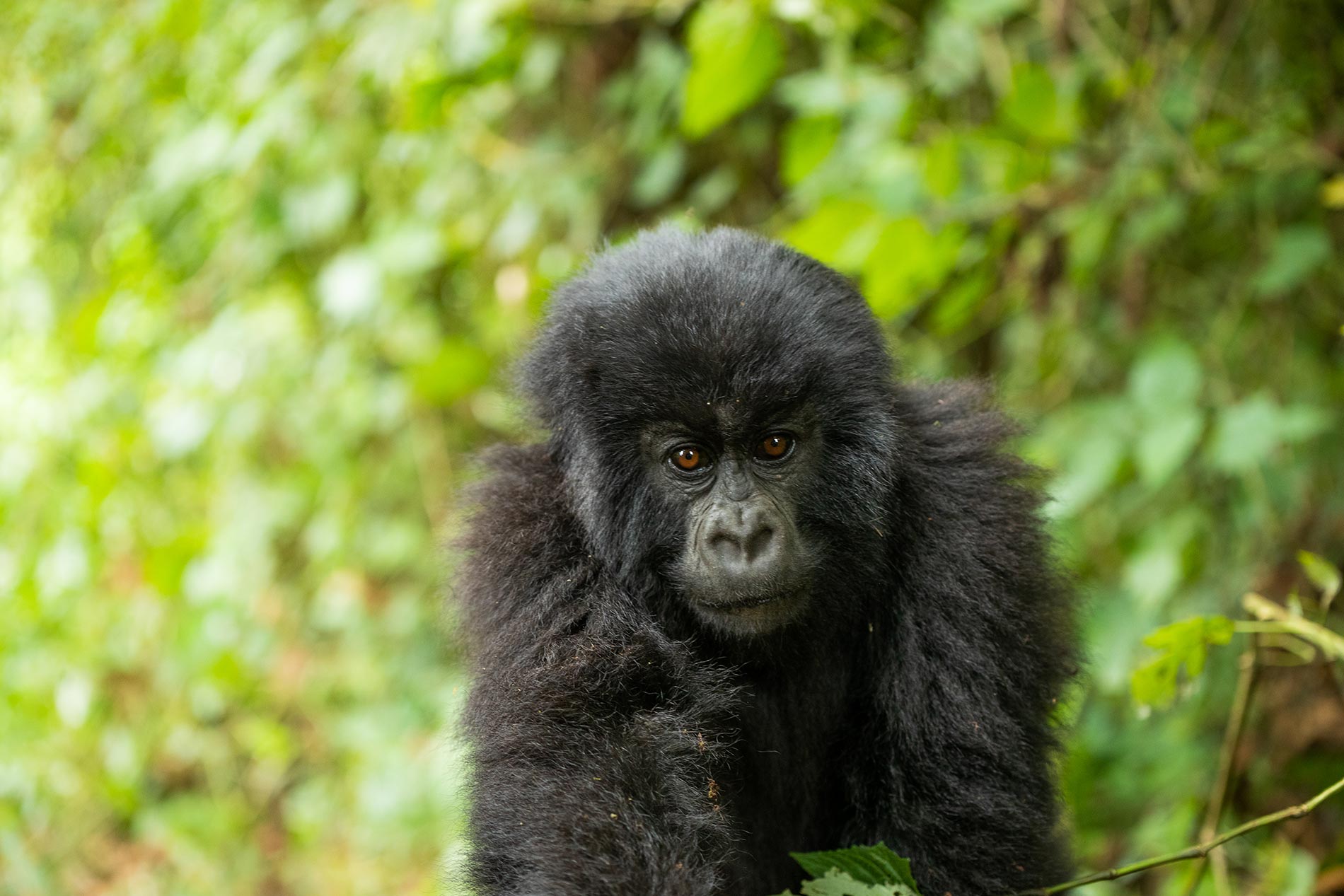 Curious baby gorilla in Rwanda. Credit: Rhino Africa
Gay-Friendly Gorilla Trekking in East Africa
Gorilla trekking in East Africa is something that we struggle to put into words. It's one of those things that you simply have to experience for yourself.
And thanks to LGBTQ+ celebrities and philanthropists like Ellen DeGeneres and her wife Portia de Rossi shining the spotlight on East African destinations like Rwanda, gay-friendly gorilla trekking tours are becoming increasingly popular.
And as your LGBTQ+ Travel Experts, we've hand-picked our top six accommodation options where we like to send our fabulous guests to rest, recuperate, and witness the gentle grandeur of these primates.
Top 6 Accommodations for Gay-Friendly Gorilla Trekking
1. One&Only Gorilla's Nest, Rwanda
Accommodation: 21 Treehouse-style luxury lodges and suites
Best known for: Wellness and adventure
You'll find One&Only Gorilla's Nest at the foothills of the Virunga Mountains. As the name suggests, the accommodation feels like a nest in the middle of the jungle, with treehouse-style luxury lodges positioned for the perfect view of the surrounding eucalyptus trees.
Its location also makes it one of Rwanda's most accessible gorilla trekking destinations, with proximity to gorilla trekking paths into the Volcanoes National Park.
Gorilla's Nest is also known for its many wellness facilities and activities on offer, including a stand-alone spa, massage treatments, coffee body scrubs, a fitness centre, sauna, cold plunge pool, yoga deck, bike riding, hiking, and more.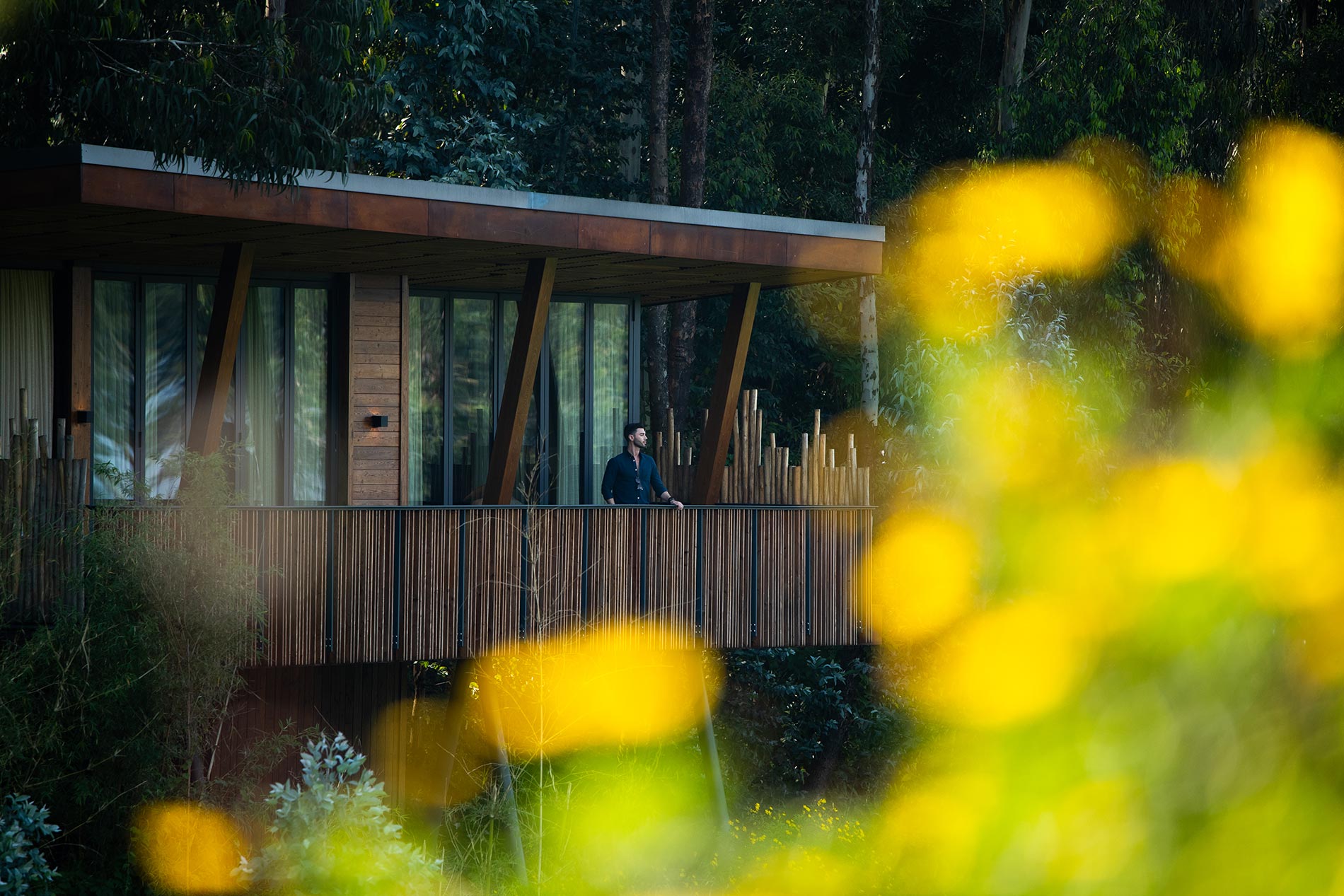 Your window into the wild. Credit: Rhino Africa
2. One&Only Nyungwe Forest, Rwanda
Accommodation: 22 Luxury suites in wooden villas
Best known for: Location on a tree plantation, wellness and adventure
One&Only Nyungwe House borders one of Africa's largest rainforests and offers accommodation in five wooden villa clusters overlooking treetops. Its location on a working tree plantation also makes for a unique setting.
Nyungwe House is the ultimate secluded hideaway for the adventurous traveller, offering plenty of peace with wellness offerings and adventure with exciting activities in equal measures. Think mountain biking, pilates, yoga, spa treatments, and even archery and spear throwing lessons! Another attraction is the canopy walkway for an aerial view of the forest and its inhabitants.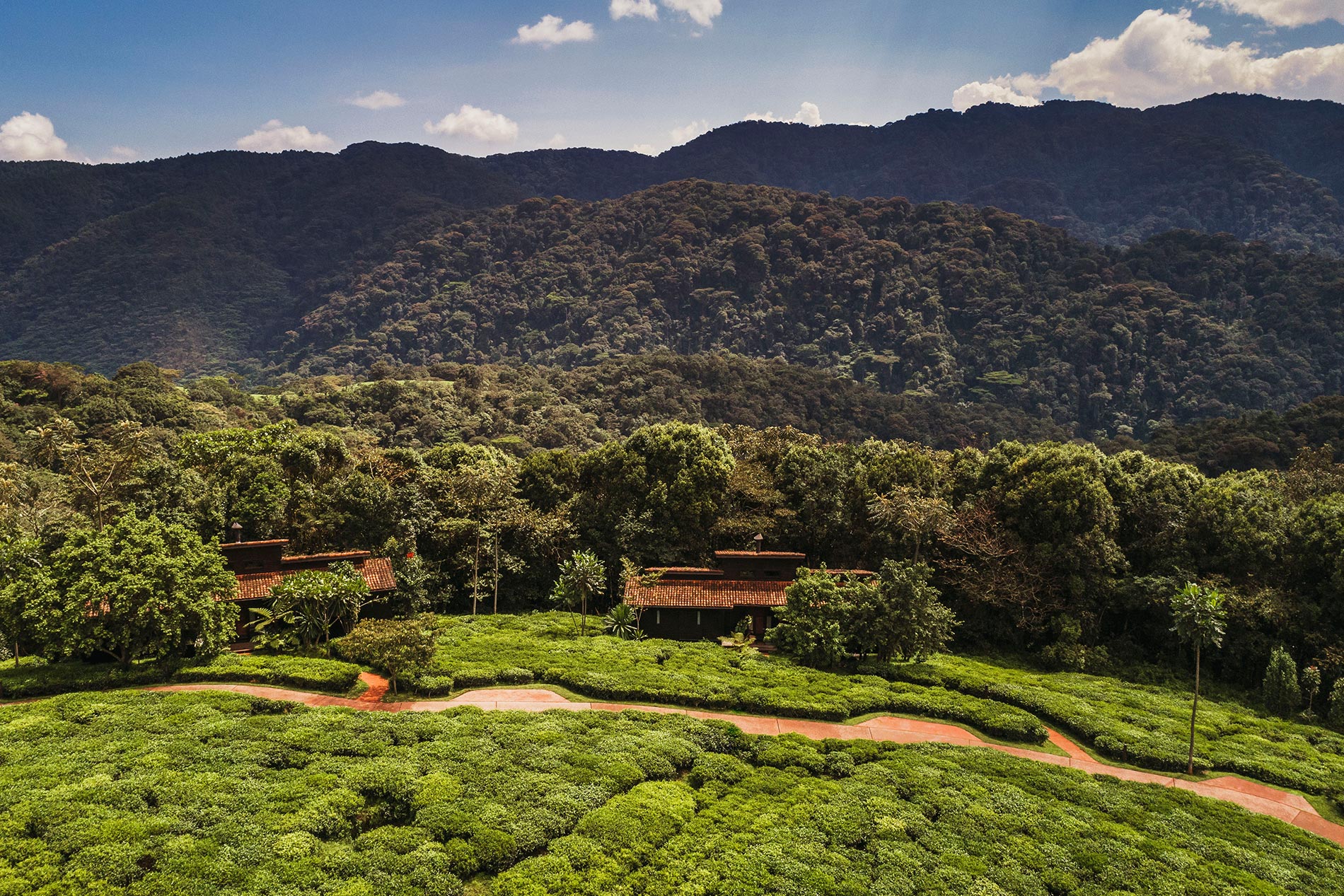 Adventure on a working tea plantation. Credit: One&Only Nyungwe House
3. Bisate Lodge Wilderness Safaris, Rwanda
Accommodation: Six opulent en-suite forest villas
Best known for: Honeymoon or romantic getaways
If you're looking for something a little bit different, Bisate Lodge is for you! This high-end property next to Volcanoes National Park allows for easy access to gorilla trekking excursions. But what really makes it special is its unique 'nest-like pods hanging effortlessly from the slopes of an eroded volcanic crater.
The unique forest villas have hosted several celebrities over the years. Picture your own nest set on the slopes of an eroded volcanic crater for the ultimate privacy and romance in the wilderness. If you want all the ooh-la-la privacy in the world, then Bisate Lodge that feels like a world of your own is for you!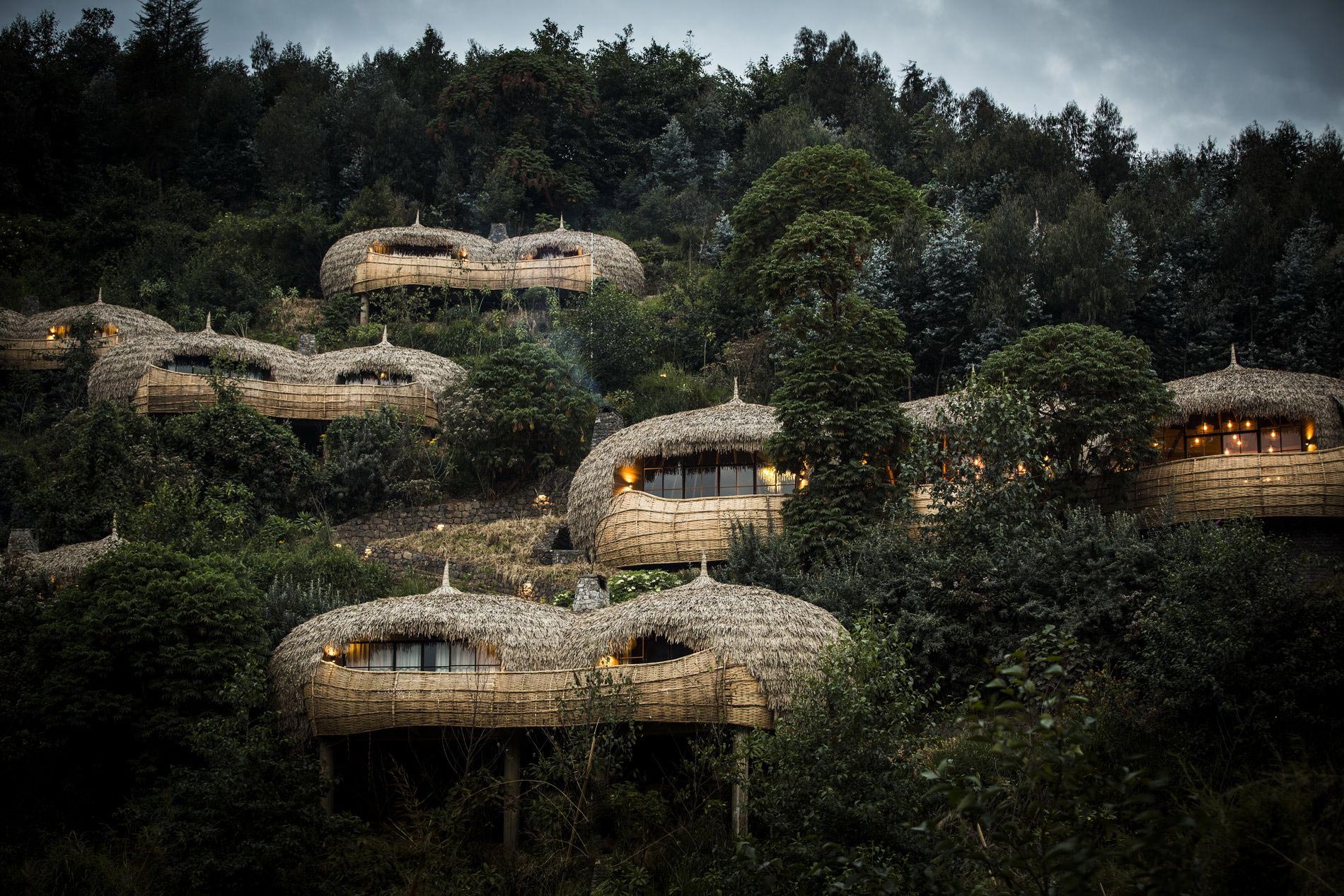 Unique ultra-luxurious forest villas. Credit: Bisate Lodge
4. Singita Kwitonda, Rwanda
Accommodation: Eight luxury suites
Best known for: Wellness, wine, and being closest lodge to Volcanoes National Park
Set on the edge of the well-known Volcanoes National Park, a prime gorilla trekking destination, Singita Kwitonda is one of the closest lodges to this gorilla trekking destination. The park is home to more than a third of the world's remaining mountain gorillas, making it a prime gorilla trekking destination.
Each luxury suite at Singita Kwitonda has a private heated plunge pool, wellness treatment area, in- and outdoor fireplaces, and large windows for the best view of the cloud-capped, verdant mountain ranges these gorillas call home.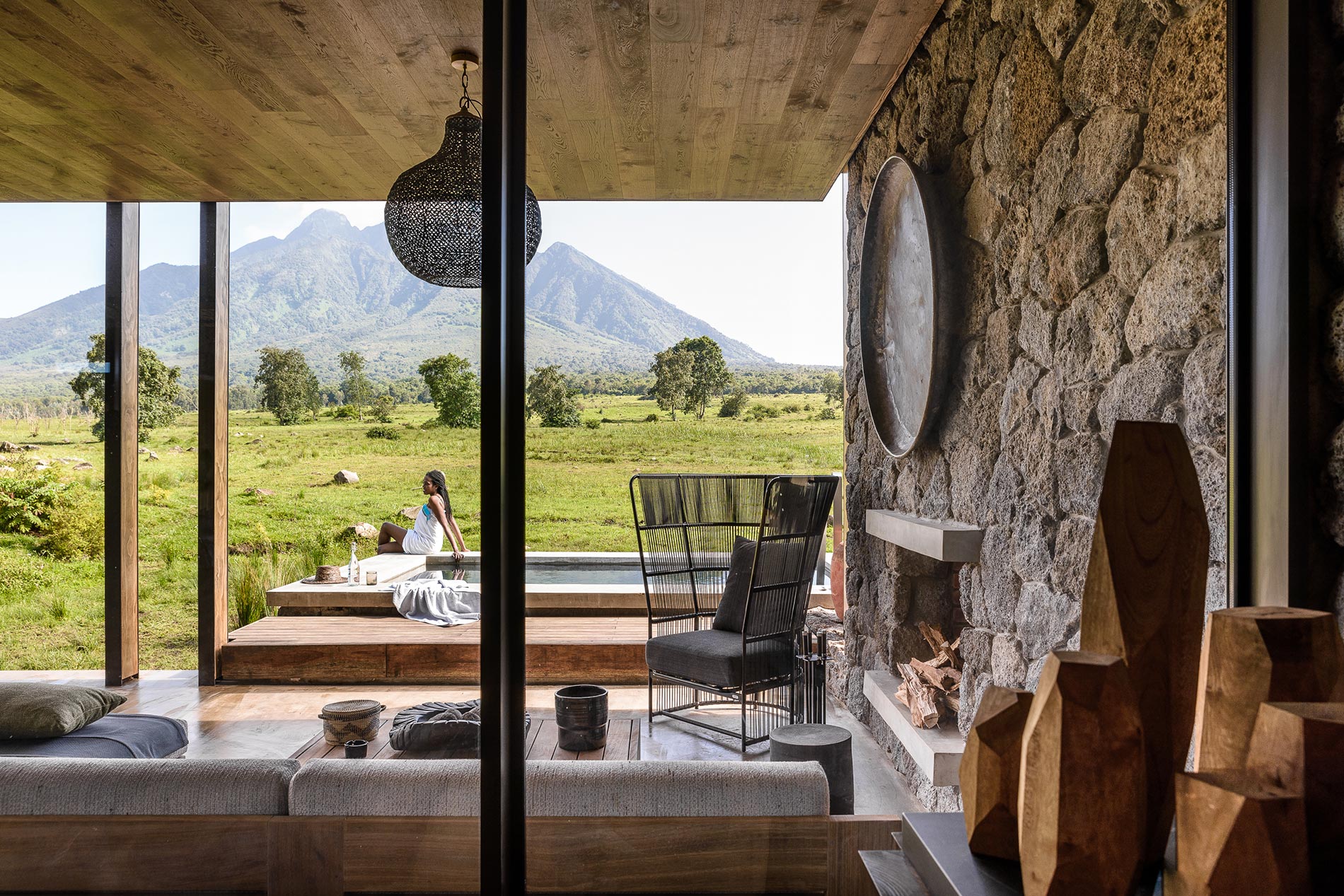 Enjoy luxury in Rwanda. Credit: Singita Kwitonda
5. Sanctuary Gorilla Forest Camp, Uganda
Accommodation: Exclusive camp with ten luxury tents
Best known for: Diverse primate trekking and birding
Enjoy remote luxury under canvas in Uganda at Sanctuary Gorilla Forest Camp. If you want to feel the authentic East African safari experience yet enjoy luxurious glamping fit for a queen, this is for you.
Located in the Bwindi Impenetrable Forest, you are right in the middle of all the action and mere minutes away from the start of your gorilla trekking route. In fact, gorillas might even visit you at your tent due to its prime location!
Bwindi is a UNESCO World Heritage Site and home to various primates, including gorillas, chimpanzees, baboons, white and black colobus, red-tailed and blue monkeys. And, if you love birding, you'll be in seventh heaven, with over 350 bird species flitting through this forest.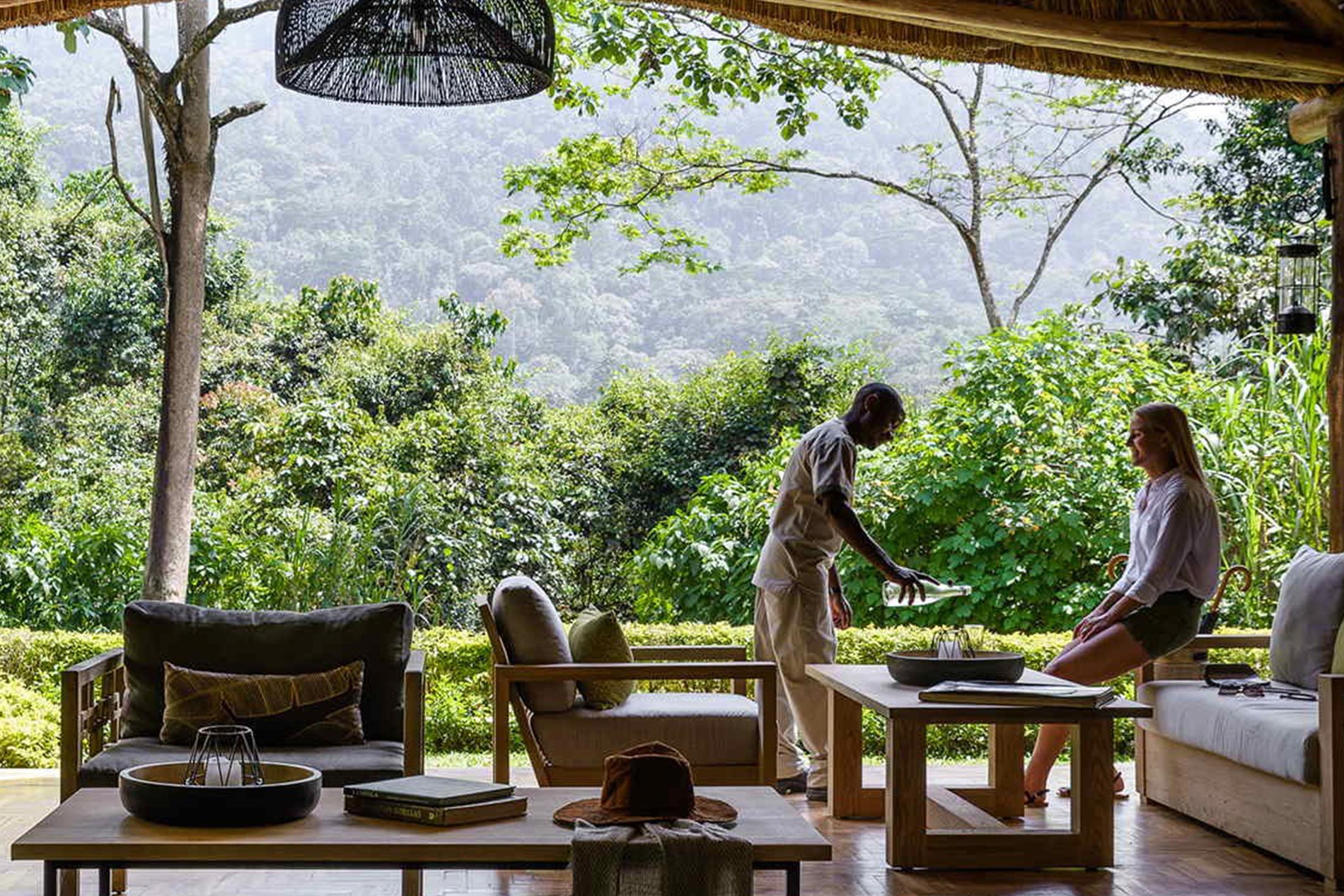 Right in the centre of the action. Credit: Sanctuary Gorilla Forest Camp
6. Odzala-Kokoua National Park, Uganda
Accommodation: Three camps (Ngaga with six rooms, Lango with six rooms, and Mboko with ten double occupancy cabins and two family cabins)
Best known for: being one of Africa's oldest national parks and home to the western lowland gorilla
Forming part of the Congo Basin, the Odzala-Kokoua National Park is home to the western lowland gorilla. There are three accommodation options here, namely Ngaga, Lango and Mboko.
At Ngaga Camp, channel your inner Tarzan or Jane as you call the luxury treehouse rooms your home. Lango Camp offers a similar feel and experience and puts you right in the centre of all the action. Mboko, on the other hand, is located on the banks of a river, with access to a 700-metre boardwalk taking you through a semi-flooded forest.
Get, Set...Go
East Africa is ready for you. Contact our LGBTQ+ Travel Experts and let's book your gay-friendly gorilla trekking safari in East Africa today!