Can you hear that…? The rainforests are calling. We take a closer look at gorilla trekking in Congo vs Rwanda to help you plan your most fabulous jungle journey to see these precious primates in person. And as your African LGBTQ+ Experts, you can rest assured we have the down-low on all the need-to-knows! Grab your hiking boots and follow us this way…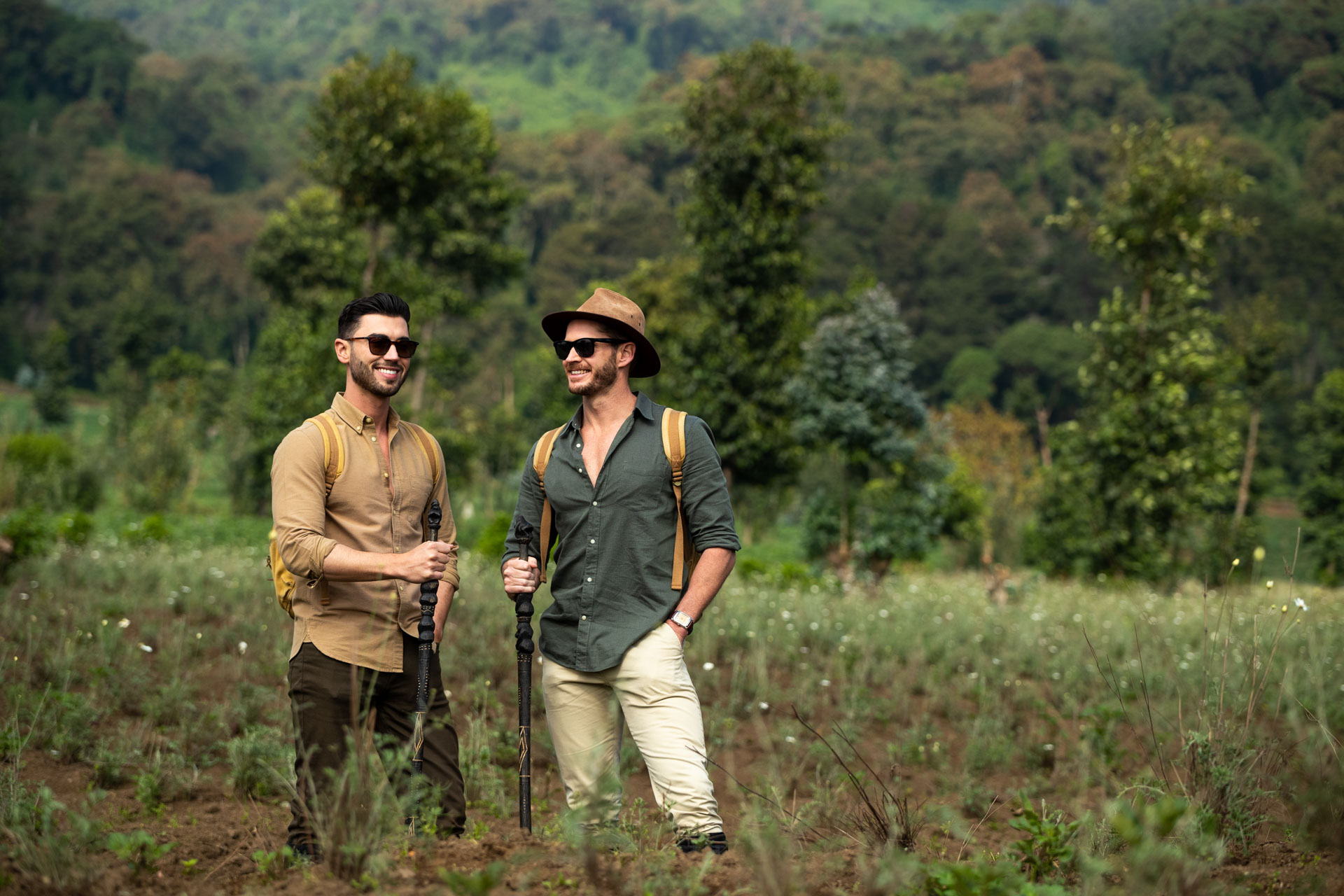 Lookin' good and ready to go trekking
Congo vs Rwanda
We hate to break it to you, but there's no cookie-cutter answer to which destination is the best. Personally, we love both! That's the beauty of Africa – its destinations are so unique that you'll just have to return and return and return to see them all. They might say you never forget your first time, but we like to say that you never forget Africa, no matter how many times you're in her presence!
However, that being said, there are some differences we can outline to help you decide which experience sounds more like the fabulous gorilla trekking adventure you had in mind.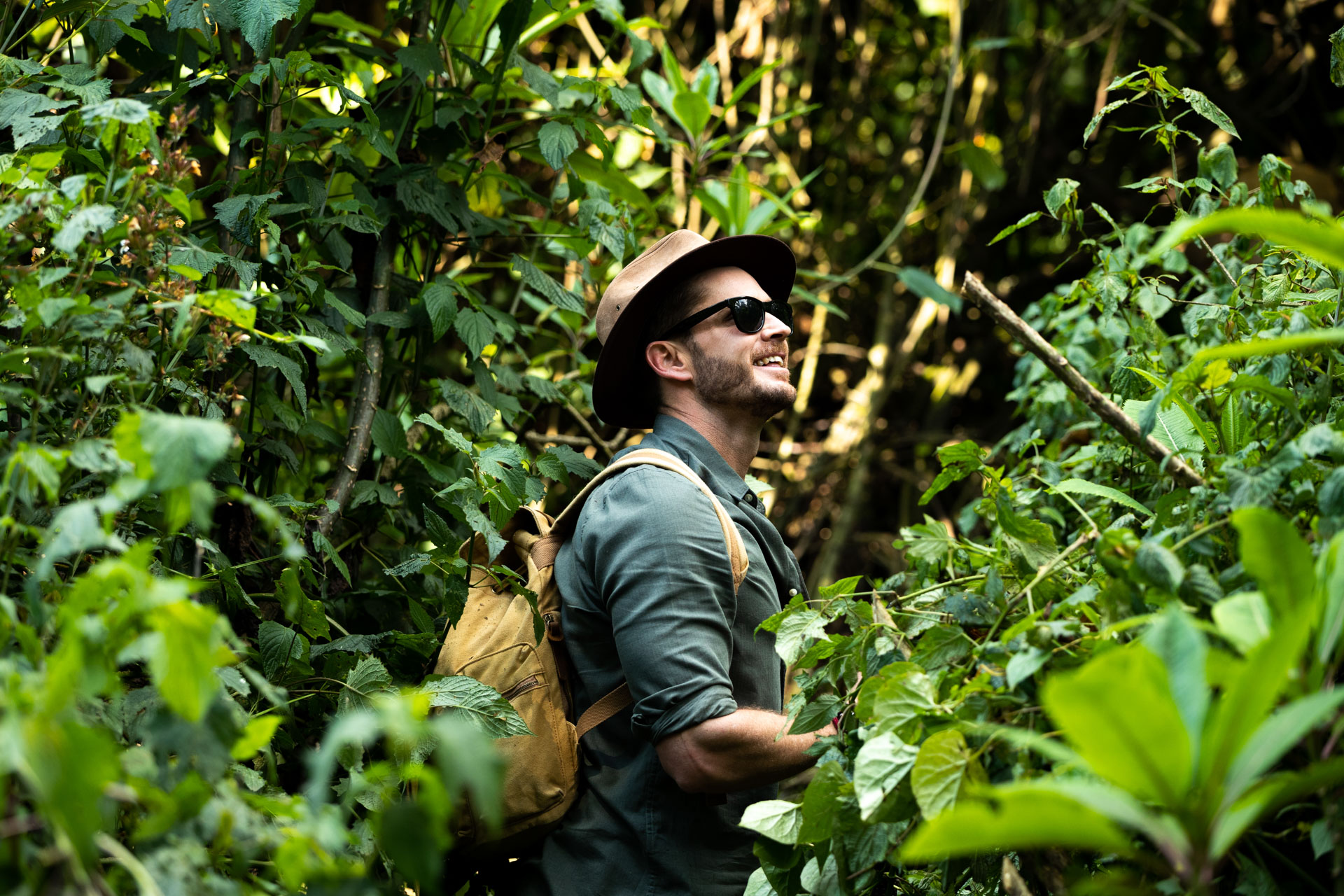 Step into a world of wonder in the wild, wild rainforest
Ra-ra-ra-Rwanda
Did you know that only around 800 mountain gorillas are left in the wild and 1000 on the entire planet? A terribly sad reality, but the good news is that most of them have found refuge in the Virunga Mountains stretching across Rwanda, Uganda and the Democratic Republic of Congo (DRC). Therefore, if you visit Rwanda's remarkable rainforests, you can see them in real life!
Because they are an endangered species, they are heavily protected, and guests wanting to go gorilla trekking must obtain permits, contributing to the cost of keeping them safe in their jungle home. However, these permits are limited, so ensure you reach out to us as soon as possible to start planning and to avoid missing out!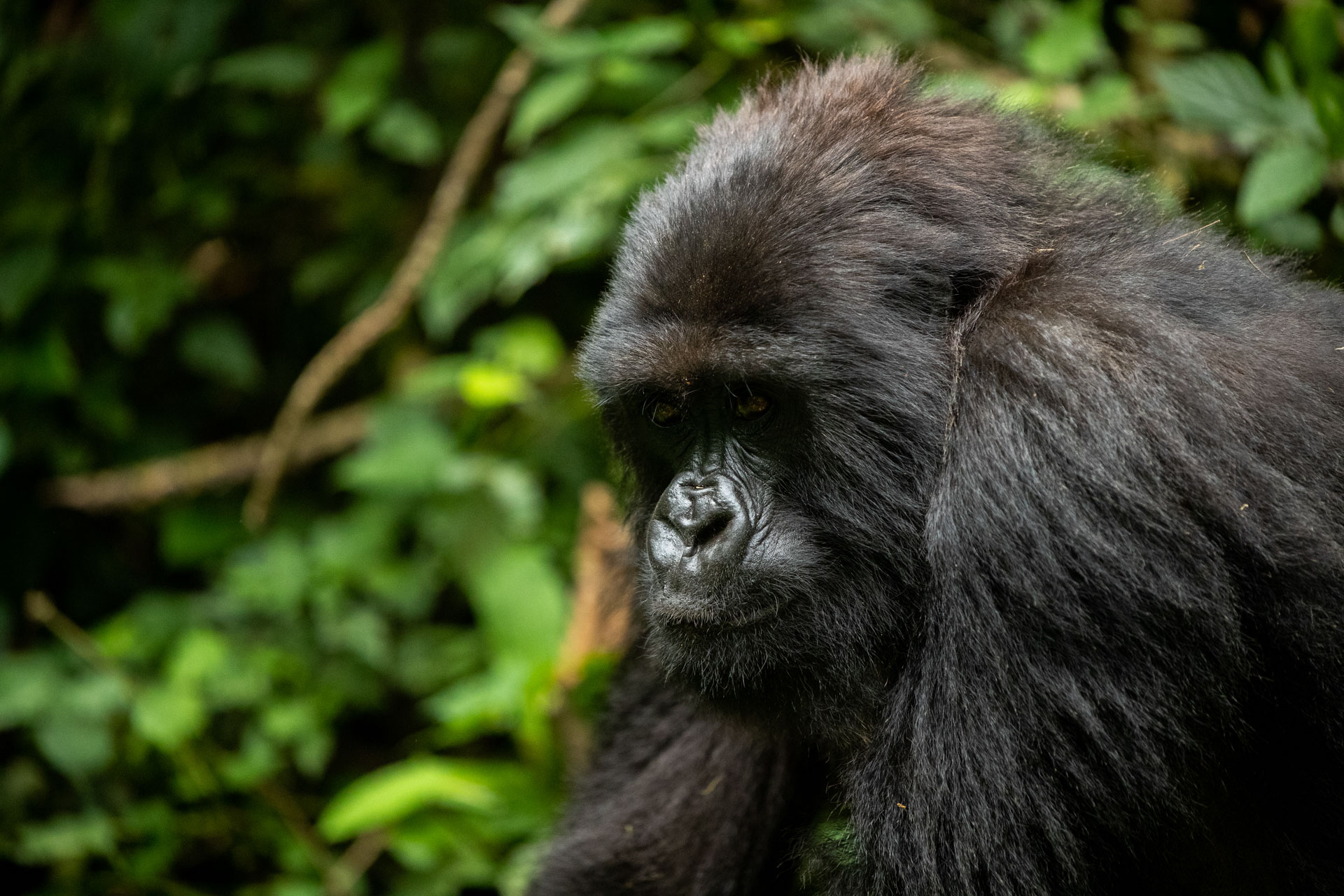 The magnificent mountain gorilla in Rwanda
Where to Go Gorilla Trekking in Rwanda
We like to recommend Volcanoes National Park as a prime gorilla trekking destination to our fabulous LGBTQ+ guests due to its easy access (only about two to three hours' drive from the capital Kigali and its international airport) and high probability of meeting some wonderful mountain gorilla families.
The Volcanoes National Park is also world-famous for being where the late Dian Fossey studied gorilla behaviour, and for later becoming the setting of the film "Gorillas in the Mist" based on her life's work.
What Wildlife Can I See in Rwanda?
The most popular primate to see in Rwanda is the endangered mountain gorilla. However, you can also see other wildlife like the rare golden monkey, L'Hoest's monkey, vervet monkey, spotted hyena, black-fronted duiker, and some elephants.
In the Nyungwe Forest National Park, you can also see the gorilla's cousin, the chimpanzee! Furthermore, you can also go on a Big 5 safari in Akagera National Park, the last-remaining refuge for savannah-adapted species in the country. Think game drives and guided walking safaris, as well as cultural experiences, birding and fishing!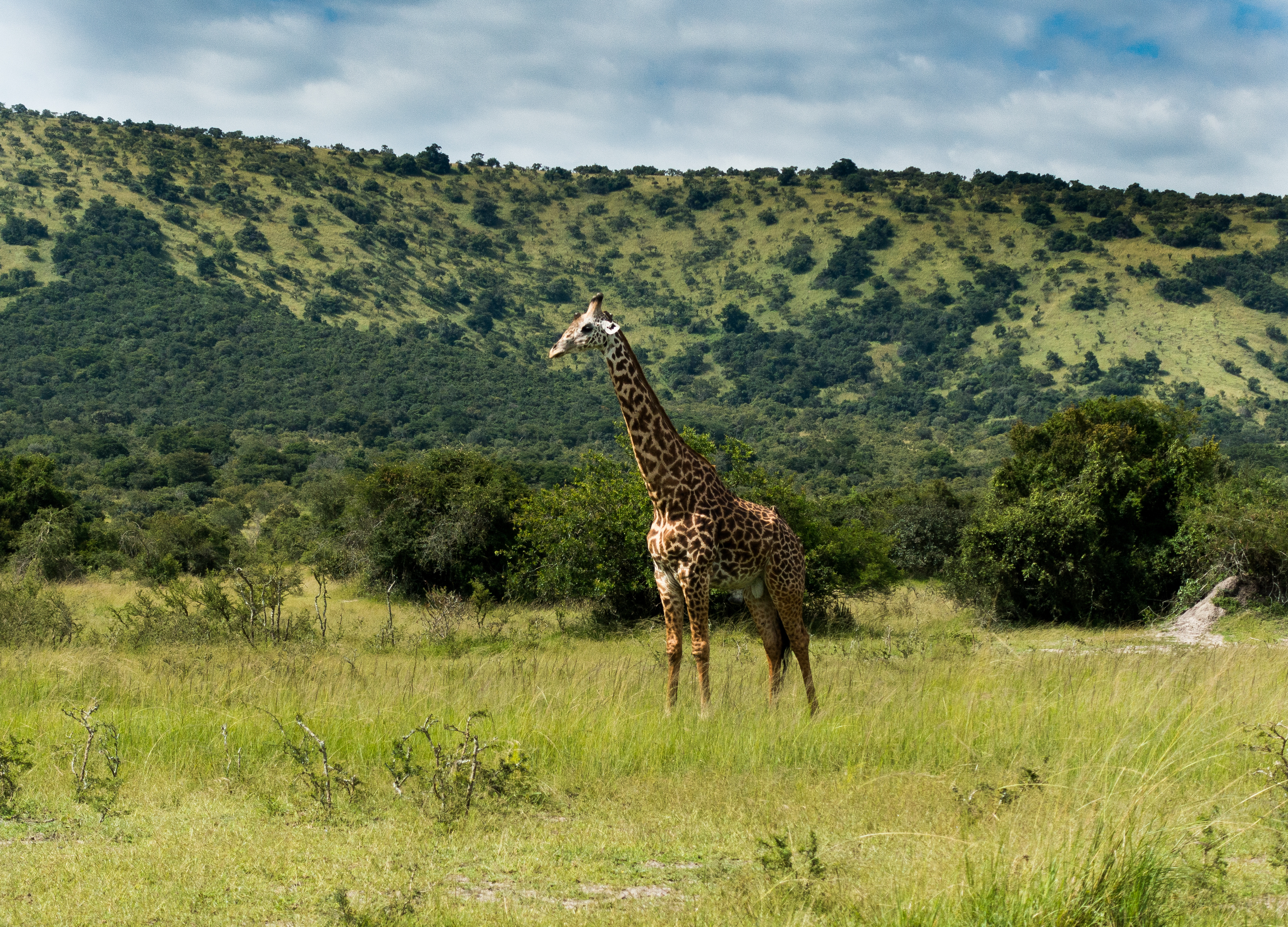 Add on a Big 5 safari in Akagera National Park to your gorilla trekking expedition
What's the Gorilla Trekking Terrain like in Rwanda?
The rainforest in Rwanda is generally open and not too thick, which means you do get good visibility of the gorilla families once you track them down. Just picture being surrounded by sloping bamboo rainforest and dormant volcanoes! There are also many coffee and tea plantations in Rwanda. It's pure magic.
However, it is steeper than destinations like the Congo's terrain so you should be fit enough to handle the incline and high altitude.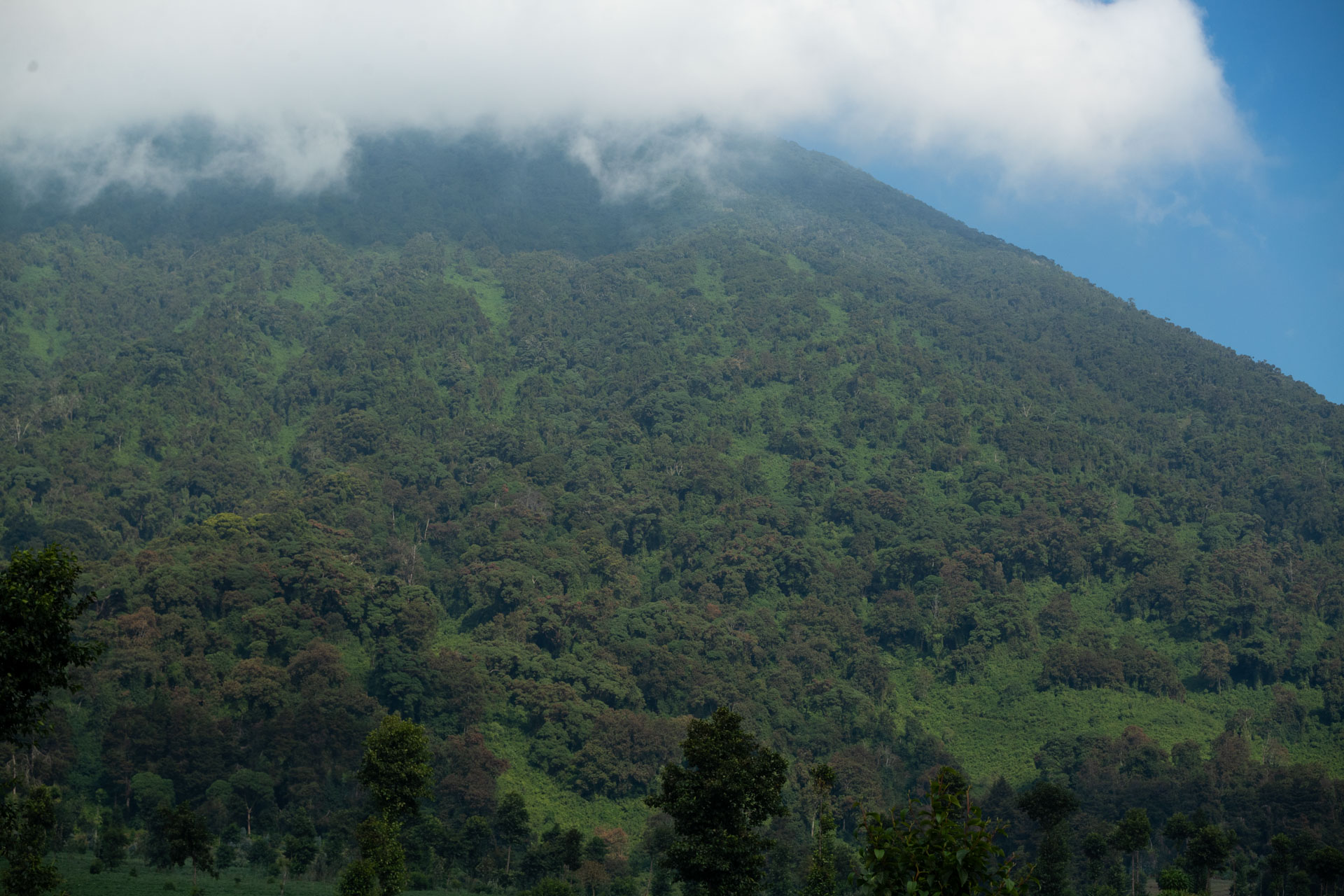 Rolling Rwandan slopes where the mountain gorillas seek refuge
Other Than Gorilla Trekking, What Can I Do in Rwanda?
Although the main reason you'd visit Rwanda would be gorilla trekking, there are other species to see and activities to enjoy.
Some of these include:
Bird-watching
Zip-lining and canopy walks
Golden monkey trekking
Exploring caves, specifically the Musanze Caves
Visiting the bustling capital, Kigali to explore its cultural treasures and markets
Cultural encounters around the Volcanoes National Park like visiting the Ibyiwacu Cultural Village
Visiting Lake Kivu for a boat or canoe ride
Big 5 safari game drives and walks in Akagera National Park
Wellness experieces to align your chakras at the many luxury lodges
Coffee and tea tours and tastings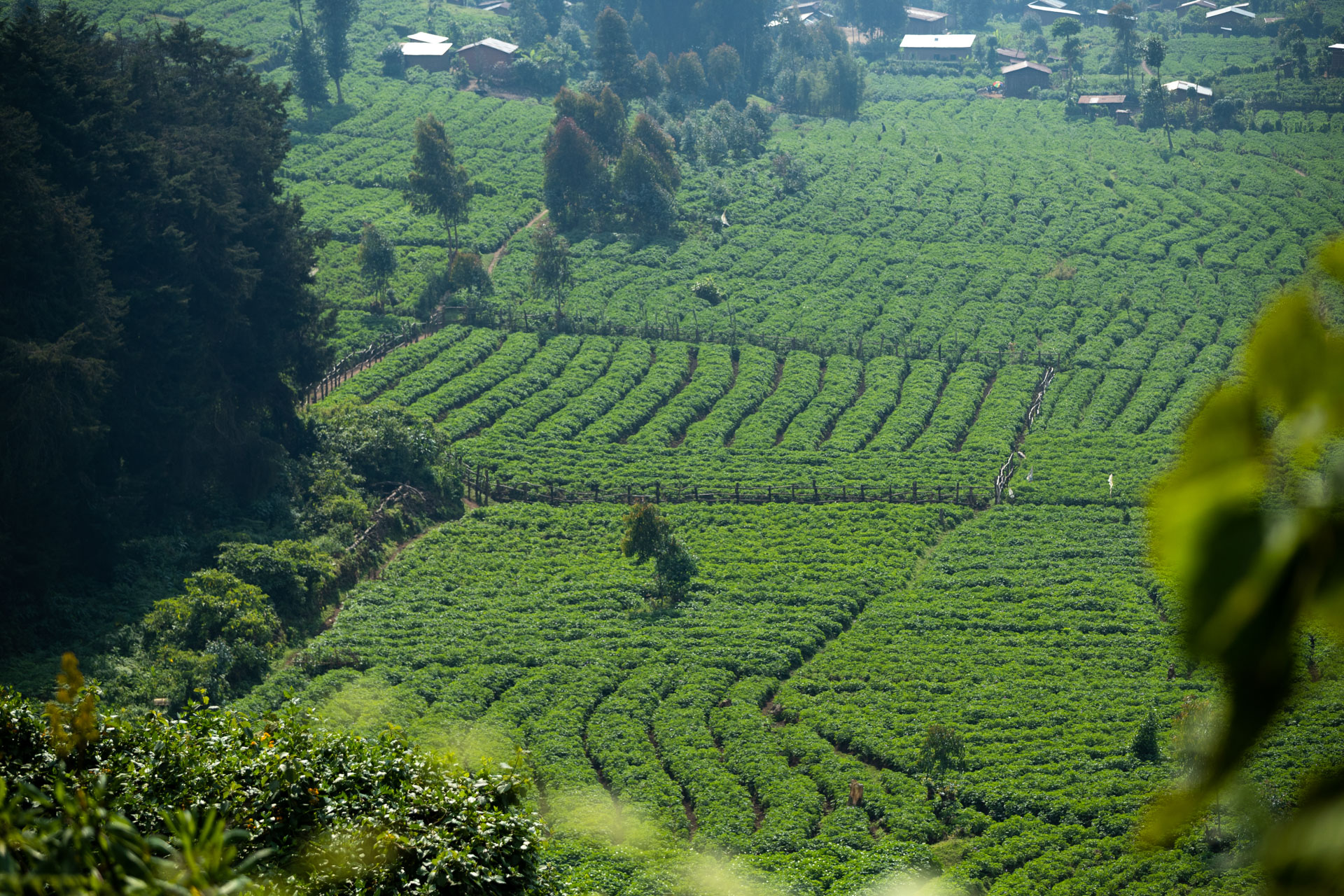 Tea plantations in Rwanda
When is the Best Time to visit Rwanda?
The best time to visit Rwanda to go gorilla trekking is from June to September and again from December to mid-February. This is because it's the dry seasons, making trekking conditions easier.
The Republic of Congo
The Republic of Congo should not be confused with the Democratic Republic of Congo. The former is often called "Congo-Brazzaville", whereas the latter is shortened as "DRC". We'll be talking about the Republic of Congo, the smaller country to the northwest.
And now that we've got that out of the way, let's share the deets of why this is one of our favourite yet underrated gorilla trekking destinations.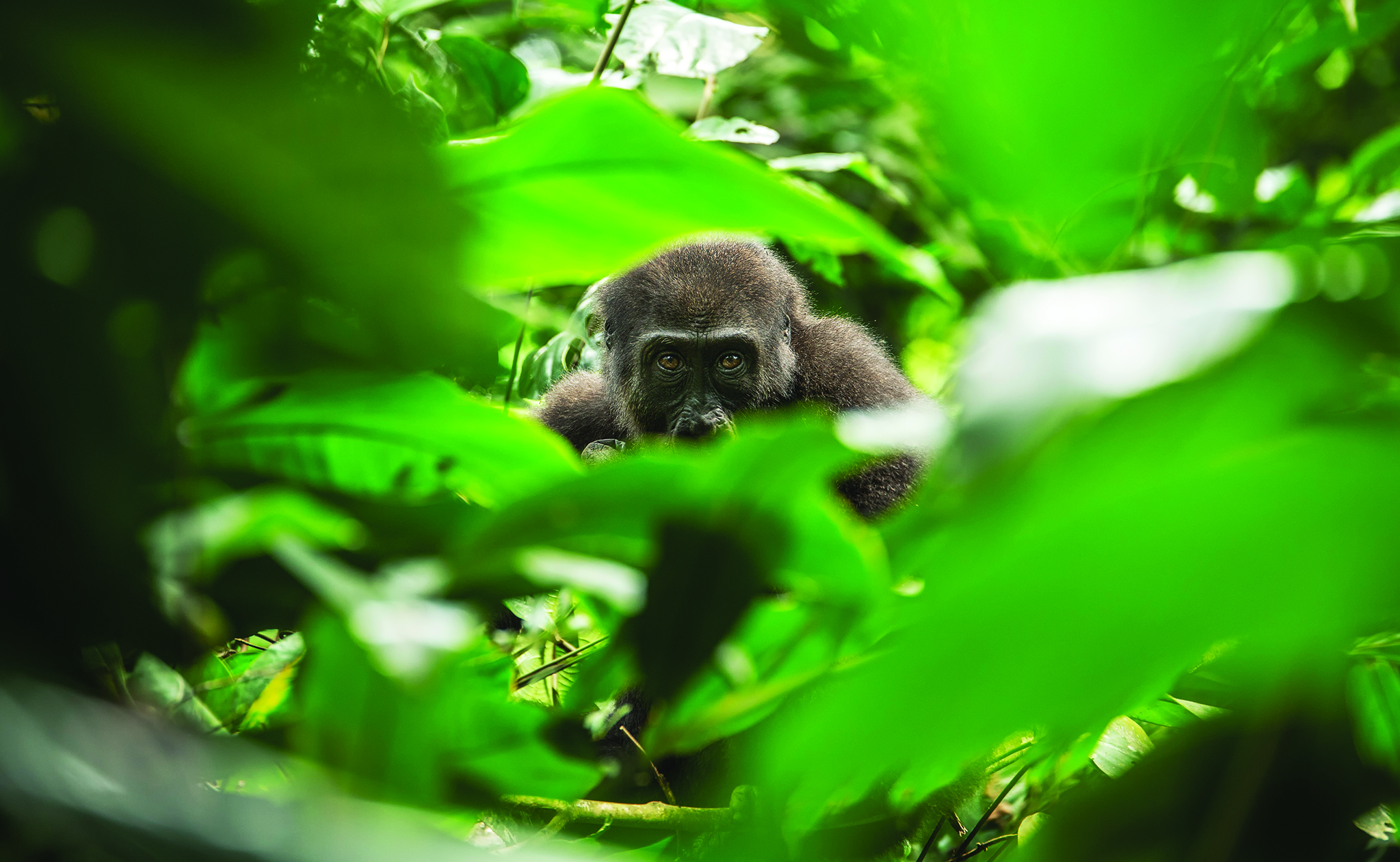 Making eye contact with the western lowland gorilla
Where to Go Gorilla Trekking in Congo
Home to around 100,000 critically endangered western lowland gorillas, we recommend you visit Odzala-Kokoua National Park for the best gorilla trekking experience. Not only has it been immensely successful in conserving this precious species, but it's also home to the second-largest tropical rainforest in the Congo Basin.
Here you'll be trekking through the undisturbed equatorial rainforest buzzing with more than 100 mammal species and many primates. In fact, it has one of Africa's most diverse primate populations!
What's the Terrain like in Congo?
A key difference between Congo and Rwanda is that, in Congo, you can often walk straight from your accommodation to the forest, whereas in Rwanda, sometimes you need to take a transfer to get to your trekking destination and then hike through the mountains.
The Congo's terrain is also a lot flatter, which makes it less challenging and perfect for those worried about the exertion of gorilla trekking.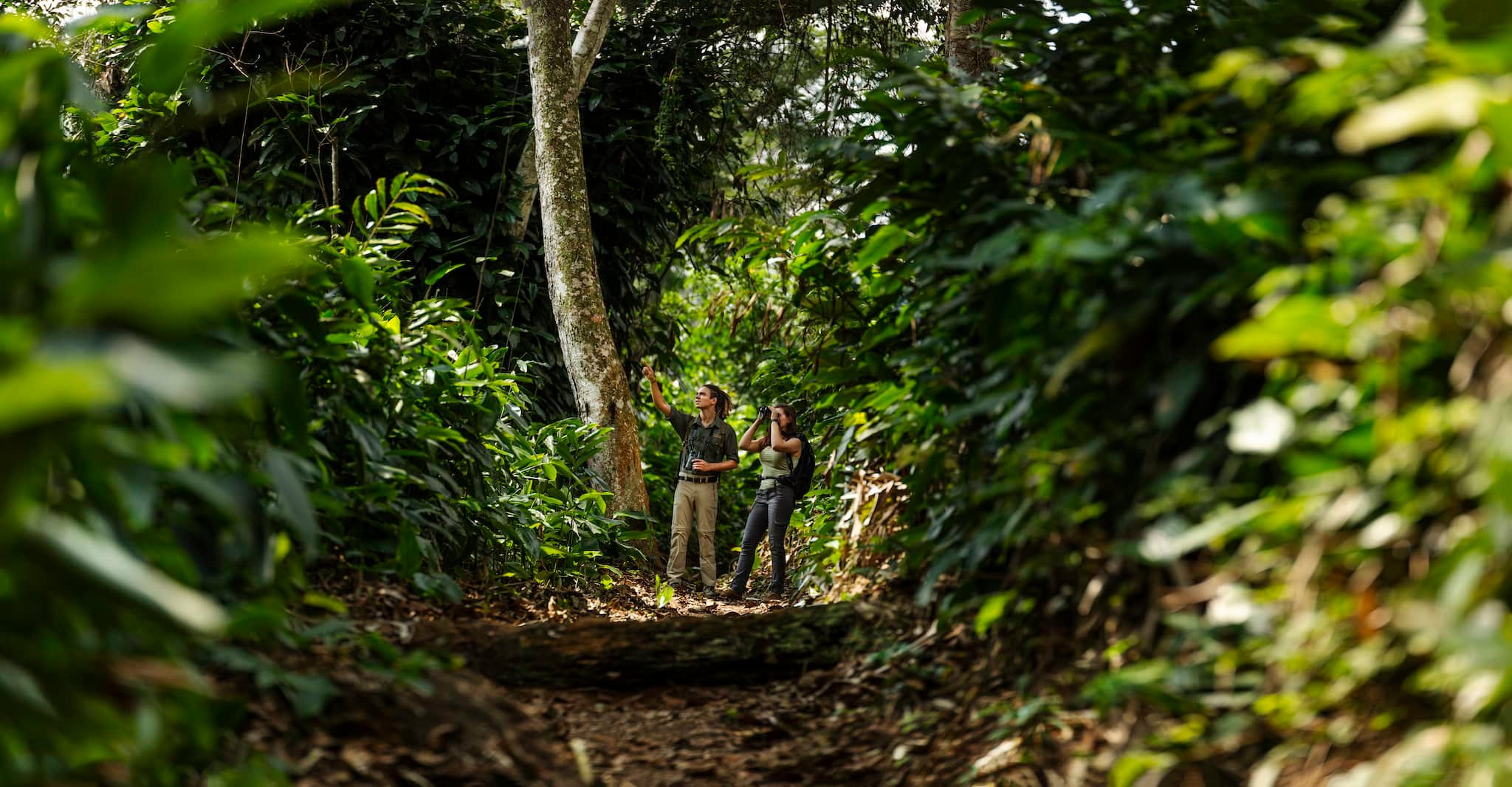 Bush walking in Odzala-Kokoua National Park
What Primates and Other Wildlife Can I See in Congo?
Sometimes called the planet's green lungs, the Congo Basin is a very important biodiversity hotspot.
As already mentioned, you can see the western lowland gorillas, as well as chimpanzees here. In fact, there are 16 primate species here! Some of the species living in the Congo Basin is found nowhere else, like the bonobo (pygmy chimpanzee), sun-tailed monkey, black colobus monkey, and the okapi antelope.
Furthermore, you can see forest elephants, hippos, buffalo, the rare bongo antelope and over 100 other mammal species. If you love bird-watching, you'll be in feather heaven, as there are around 444 bird species flitting through the skies!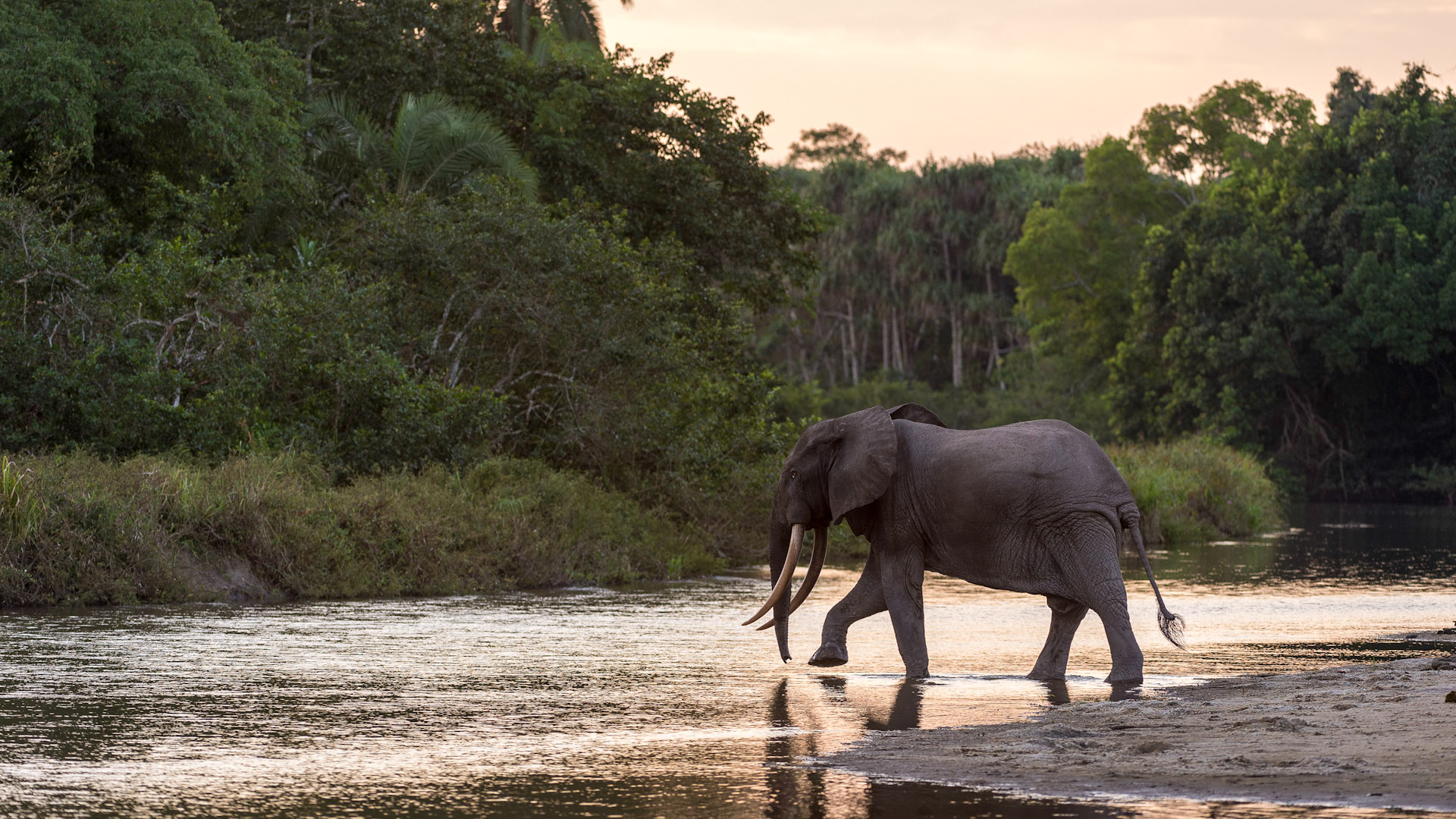 The forest elephant on the move in Congo, Image Credit: Congo Odzala Discovery Camps
Other Than Gorilla Trekking, What Can I Do in Congo?
We can recommend all the wonderfully fun things to do in Congo when you book your dream LGBTQ+-friendly African holiday with us! But for now, here are some of our darling favourites.
Guided forest walks to admire the birds
Tracking the "Forest Five" on foot, namely the forest elephant, forest buffalo, western lowland gorilla, bongo and giant forest hog
Venture out after dark on night walks to look for nocturnal forest animals like palm civets, galago and flickering fireflies
Cool off in the crystal-clear streams while watching monkeys swing overhead and butterflies fluttering around
Go to a busy forest baï (wetland) to watch the wildlife gathering
Sunset boat cruises (a great excuse to open a bottle of the finest bubbly!)
Kayaking to explore the riverbanks while enjoying the tranquillity of the water
Learn about primate conservation with world-renowned researchers
When is the Best Time to visit Congo?
The Best time to visit the Congo to go gorilla trekking is from June to September and again from December to February as these are the dry seasons.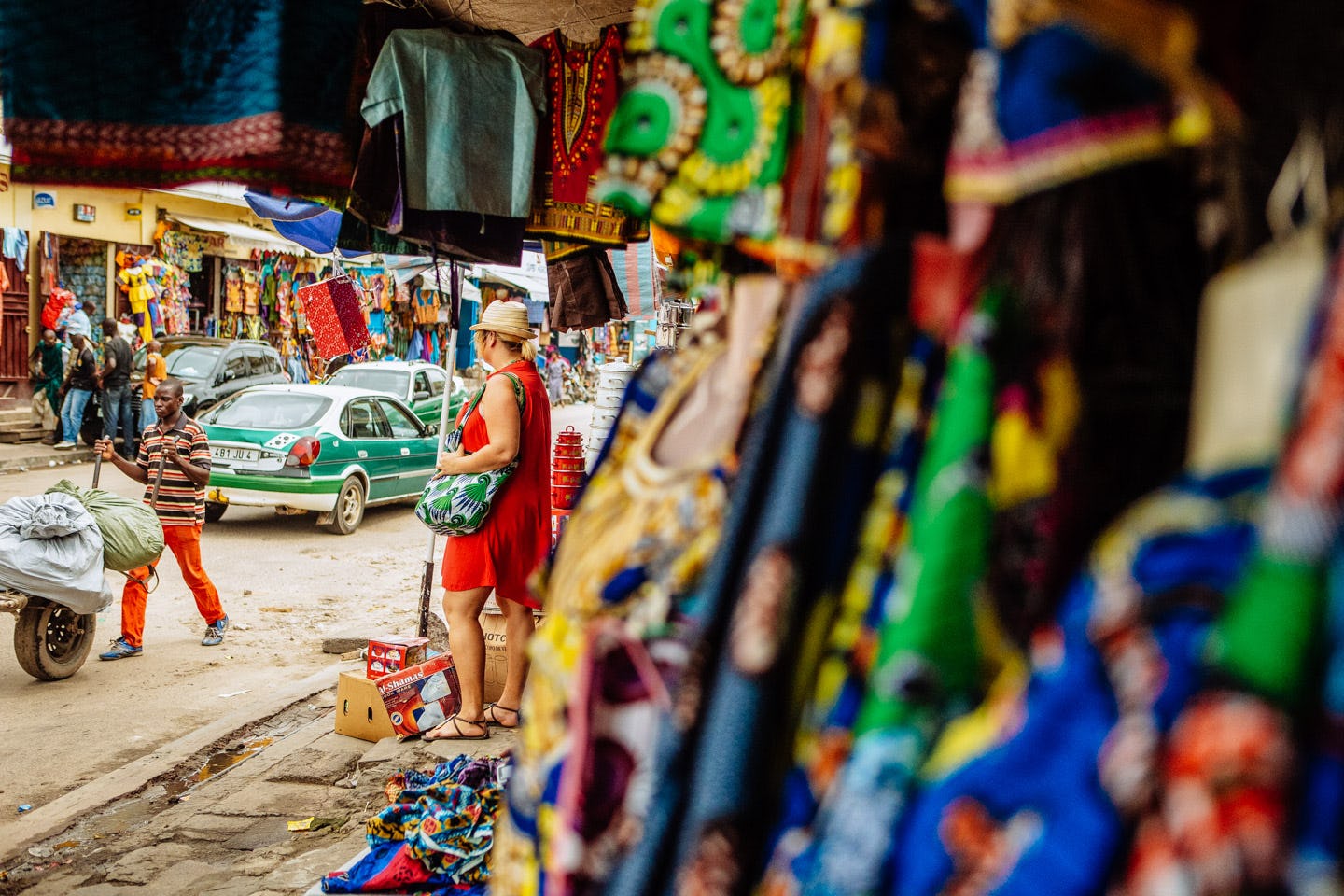 Colourful Brazzaville, Congo's capital city
Book Your Gorilla Trekking Adventure in Rwanda or Congo Today
Oh, can you feel the excitement brewing? We can feel it too...So, reach out to our fabulous LGBTQ+ Travel Experts, and let's tailor-make your dream gay-friendly gorilla trekking adventure today!