Oh, mon amour… there's just nothing like staring into the eyes of someone you love in a setting dripping with romance. And no, we're not talking about been-there-done-that Paris. We're talking about mysterious Africa. Or, more specifically, the most romantic gay-friendly places in Southern Africa. Who's up for some saucy romance in sunny Southern Africa with your main squeeze? We knew you'd be! Here's where to go, according to our fabulous LGBTQ+ African Travel Experts.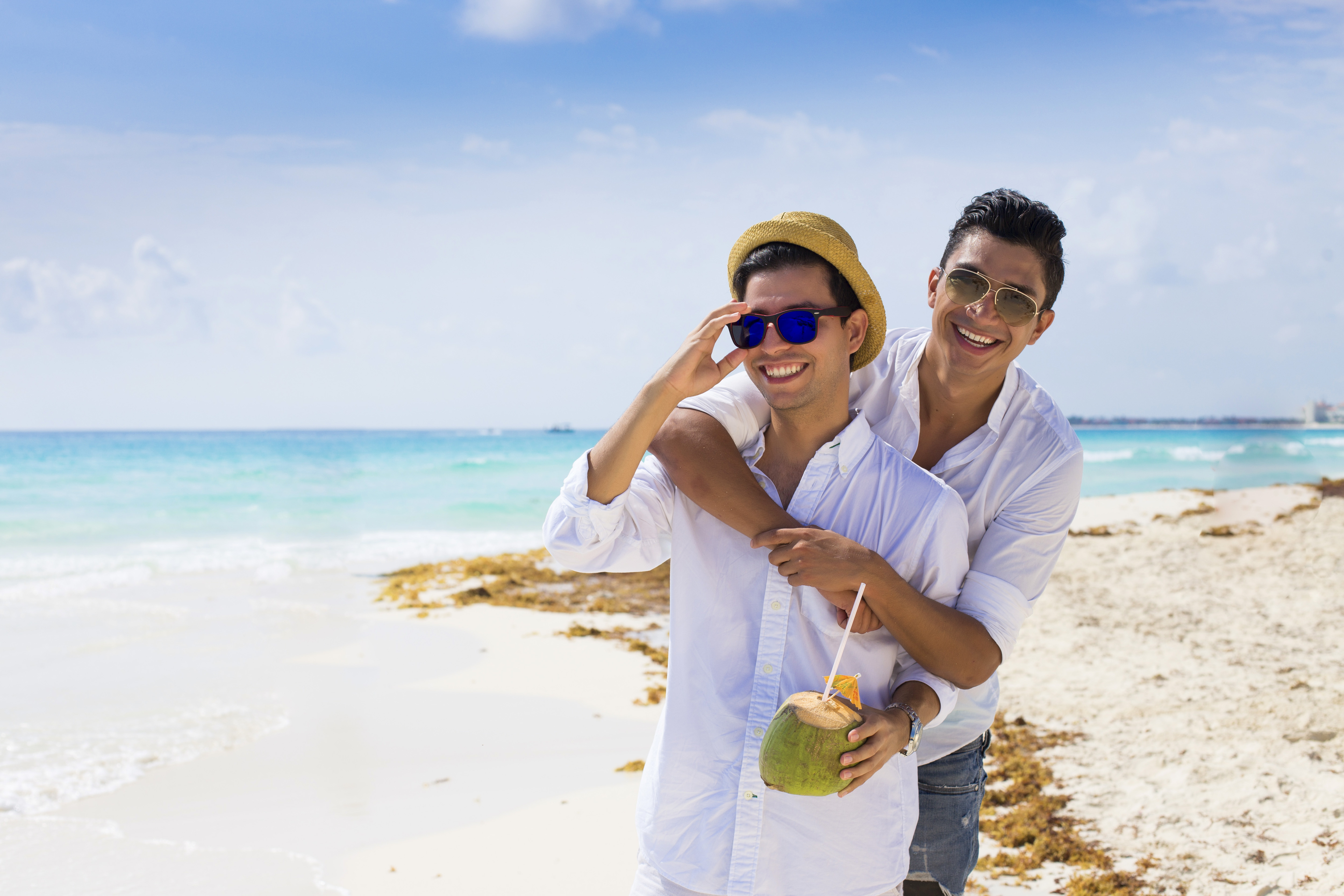 Explore the most romantic gay-friendly places in Southern Africa
Love at First Safari
Of course, we'll start our list of the most romantic gay-friendly places in Southern Africa with sexy safari settings! This is Africa, after all. Just warn that significant other of yours that your eye might wander a bit…from spellbinding landscapes to lovely lions and star-lit skies…sigh, there's way more than your partner to admire – no matter how hot they might be, Africa will always be hotter!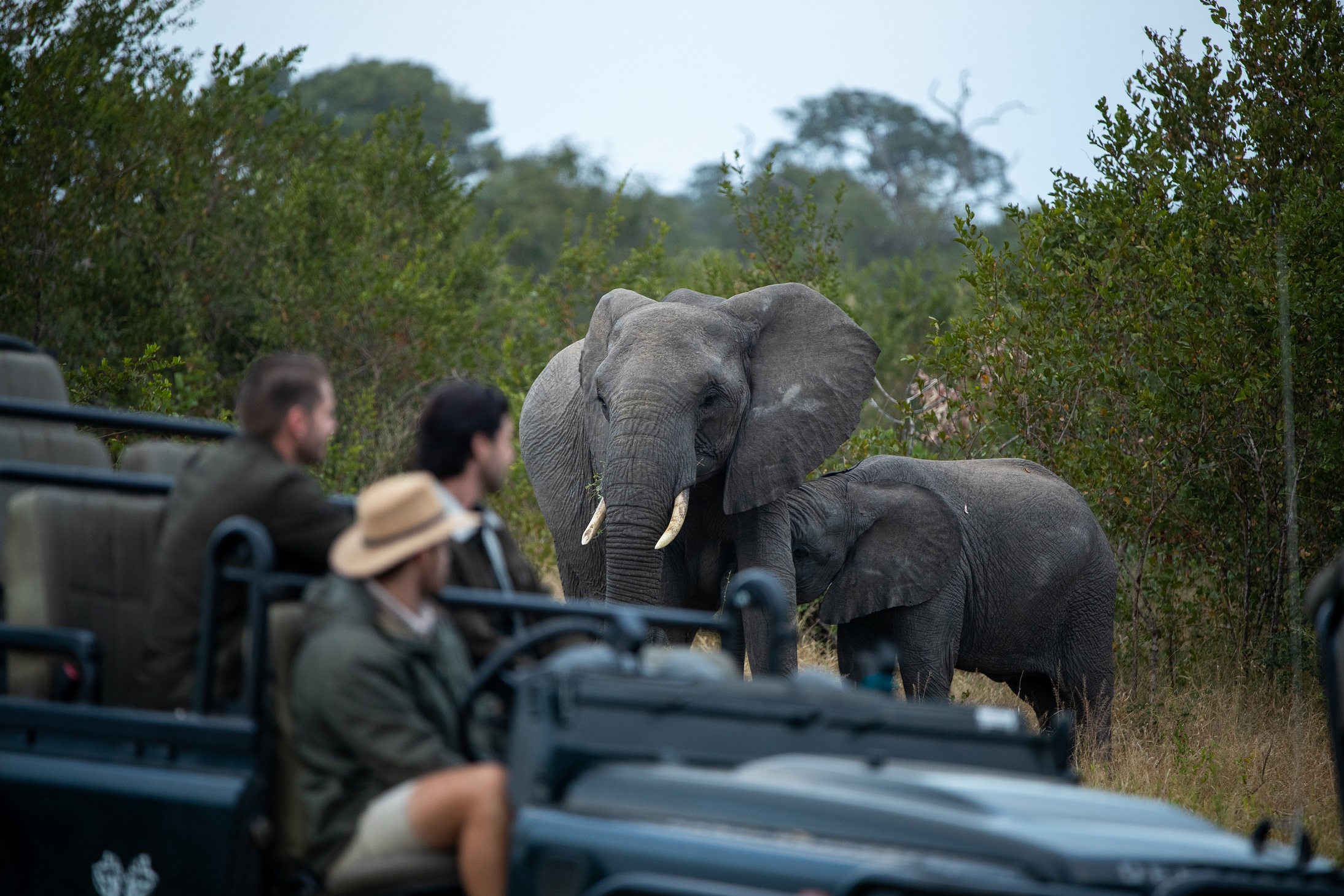 Meet Africa's greatest wildlife on safari
1. Sensual Silvan Safari
We'll kick off the list with a bang – with the World's Leading Luxury Lodge. And to wear that crown, she surely must deliver quite a bang! Well, honey, get ready because she more than delivers on all fronts. Silvan Safari is located in Sabi Sand Private Game Reserve in Kruger National Park, and is famous for its sightings of the elusive leopard.
With an extensive gin collection keeping you hydrated and floating on a happy cloud, pools overlooking wildlife-rich bush, massive luxury suites, to-die-for fine dining, the best wines from across the world (but especially South Africa!), and artwork that will move you around every corner, it's perfection.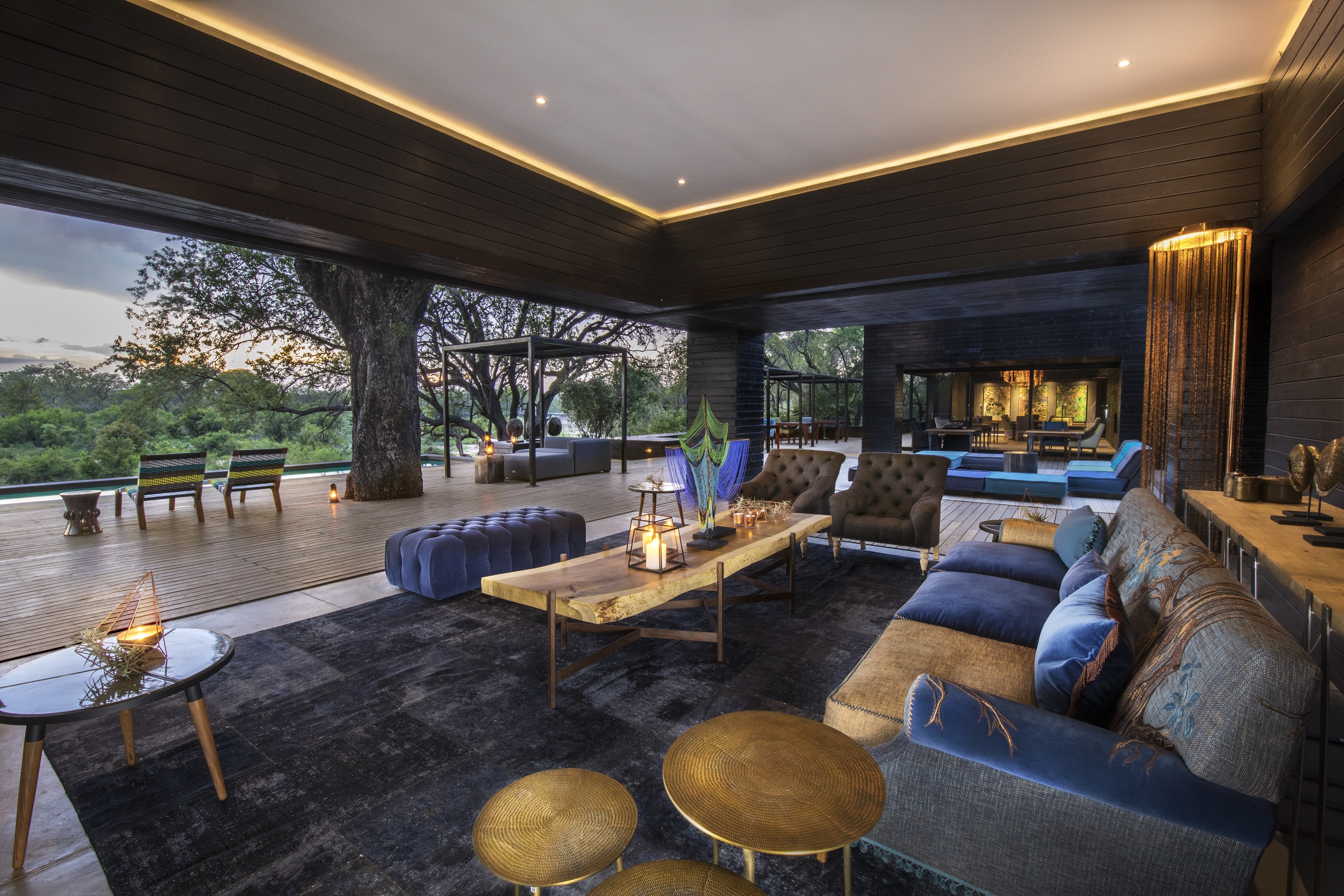 The World's Leading Luxury Lodge, Silvan Safari
Why We Love it
It's in a private game reserve, which means you get an uncrowded, exclusive experience
You get to enjoy activities you can't do in public parks, like driving off-road to get a closer look at wildlife, night safaris and going on bushwalks
Romantic settings and special occasion requirements like private lantern-lit dinners, bush breakfasts, and so much more
Award-winning spa to pamper you silly
Photo Studio where you can touch-up and print your safari memories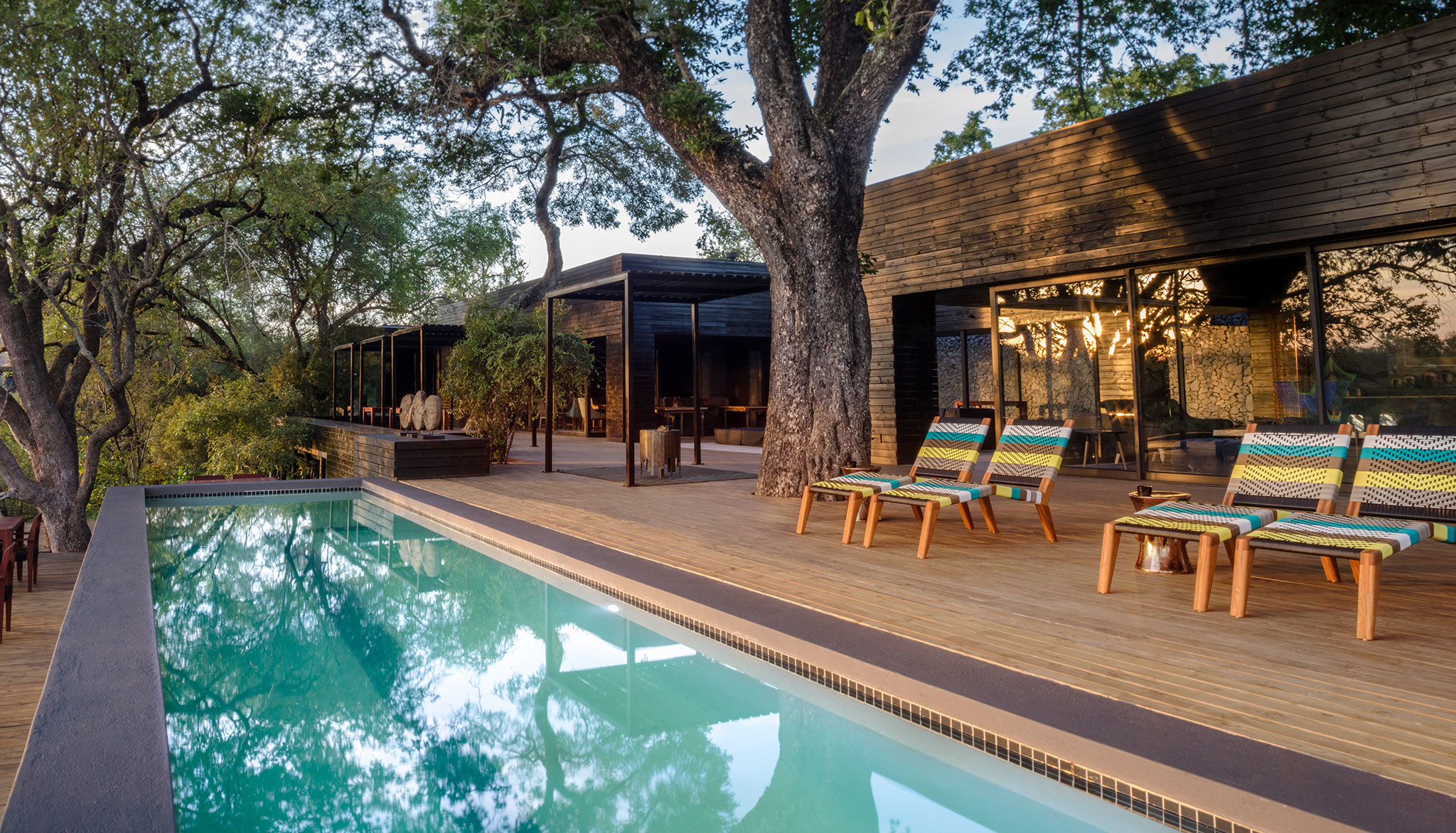 Where you'll spend much of your time, the pool
2. The OG Jock Safari Lodge
Jock Safari Lodge is the original private safari lodge in Kruger National Park. It will give you all the feels, with its modern yet authentic design inviting you to step into her loving embrace. Each suite overlooks the riverbed, giving you complete privacy and making you feel like you're in your own little world. We also love the spacious decks, delightful plunge pools, Salas and outdoor beds.
When you're not in your room romancing away, the safari activities offer plenty of adventure, from game drives to wilderness walks, bird-watching and admiring the local biodiversity. Plus, you can drift off to your happy place at the Pilgrims Rest Retreat Spa. Enjoy hitting a few golf balls? The nearby Leopard Creek Country Club is the place to be.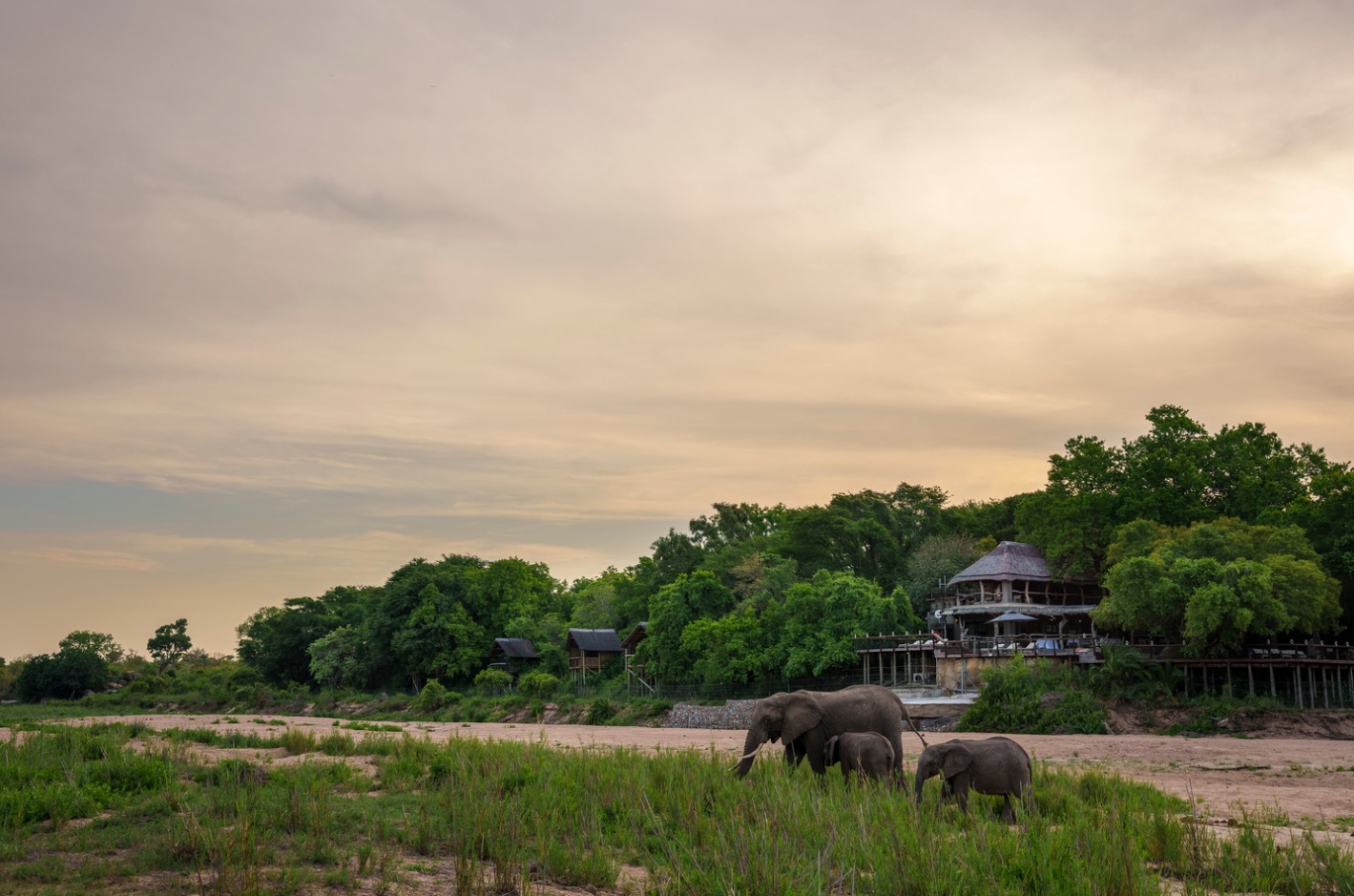 Wildlife views from the lodge, Image Credit: Jock Safari Lodge
Why We Love it
We love that it's named after the legendary Jock of the Bushveld, a novel written by Sir Percy FitzPatrick
Private suites overlooking the riverbed
They're the top environmental concession in Kruger National Park
So many different activities will keep you as busy as you like (while still spending plenty of time relaxing)
In an exclusive private concession unlocking more exclusive experiences, such as wilderness walks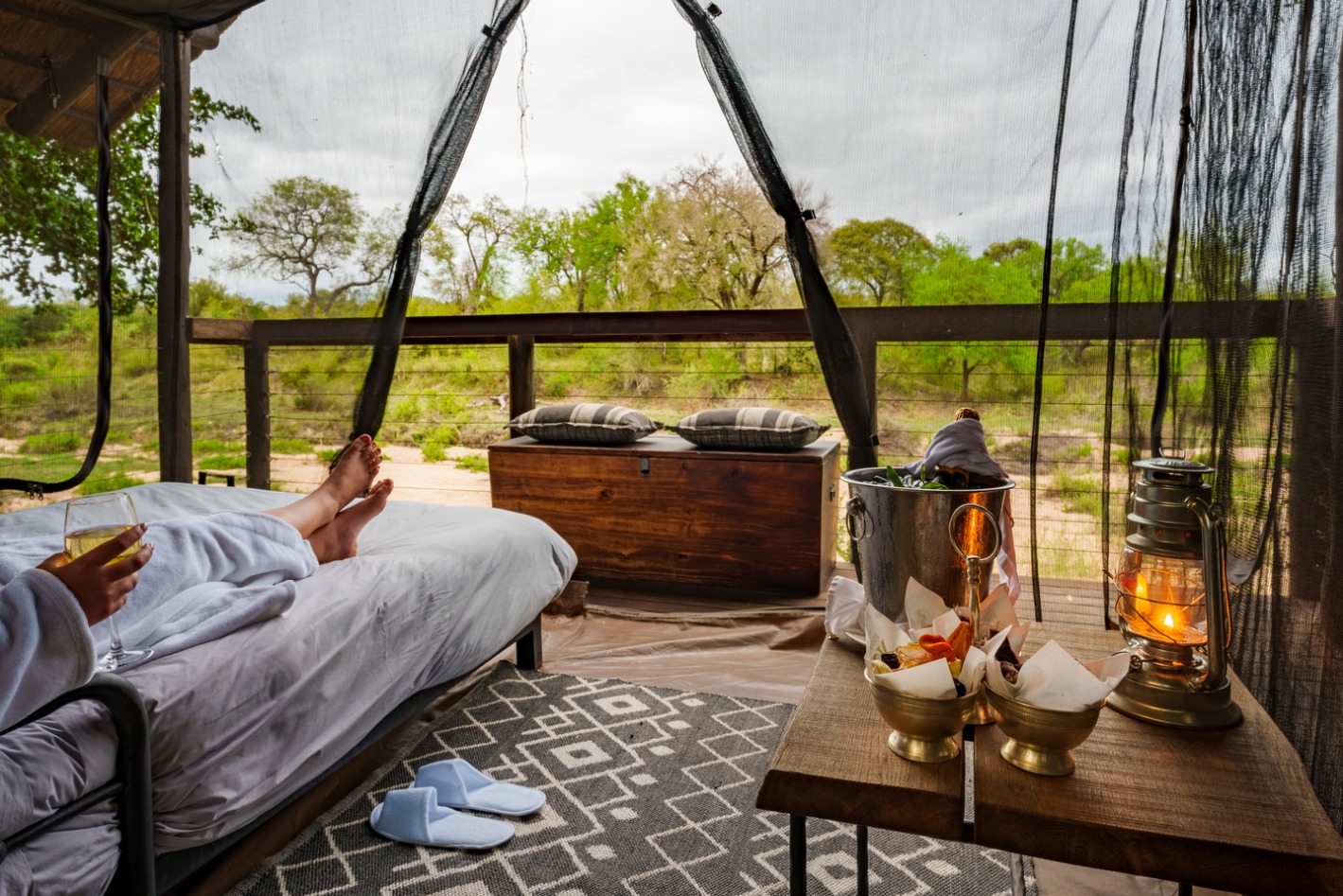 Hello romance, Image Credit: Jock Safari Lodge
3. The Great Duba Plains
Now, let's take you to the remote romantic plains of Botswana…with few people but packed with exciting wildlife to see! If you really want to escape reality, this is the place.
Only accessible by light aircraft, you'll fly straight to your dream safari setting in the renowned and mysterious Okavango Delta. With only five tented rooms, you don't have to share the experience with a throng of other eager tourists making it all the more romantic!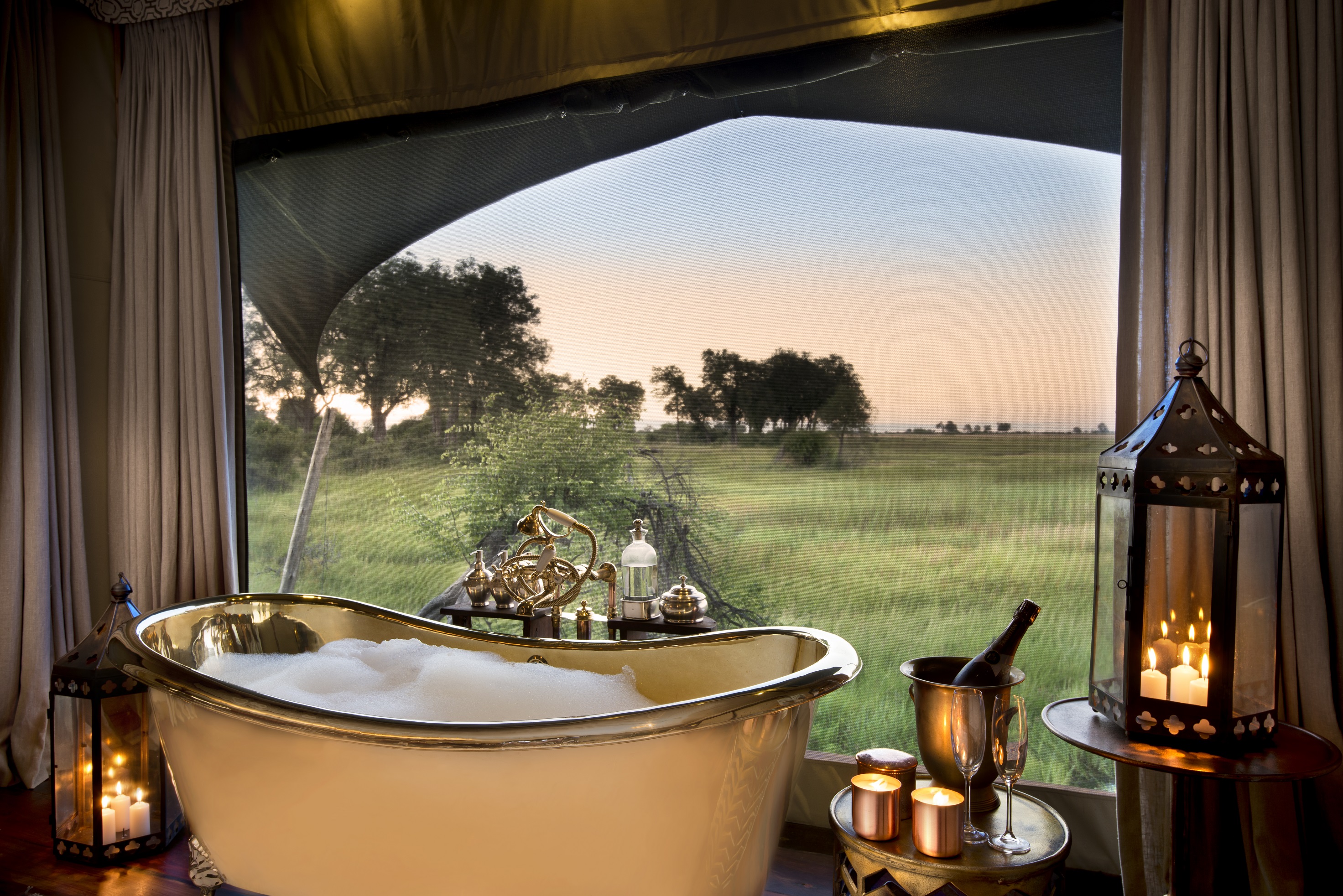 Picture yourself right here, Image Credit: Duba Plains
Why We Love it
Remarkably remote setting in the Okavango Delta, Botswana
Tents are set on the Delta, sheltered by large mangosteen and fig trees
Mokoro (traditional dug-out canoe) safaris will undoubtedly be a highlight
Unbelievable cuisine and wine selection
Focus on 100% sustainable conservation tourism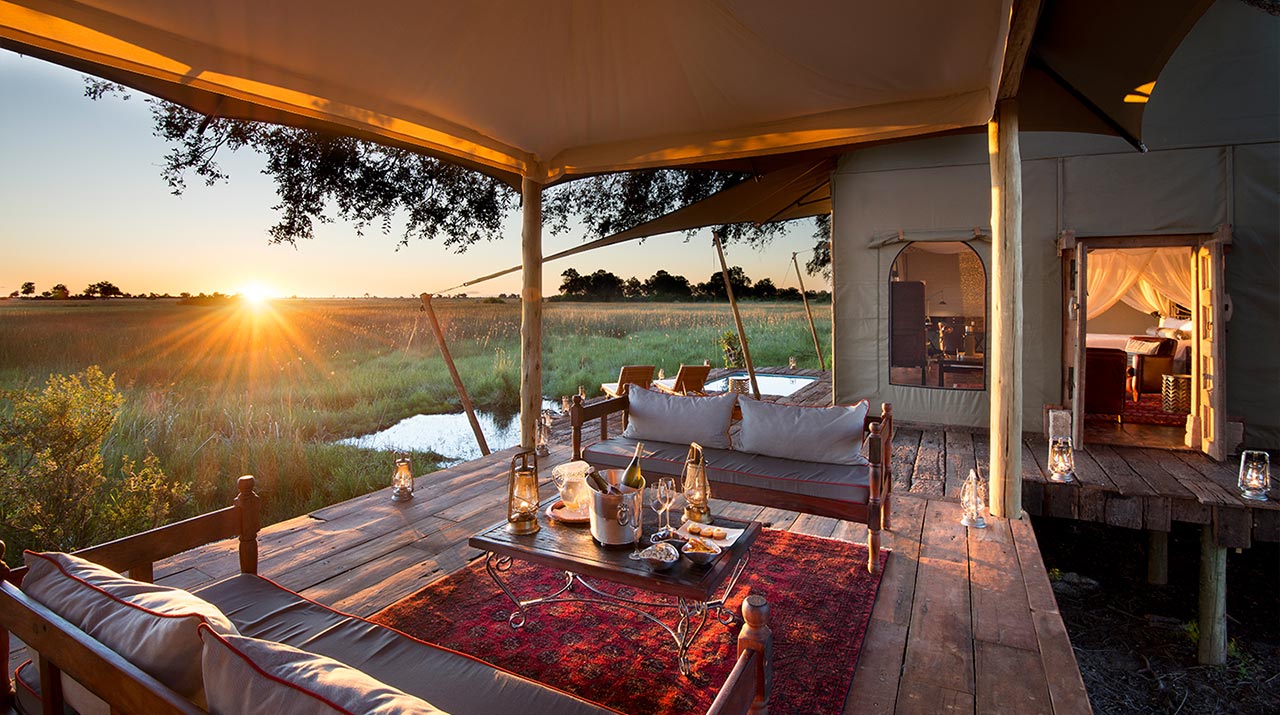 One of the most romantic gay-friendly places in Southern Africa, Image Credit: Duba Plains
4. Sensational Sandibe Safari Lodge
Set within the private Moremi Game Reserve, Sandibe Safari Lodge seduces you upon first sight. Not only because it's surrounded by breathtaking wilderness, but it looks like it's straight out of an interior magazines with its pangolin-inspired design.
Raised above the papyrus-lined Okavango Delta banks, your suite offers the utmost privacy with incredible views from everywhere, including your plunge pool!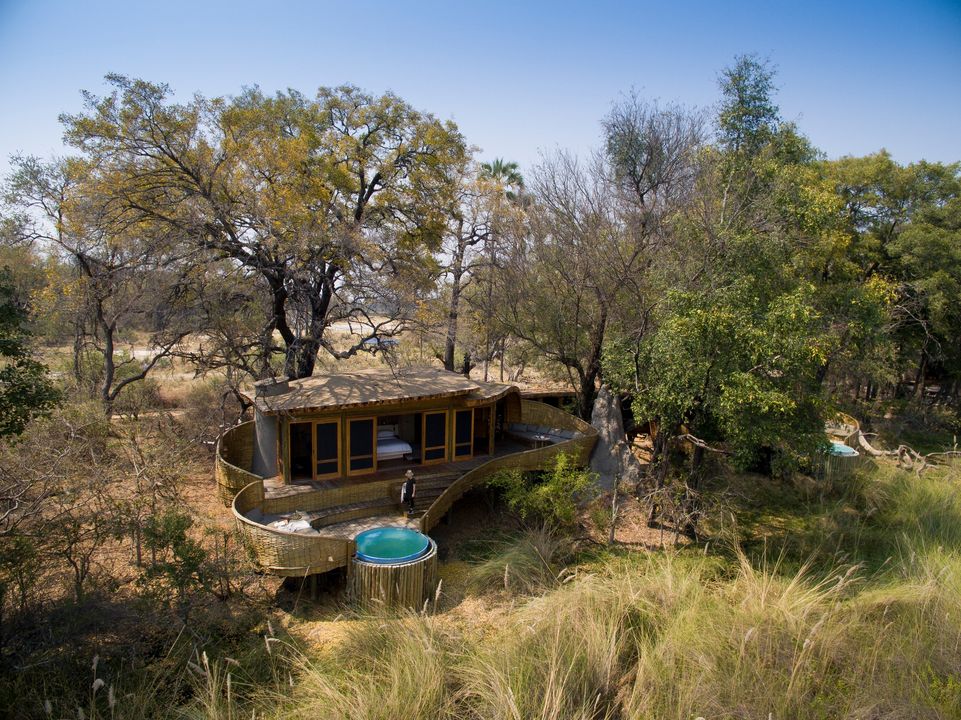 Imagine waking up here, Image Credit: andBeyond Sandibe Safari Lodge
Why We Love it
Each suite has a romantic private viewing deck, outdoor shower, and plunge pool (sounds like a dream? It is!)
Perfect if you love birds, as there are over 349 species
Plenty of ways to explore the area, from game drives to guided walks, and helicopter flights
70% of the lodge's extensive energy requirements come from solar energy, which you can see in action if you ask for a tour of their (very first in the Delta) solar power plant
So many activities, from game drives to walking safaris and helicopter flights, plus you can join chefs in the interactive kitchen to cook up a storm together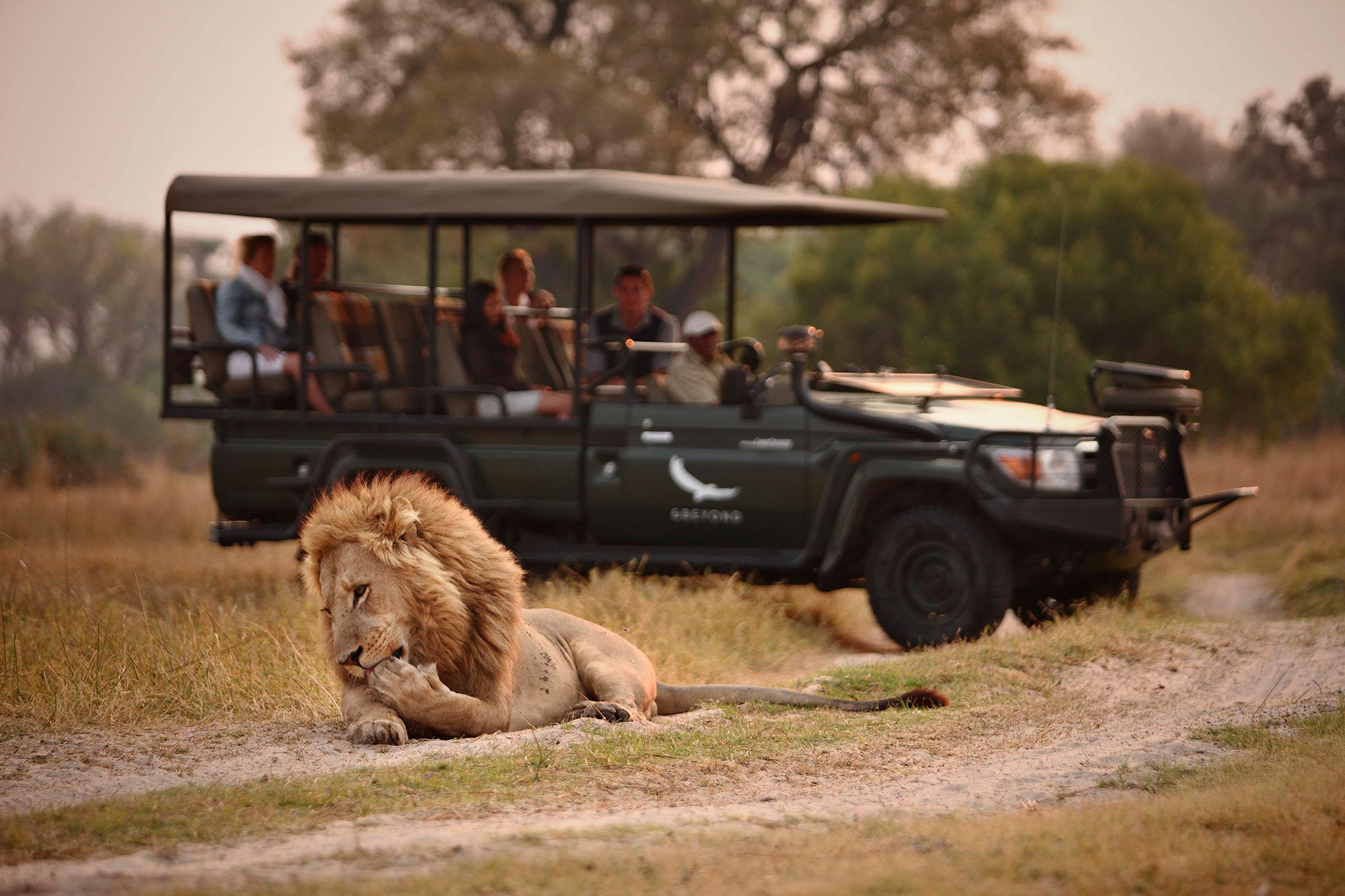 Relaxing game drives, Image Credit: andBeyond Sandibe Safari Lodge
Sexy City Slicker Settings
Cape Town is a proposal dream come true. It has so many vantage points from which to admire its famous sunset displays, whether it's from one of the pristine beaches, a mountain top, a fancy restaurant, or a sunset cruise.
5. Cape Grace
Ooh, we love this one. Its convenient setting is slam-bam in the V&A Waterfront in Cape Town, which means all the hottest places are only a leisurely stroll away. If you enjoy a tipple or two, their Bascule Whiskey Bar, wine selection, and crafted cocktails will delight, and its restaurant will whet your appetite. We can book you a whiskey tasting to experience the full monty.
We also love their spa, and after having one of their cupping therapy massage sessions, you might just feel like you've cheated on your partner…yes, it's that good! The interior of this place will make you feel all the romance, with Dutch colonial décor. The marina views are also divine, especially in the mornings when you throw open your balcony doors to let the ocean breeze in.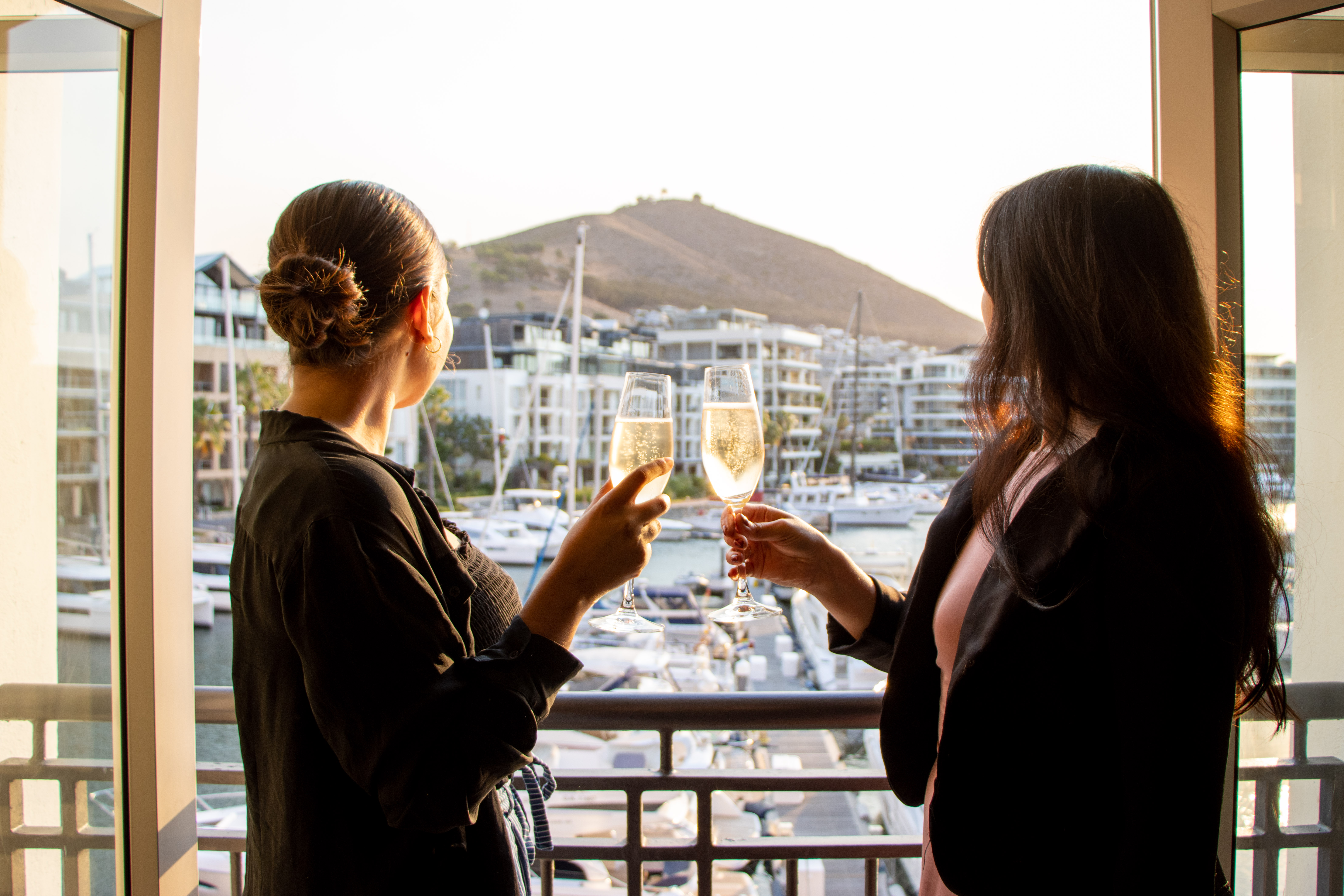 Cheers to Cape Town, one of the most romantic destination in Southern Africa
Why We Love it
They have their own signature scent throughout the hotel, which is to die for!
Known as one of Cape Town's top hotels and very conveniently located in the V&A Waterfront
Onsite Bascule Whiskey and Wine Bar offers over 400 whiskeys
Incredible spa that will (from personal experience) change your life with their treatments
Old-world romance with a proudly South African design with Dutch colonial flair and mountain or marina views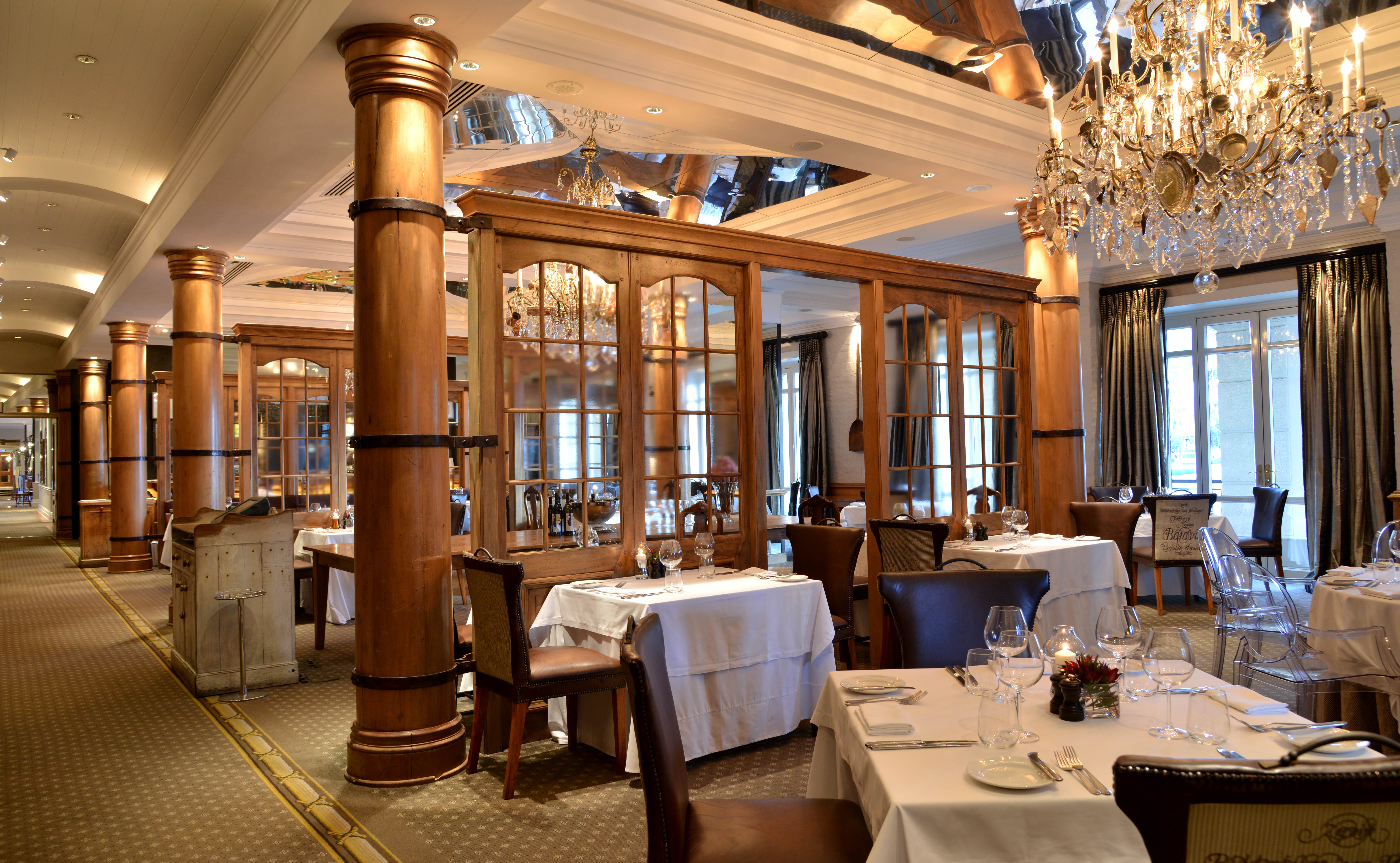 Romantic setting for your Cape Town visit, Image Credit: Cape Grace
A Bit More Remote Opulent Oceanside Romance
Now, we love our city. But sometimes, you just want something a bit more remote. Well then, fancy some seaside relaxation? Follow us to immaculate coastlines only two hours out of Cape Town…
6. Grootbos Private Nature Reserve
Grootbos is located in Gansbaai, close enough to the city to make it convenient but far enough that you feel like you're escaping. Find yourself between ocean, mountains and forests for a rendezvous with Mother Nature like no other.
Of course, it has all the luxuries you could dream of when you stay at one of its accommodation options, namely Garden Lodge, Forest Lodge (perfect for romance!) and Luxury Private Villas.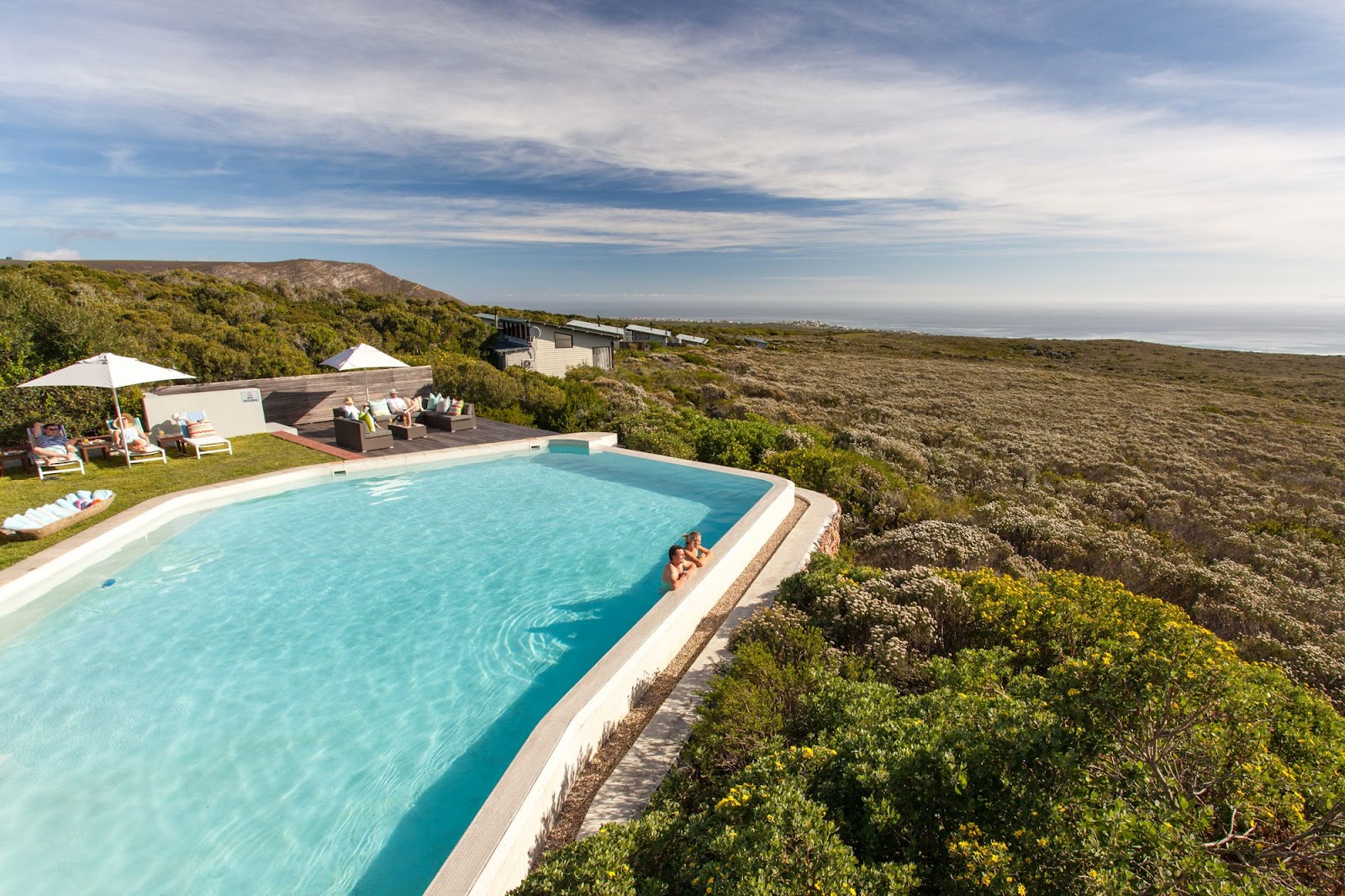 Ocean, forest and mountain views all around, Image Credit: Grootbos
Why We Love it
The natural, untouched setting of mountains, forests and ocean landscapes
Ultra-luxurious accommodation with incredible views
Grootbos is known for being an award-winning pioneer in progressive tourism
The world-class food and wine experiences
Plenty to do in the Gansbaai area, from private sunset picnics on the beach and guided botanical hikes to private wine tours and day trips to the southernmost tip of Africa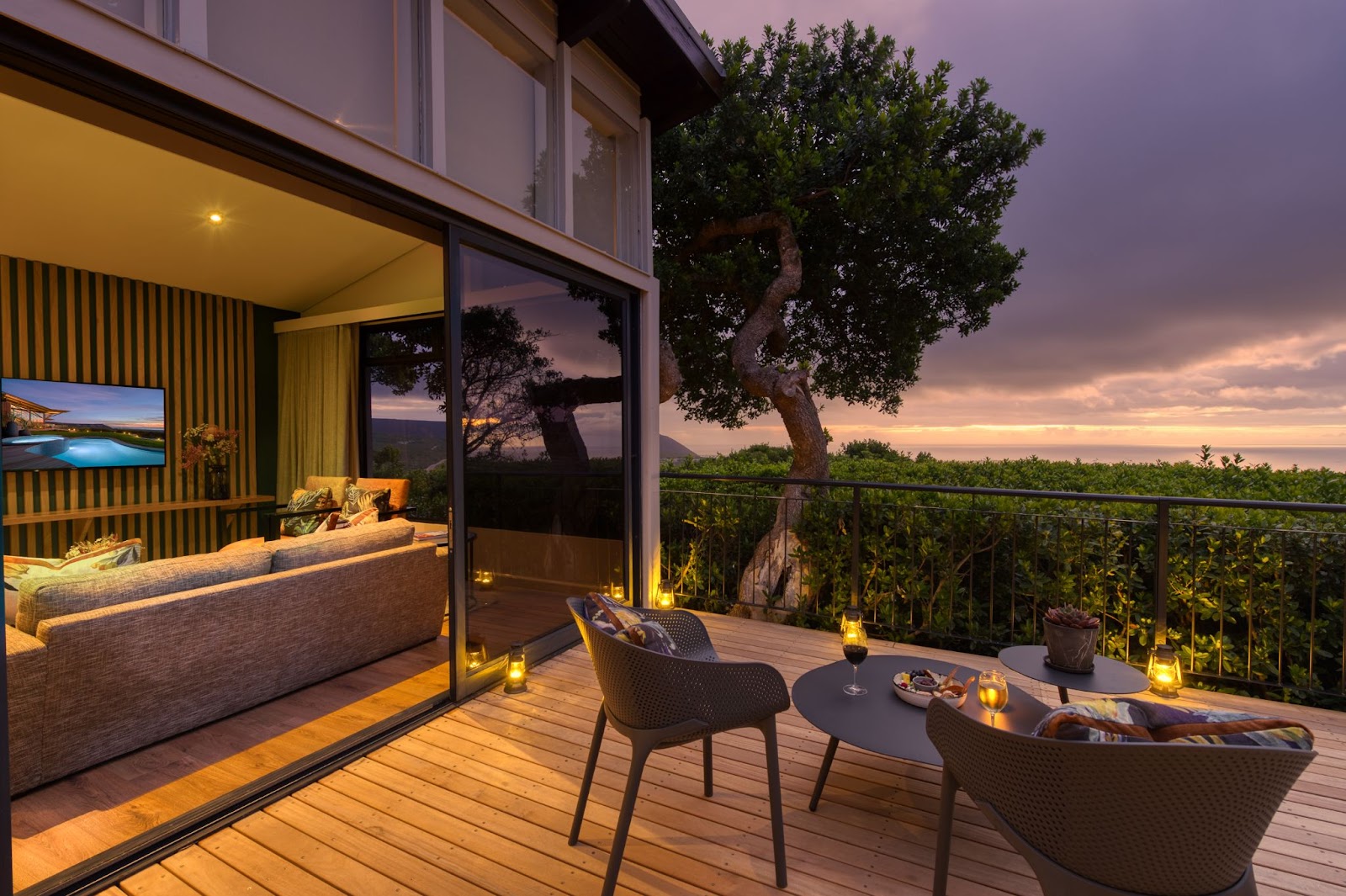 Clink drinks as the sun sets, Image Credit: Grootbos
A LOT More Remote Island
Island living, anyone? The wildly wonderful Mozambique is still a bit of a hidden gem in Southern Africa. Although we'd kind of like to keep it that way, we'll let you in on why we love it…
7. Barefoot Bliss at Benguerra Lodge Mozambique
Ready to kick off your shoes, dig your toes into powdery sand, and soak up the sun for that holiday glow? Benguerra Lodge in Mozambique is one of our absolute favourite island getaway destinations because it's close enough to reach easily but it feels like it's on a different planet.
Found in a marine conservation area, it's a dreamy beachside location to just relax. Or, trot along on horseback as the sun sets on the horizon, enjoy alfresco dining under the stars, explore the underwater world, and more.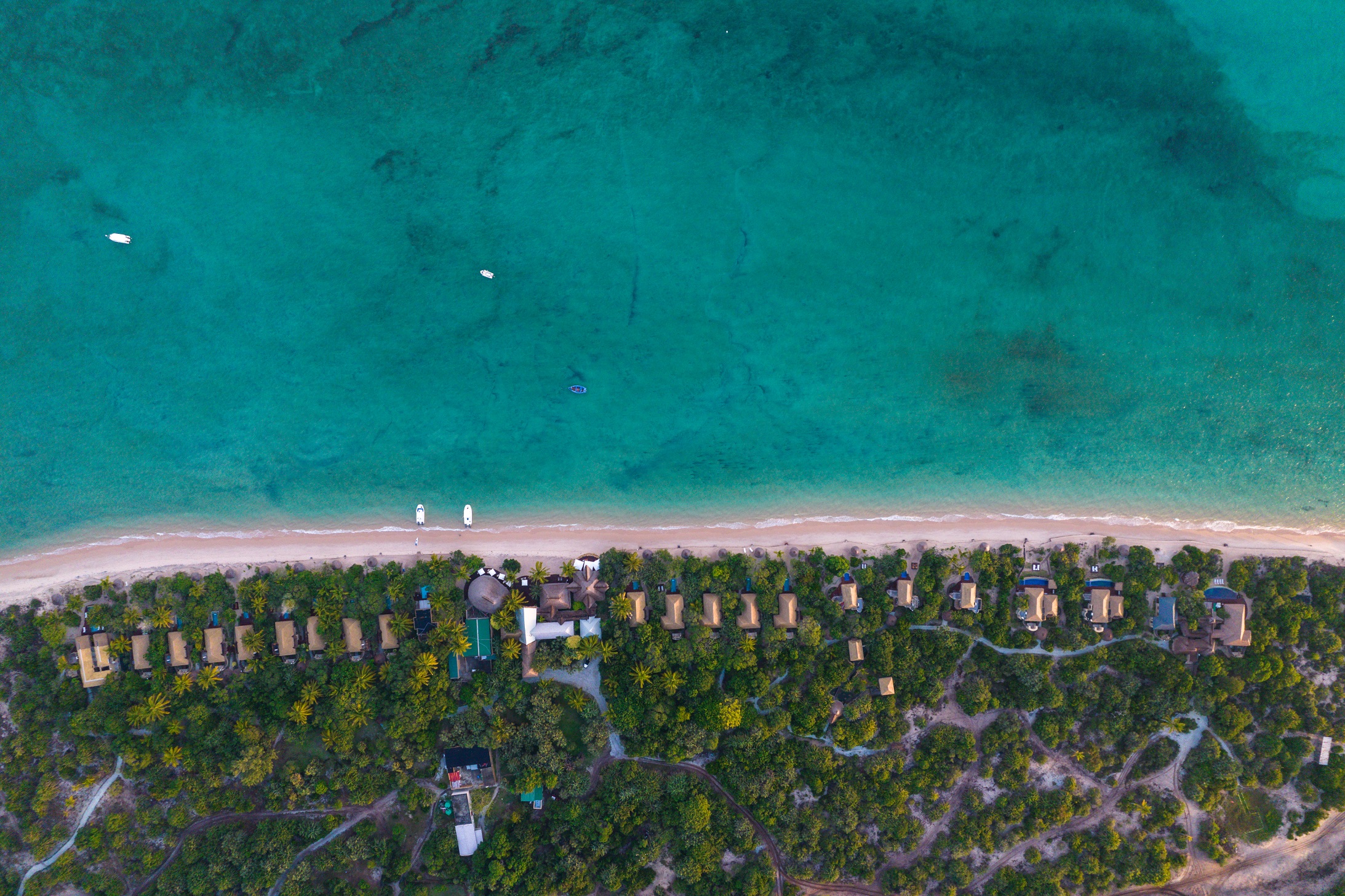 Your island escape awaits in Mozambique
Why We Love it
Dhow beach bar to quench your cocktail thirst
Do as much or as little as you want to, including horse riding, diving, snorkelling, village trips, and fishing
The plunge pools overlooking the ocean are super romantic, especially for sunset swims
Located in a marine conservation area
Outdoor dining and massage sala will tickle your fancy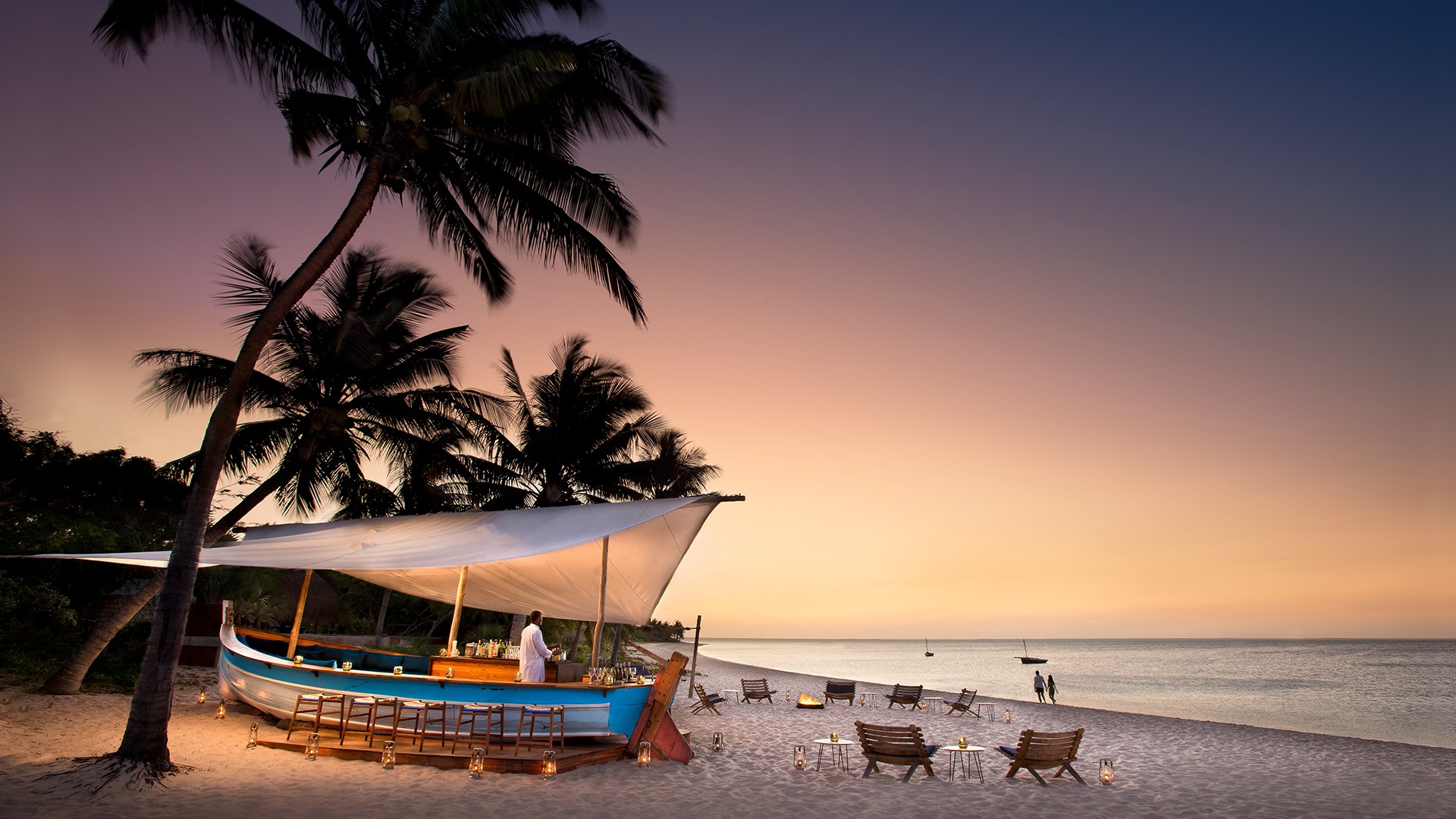 Keep the cocktails coming, Image Credit: andBeyond Benguerra Island
Let's Get You to Southern Africa
Alright, go on…say those three little words you're dying to say… Let's. Start. Planning! Contact our fabulous LGBTQ+ African Travel Experts today.
See you soon, lovebirds ;-)