The Okavango Delta in Botswana is often referred to as Africa's "Garden of Eden", and for good reason! Clearly visible from space, this pristine natural area is the second largest delta in the world. If you like a good mystery, you'll love this place as it has many scratching their heads still today!
It starts from humble beginnings in the remote highlands of Angola, and its journey winds through three countries, covering over 1,000-kilometres, before emptying into the Kalahari Desert.
Now imagine over 150,000 islands, over 500 bird species, nearly 200 mammal species, and over 150 reptile species, and it's not hard to see why you have Africa's most pristine wildlife destination in one place.
We're not going to beat around the bush. If you love a good nature show, your ticket to the Okavango Delta is the hottest ticket in town!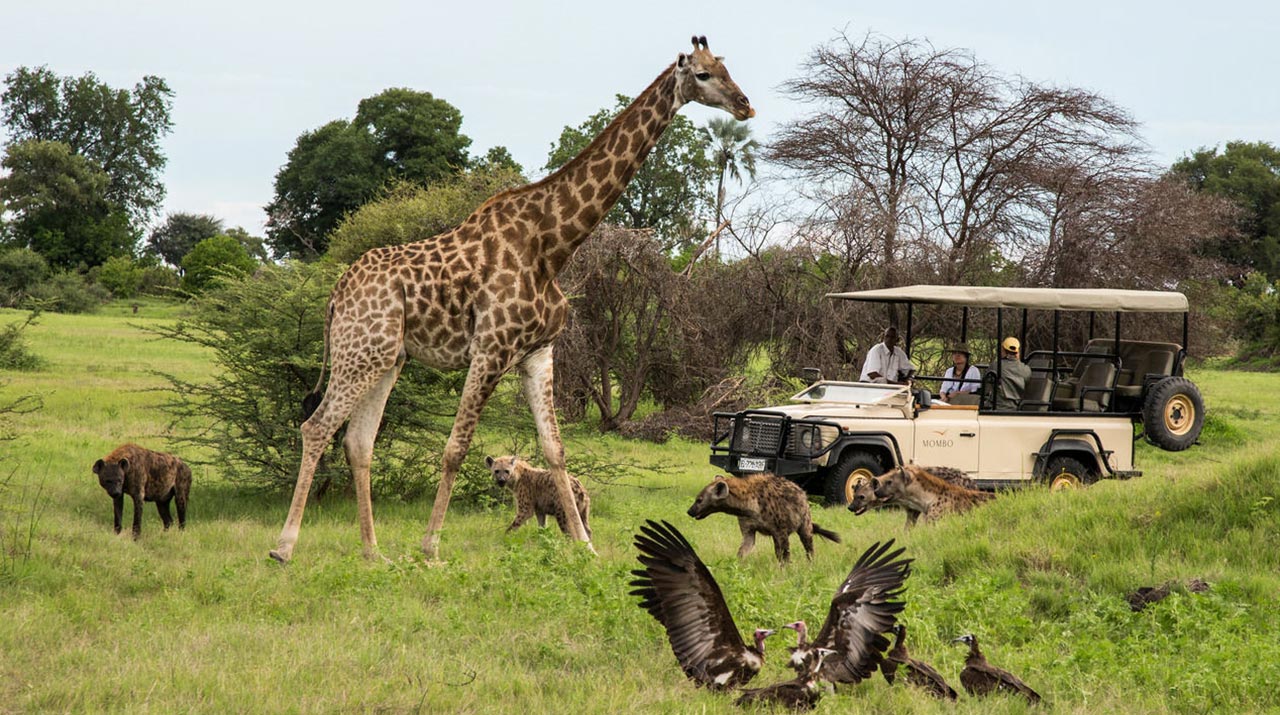 A plethora of wildlife species, fauna and flora - all in one place. Credit: Mombo Camp
When is the best time to visit the Okavango Delta in Botswana
The Okavango Delta is a seasonal destination which means that certain times of year are better than others – and knowing when is the best time to go is key! Well, don't fret as we're experts in all things luxury gay travel in Africa, so we know exactly how to orchestrate your trip for the most mind-blowing experience.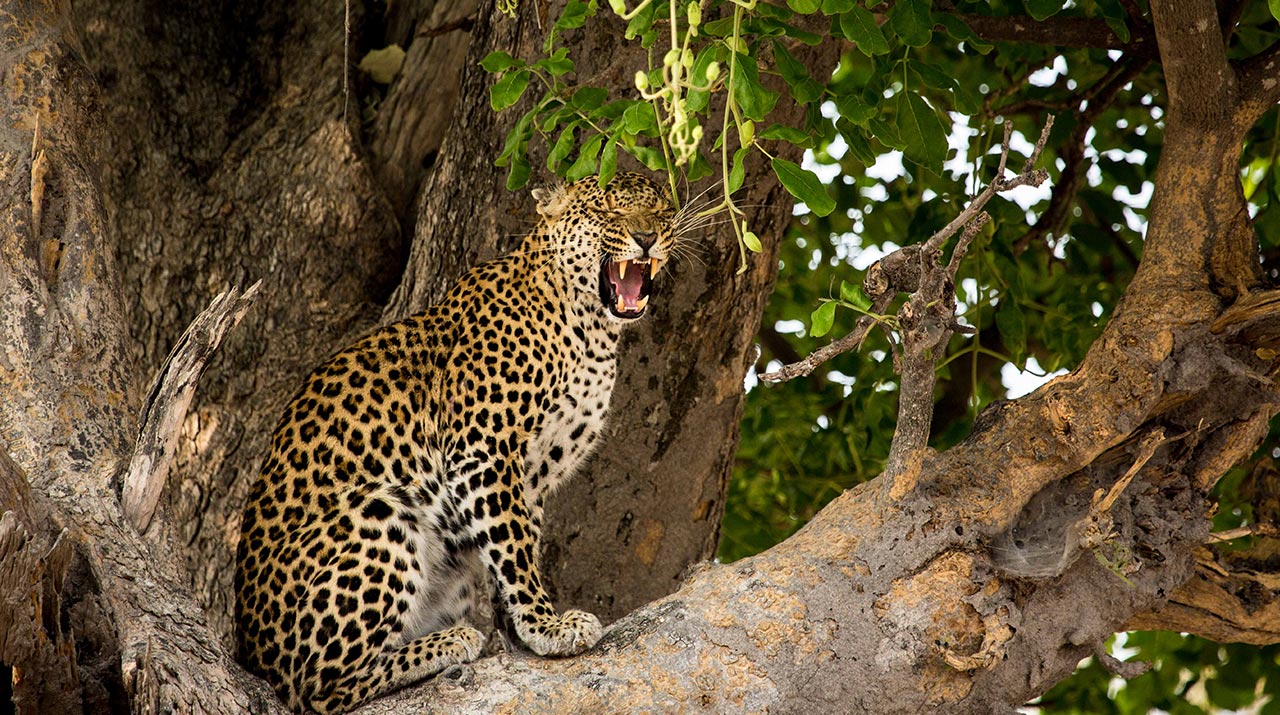 Africa's majestic leopard. Credit: Mombo Camp
May-August
You can expect prime game viewing between May and August. This is when the Delta is in peak flood, and many animals migrate here as food and water are abundant. The weather is also warm and mild during this time, making it the most popular time to visit.
September-October
The waters start to recede between September and October, and so do the animals (tip: lodge rates go down too!). This time is known as the "green season", and knowing where to stay is imperative. Moremi Game Reserve is perfect this time of year as animals congregate in large numbers in this area.
November-April
For those keen birders, the summer months from November through to April are simply sensational. While temperatures do get hot, you can expect cooling summer rains as afternoon thunderstorms are fairly common.
When should I start planning my Okavango Delta holiday?
The short answer? Yesterday! We weren't exaggerating when we said it's the hottest show in town. To ensure you get the best seat (aka bed), you have to book in advance – and with the most fabulous Gay Travel Experts, of course!
Botswana is one of the few African countries that have adopted a high-value, low-volume tourism strategy. This is to protect the natural wilderness and provide much needed socio-economic benefits for the surrounding communities. This sustainable tourism model has been hugely successful and means the Okavango Delta easily tops the list of the world's premier wildlife destinations.
This strategy also means that there is typically a higher demand for limited accommodation availability. Okavango Delta lodges generally are quite small and intimate, offering a very personalised and bespoke experience.
And the position within the Delta is everything, as being able to enjoy both land- and water-based safaris during specific periods of the year mean that prime camps and lodges sell out well in advance. Given the limited availability, we highly recommend starting your planning at least 12 months in advance.
How much does a safari cost?
The Okavango Delta is an expensive African holiday destination relative to neighbouring countries like South Africa, Zambia or Namibia.
The nature of high-value, low-volume tourism requires lodges to charge high prices, as a smaller number of beds are required to preserve an exponentially larger wilderness area.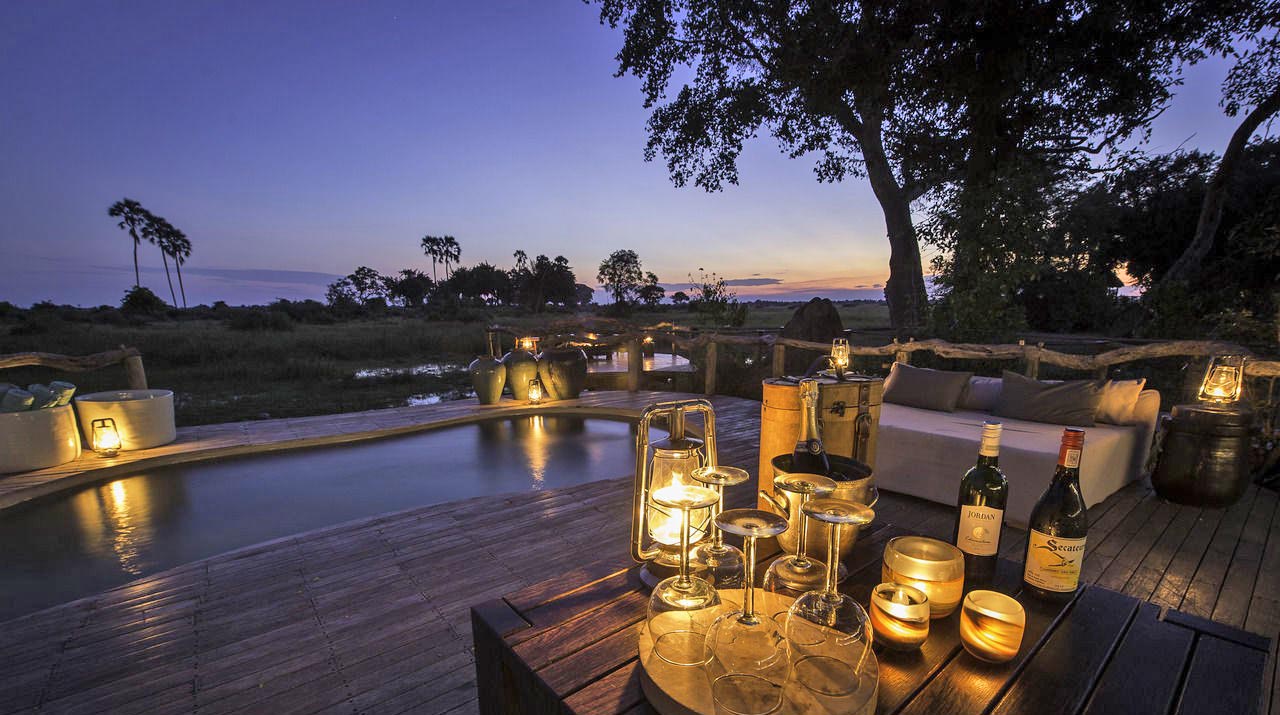 Next-level seclusion. Credit: Mombo Camp
But as all fabulous folk know, you pay for what you get! The pristine wilderness and the level of luxury and expertise of each lodge are far beyond that found anywhere else in Africa. Trust us, we know!
In our experience, an epic holiday to Botswana, including the Okavango Delta, would typically be about ten days. This would give you enough time to experience at least two of the country's prime wilderness areas; the Okavango Delta, the Savuti Marsh, Makgadikgadi Pans or the Chobe River.
If time allows, we would highly recommend including the incredible Victoria Falls, which provides a grand entry or exit point for your Botswana itinerary.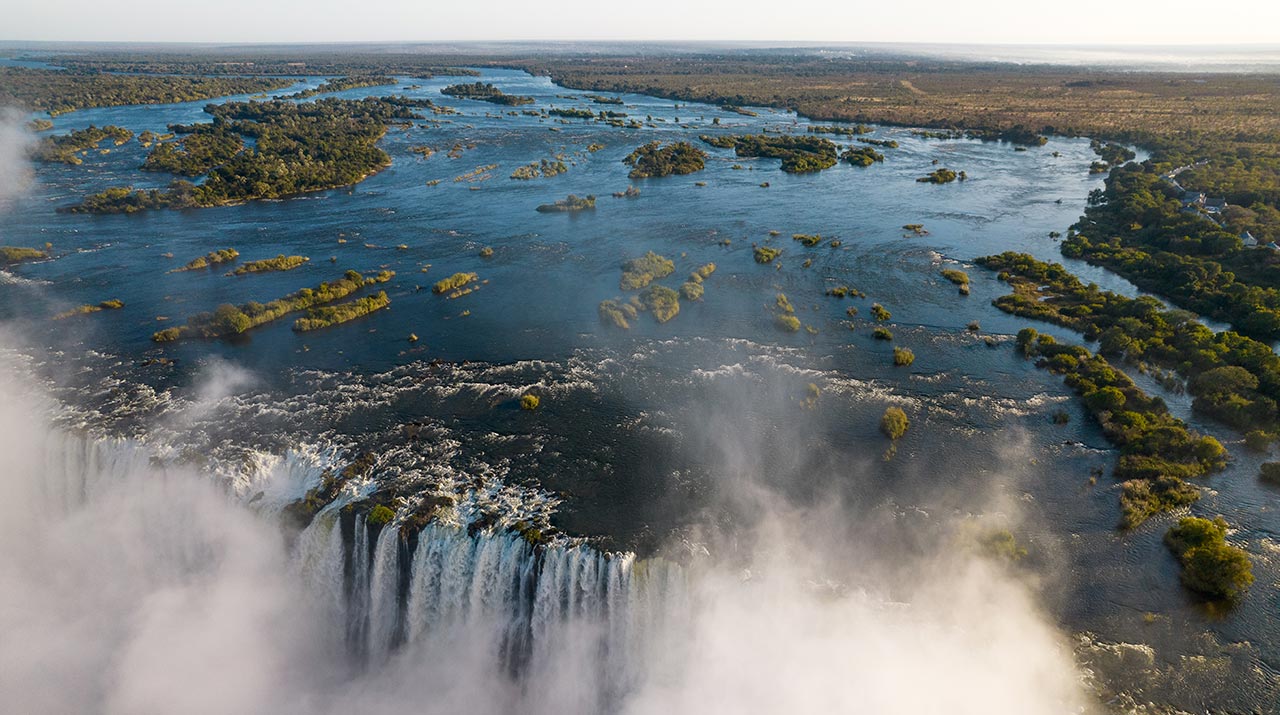 The ideal stop-over on your Botswana safari, the majestic Victoria Falls. Credit: Rhino Africa
If you were looking at booking during the peak season in the Okavango Delta in Botswana, a ten-day safari holiday, visiting three destinations across Botswana would cost about US$ 11,500 per person, excluding international and regional flights.
Our Top Places to Stay in the Okavango Delta
The Okavango Delta is where wilderness and luxury collide. There's simply no better way to describe the exemplary lodges, friendly staff, spectacular designs, warm hospitality and most unique locations on the planet. Here are just a few of our favourites.
Mombo Camp
The magical combination of seasonal flooding and rich soils at Mombo produce a nucleus of African wildlife like nowhere else on earth. Predators roam the floodplains in abundance, and all the wildlife heavyweights – elephant, rhino, buffalo, lion, leopard, cheetah, wild dog and hyena can be seen without even leaving your poolside lounger.
The birding at Mombo is equally as enthralling, and a water safari brings you closer to them than you ever thought possible.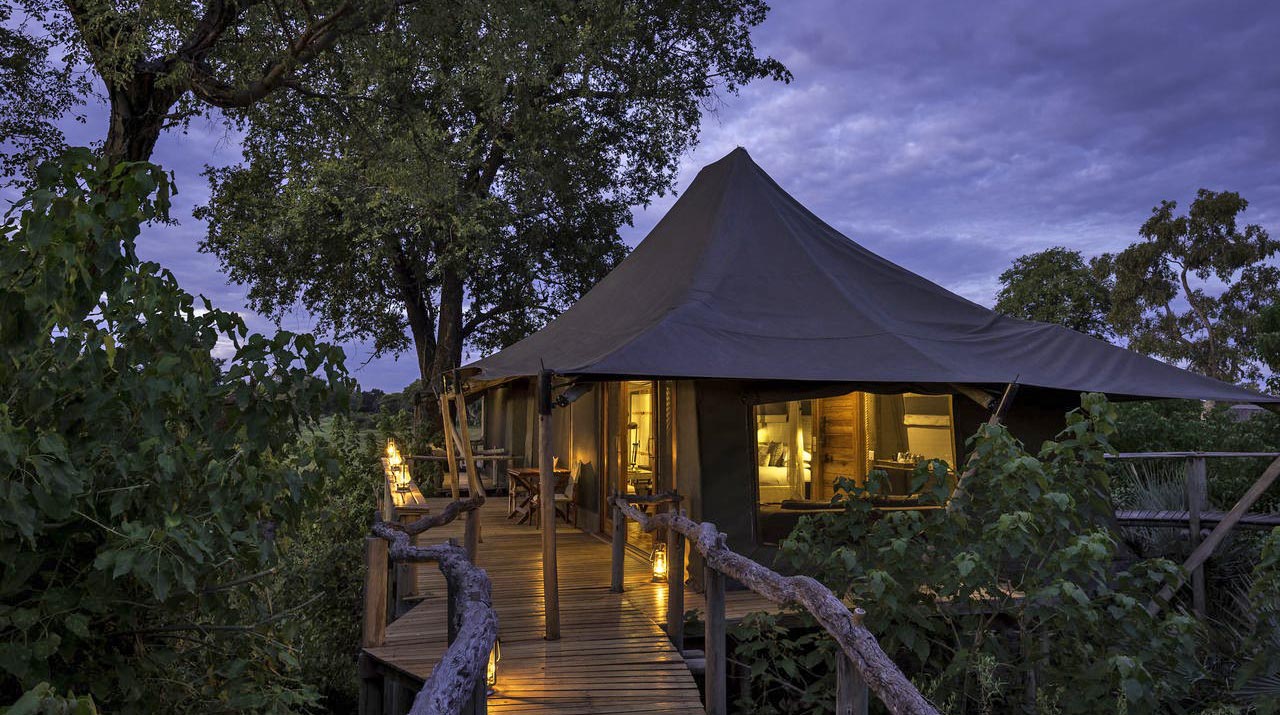 Your own little hideout in the wild. Credit: Mombo Camp.
Jao Camp
Surrounded by water and savannah woodland, Jao offers an excellent wilderness experience, including mokoro (dug-out pole canoe), water safaris, guided walks, game drives, night drives and exceptional bird watching.
The wildlife is as diverse as the range of activities. And the birdlife is spectacular with delta specials like Pel's fishing owl, wattled crane, slaty egrets, pink-throated longclaws, African skimmers and jacanas. The rare lechwe and sitatunga are resident in this area, and receding water levels bring on the plains game like elephant, wildebeest, tsessebe, lechwe and zebra. You can often see lion, leopard, and cheetah on the floodplains.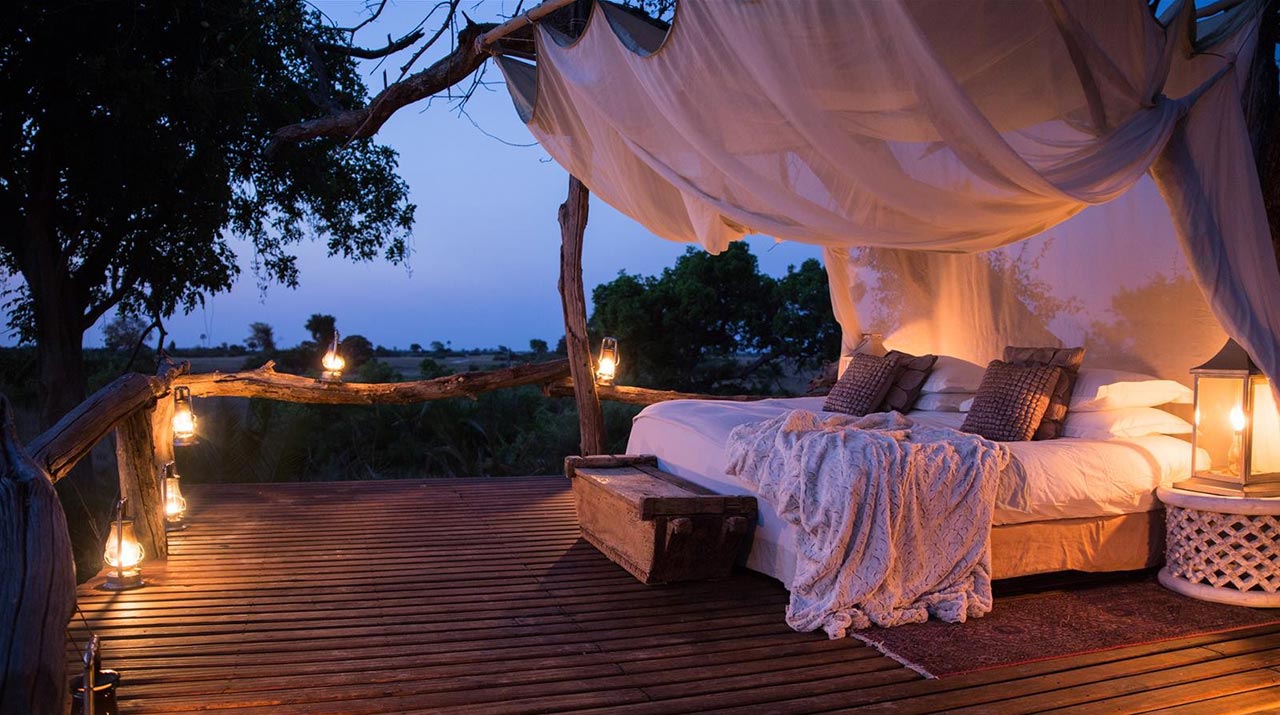 A wildly romantic setting. Credit: Jao Camp
Sanctuary Chief's Camp
Chiefs Camp is a luxury lodge situated on Chief's Island in the Moremi Game Reserve in the Okavango Delta. This is the "predator capital of Africa", and you can look forward to sightings of wild dog, lion, cheetah, and leopard.
The white rhino has also been introduced to this concession, making it the only place in Botswana where these magnificent animals can be seen in their natural habitat. Shaded from the heat of the day by a beautiful grove of jackalberry trees, Chief's Camp is so remote you'll feel like the only humans for miles and miles.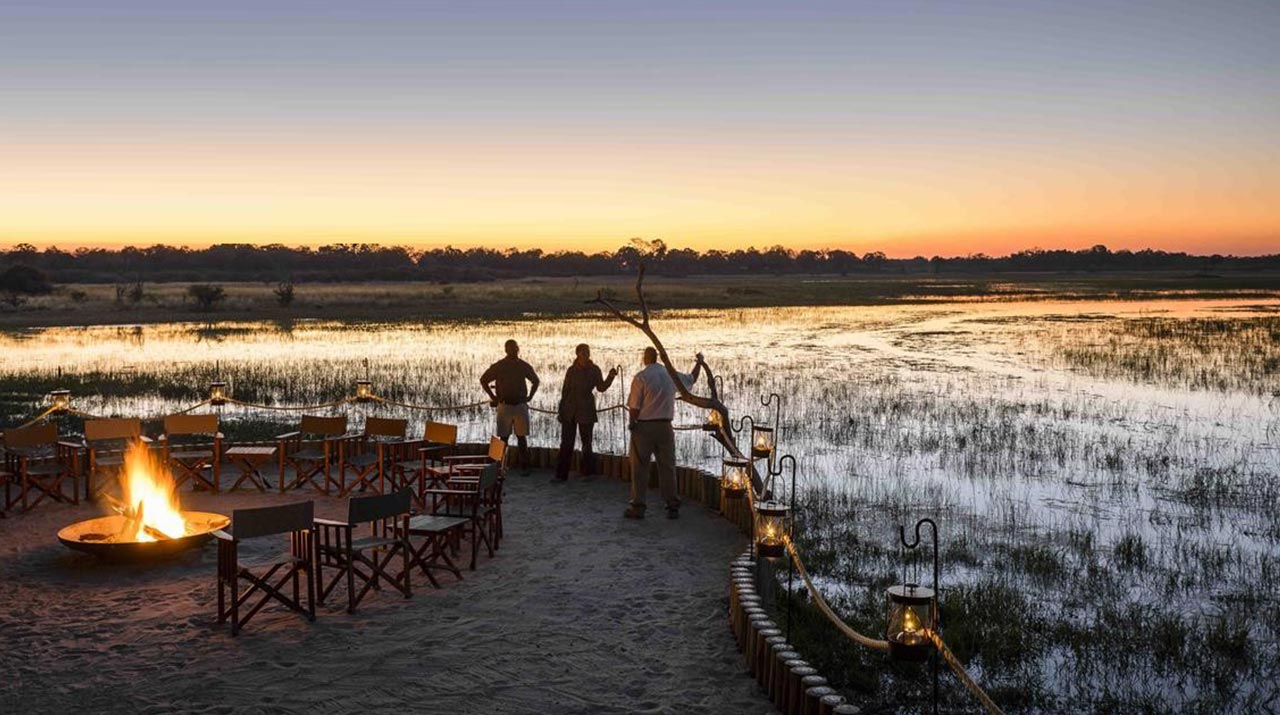 There's nothing like being surrounded by nature. Credit: Sanctuary Chief's Camp
Duba Plains Camp
Duba Plains is a small camp that becomes an island during the high water (peak season) period in the Okavango Delta. The lodge location is remote, and the wildlife experience is spectacular. The staff at Duba plains is another highlight as their level of service and luxury make your stay truly memorable.
Duba Plains is also known for interesting rare Kalahari species such as aardwolf and pangolins, a real drawcard for safari enthusiasts in the know.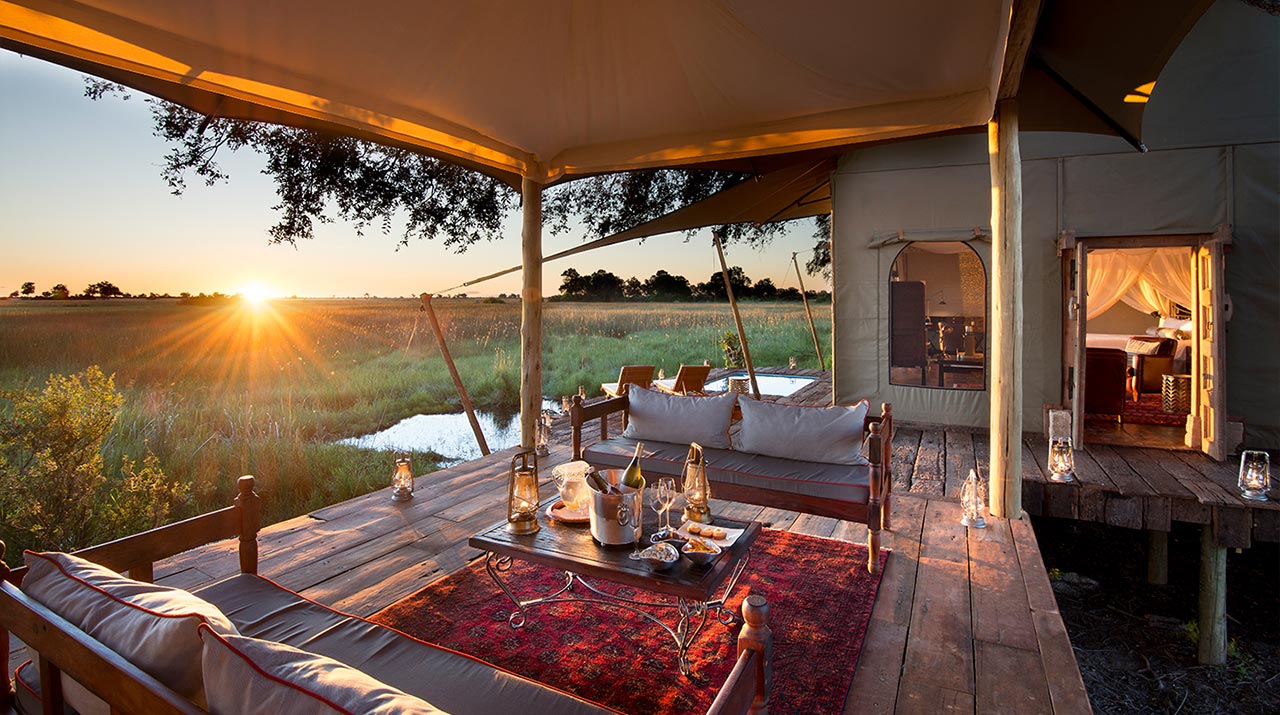 Wake up to the sounds of nature. Credit: Duba Plains Camp
Why Book With Us
Tourism not only enriches the lives of our incredible guests but supports millions of livelihoods across the continent. Out2Africa is committed to the conservation of Africa's wild spaces and the precious wildlife which inhabits them.
Booking a Botswana safari with us ensures that we continue to uplift Africa's communities and protect her wildlife for future generations to enjoy. Now is the perfect time to start planning your 2022 Botswana holiday of a lifetime.
Leave Your Dream Gay Holiday in Our Hands
With almost ten years of experience planning luxury LGBTQ+ holidays to Africa, Out2Africa is an African-based specialist tour operator arranging tailor-made wildlife safaris and holidays throughout Africa, including Botswana.
Our understanding of the guest experience, combined with extensive first-hand knowledge of the lodges, makes us experts in creating magical and memorable African holidays.
Contact us today, and let one of our Botswana Travel Experts start planning your Botswana safari today.