Africa's gay capital, Cape Town, is a hub of all things thriving and fabulous. You can expect a delicious concoction of experiences, sights and tastes here in arguably the world's most beautiful city.
When choosing where to stay, there's a buffet of unbelievable options — and it will leave you hungry for more! From a boutique, intimate guest house with design flair or a swish mansion, we've got it all. Bonus: they all adore gay travellers, so get ready to be extra spoiled!
Our Six Most Fabulous Places to Stay in Cape Town
1. One&Only Cape Town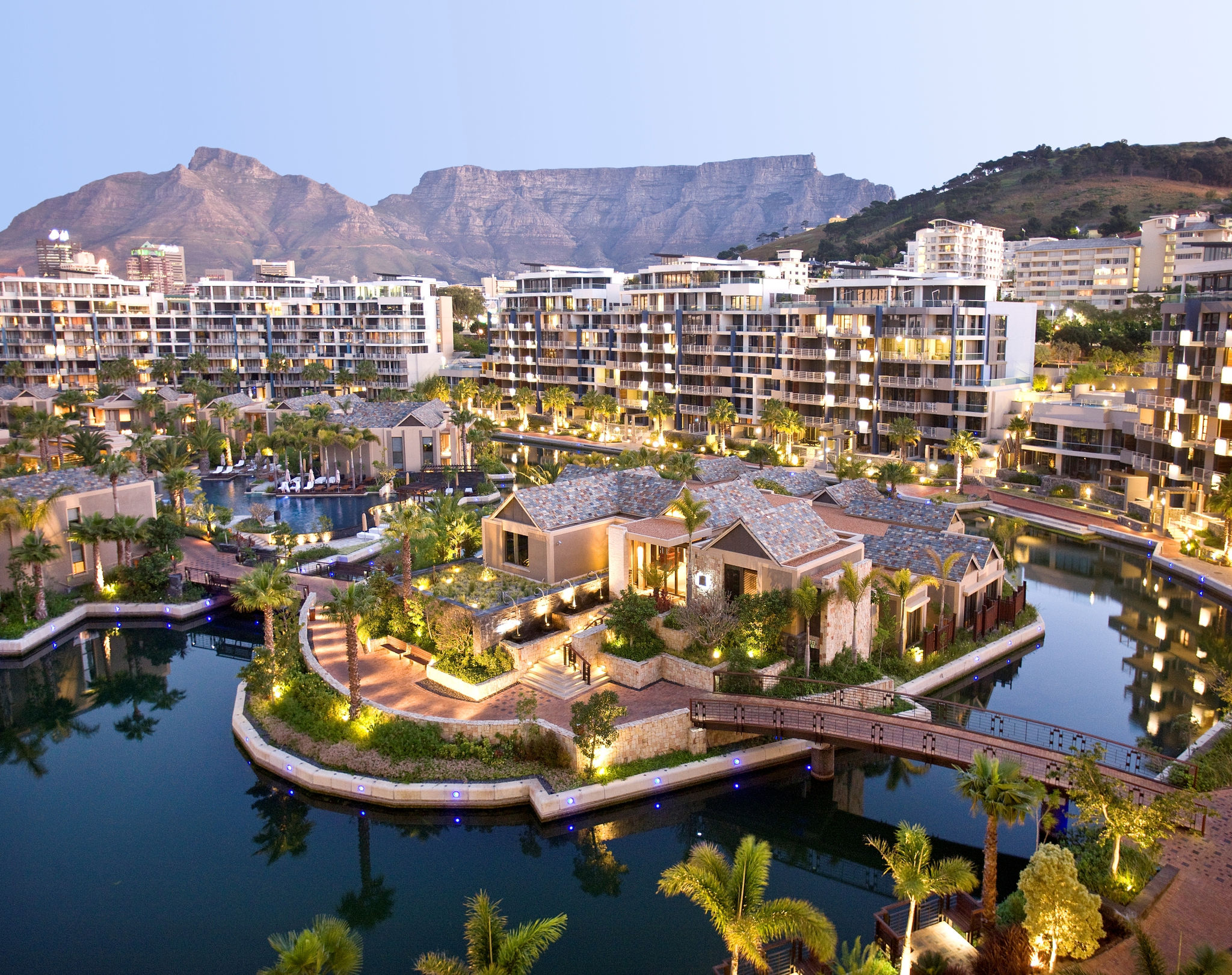 The One&Only Cape Town is perfectly placed alongside the V&A Waterfront. Photo Credit: One&Only.
One&Only Cape Town is described as a chic urban resort with several accolades under its belt, upholding the high standards this brand has become known for. The Marina Rise main hotel building and two secluded landscaped Islands offer a variety of rooms and suites, each with a private balcony or terrace.
Dining is an event of its own, with the excellent onsite Nobu restaurant run by a Michelin chef. Or you can enjoy the local flair of the Ochre restaurant and alfresco fare next to the pool at Isola. As the name suggests, Vista bar offers guests floor-to-ceiling views to go with their drink of choice. Or, if you prefer a glass of red over a cosmopolitan, The Wine Loft will impress even the most discerning wine connoisseur.
Last but not least, you want to head home with that well-rested glow, so don't forget to schedule a pampering treatment at the award-winning private Spa Island, with the most extensive spa menu in the city.
2. Camissa House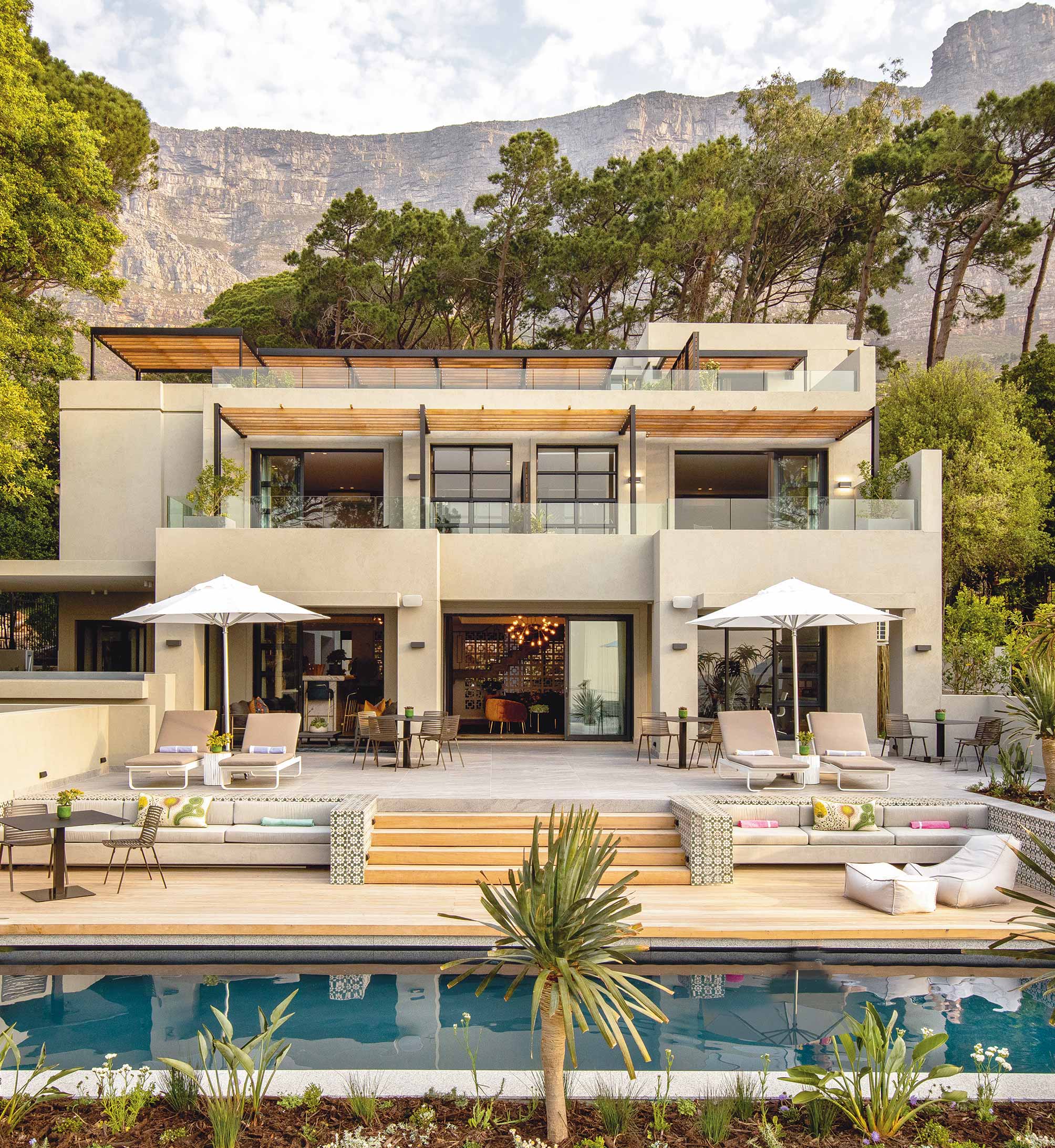 Set on the slopes of Table Mountain, Camissa House is a serene nest above the city. Photo Credit: Camissa House.
Camissa House is a truly unforgettable luxury boutique hotel located on the lower slopes of Table Mountain. Due to its prime location, it has the best vantage point of the city and the ocean shimmering in the distance like glitter on RuPaul's most extravagant gown.
The boutique hotel draws its inspiration from the true essence of Cape Town, such as the diverse flora and fauna and astounding natural beauty our city is known for. Lovingly curated, this boutique hotel is a luxury masterpiece that will make you feel both at home and like a VIP. With only eight luxury rooms, of which three are terrace rooms with the best view in the house, it offers a personalised, more intimate experience.
Other facilities include a dedicated butler (who remembers every detail, down to how many ice cubes you like in your G&T!), tour desk, roof-top bar, pool, and daily high tea. Although it will be tempting to stay at your new home all day, Cape Town's main attractions are a hop, skip, and jump away. And the butler will be waiting to mix you one of their specialty cocktails upon your return!
3. The Silo Hotel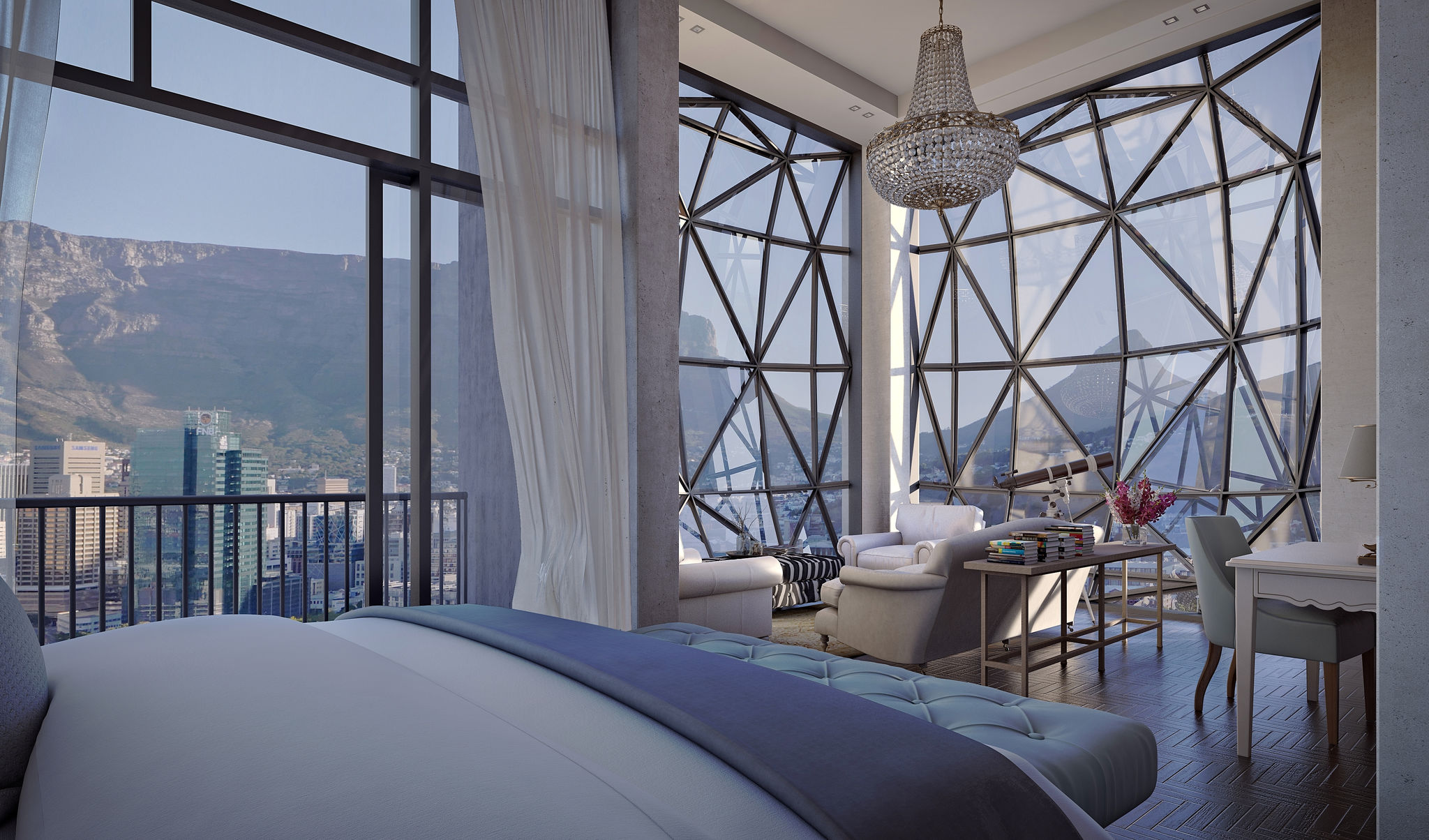 Cape Town's crown jewel, the Silo Hotel is among the trendiest spots to stay in the city. Photo Credit: The Silo Hotel.
The Silo Hotel is an eye-catching building hovering above the V&A Waterfront, giving it the best view of the city, mountain, and surrounding waterways. It's an esteemed member of The Royal Portfolio and offers one of the most luxurious experiences in the city. This is where you'll rub shoulders with the rich and famous and feel like a million dollars!
If you're an art aficionado, you'll be delighted to hear that the hotel is a historic grain silo (hence the name) set above the Zeitz Museum of Contemporary Art Africa (Zeitz MOCAA). With the combination of incredible views, experiences, and flavours to indulge in, The Silo Hotel impresses in every imaginable way.
Take your pick from their many luxury suites, including the ultra-luxe penthouse, for an experience of the Mother City that will blow your mind.
4. Ellerman House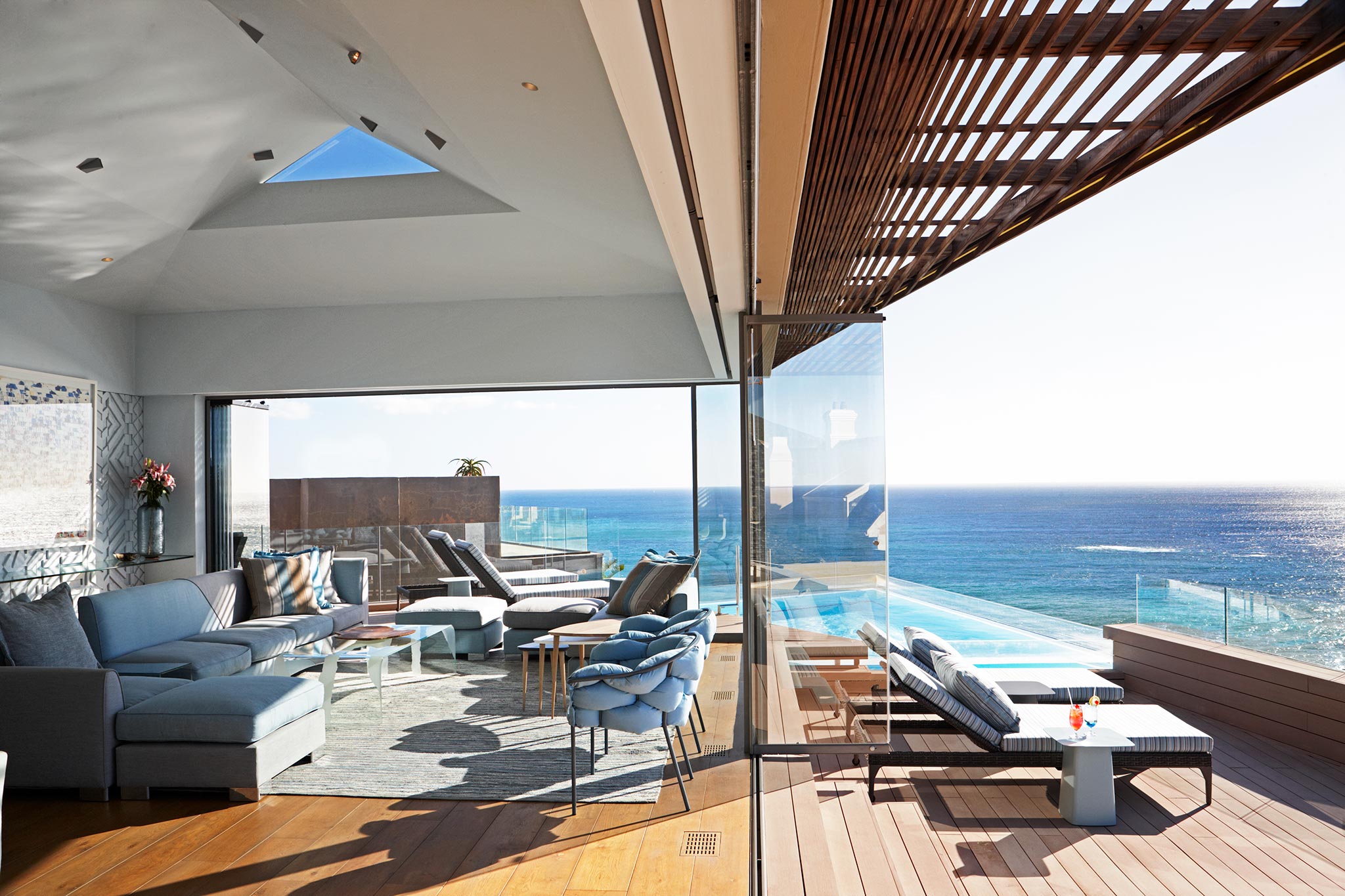 Ellerman House is the obvious choice for the discerning traveller visiting Cape Town. Photo Credit: Ellerman House.
Ellerman House is a luxury haven in Cape Town's most affluent and exclusive suburbs of Bantry Bay. With extraordinary luxury, from the custom-made BMW 7 series collecting you from the airport to the priceless artwork and extensive wine collection in the onsite carbon fibre cellar, it's a setting fit for a queen.
It's a stroll away from the best beaches in the city, such as Clifton Beach, and minutes away from the shopping paradise, V&A Waterfront. Love your vino? Take a scenic 45-minute drive to explore the Cape Winelands' many award-winning wine farms and restaurants.
A Relais & Châteaux property, there's a strong focus on luxury and exclusivity here, with uniquely designed rooms, as well as two exclusive-use, free-standing Villas for groups of friends or multi-generational families travelling together.
5. Tintswalo Atlantic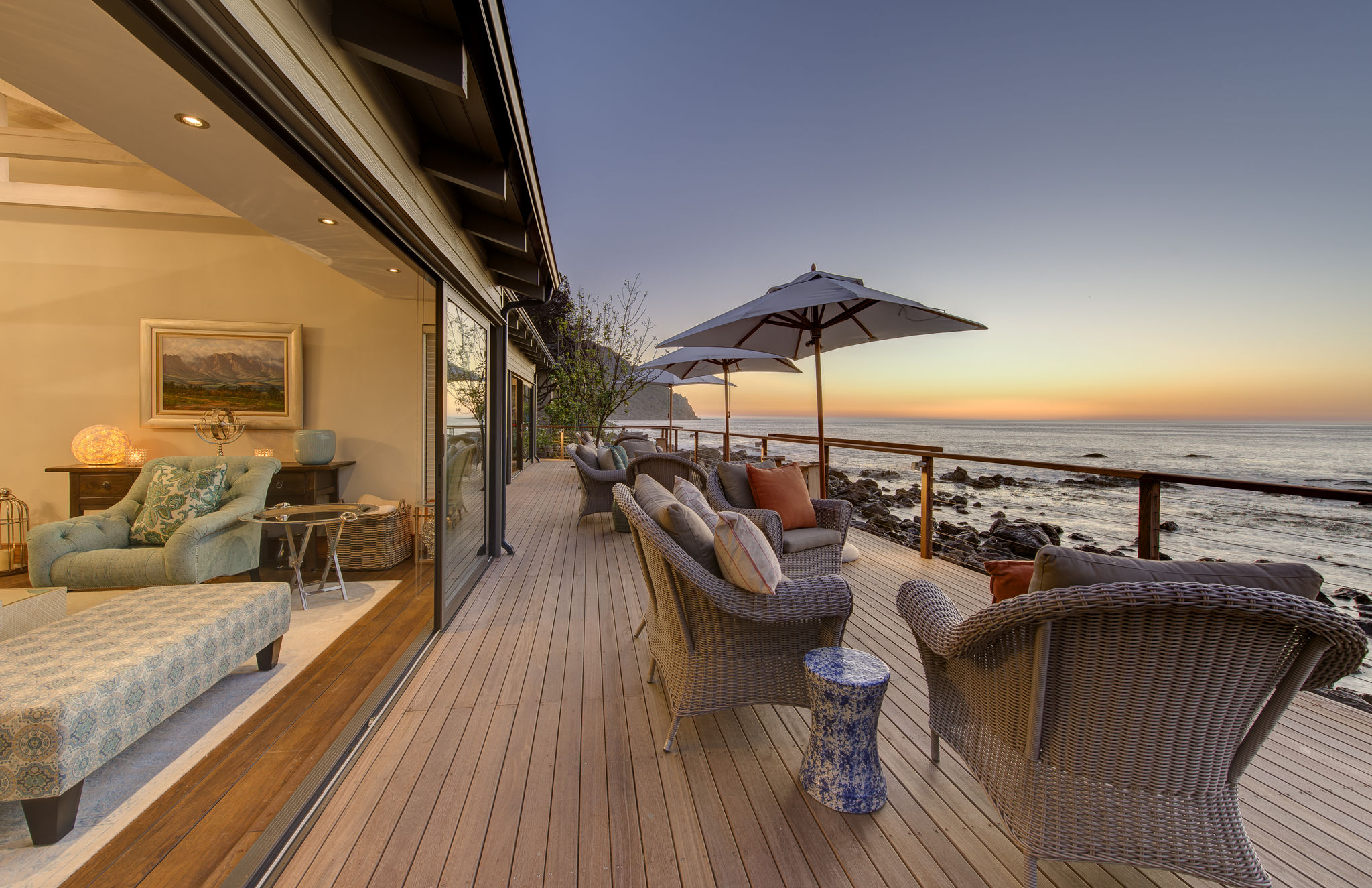 Cape Town's hidden gem, Tintswalo Atlantic is the perfect seaside hideaway.
Tintswalo Atlantic is best known for its secret location on the boulders of the Atlantic Ocean. This is a one-of-a-kind, wildly romantic setting with ocean and mountain views from your bed, offering all the privacy in the world.
Even though it's so hidden away, it's only a 45-minute drive from Cape Town International Airport, and you can quickly reach the city's main attractions, including Hout Bay Harbour, Table Mountain Nature Reserve, and the many Constantia wine farms. However, we can almost guarantee that you'll find it hard to leave this dreamy setting!
You'll stay in one of 10 luxury suites or the presidential suite, all boasting a unique interior design inspired by islands from around the world. Expect all the luxuries, ample space, a bath with a view in most rooms, and the most spectacular sunsets! There's an onsite restaurant, bar, lounge, and plunge pool, so you don't even have to leave at all.
6. The Cellars Hohenort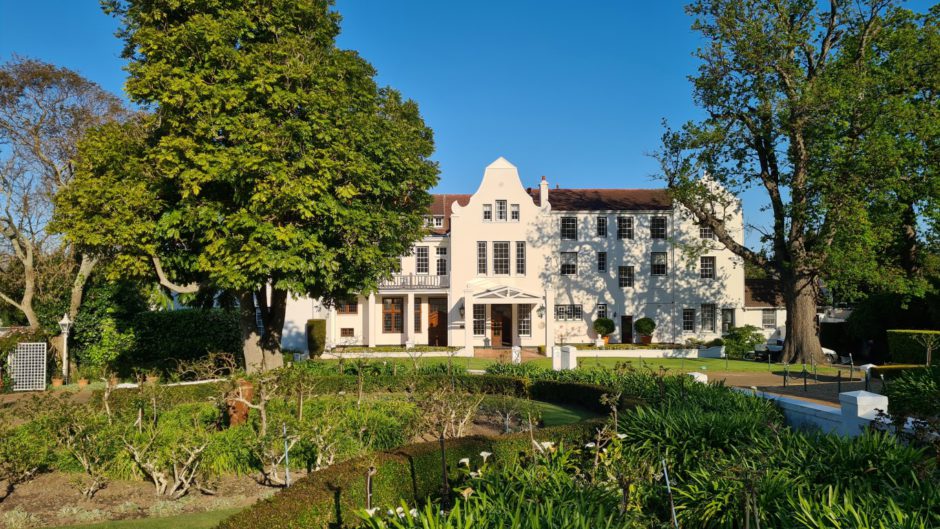 The Cellars Hohenort is a hub of rich history set in lush beauty. Photo Credit: Denise Ribeiro
In the evergreen Constantia Valley, the historic Cellars-Hohenort awaits near the world-famous Kirstenbosch Gardens. It's a celebration of two great traditions: the restoration of the 18th Century Klaasenbosch wine estate cellars and the Hohenort manor house. Set on the forested Table Mountain slopes, you can expect serenity and expansive views over False Bay and the Constantia Valley.
You'll stay in one of the many different room types, from suites to premier suites, double rooms, and luxury double rooms, complete with verandahs. Walking around on the property is an activity on its own, from admiring the antiques, original artworks, and 3.5ha manicured gardens, including a vineyard, herbs, rose bushes and other fauna and flora.
The Greenhouse restaurant is another highlight, with one of South Africa's best chefs, Peter Tempelhoff running the gastronomy show. If you want something extra special and exclusive, you can stay in the Madiba Villa, a double-storey private villa with a private entrance and driveway, courtyard, and swimming pool.
Next Stop, Cape Town!
What are you waiting for? Now that you've got the scoop on the best six in the city, you can start planning your gay-friendly luxury escape to the magic of the Mother City with us, and we'll do the rest!
Contact our fabulous Travel Experts today.