Hello there! So, you've decided to make your Botswana dreams come true. Good call, honey! From personal experience, we can vouch for this safari destination a million times over. So now that we've established that, what fabulous activities should you add to the top of your list? Well, as your LGBTQ+ Travel Experts, we've got the first-hand insights you need.
Wild, Wild Wonderland
Whether on land, water or from the sky, there are soooo many wonderful ways to explore Botswana in all her brazen beauty. But with so much to do and vast landscapes to explore, how can we narrow down her top sights and sensations? Well, we'll do our best so you don't miss out on the best! Here's a taste of what awaits you...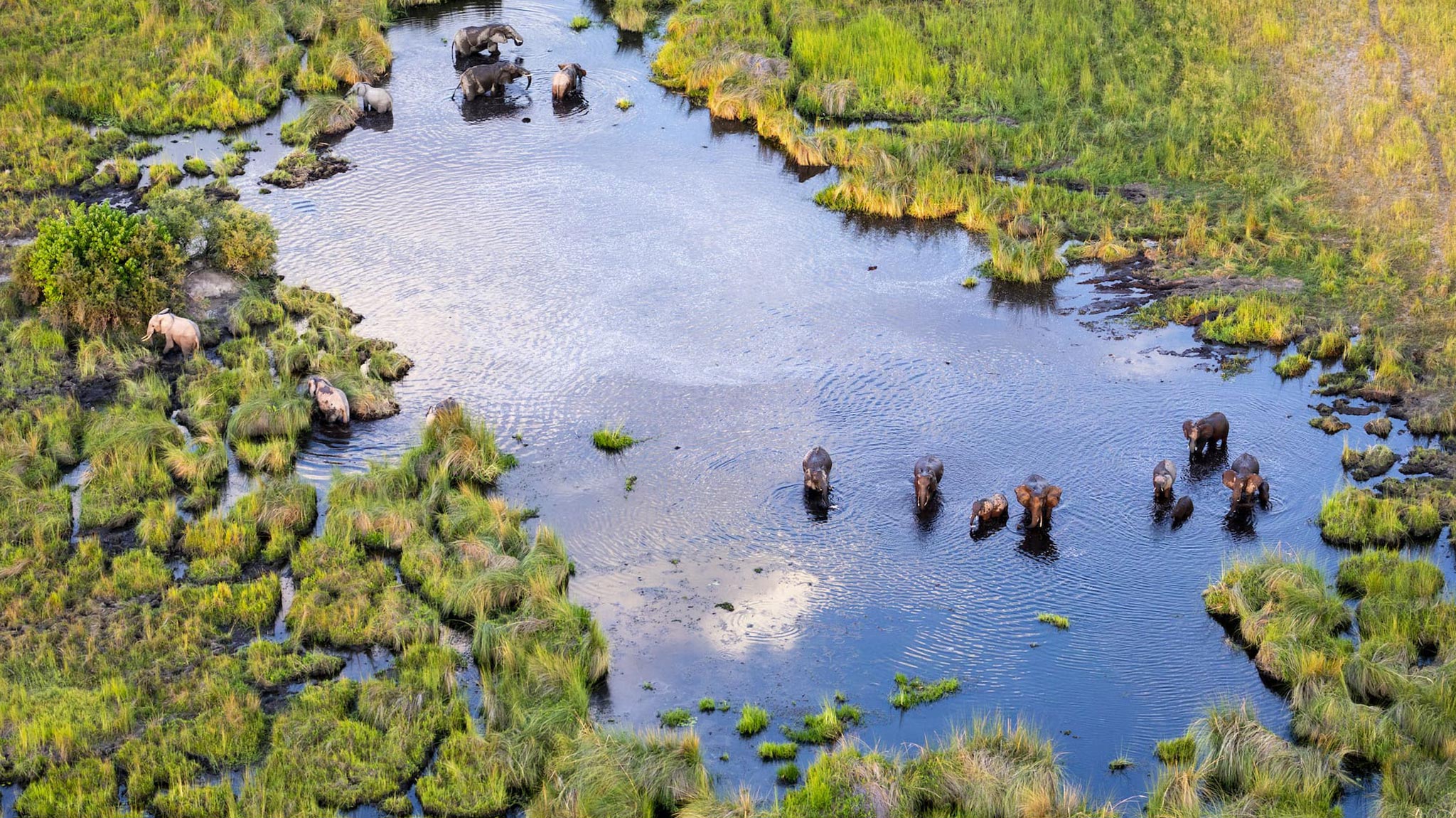 Welcome to gentle giant paradise
1. Magical Mokoro Rides
Move aside, Venice! In Botswana's Okavango Delta, an otherworldly activity is awaiting to stir up feelings you've never felt before. A traditional dug-out canoe, the mokoro is a marvellous local invention that lets you glide silently along the water, offering one of the best vantage points from which to admire our African wildlife – with no whirring engines detracting from soaking in every little sound and detail of the experience.
Typically, it'll only be you and your partner in the mokoro with your guide standing and navigating through the wild paradise as a plethora of species flock to the water for a drink or dip. Plus, you'll be immersed in the lush fauna and flora of the Delta's unique ecosystem.
Just imagine meeting the eyes of elephants, buck, and many other species as they lower their head to lap up the water. You can look forward to seeing the famous Big 5, as well as the Nile crocodile, hippo, cheetah, zebra, the endangered African wild dog and many more. Plus, raise your fabulous head to the sky and admire the over 500 bird species flitting through the skies!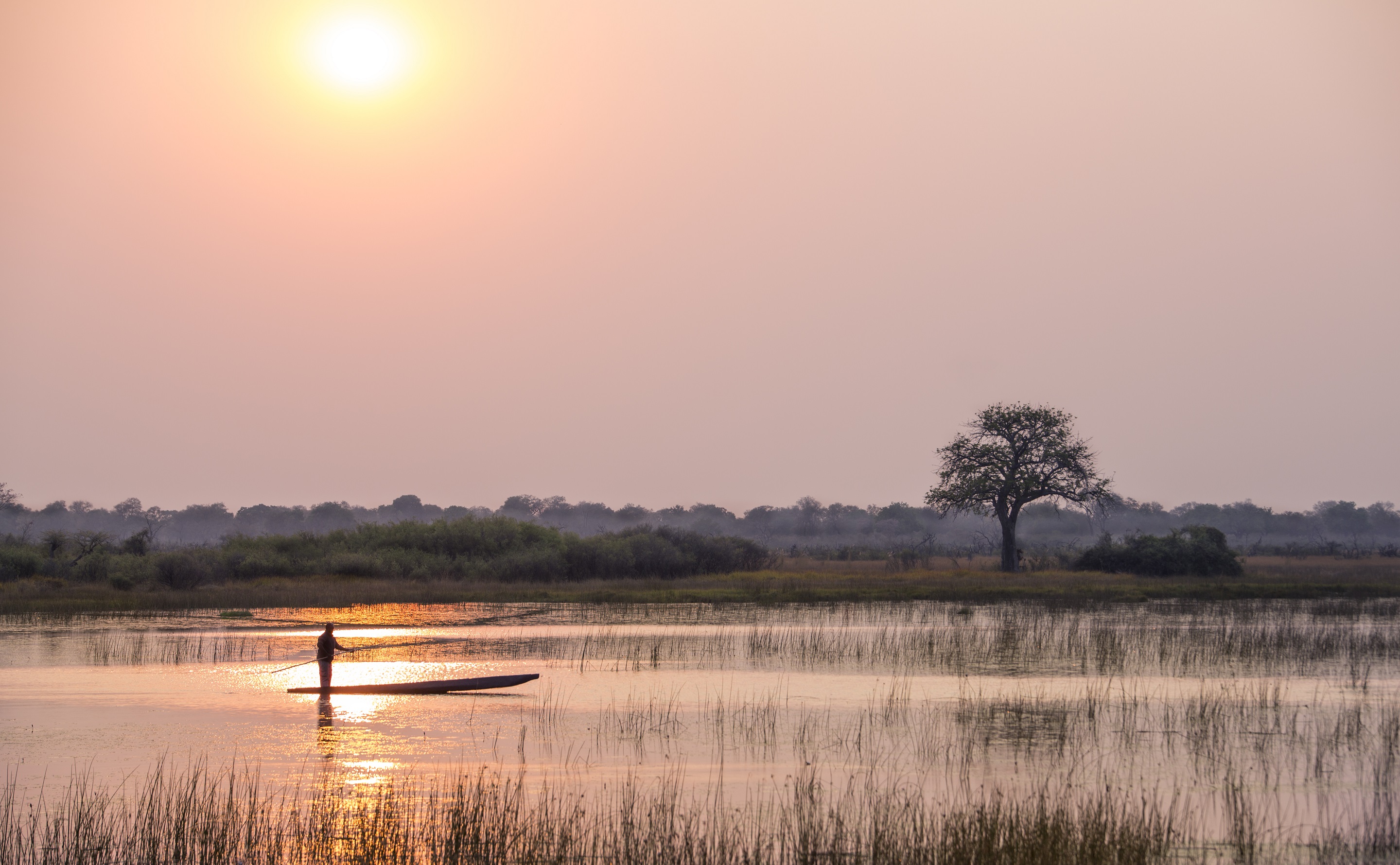 Well, if this isn't heaven…, Image Credit: Vumbura Plains
2. River Cruise on the Chobe River
A cruise over the life-giving waters of the Chobe River bathed in the golden light of the African sunset or sunrise, is a must for anyone visiting Botswana. With 360-degree views over the waters and fertile river banks, teeming with large herds of wildlife, you're sure to be treated to close-up views of elephants, buffalo, hippos, birds and more.
In fact, the Chobe River is home to the largest elephant population on the globe, and with cruise options ranging from triple-decker luxury to smaller game-viewing vessels, you're guaranteed panoramic views of elephant eye candy. What's more, with the option to get up close and personal, this is the perfect romantic safari alternative if you're not feeling up to a game drive through the Botswana bush.
And let's tell you that even if you're not an early riser, you'll adore the sunrise cruises on the Chobe River, watching the morning unfold in front of you in a sensational display. And can you think of a better way to bid a beautiful day in the bush adieu than clinking a drink on a sunset cruise as day blends into night?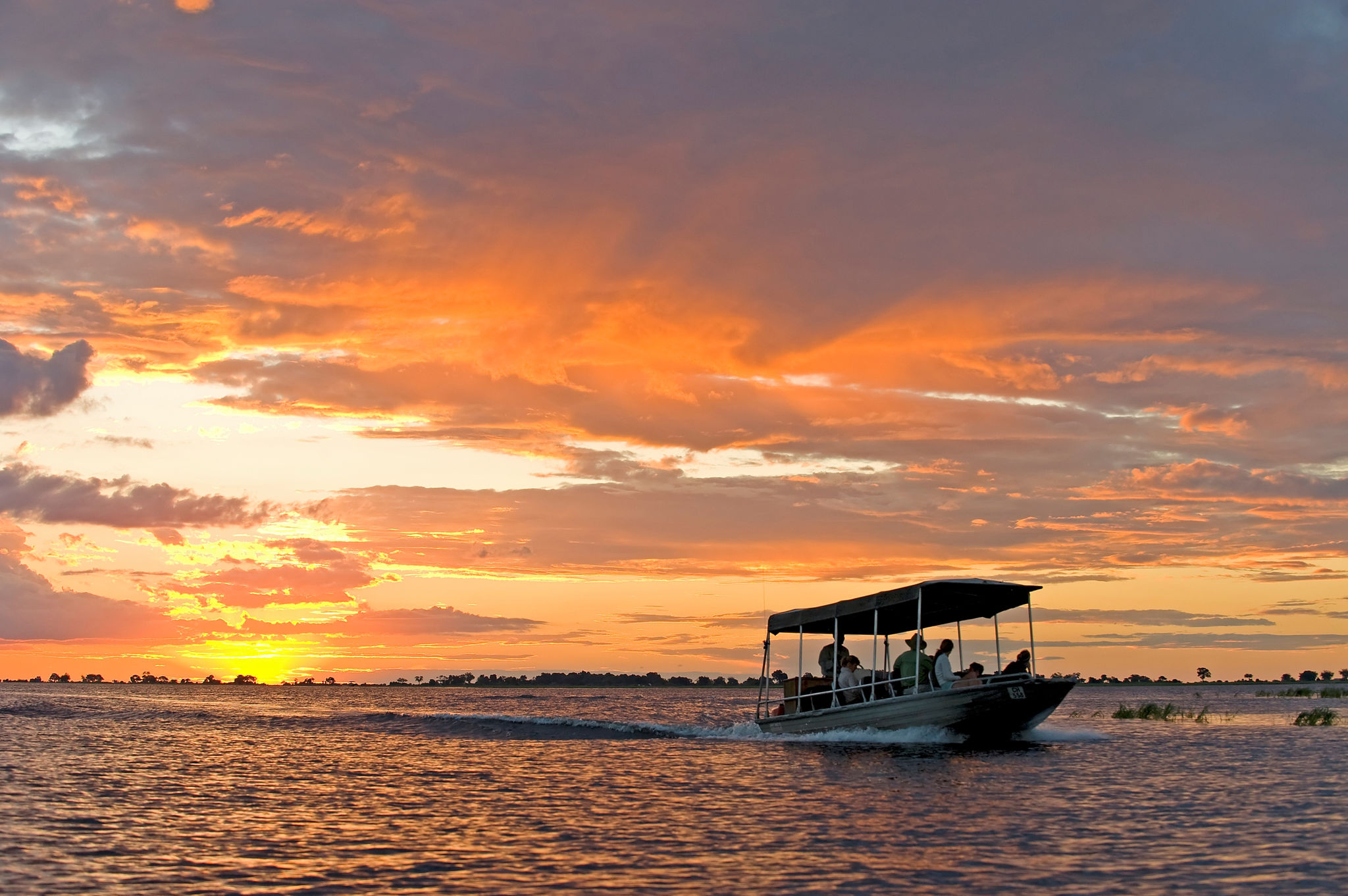 A cruise is one the top things to do in Botswana, Image Credit: Chobe Chilwero
3. Helicopter Flip in the Okavango Delta
We highly recommend a helicopter flip as one of the best things to do in Botswana. Offering a bird's-eye view, it will let you take in her sweeping landscapes in one flight.
Just imagine your stomach bursting with butterflies as the helicopter swoops low to get closer to the watery tendrils of the Okavango Delta and you get to see this famously wildly wonderful landscape and its majestic residents from an entirely different perspective.
And with no doors, you have unrestricted panoramic views for the best photo opps! Oh sweetie, you just wait – you'll revisit this experience in your sweetest dreams!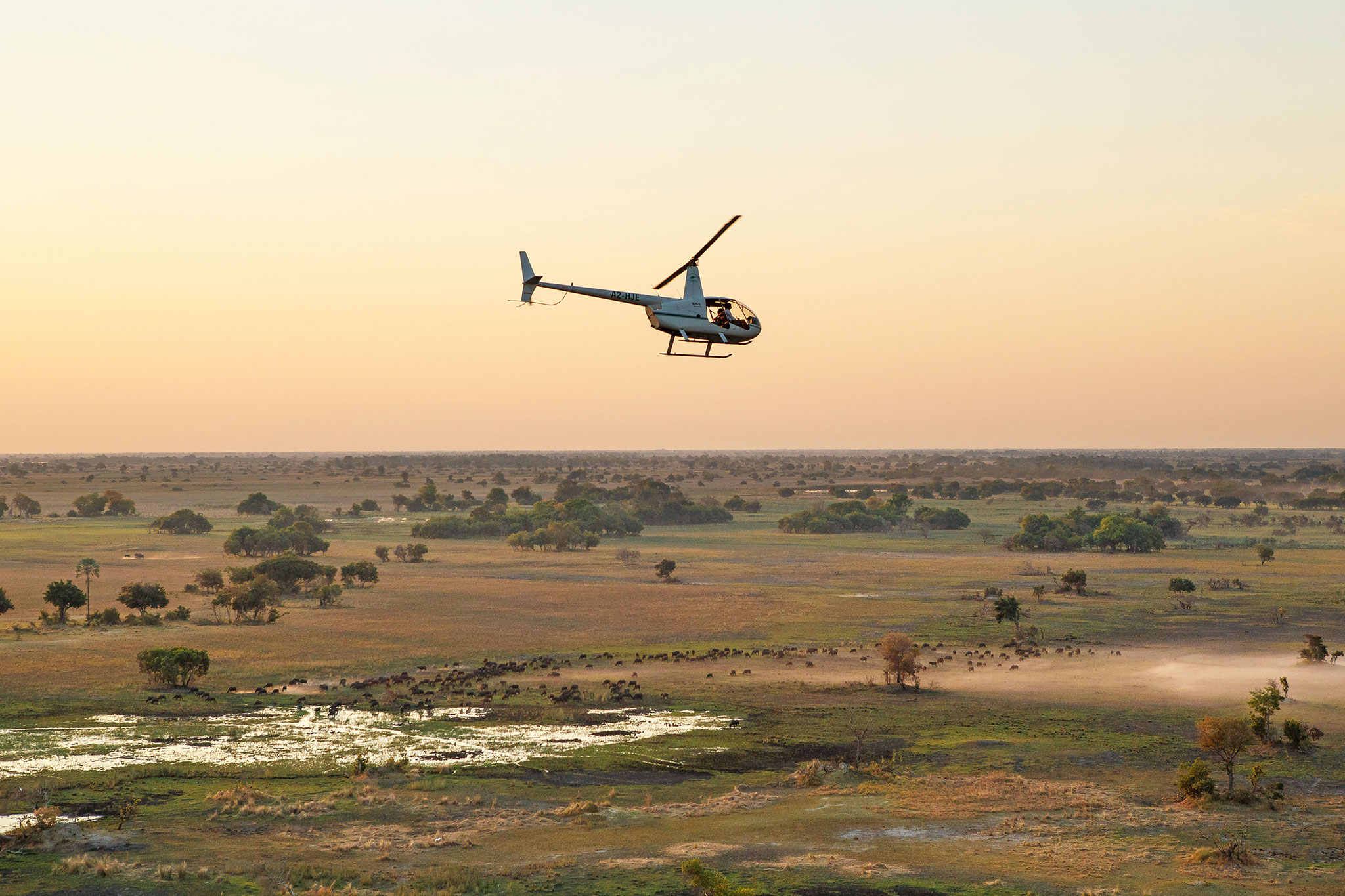 Take to the fantastic skies for to-die-for views, Image Credit: Camp Okavango
4. Horseback Riding in Makgadikgadi Pans
Giddy up! Who's ready to trot along and become one with Africa's animal kingdom? In the Makgadikgadi Pans, remnants of an ancient lake, you get to witness the biggest collection of salt flats on the globe. You'll certainly feel like you've left Earth for some other planet!
And what better way to traverse its glittering vastness than on horseback? We love the soft neighing of the horse and rhythmic clopping of the hooves whilst giving you an elevated perspective of the surroundings and its residents.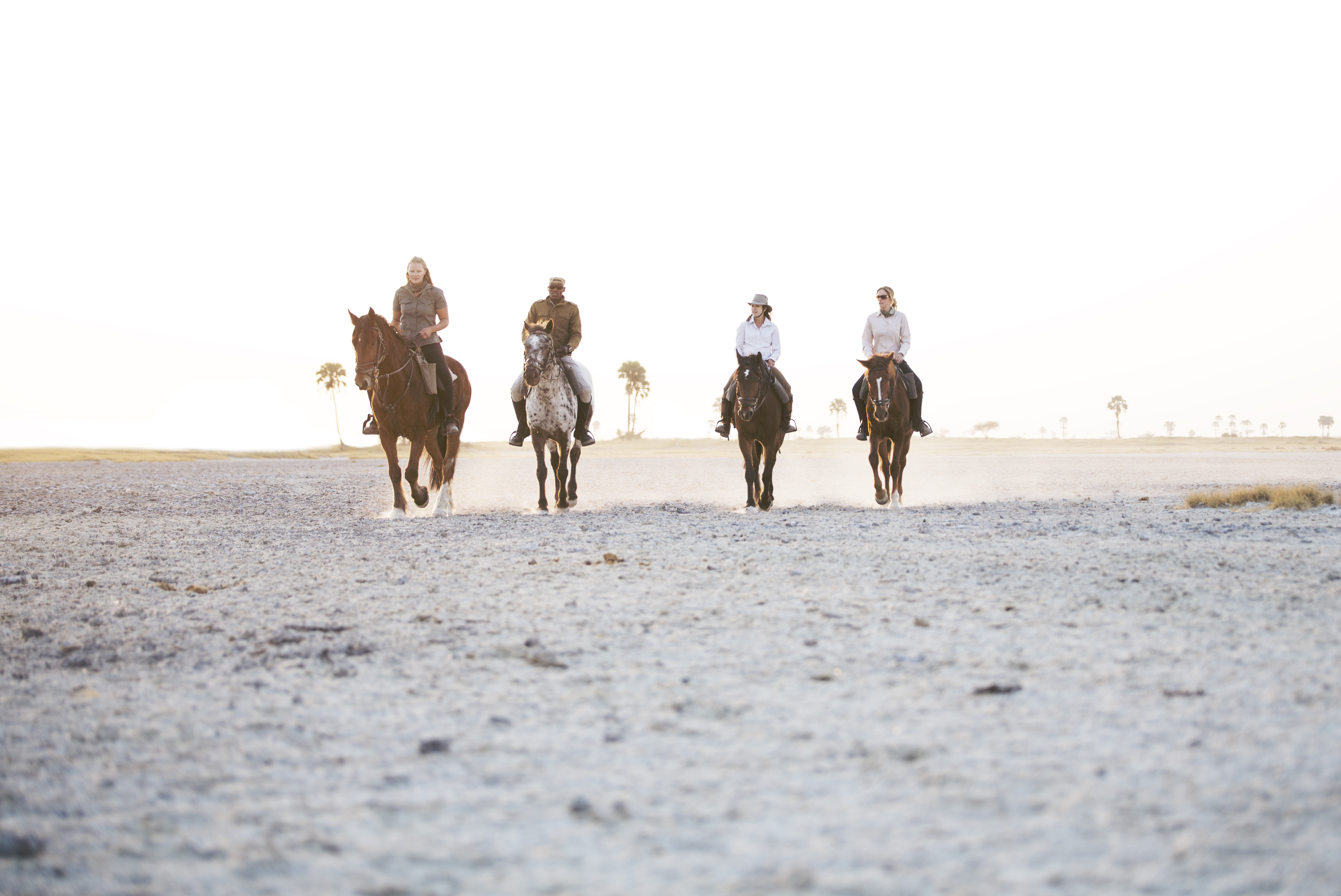 Hey hey cowgirl, Image Credit: Jack's Camp
5. Meeting Meerkats in Makgadikgadi Pans
Have you ever seen a meerkat? We mean, really seen – not just on TV! They are super cute, like house cats but just smaller and just as playful as the most active puppies! If you go visit their adorable little colonies, you will see them scurry about, tackle each other and burrow into the sand before popping up – all the while making bird-like noises.
In the Makgadikgadi Pans, you can join your dedicated guide or "Meerkat Man", who'll show you where these families live and give you a front-row view to giggle at their antics and capture their sweetness on camera.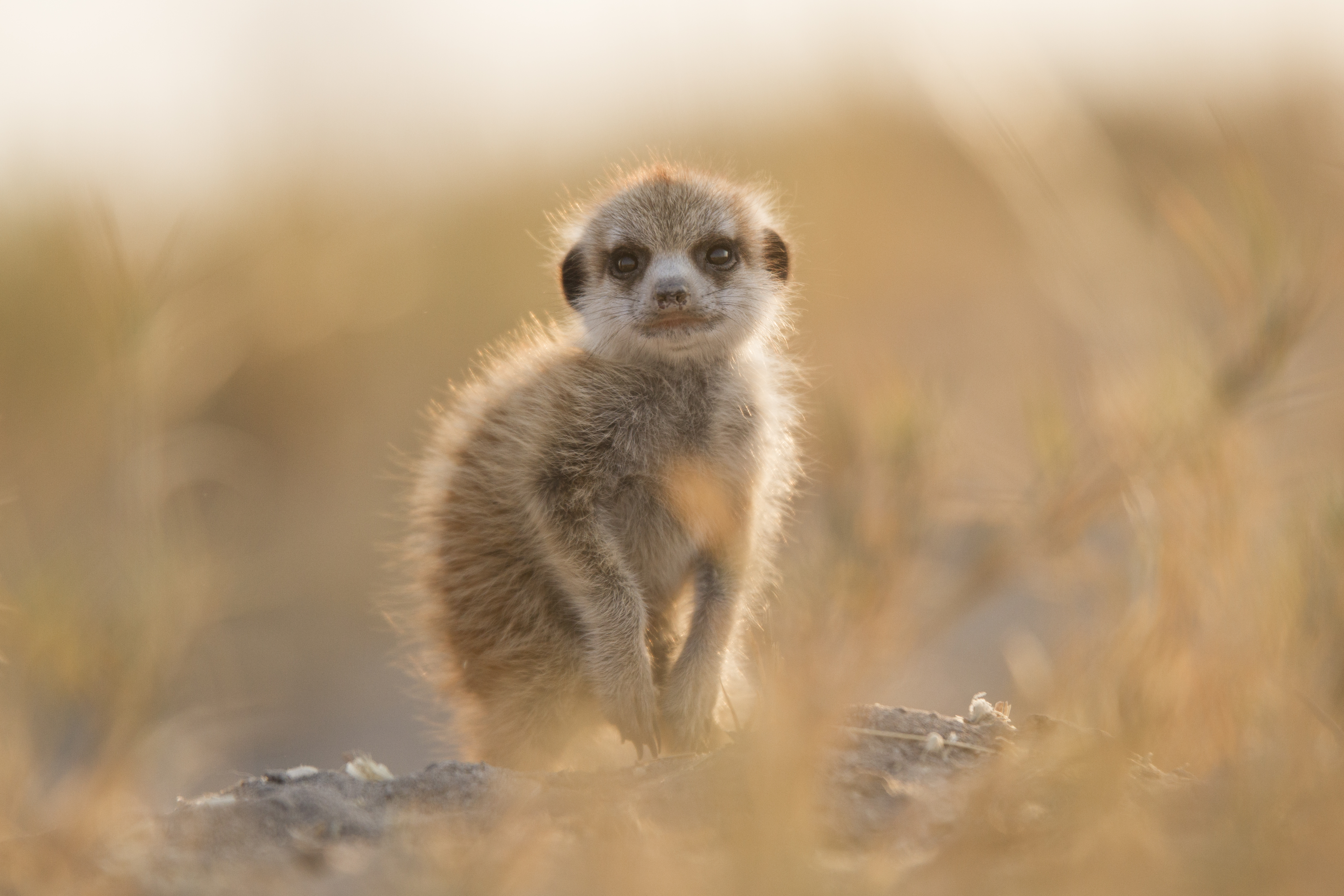 Can you even deal with this level of cuteness?, Image Credit: Jack's Camp
Botswana Awaits
Okay, now, where were we? Oh yes, you were about to book your dream Botswana holiday with our savvy LGBTQ+ Travel Experts!
They can't wait to hear all about what makes you tick to plan the ultimate African adventure. See you soon!