If you're looking for the best luxury lodges in Namibia, you've certainly come to the right place. Namibia is massive and sparsely populated, so you have to know exactly where to go and where to stay for the best possible experience. Because let's be honest, you might love Africa's wild side, but you still prefer to sleep on the finest linens.
Well, we've been loudly and proudly leading the way in luxury LGBTQ+ travel to Africa since 2006, so follow us this way…
Nothingness and More
Oh, Namibia, Namibia. How we could sing your praises. Your rolling red dunes as far as the eye can see, your coastline, scattered with shipwrecks and stories untold. Your ghostly glittering pans dotted with the pink plumage of flamingos. Oh, and your animals. The fascinating desert-adapted species that call your wondrous landscapes home.
But before we get carried away (or is it already too late?), you did not come here to hear how fabulous Namibia is. You know that already and are itching to get here!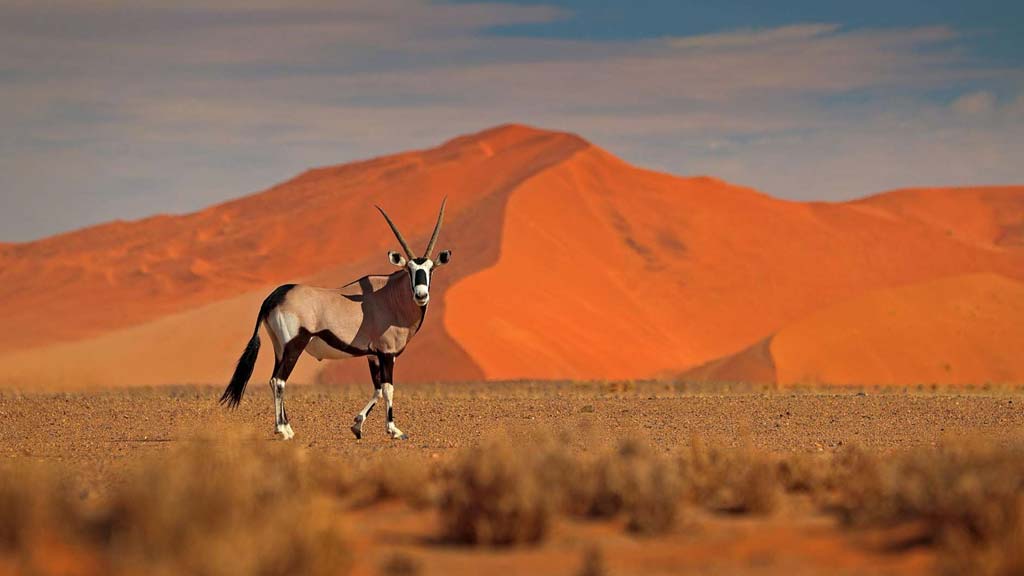 A lone oryx meandering along the desert
The Best Gay-Friendly Luxury Lodges in Namibia
Okay, let's get right to it! Our team of fabulously fussy (hey, we just don't settle for anything but the best, there's no shame in that game!) Travel Experts have whittled down the list to these six gay-friendly luxury lodges in Namibia. Bookmark this blog now before you close the tab accidentally and have to look for it again!
In no particular order, here are our favourite luxury lodges in Namibia to stay at.
1. Little Ongava, Ongava Game Reserve
Accommodation Type: 3 luxury villas, sleeping a total of six guests
Little Ongava is in the Ongava Game Reserve near Etosha National Park and overlooks incredible views. It's perfect for couples looking for a private, uncrowded experience as there are a maximum of six guests at the camp at a time. Also, oooh the private plunge pool is perfect for late night skinny dipping under the stars!
Safari also takes centre stage here, with day and night game drives, rhino tracking on foot, and wildlife sightings without even having to leave your villa!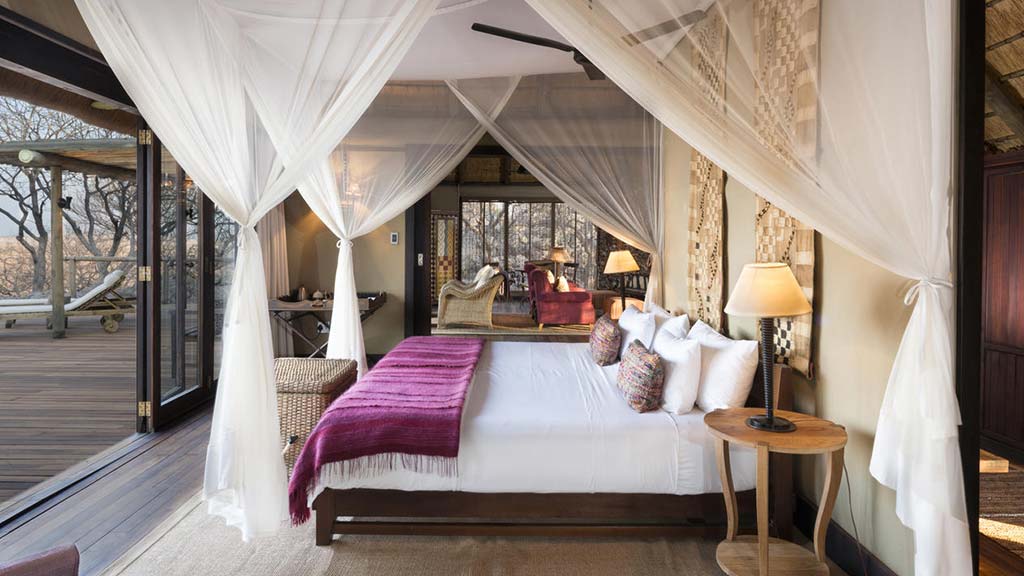 Your stunning suite. Image Credit: Little Ongava
What makes Little Ongava fabulous?
All the privacy your heart can desire
Incredible wildlife photography opportunities from the camp's watering hole hide
Day and night game drives
You can track white rhino on foot
Perfect for: honeymooners and romantic getaways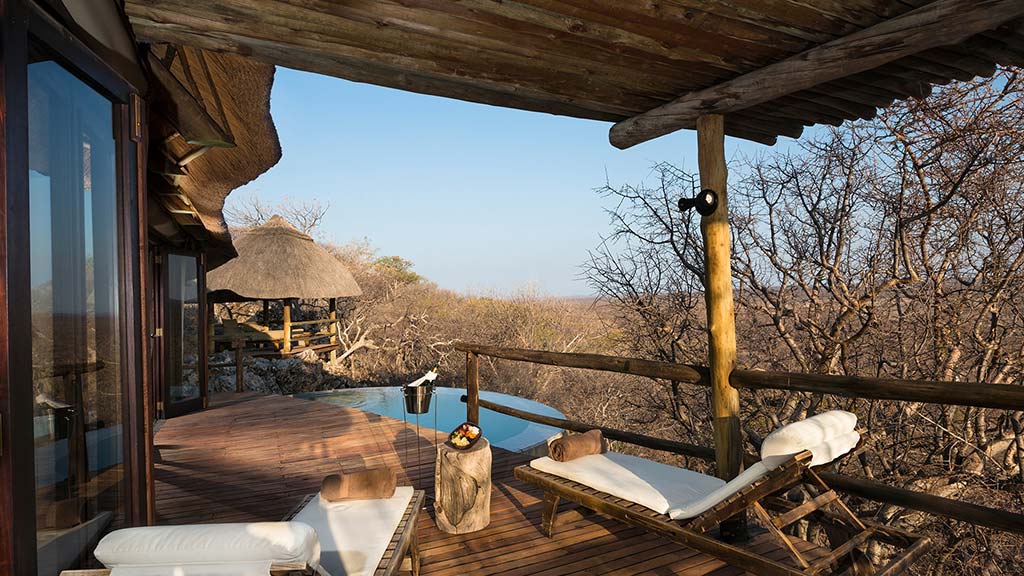 Your outdoor haven. Image Credit: Little Ongava
2. Hoanib Skeleton Coast Camp, Skeleton Coast
Accommodation Type: 7 luxury tented suites and a family unit
This tented safari camp in the remote northern Damaraland region bordering the Skeleton Coast National Park seems to defy logic. Such luxury in such nothingness? Surely it can't be! But it is, and it's delightful.
With only the Hoanib River bringing some relief to the vast, barren landscape, it's a unique safari experience. This river also runs right past the camp, luring wildlife and treating you to exceptional sightings in a remarkably-different-from-Kruger setting.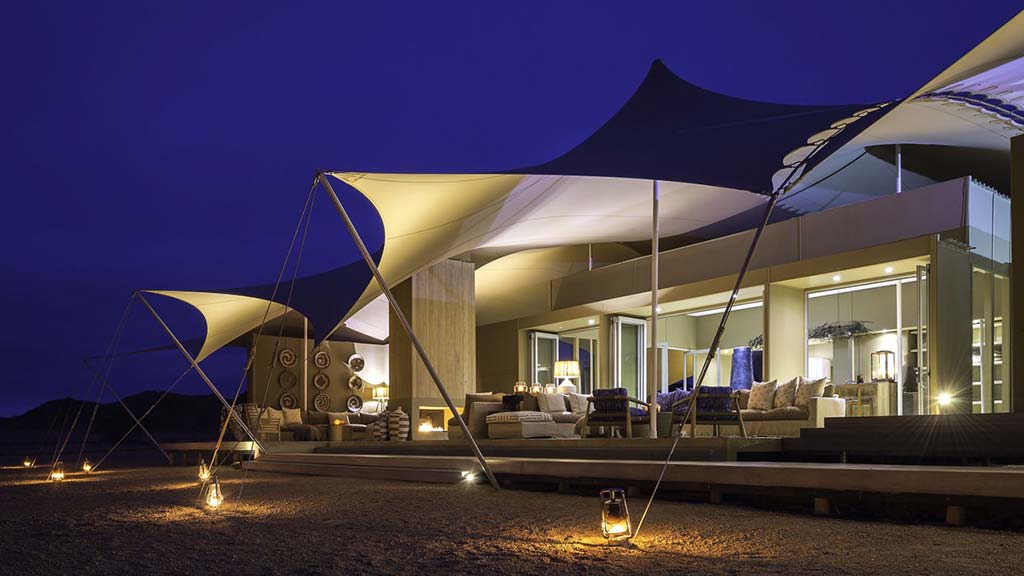 Evenings are magical in Namibia. Image Credit: Hoanib Skeleton Coast Camp
What makes Hoanib Skeleton Coast Camp fabulous?
Solar-powered camp in a unique and remote location
A quick flight or drive away from Skeleton Coast for day trips
Learn more about local conservation efforts
Game drives in search of desert-adapted wildlife, including elephant, gemsbok, lion and giraffe
Perfect for: Small groups or families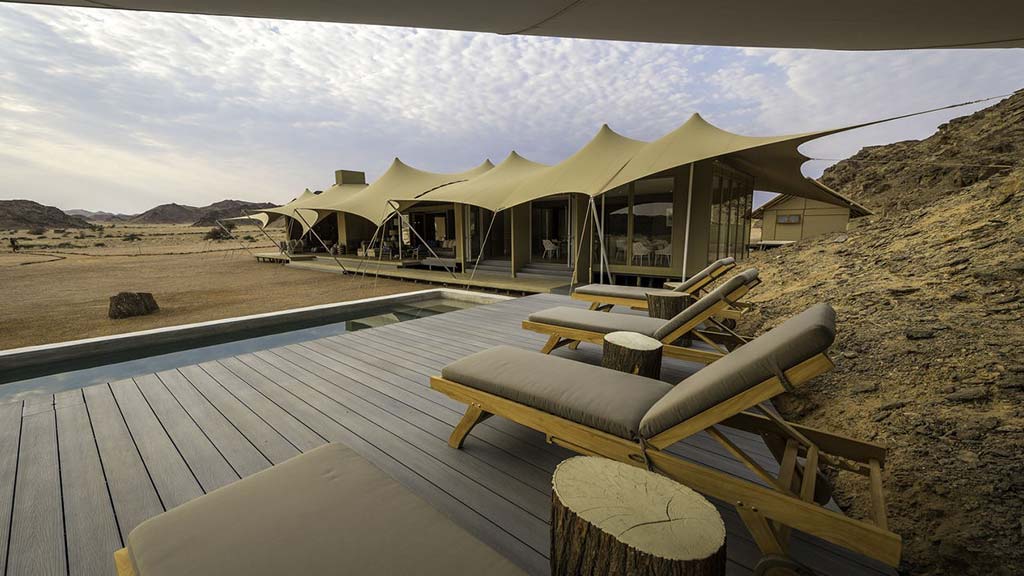 Unwind at the main pool with a drink. Image Credit: Hoanib Skeleton Coast Camp
3. &Beyond Sossusvlei Desert Lodge, NamibRand Nature Reserve
Accommodation Type: 10 air-conditioned glass desert suites as well as one Star Dune suite (two bedrooms, private lounge and dining area)
This lodge in the middle of the Namib desert is perfect if you really want to "escape from it all". Uniquely sustainable yet super luxurious, it's ideal for lovers looking for a remote hideout and open, starry skies. Activities you can look forward to include sundowners in the desert, stargazing, wellness activities, hot air balloon or helicopter safaris, dune hiking adventures, learning about geology and ancient San Bushmen, e-biking, and more.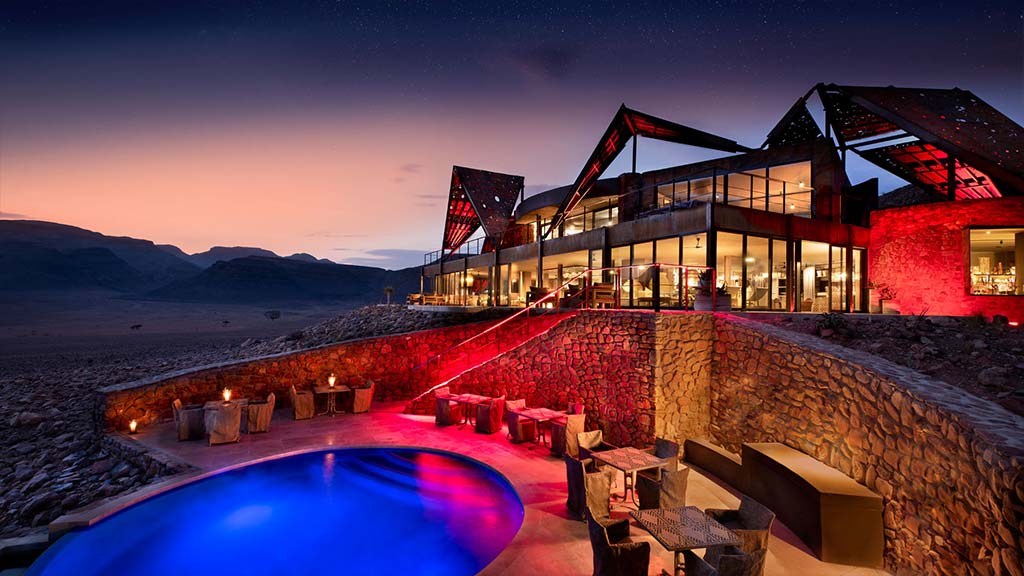 The main boma and pool. Image Credit: &Beyond Sossusvlei Desert Lodge
What makes &Beyond Sossusvlei Desert Lodge fabulous?
Ultra-luxurious yet with a uniquely sustainable design
Incredible stargazing opportunities with a state-of-the-art telescope
Only private reserve in Sossusvlei with Namibia's iconic star dunes
Helicopter and hot air balloon safaris
Perfect for: honeymooners or families/groups looking for exclusive-use accommodation (the Star Dune Suite)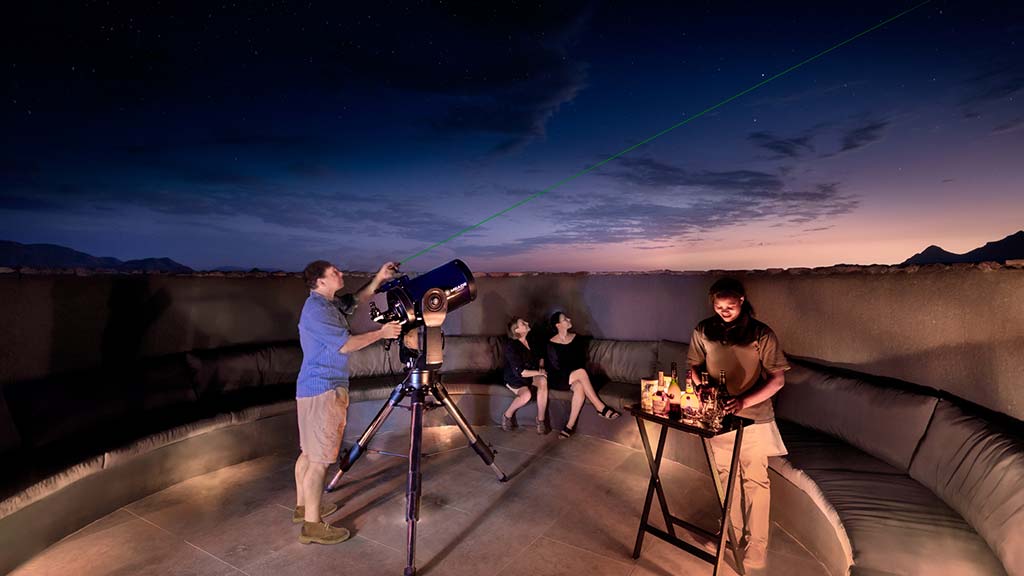 Stargazing is, well, out of this world in Namibia. Image Credit: &Beyond Sossusvlei Desert Lodge
4. Serra Cafema, Kunene River
Accommodation Type: 8 luxury chalets
This tranquil haven is located next to the Kunene River in Namibia's Kaokoveld. Raised on wooden decks and shaded by the trees, this is the perfect place to clear your mind, with the sound of the rushing river as the backtrack of your stay here.
Activities include learning about the local Himba culture, the last semi-nomads, boat cruises on the river (water levels dependant), dune hikes, game drives, quad biking and more.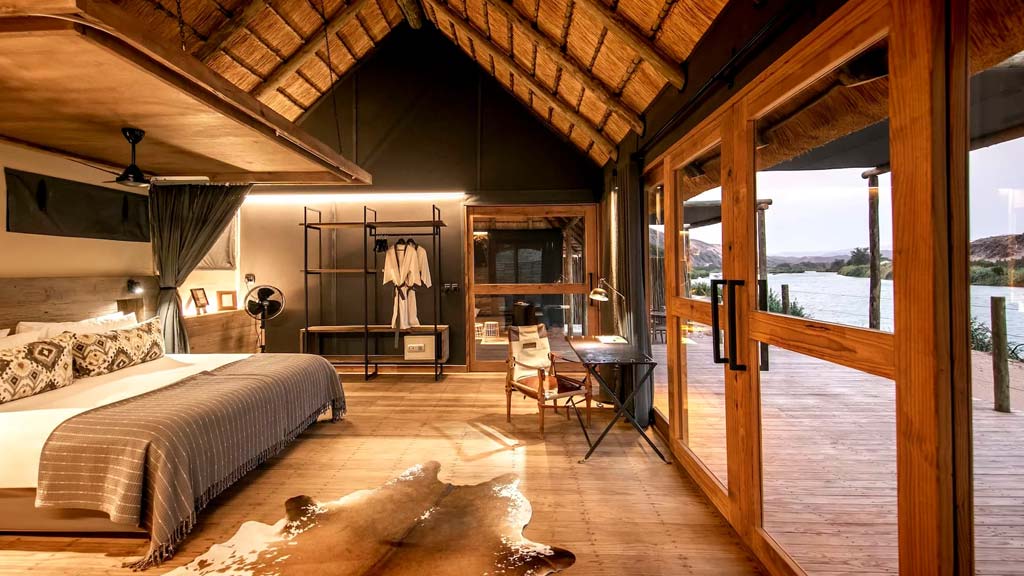 Riverside romance awaits next to the Kunene River. Image Credit: Serra Cafema
What makes Serra Cafema fabulous?
Utterly remote with diverse landscapes of river, dunes, and riverine forest
Quad biking and hikes in surrounding dunes
River cruises for a different perspective (seasonal)
Day and night game drives
Perfect for: honeymooners or romantic getaway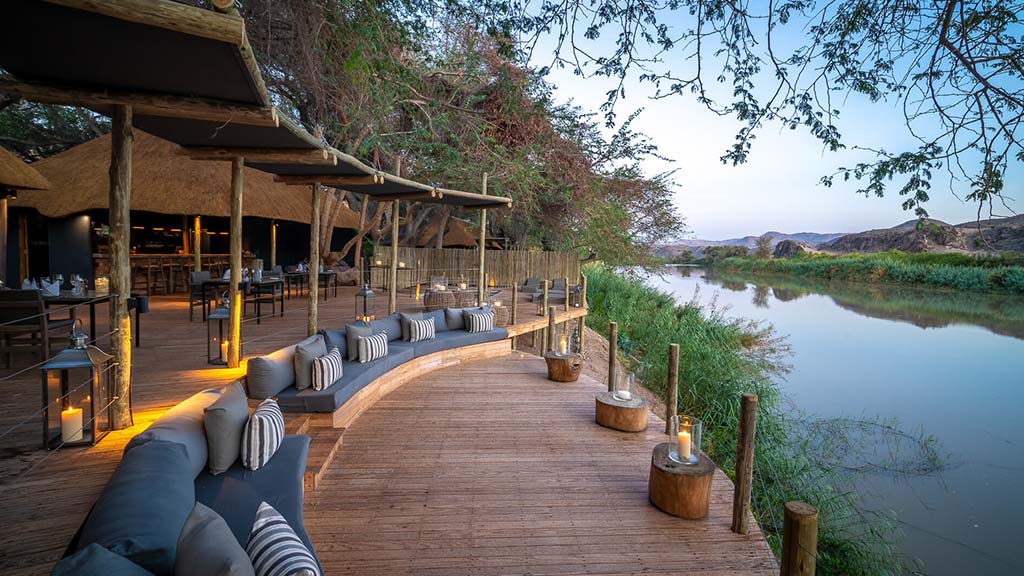 Perfect place for a sundowner. Image Credit: Serra Cafema
5. Shipwreck Lodge, Skeleton Coast
Accommodation Type: 10 unique shipwreck-style cabins
If you're the kind of traveller who's seen it all, then this is for you! Shipwreck Lodge is in the middle of nowhere on the Skeleton Coast, and each cabin is designed to look like one of the shipwrecks the area is famous for. However, once you step inside, it's all eco-luxury!
You might be in the middle of nowhere, but there's still plenty to do, from simply enjoying the spectacular sunrises and sunsets over the dunes, beach lunches and exploring the beach on quad bikes. You can even try your hand (or rather, feet) at sandboarding. Or take a trip to the nearby Hoarusib River to learn more about the fascinating geology.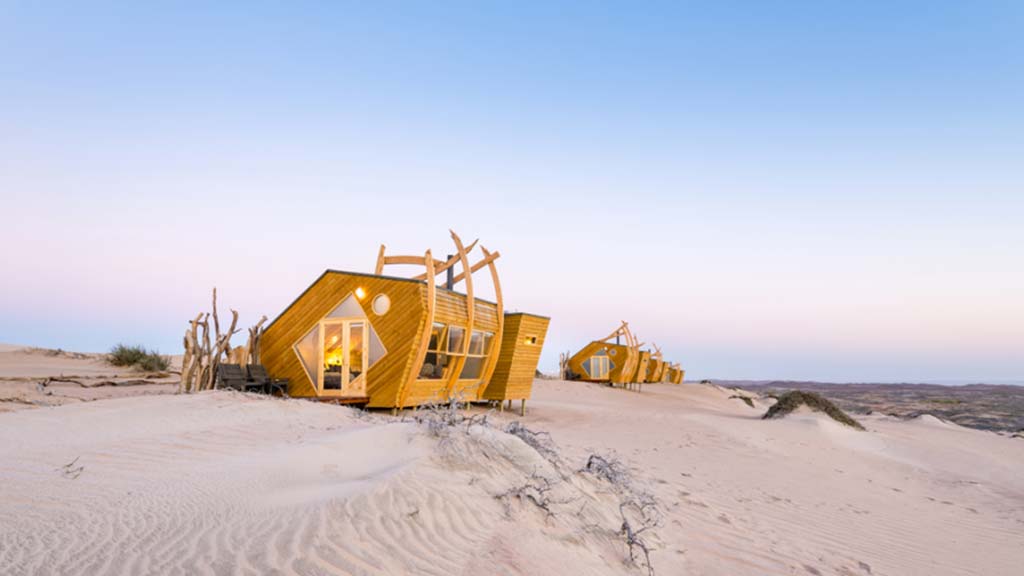 One of the most unique accommodation options in Namibia. Image Credit: Shipwreck Lodge
What makes Shipwreck Lodge fabulous?
Unique accommodation right on the dunes
Eco-friendly and solar-powered
Beach lunches and sundowners on the sand dunes
Quad biking, Skeleton Coast tours and Hoarusib River excursions
Perfect for: those who want something different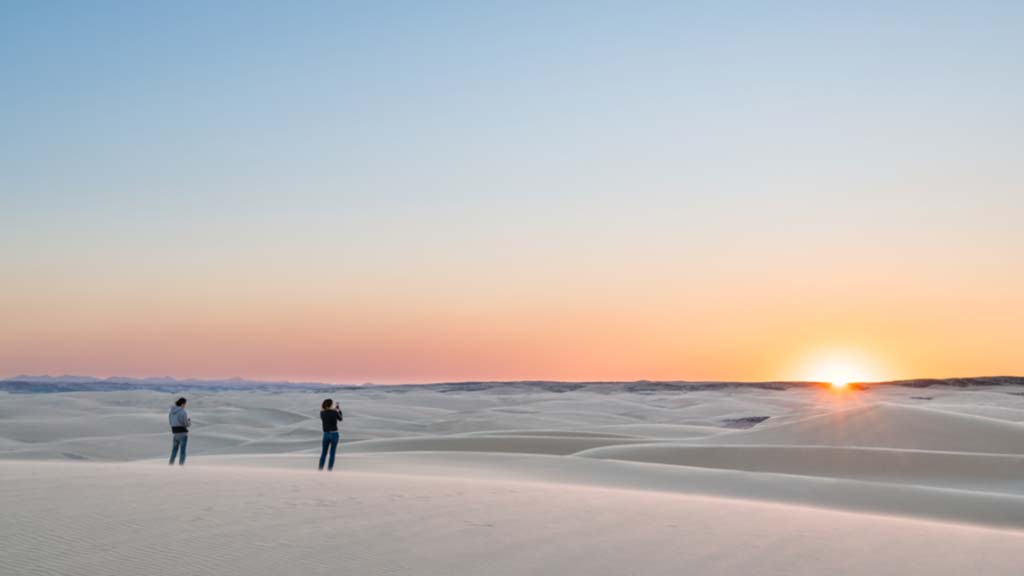 Spectacular sunset over the dunes. Image Credit: Shipwreck Lodge
6. Little Kulala, Sossusvlei
Accommodation Type: 11 luxury thatched suites
Little Kulala is located on the private Kulala Wilderness Reserve for an exclusive and utterly romantic experience. Think starting your day with a hot air balloon safari as the sun rises over the dunes and ending your day dozing off under the stars.
This is desert heaven with plenty of exciting activities to enjoy. Cool off in your private plunge pool, sip wine in the onsite wine cellar, curl up with a book in the library, or shop in the craft boutique. However, you'll even be happy to just sit in the lounge area overlooking the nearby watering hole to see how many of the desert-adapted wildlife you can spot.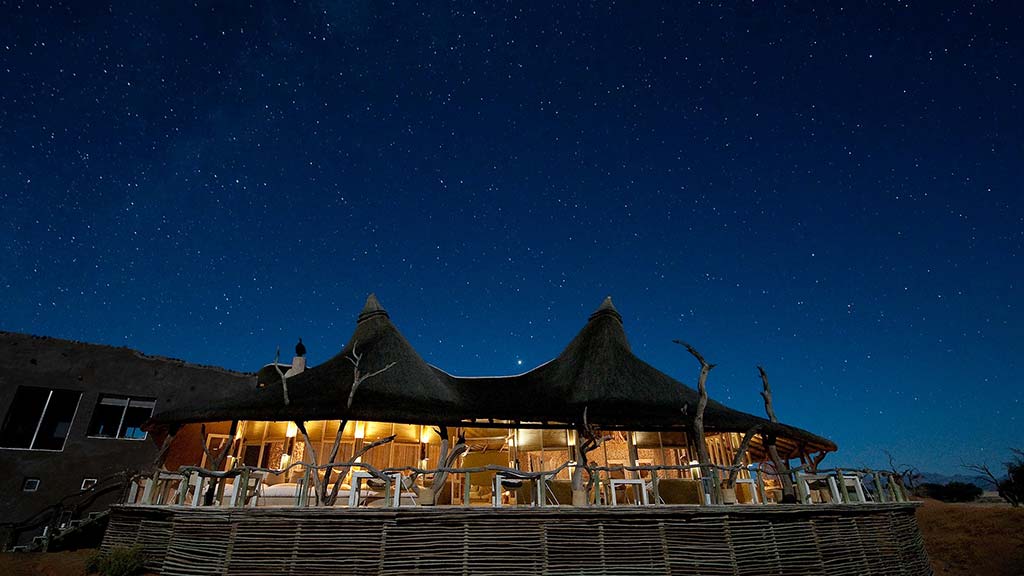 Dinner is an event of its own. Image Credit: Little Kulala
What makes Little Kulala fabulous?
Sleep out under the stars at the rooftop skybed
Onsite wine cellar, craft boutique and library
Nature drives and walks and private access to neighbouring Namib-Naukluft Park
Sunrise hot air balloon and helicopter rides can be arranged
Perfect for: honeymooners or romantic getaways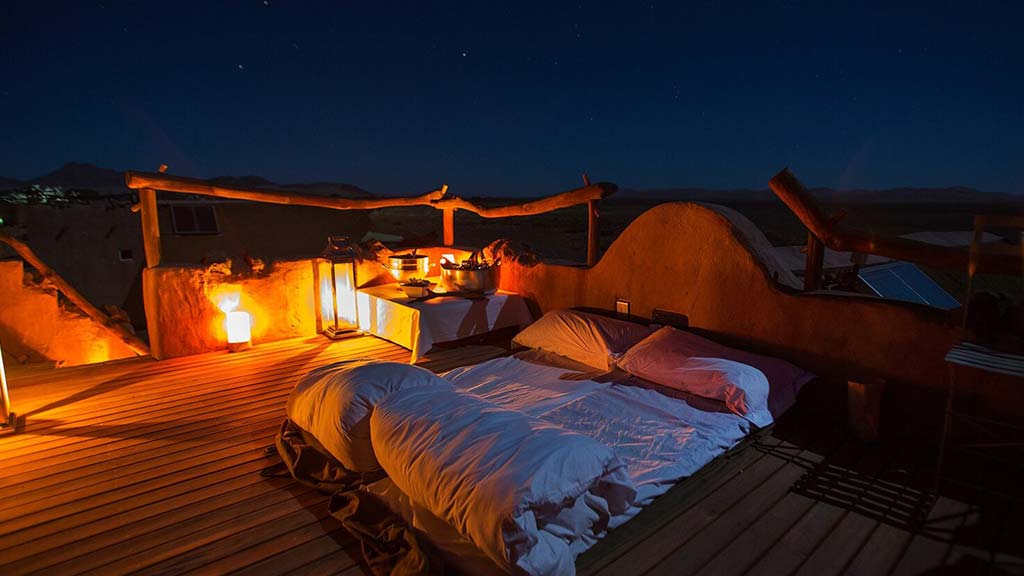 Slumber under a sky full of stars. Image Credit: Little Kulala
Alrighty Then, Let's Get This Show On The Road!
If you've reached the end of this blog, you're giddy with excitement, so let's start planning! Our Travel Experts will take care of everything so that you can just enjoy every second of the experience!
Contact us today, and let's make it happen!