Why choose a romantic luxury safari in Africa for your next getaway as a couple? Well, romance blossoms when you're in the right setting. Something shifts if you swap traffic commutes for game drives in the fresh open air. Suddenly, your significant other is more zen, loving, and present! Plus, there's just nothing like a sexy safari to get your heart pumping faster…
If you book with us, you also don't have to worry about a thing since our LGBTQ+ African Travel Experts have scoured the continent for only the very best gay-friendly destinations, accommodation options and experiences and can take care of every little thing. Here's why you'll looove it...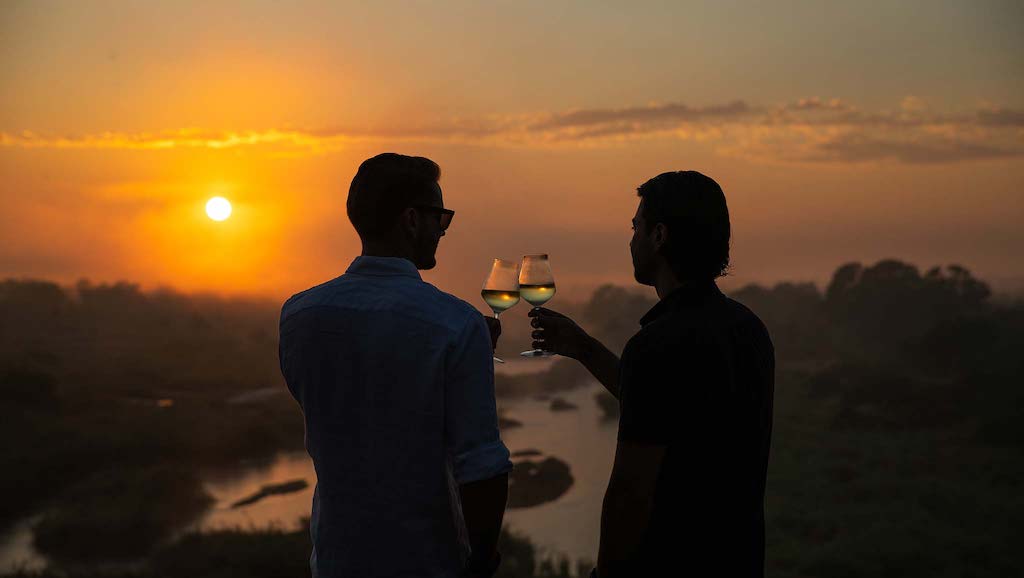 Cheers to another day in safari paradise
Well, Hello There, Africa
What ingredients do you need for the perfect romantic luxury safari in Africa? Well, it starts with making sure you hit all the right notes. You want enough privacy to elevate the ooh-la-la factor, enough exclusive luxury to make you both feel like VIPs (which, of course, you are!), and everything to happen seamlessly.
Naturally, you'd also love bottomless bubbly, fine wines, G&Ts measured just the way you like it or top-shelf cognacs. And, of course, it goes without saying that you want fine dining, rivalling the top restaurants in the world.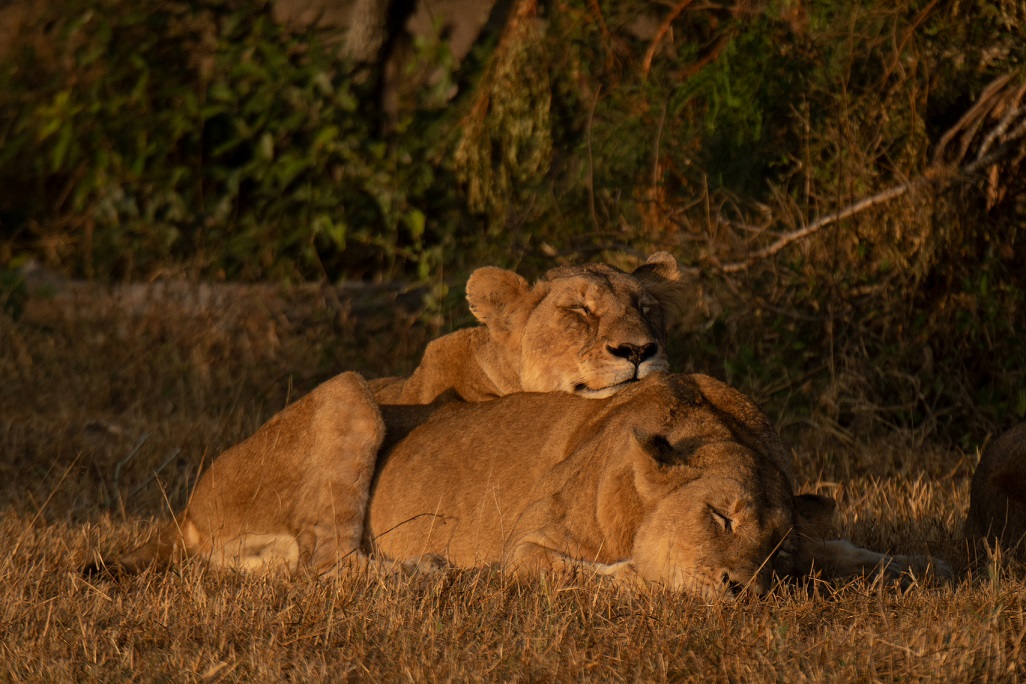 Can you feel the looove tonight?, Image Credit: Stevan Loffler
Well, if you book your romantic luxury safari in Africa with our LGBTQ+ Travel Experts, you can rest assured that all the little details will be taken care of so that you can just relax and stare into each others' eyes. Before you even step onto African soil, we'll ensure we know all your likes, dislikes, preferences, and more to ensure your romantic safari is tailored like Dior Haute Couture.
Here's why a luxury safari in Africa should be your next romantic holiday. Your significant other will be extra smitten with you!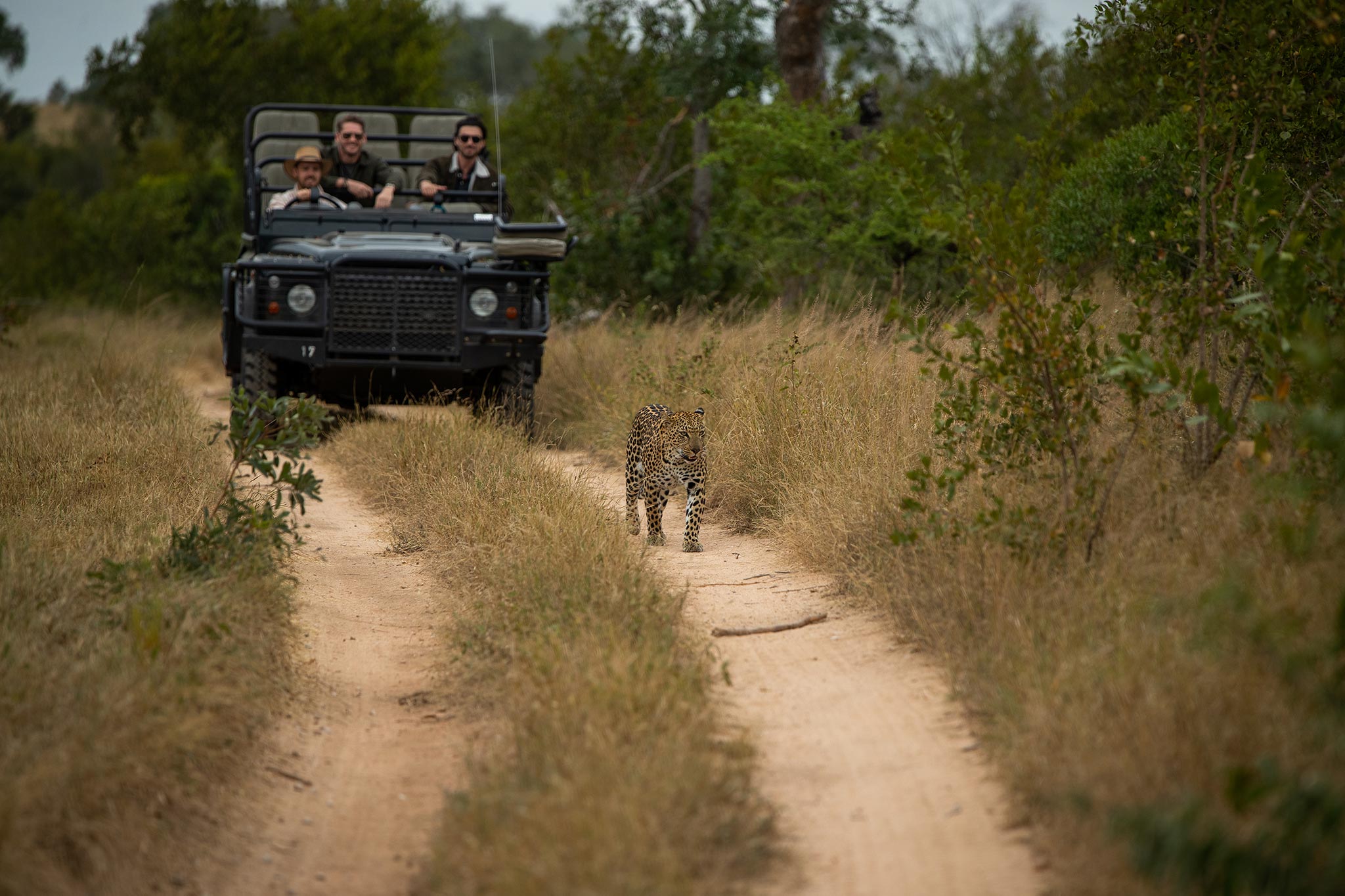 Game drives are always exhilarating, whether it's your first or 50th time
Why a Safari for Your Romantic Rendezvous?
Regardless of where you decide to go for your romantic safari, just being surrounded by Mother Nature will make you feel invincible yet vulnerable at the same time. It's a feeling that's difficult to explain but trust us when we say it's invigorating!
Whether you pick East Africa's Kenya and Tanzania, Kruger National Park in South Africa, Namibia, Victoria Falls, or Botswana's watery wonderland, here's the highlight reel.
Sunrise Bush Breakfasts
Start your day on the right note by enjoying your morning coffee and breakfast spread in the wide-open landscapes of Africa. The birds' morning chorus and the fresh aromatic smell of a new day will excite you for what lies ahead.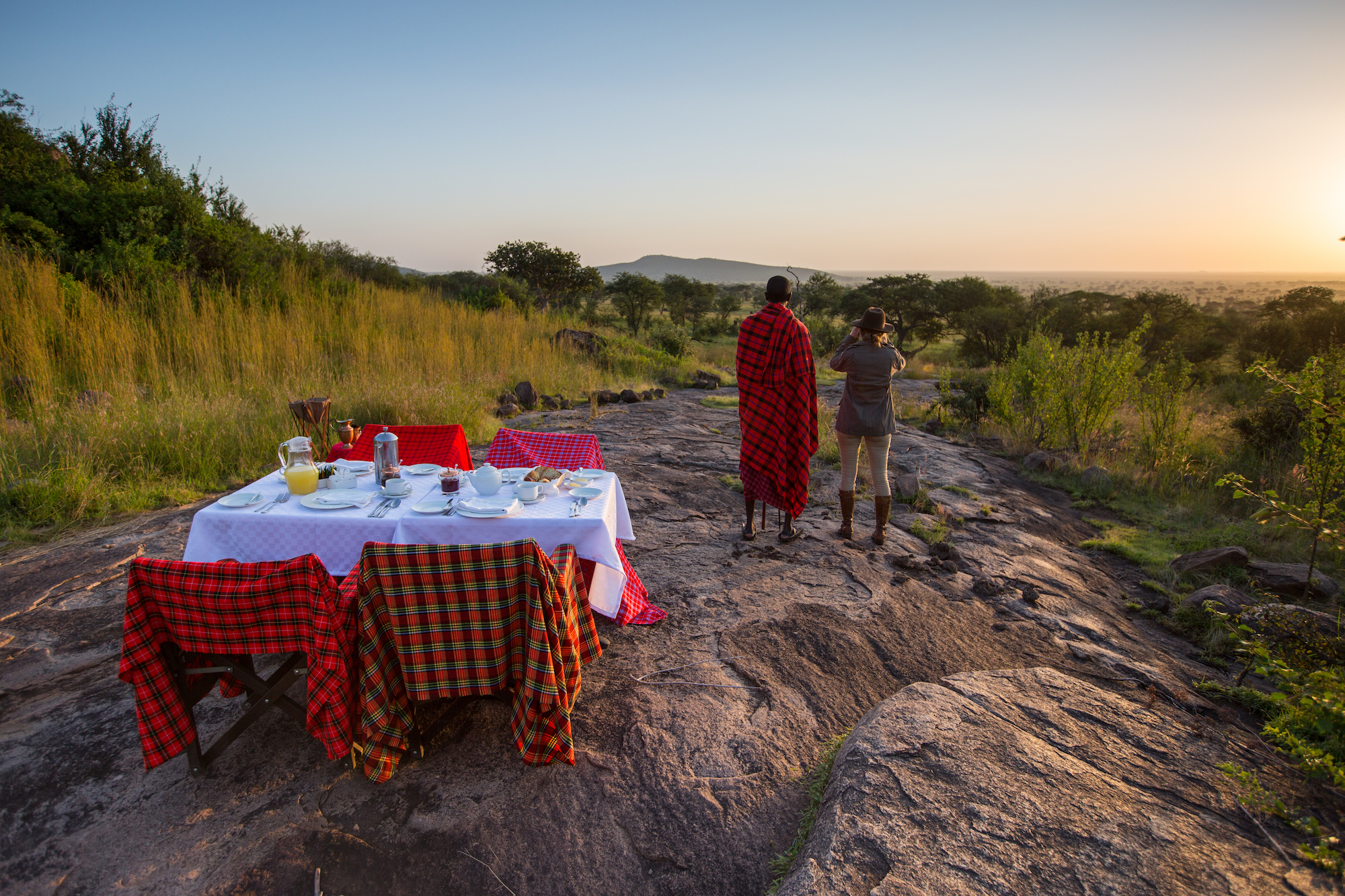 A romantic bush breakfast in East Africa, Image Credit: Serengeti Pioneer Camp
Meet Africa's Giants
If you're on safari, it goes without saying that you want to go and explore! Whether it's a game drive, bush walk, hot air balloon safari, boat safari, or running through the East African savannah with local Maasai warriors, there's an endless supply of wildlife and landscapes to admire, and so many ways to do it. There's something meditative about going on safari that helps your brain switch off, but at the same time, makes you uber-alert to see how many of Africa's greatest creatures you can spot in the wild.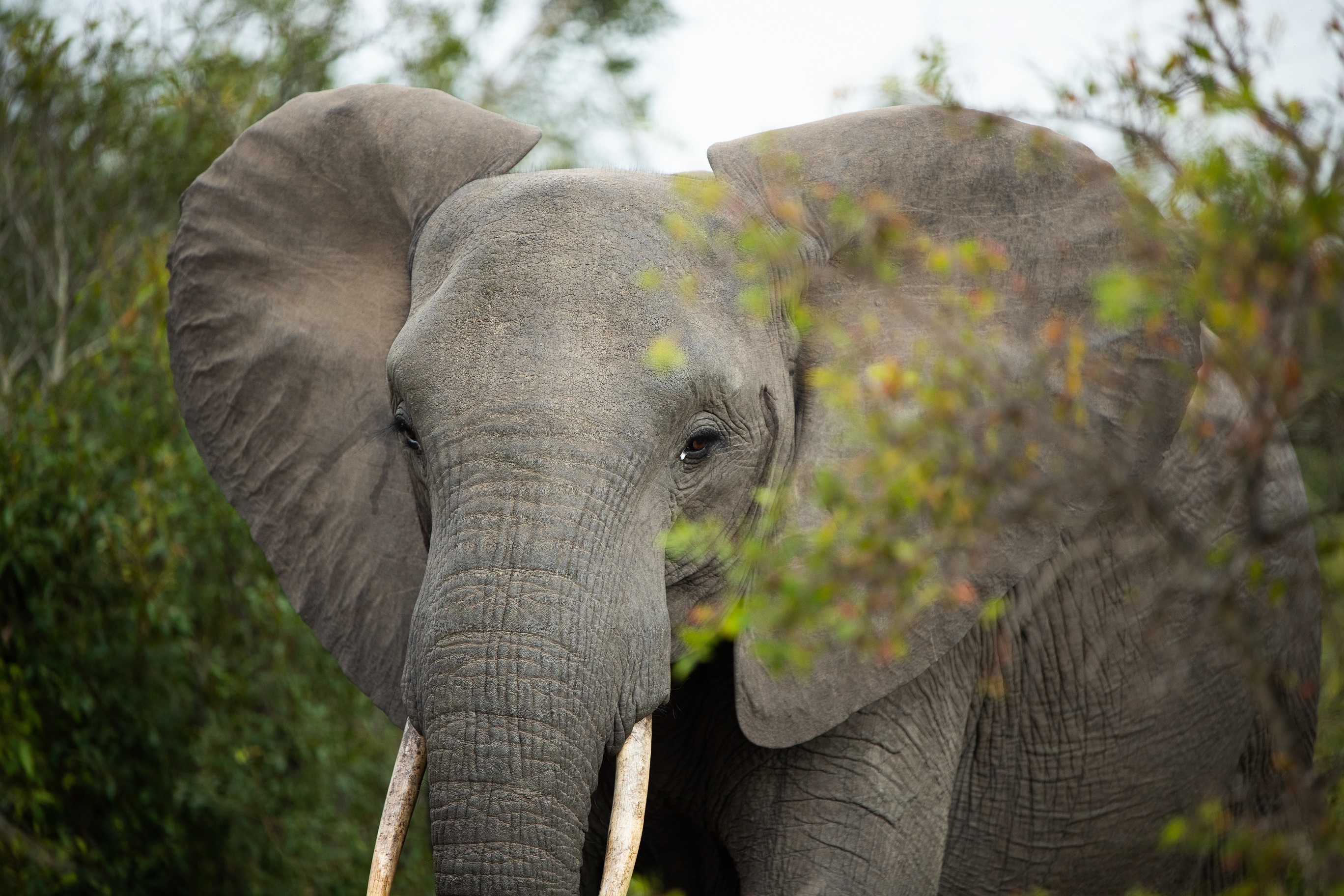 Nice to meet you, gentle giant
Poolside Bliss
Let's slow things doooown for a minute…After your action-packed morning on safari, return to your luxury lodge for a lazy, leisurely lounging session. Take a nap, chill next to or in the pool, sip cocktails, or just do whatever you want, really! Sometimes, you might even get a surprise visitor, like a monkey swinging in the tree overhead or an elephant dipping its trunk into your pool for a quick drink. Oh, the Instagram moments you'll have!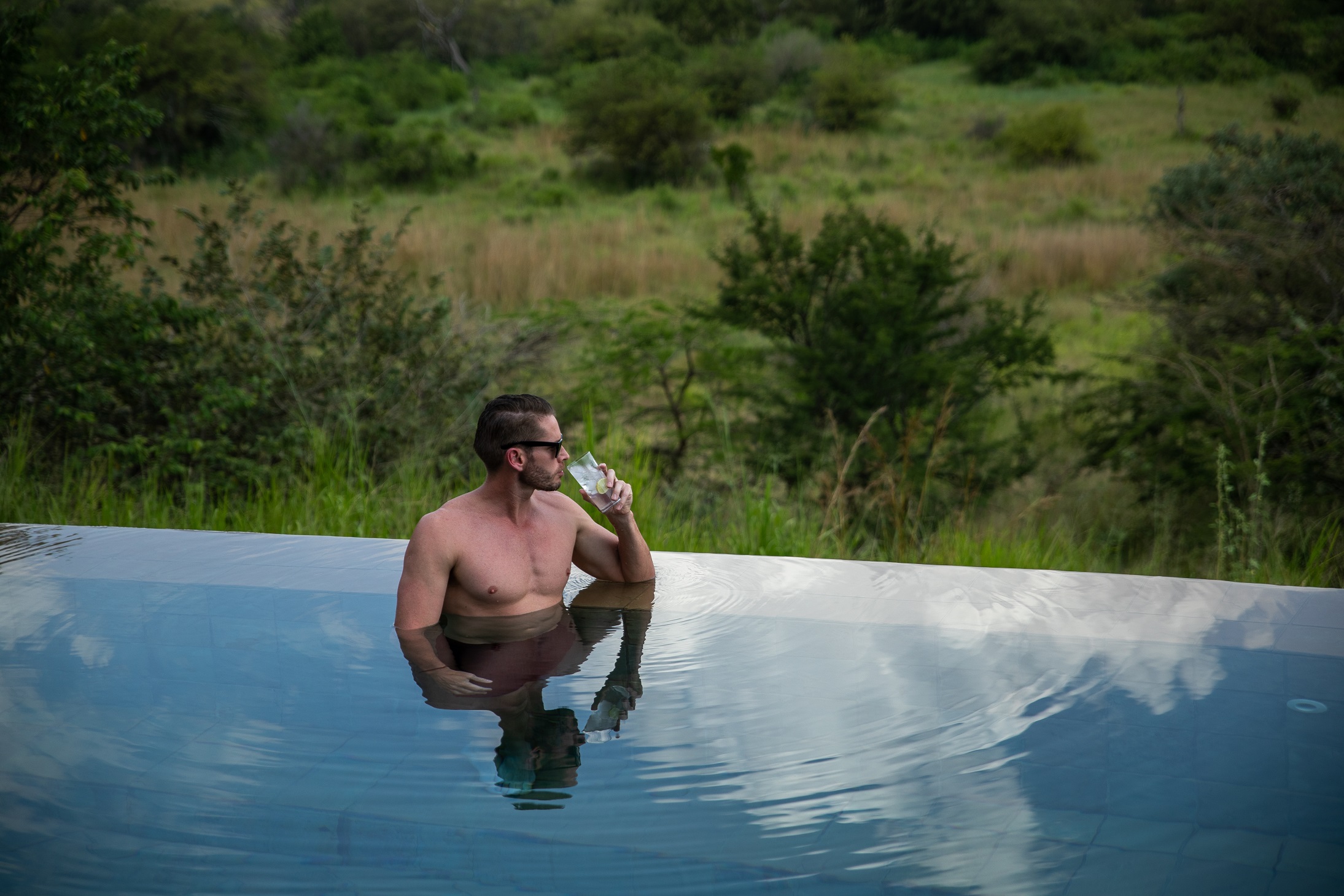 Now that's what you call a pool...
Safari Spa Wellness Experiences
So, you're on holiday…which means extra spoils, ultra-relaxation, and having to do as little or as much as you feel like on the day. Well, let's just say a safari spa treatment should be on the cards during your romantic luxury safari in Africa! Enjoy a couple's massage, sunrise yoga, or try some of the more interesting treatments like sound healing,
We personally love Londolozi's Healing House in Sabi Sand Private Game Reserve if you're looking for a full-on wellness experience in the bush.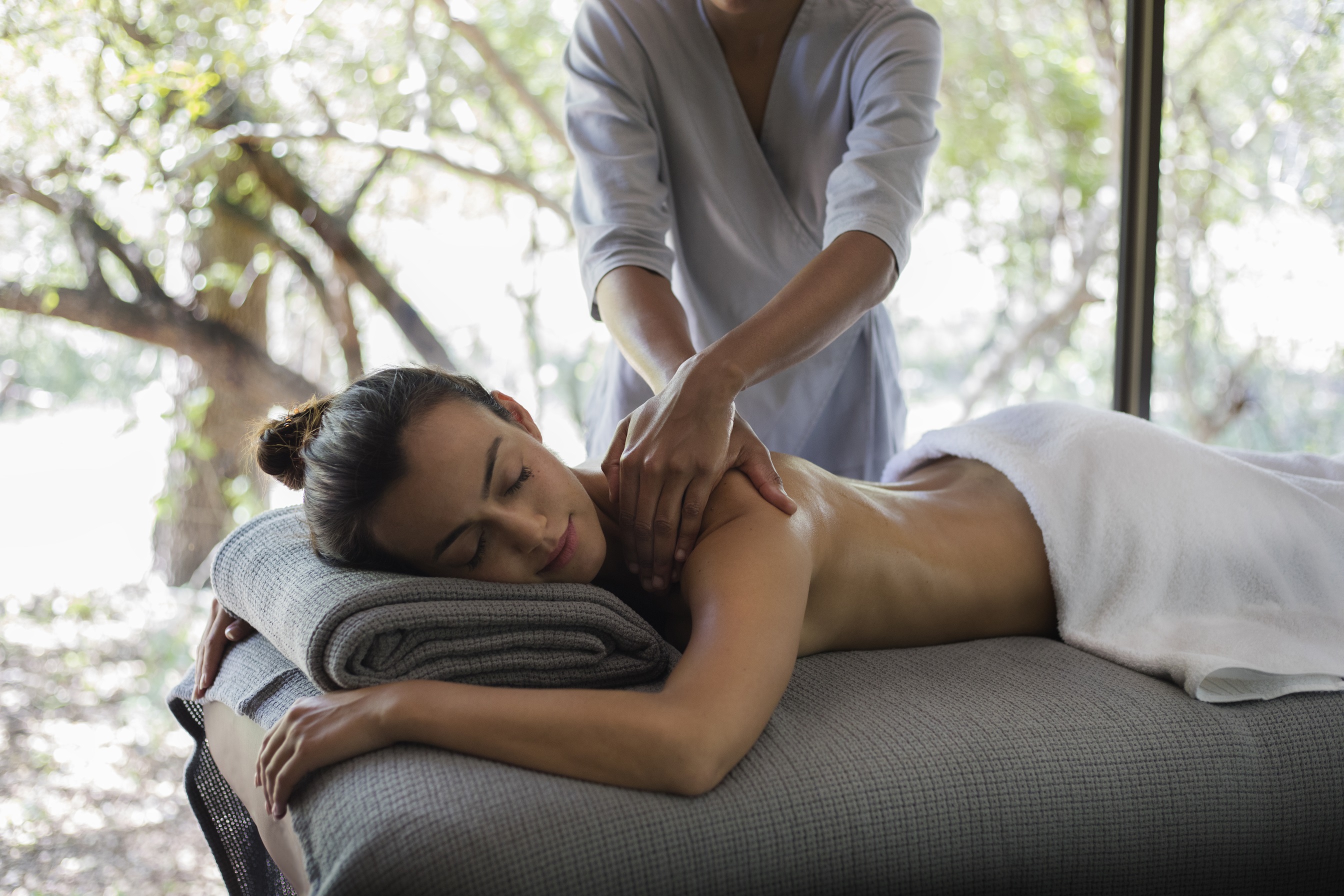 Let the spa staff melt away any remaining stress and get you into holiday mode
Have We Mentioned High Tea, Honey?
Get on a sugar high together and feast to your heart's content. High tea is a popular safari activity. Yes, activity! Feasting on sugary and savoury delights will leave you giddy and smiling. Besides, we believe every day should be a cheat day when you're on safari!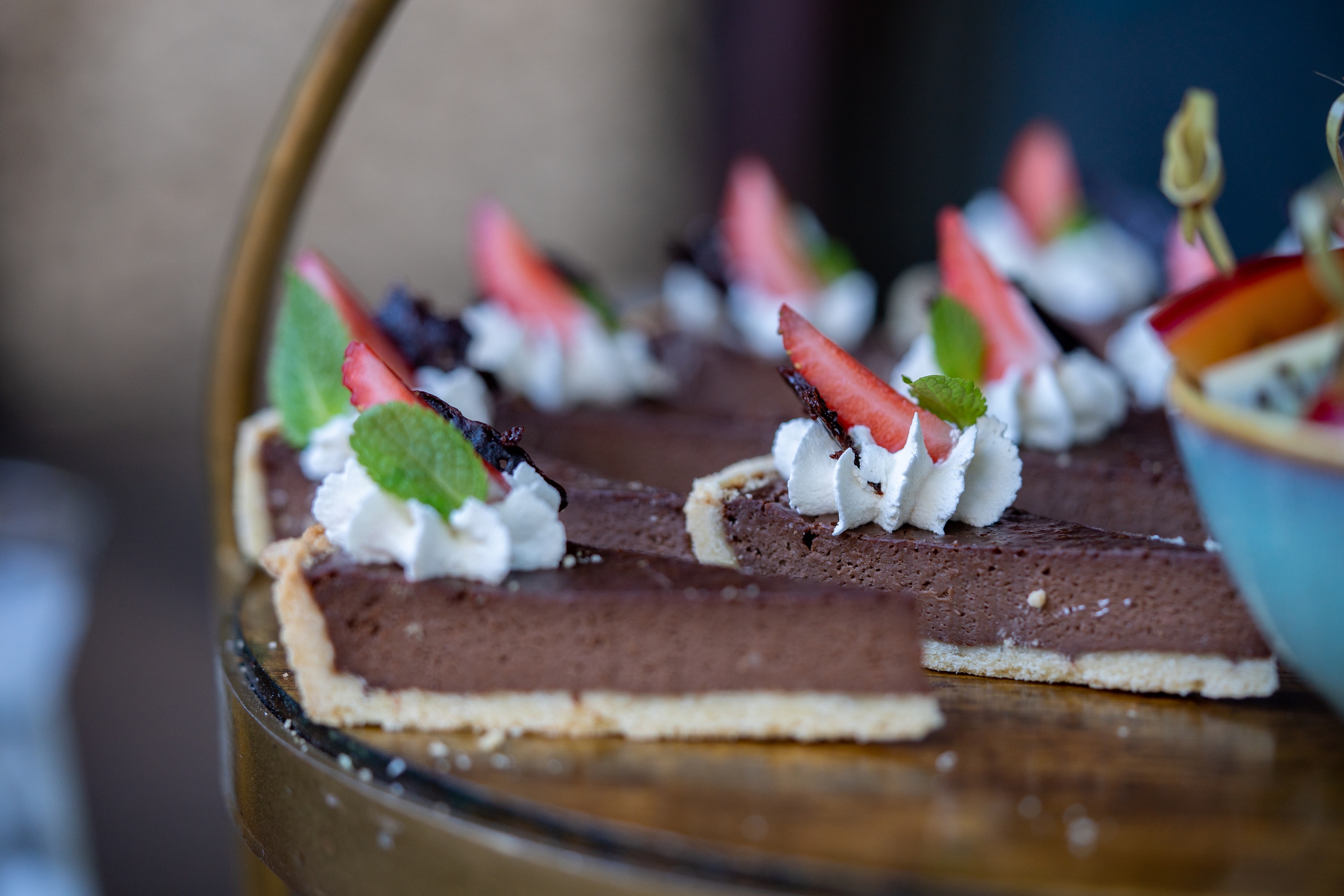 Indulge your sweet tooth on safari
The Sexy, Sexy Suite Life
Our favourite luxury safari lodges go out of their way to make your accommodation as luxe as possible. From little gifts to massive beds fit for royalty, delicious midnight snacks and boozy treats, massive showers, and so much more, it's a suite, suite life to be on a romantic luxury safari in Africa. Our Travel Experts will recommend the best hideaways that will tick all your romance boxes.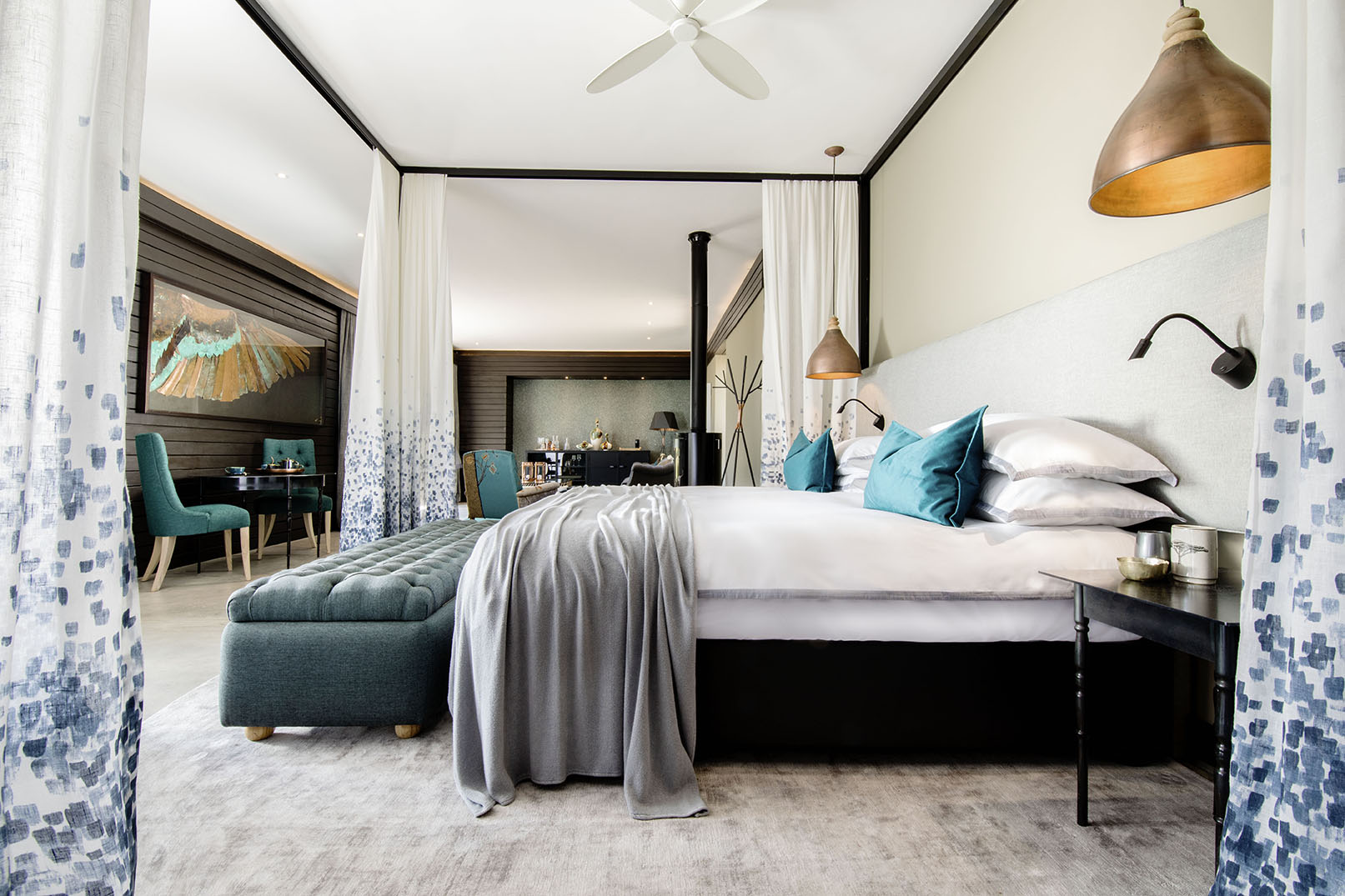 Silvan Safari in Sabi Sand is simply spectatcular
Sundowners on Safari
A highlight on safari is watching the sun as it goes down. But there's more to it. You stop over somewhere scenic (well, to be fair, everywhere in Africa is scenic!) after your afternoon game drive and your guide magically makes drinks and snacks appear. As you sip on your chosen tipple and reflect on what you just witnessed, you watch the most spectacular show of colour that is an African sunset.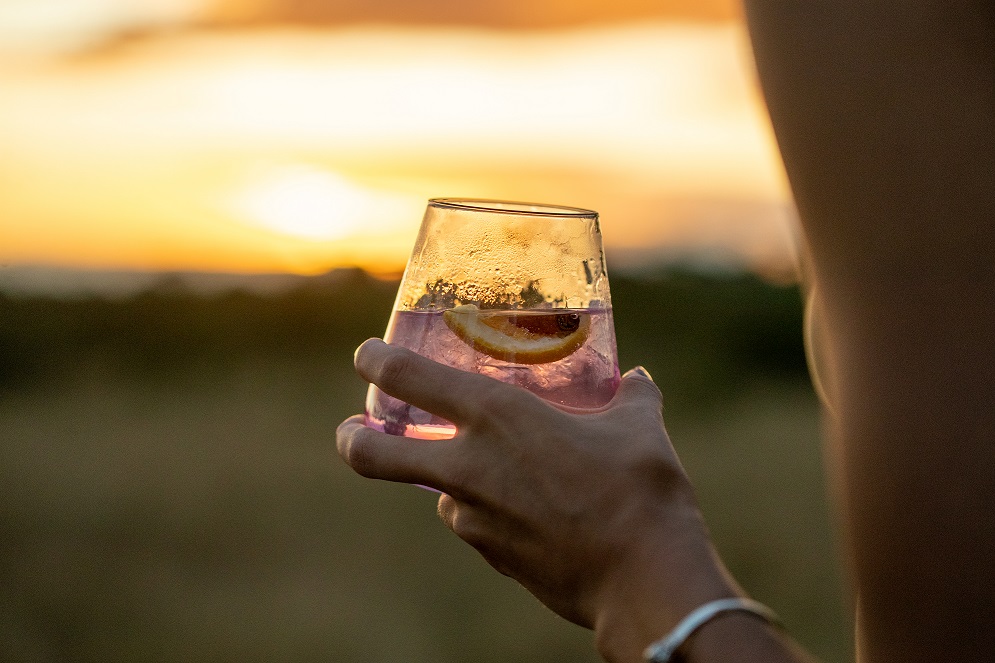 A G&T is our favourite sundowner to enjoy on safari
Outdoor Baths and Showers
At many luxury safari lodges, you can take the romance outdoors…wink, wink. Think outdoor baths and showers to give you a space to (privately) soak off the day and soak in the views.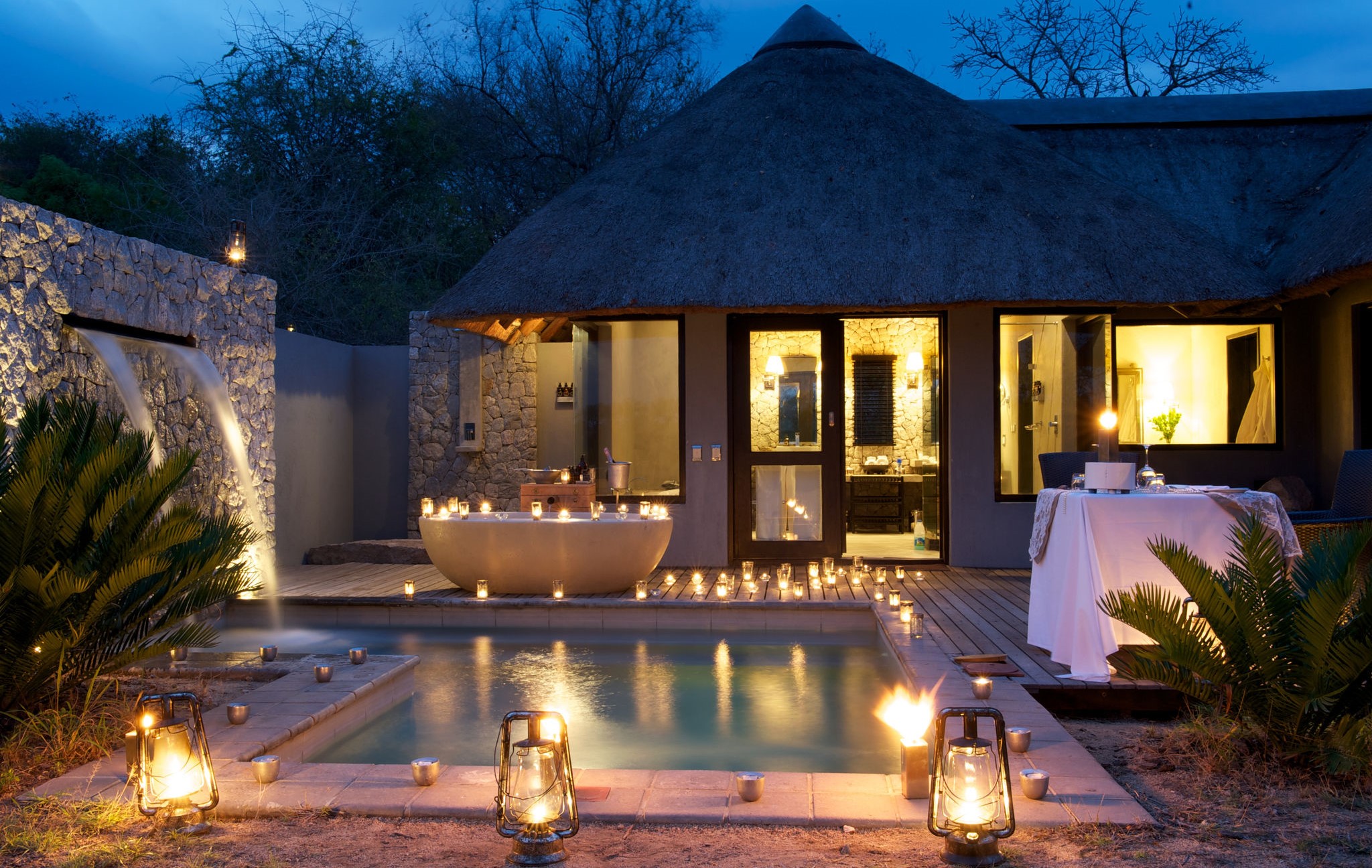 Romantic bath under the stars, Image Credit: Londolozi
Lantern-lit Dinners Under the Stars
A safari dinner is an event on its own. Our most fabulous luxury safari lodges in Africa can set up private dinners for you so that you have no distractions – other than each other, of course. Follow the lanterns to your special space, enjoy every bite of fine dining that seems impossible given your remote location, and sip and sip and sip wine until your bed calls…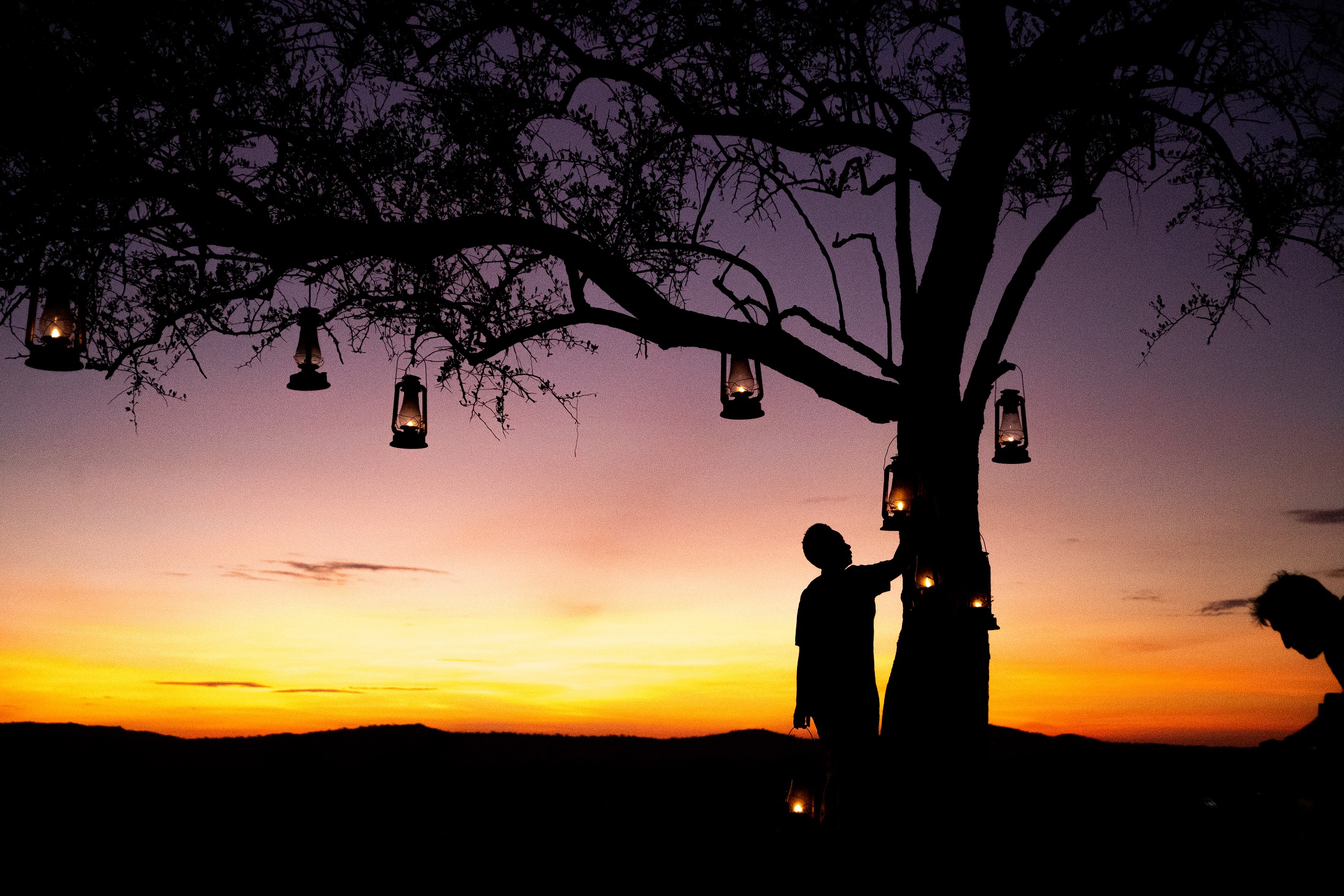 How's this for an outdoor restaurant?
Sleeping Under the Stars
One of the best things to do while on a romantic luxury safari in Africa is to sleep out under the stars. Some of the most fabulous safari lodges have these tree houses where you can spend the night out in the open air, admiring the stars and being oh-so alone…Of course, with only the finest linens and luxuries your heart could desire. Can you think of anything dreamier than that? We'll wait.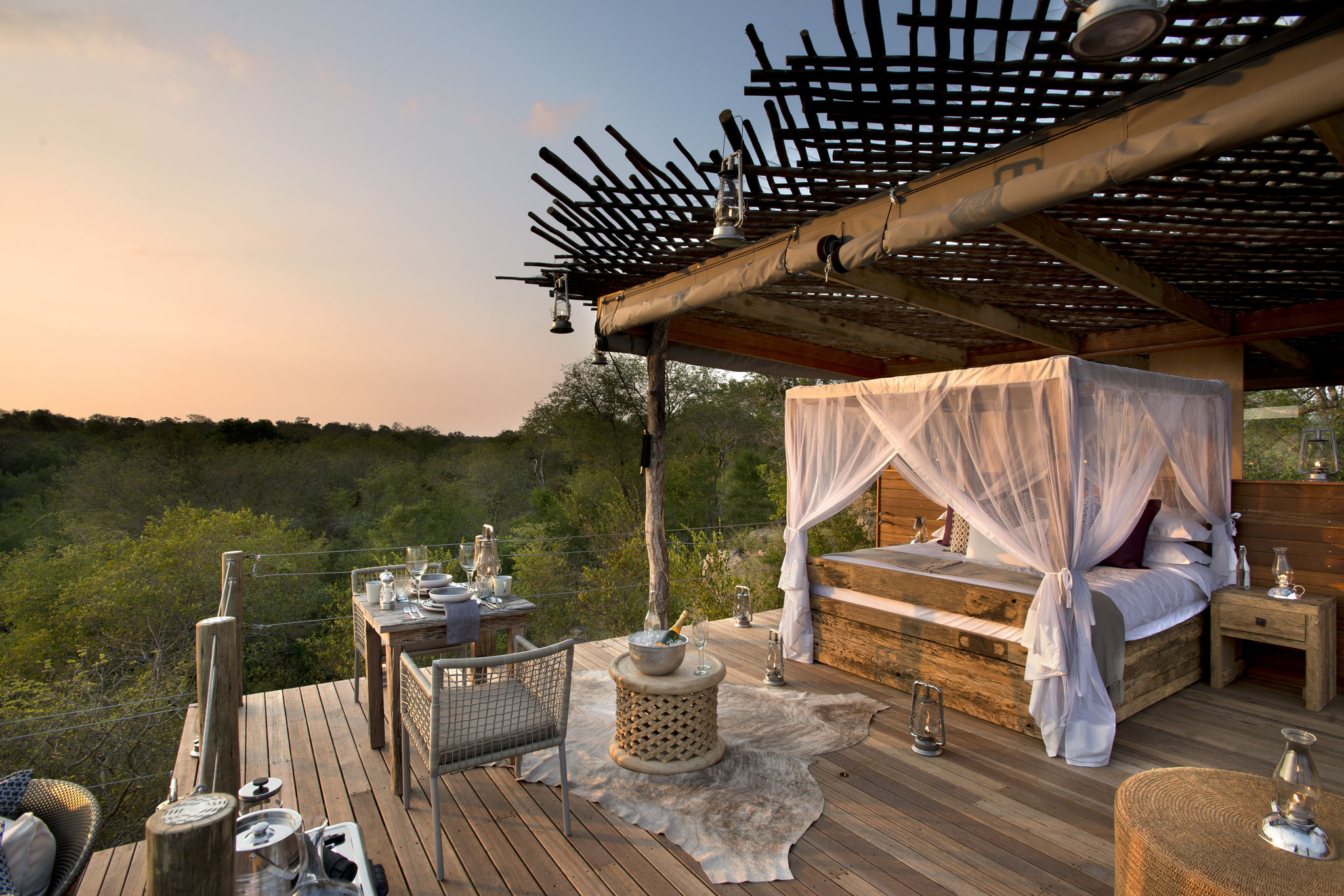 The best place to fall asleep and wake up...Image Credit: Lion Sands Ivory Lodge
Top it All Off with a Sweet, Sweet Island Ending
Think it can't get any better? It can! How about ending your romantic luxury safari in Africa on a beach with bottomless cocktails? Yes, please!
In Africa, it's super easy to add a beach destination to your bush itinerary. For example, you can combine Tanzania or Kenya with the Zanzibar Archipelago, Kruger National Park with Mauritius , Victoria Falls with Mozambique , Botswana with Seychelles , and so much more!
What are you waiting for? Grab your suitcases, pack your best safari outfits, and let's start planning your romantic luxury safari in Africa!
Contact our Travel Experts today. See you soon, lovebirds ;)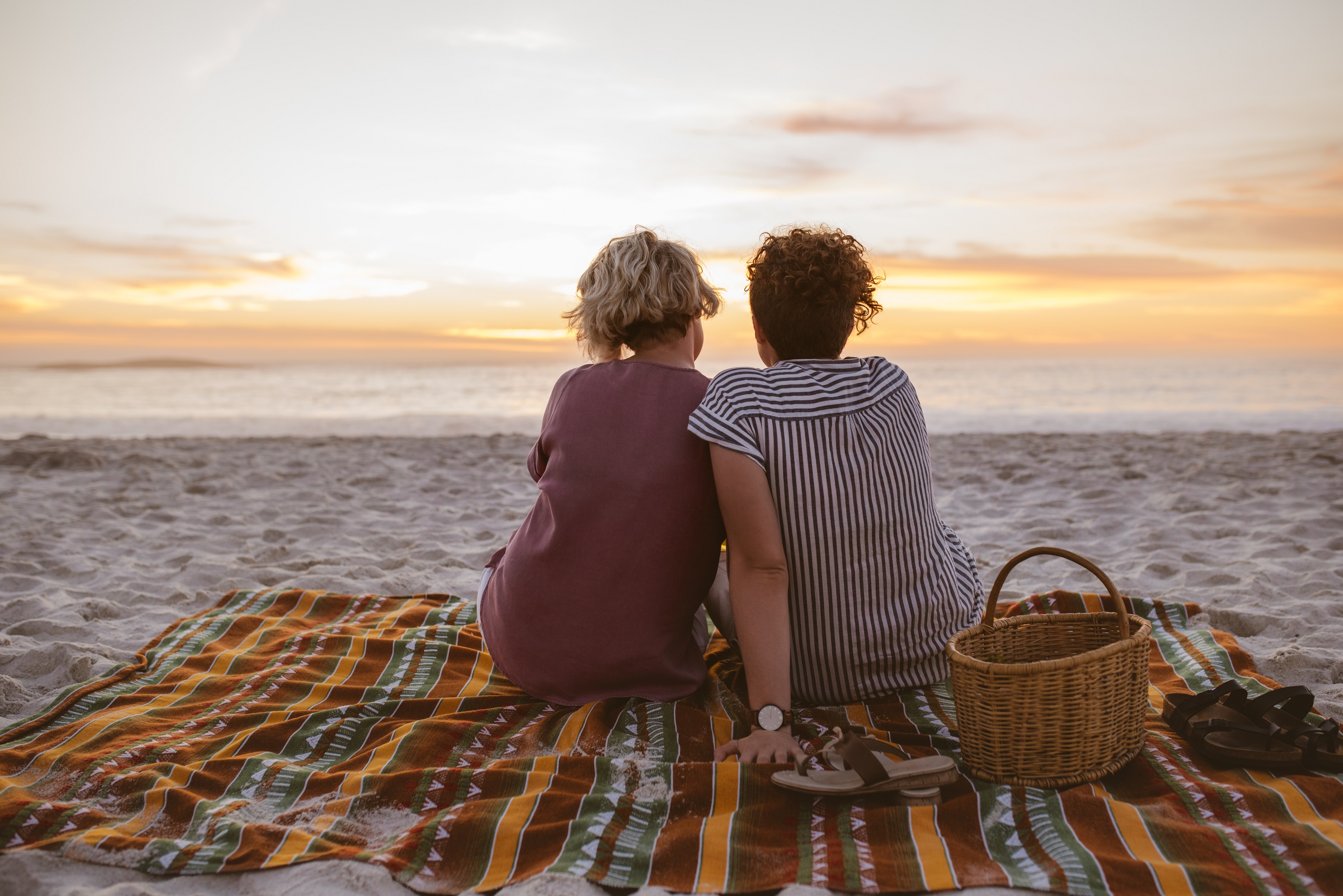 End your romantic luxury safari in Africa with a beachside breakaway