A safari is like the ultimate fashion show, presented on the grand stage of Africa. And when it comes to the best venues to watch out for, Moremi Game Reserve in Botswana shines bright, having invited big-name stars like Elizabeth Taylor to travel far and wide to see its spectacular displays. The allure is clear, with it being one of Africa's most beautiful reserves. But what else gives it its world-famous safari appeal?
Mad About Moremi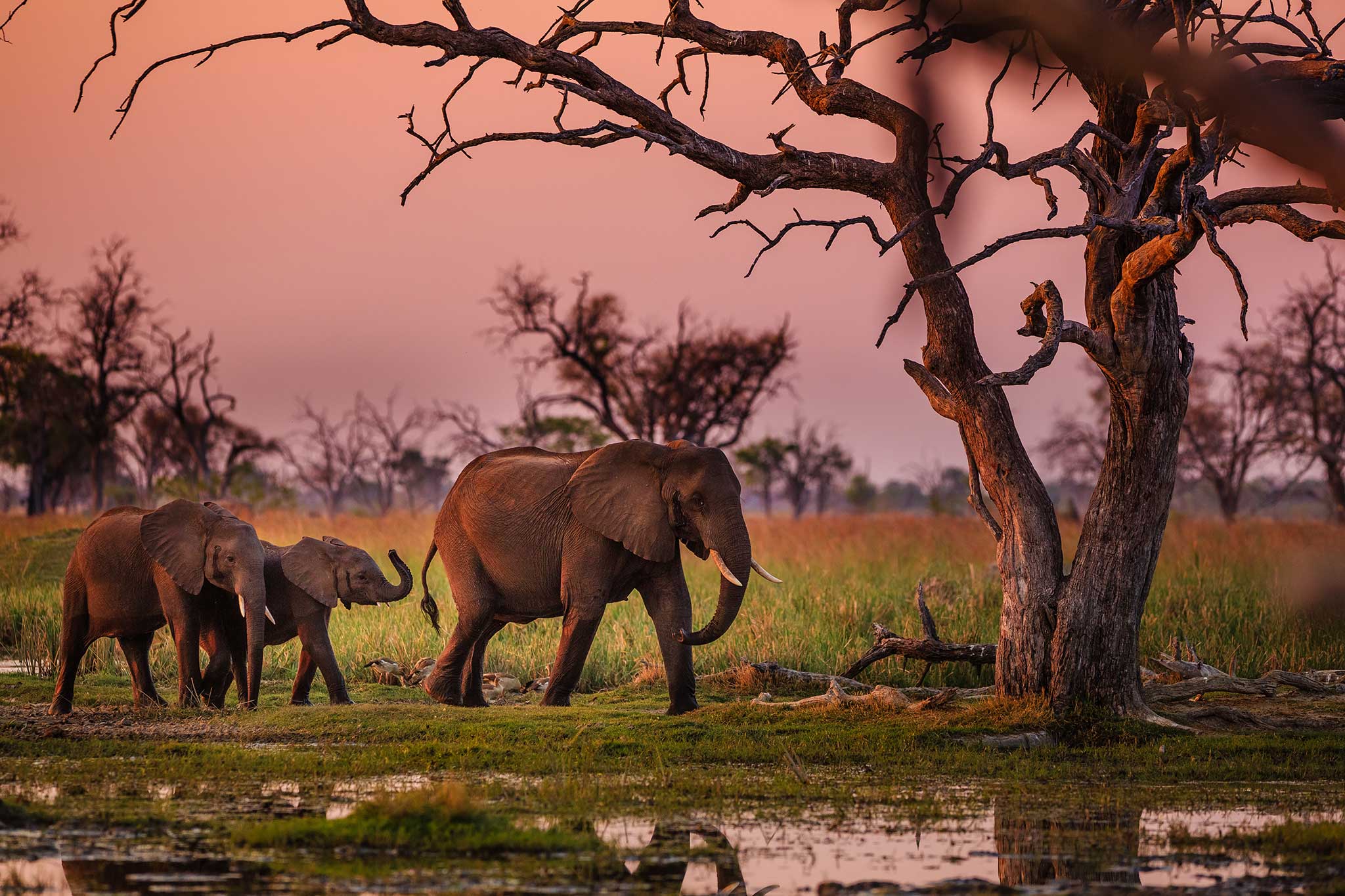 Moments like this await you in magical Moremi Game Reserve...
Moremi Game Reserve is the gathering place of all nature's A-listers – think African wild dogs, elephants, hyenas, lions, cheetahs, and leopards all strutting their stuff in the spotlight.
But it's not just about the "who's who" in the animal kingdom; it's also the "where's where" of landscapes. It's like having a remote control for your own African TV – one moment, you're in a lush woodland wonderland, and the next, you're sipping bubbly on a tranquil waterway. Moremi's your escape from the digital jungle, where the only signal you're chasing is the call of the wild.
Now, when it comes to lodges, we're all about choices, honey. Life's too short for rinse-and-repeat! And don't you worry, as the lodges in Moremi Game Reserve are like the latest fashion trends in safari chic. Whether you want safari strolls on land or make a splash on the water, there's a lodge for every mood and style. Here's where to go for the ultimate gay-friendly Moremi Game Reserve safaris!
1. Okuti Camp: Your Little Bungalow On The Water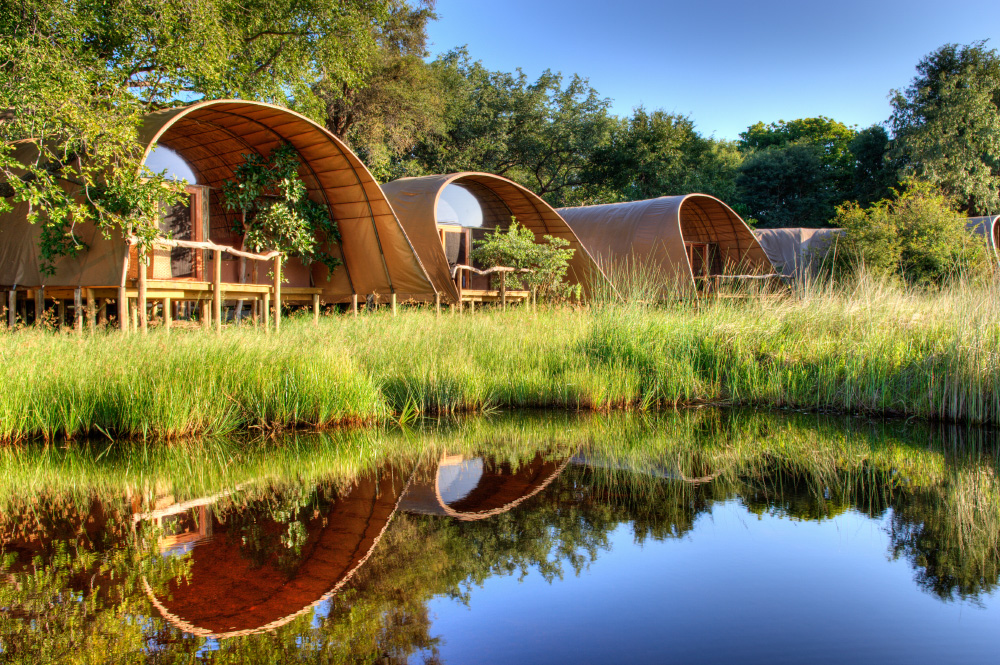 Nesting never looked so good! Image Credit: Okuti Camp
Want to safari sustainably and in style? Look no further than Okuti Camp! Its eco-friendly, semi-circular, reed-lined Mosasas design makes it an eco-friendly haven. Plus, it's wheelchair accessible so that no one is excluded.
Picture yourself cruising through unique landscapes in a specially-designed safari vehicle, stopping for a picnic spread in the heart of the African bush. An outdoor shower with wildlife as your audience? Sweet high tea delights? And don't miss the lagoon cruise for a fabulous new take on wildlife. Okuti Camp is your eco-chic gateway to Moremi Game Reserve!
2. Camp Moremi: Views Take Your Breath Away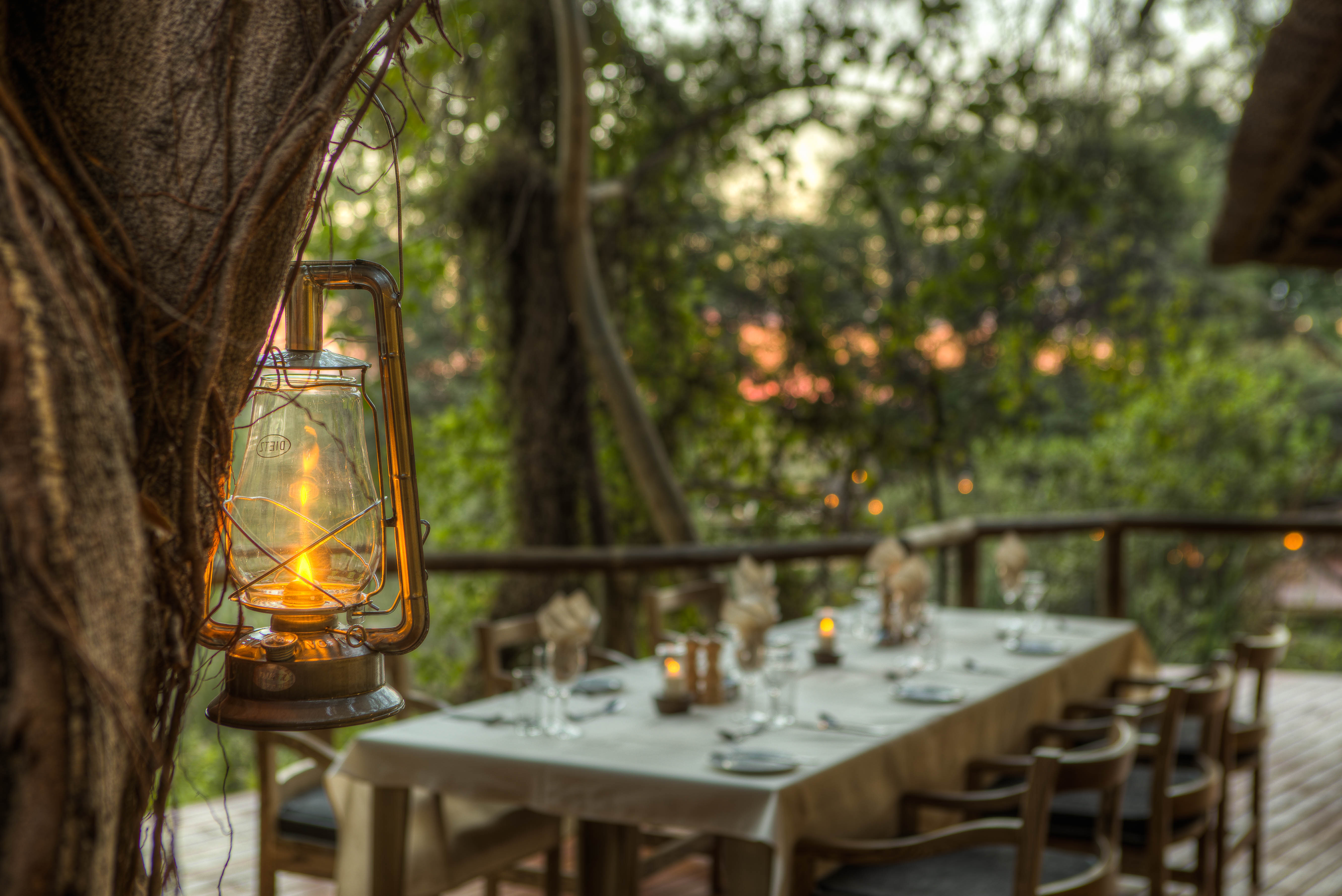 Wine + dinner = winner, Image Credit: Camp Moremi
With a series of show-stealing species, including lion, leopard, cheetah, and the African wild dog, Camp Moremi is like a Hollywood predator paradise. It's where the wild elite comes to see and be seen. And let's talk scenery – ancient mopane forests are like the vintage boutiques of the savannah, full of stories and secrets waiting to be discovered.
But here's the real kicker... boat safaris! It's the ultimate yacht party in the middle of the wild. And for those moments of pure "me time", you can lounge on your very own private deck, taking in all the action.
3. Wilderness Mombo Camp: Let's Get Wild!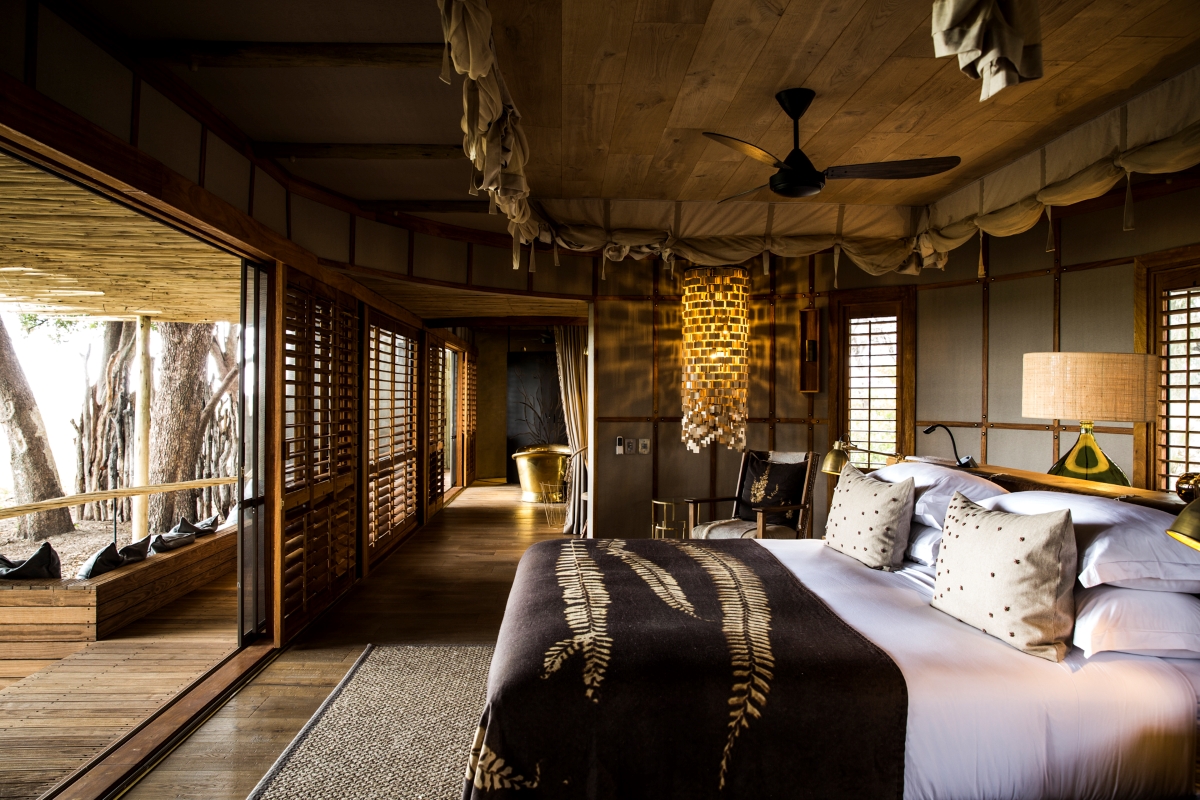 Anyone else want the number of their decorator? Image Credit: Wilderness Mombo Camp
Get ready to mambo with Mombo! Here you can enjoy uber exclusive game drives in vehicles only allowing four passengers at a time. Sip mimosas at a brunch in the wild because what's more stylish than a bush brunch? After your game drive, why not treat yourself to a spa session or hit the gym for that natural glow.
And when you're ready to unwind, your suite awaits with its private sala, double day bed, sunken couch, private plunge pool, and a wrap-around veranda that's practically a red carpet for relaxation. Feeling extra adventurous? Dive into cultural tours and scenic helicopter flights nearby.
4. Wilderness Little Mombo: Does Size Really Matter?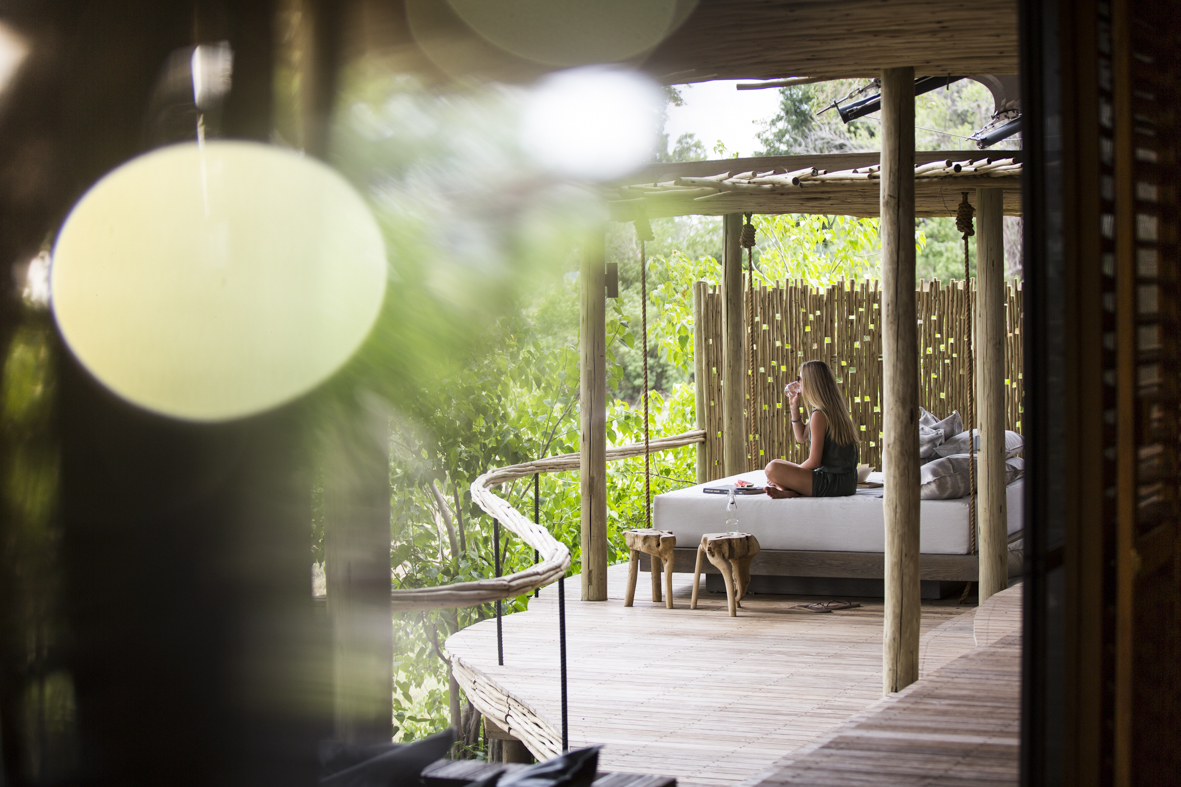 Sorry we can't come to the phone right now, Image credit: Wilderness Little Mombo
Don't be fooled by the name, my dears! Little may be in the name, but in this case, size really doesn't matter. It's the experience that counts, and oh boy, does Little Mombo deliver. With only four rooms, this camp packs a punch of luxury. There's so much to keep you busy, from game drives to visiting "The Hide" – a centrally located secret watering hole accessed by an underground tunnel, where the animal kingdom shows off its majesty, completely oblivious to your presence. Oh, the photos you'll take!
Enjoy a scrumptious bush breakfast, indulge in a soothing massage, get your yoga on, or simply watch the wildlife parade right from your room, and more. And for those with a love for words, there's even a library where you can live out your very own "Beauty and the Beast" moment.
5. Oddballs' Enclave: Need We Say More?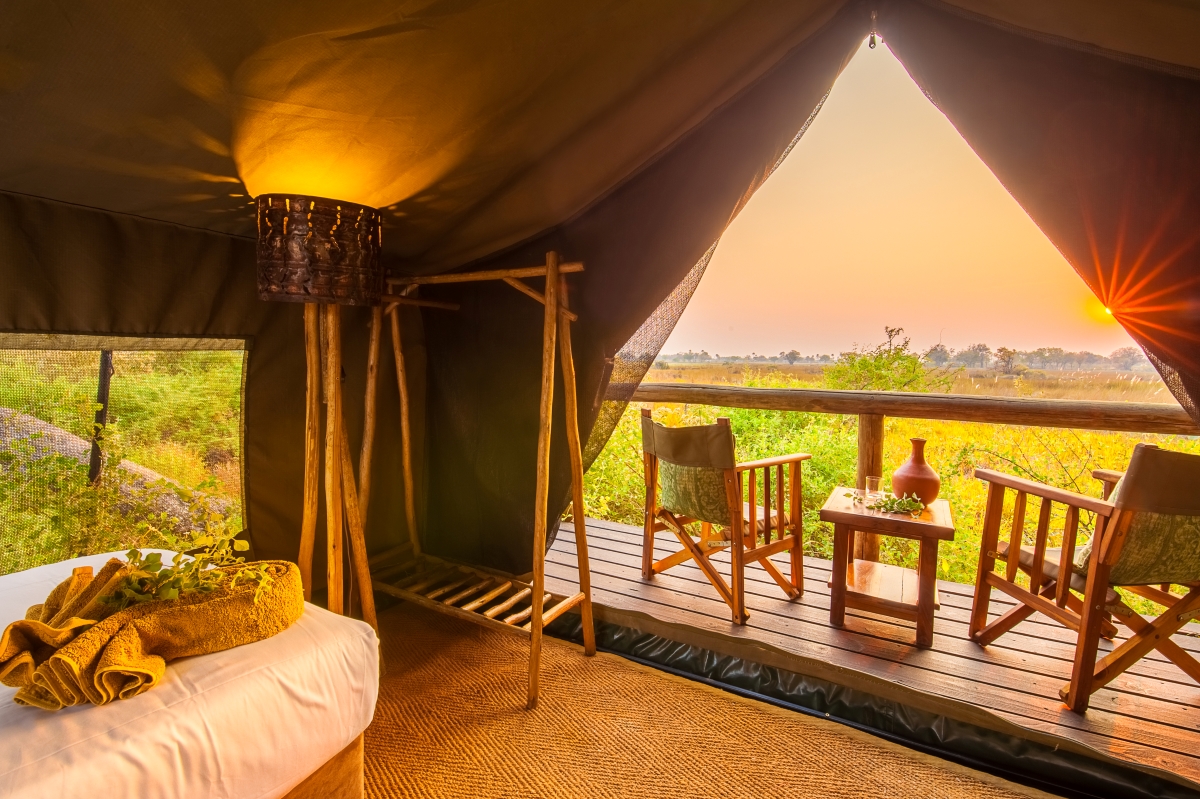 Airplane mode on, Image Credit: Oddalls Enclave
Darlings, let's talk about Oddballs – a name as intriguing as the experiences it offers! First up, welcome to Oddballs' Enclave, a secluded paradise where intimacy meets authenticity.
Embark on a mokoro (gondola-like canoe) safari, a time-honoured local tradition. With guided bush walks, daily game drives, gourmet picnics, and scenic flights to enjoy at your leisure, this enclave is a little slice of safari heaven. There's also the Mokoro camping trail, inviting you to immerse yourself in the bush up close and personal. And it's uber-exclusive, too, as there are only five Meru-style tented suites. What's not to like?
6. Oddballs' Camp: Let's Get Social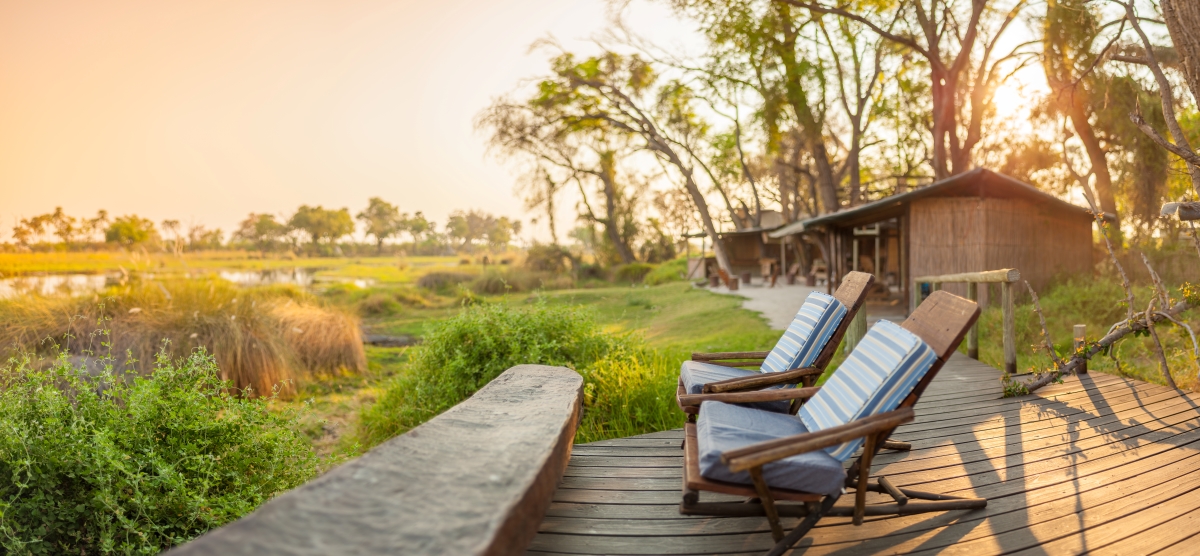 Perfect place for a hot girl summer, Image Credit: Oddballs Camp
Now, onto Oddballs Camp, located on a secluded isle adjacent to Chief's Island and the Moremi Game Reserve. It might be remote, but it's deal for social butterflies, as there are many suites available, so it can be your hub of safari socialising. However, there are still plenty of private nooks for your quiet time.
After all, in the world of safari, much like fashion, it's all about finding the perfect fit for your own adventure style!
7. Sanctuary Chief's Camp: Views To Take Away Your Blues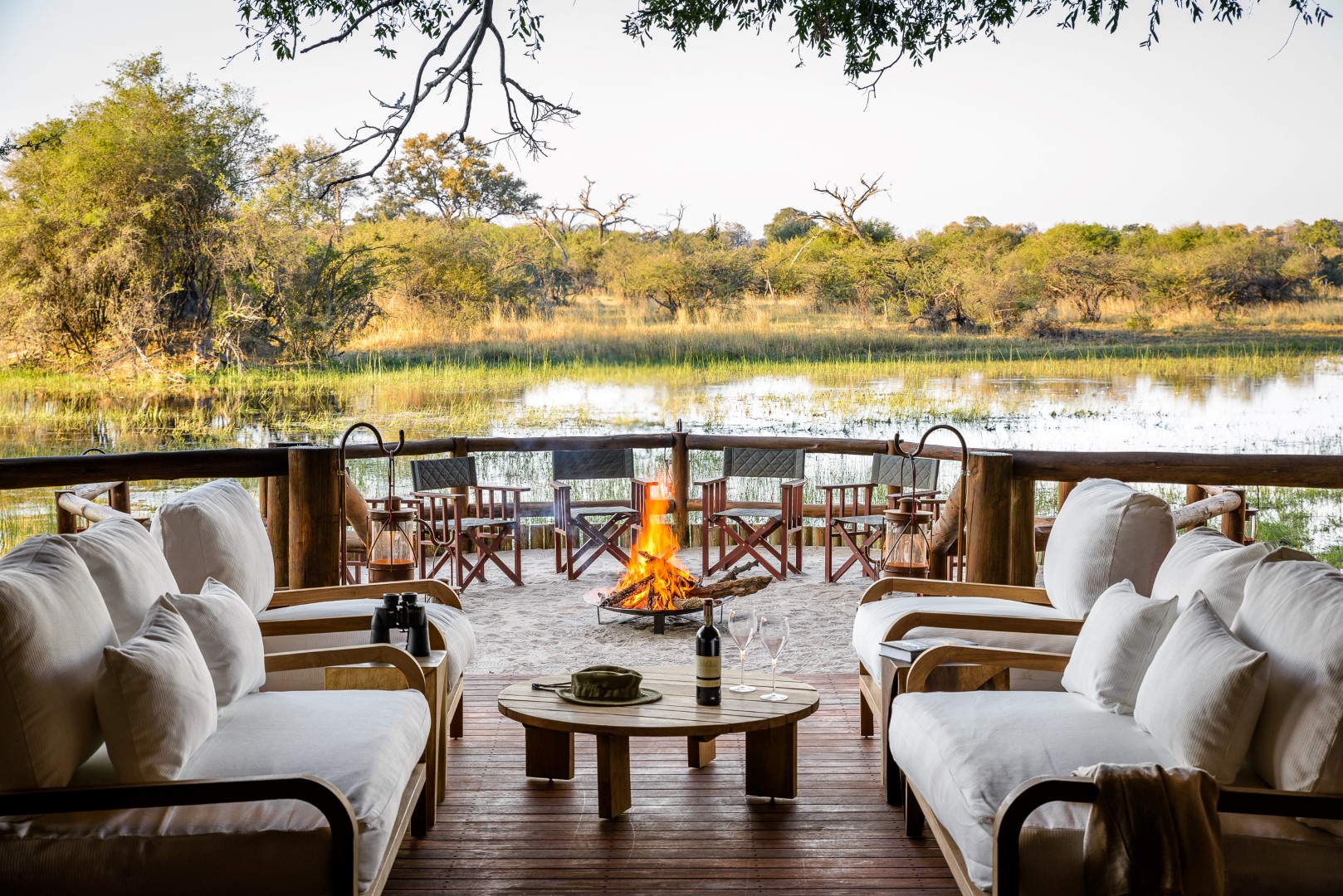 Poetry-inspiring scenes, Image Credit: Sanctuary Chiefs Camp
Does soaking in a luxurious bubble bath while gazing at wildlife passing by sound like your cup of tea? Then Sanctuary Chief's Camp is for you! With the perfect natural backdrop, it's a paradise for the elusive predators – we're talking leopards, genets, and hyenas.
And if that's not fabulous enough, add in Mokoro Game Reserve excursions, such as scenic flights soaring over the Okavango Delta and the option for private dining right on your deck... we could go on, but we like to leave something to the imagination!
8. Camp Xakanaxa: Impossible To Pronounce, Even Harder To Forget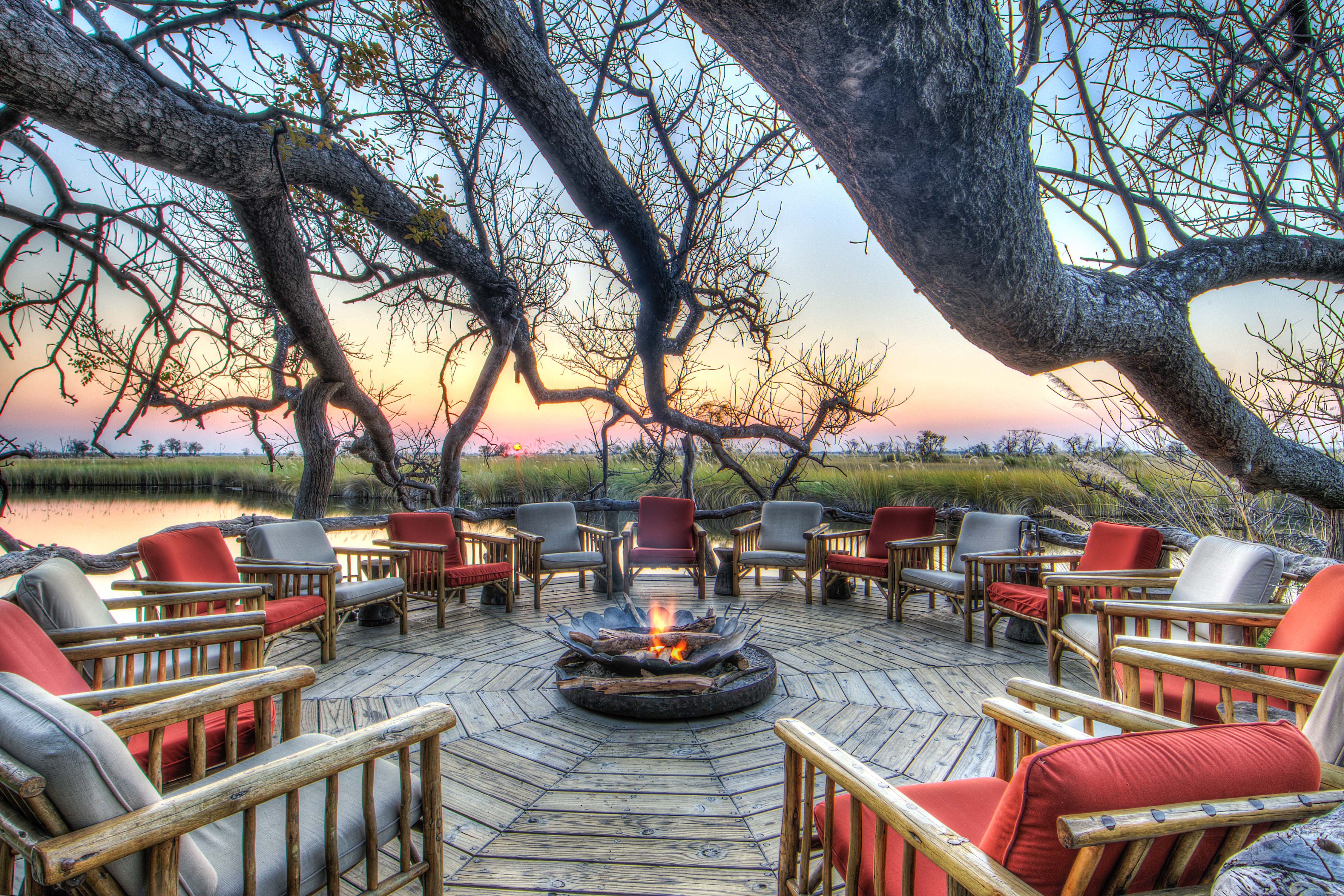 Stories around the campfire anyone? Image Credit: Camp Xakanaxa
Now, we know what you're thinking: how on Earth do you pronounce "Xakanaxa"? Believe it or not, it's "Ka-ka-na-ka"' As unique as its name, this little gem is all about the exotic vibes. Set along the Khwai River, it's your backstage press pass to exhilarating wildlife scenery with a "home-away-from-home" charm.
Think dinners on the deck, thrilling power boat safaris, a refreshing plunge pool, a day bed for sun-soaked lounging, a library for the bookworms, a sundeck for those bronzed moments, and, of course, a classic boma for those nights you want to gather and share safari stories around the fire.
Your VIP Safari Experience Is Just a Click Away!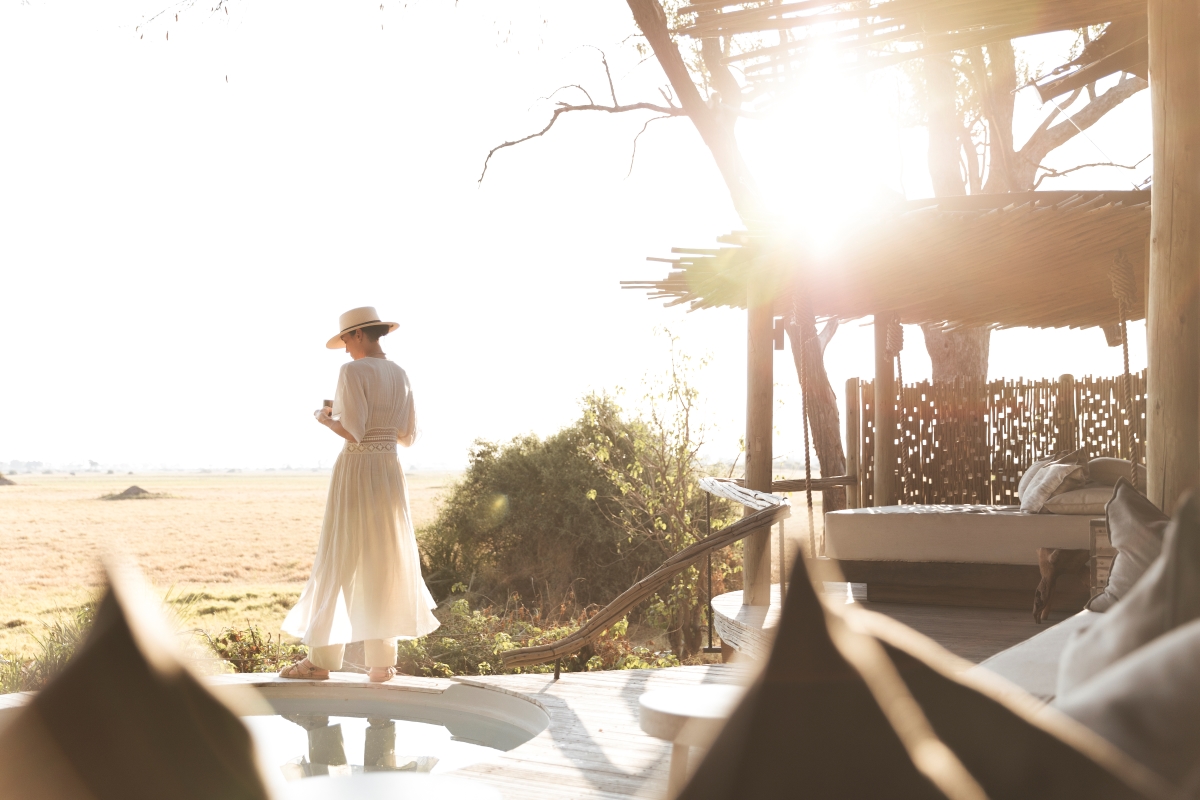 All you really need is a passport...Image Credit: Wilderness Mombo Camp
Now that you've had a taste of these incredible safari experiences, doesn't it make you want to pack your bags and embark on your own luxury African journey?
So, what are you waiting for? Get in touch with our Travel Experts today, and let's turn your safari dreams into reality. Moremi Game Reserve awaits!