Bucket lists and Africa go hand in hand, like a gin and tonic. So now that 2022 has arrived, it's time to highlight our top African experiences for the gay traveller.
Where to Be and What to See in Africa
Everyone knows (we hope) about the open grasslands, the luxury Big 5 safaris and the amazing sunsets. But, spoiler alert, Africa has so much more to offer!
Here are a couple of our hand-picked, must-do experiences on our beautiful continent.
Africa is best known for its gay-friendly safaris but it offers so much more. Image Credit: Rhino Africa
1. Visit the Lemurs and Laze on Beaches in Madagascar
Gay travel to Africa in 2022 should not be limited to the bush and its creatures. Take a trip on an even wilder side! Madagascar was made famous by the animated movie, and the lemurs definitely stole the show but have you considered visiting this spectacular island?
Situated off the east coast of Africa, Madagascar is the fourth-largest island globally, and as such, there's so much on offer here. Naturally, one of the main reasons to visit would be to see the lemurs. This is the only place in the world where you can see them in their natural habitat.
But there are also miles of untouched beaches, some of the best diving and snorkelling in the world and endless lush rainforests to explore - this really is an off-the-beaten-track adventure from start to finish.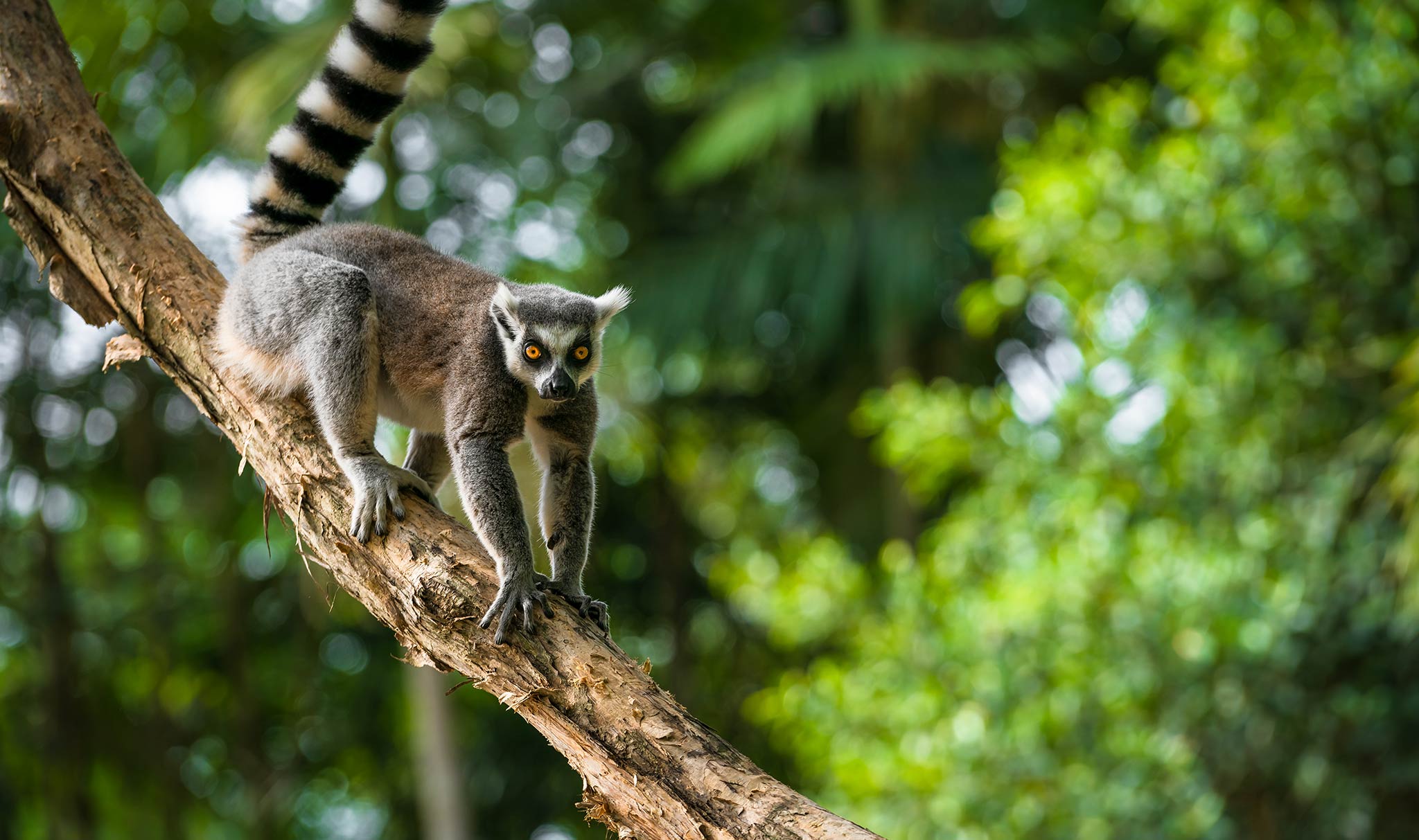 Cute and comedic lemurs in Madagascar
When to Visit Madagascar
We recommend travelling between May and October. The peak season is typically in June, July and August. During this time, the weather is warm and dry and offers the best conditions to view animals and enjoy outdoor activities.
2. See the Elusive Leopard at Sabi Sand Private Game Reserve, South Africa
Leopards are the animal kingdom's anti-social, meticulous, stylish, stealthy, and deadly creatures. And what's more, they are incredibly difficult to find and prefer to disappear quickly once found too!
But there's one place in Africa where viewing leopards in their natural habitat for long periods is almost a given. The Sabi Sand Game Reserve, which shares an unfenced border to the Kruger National Park, has the highest density of leopards globally, and the leopard sightings are out of this world.
Over decades of monitoring, tracking and slowly habituating these creatures to the sound of the game drive vehicles, guests get to experience unrivalled once-in-a-lifetime leopard sightings here.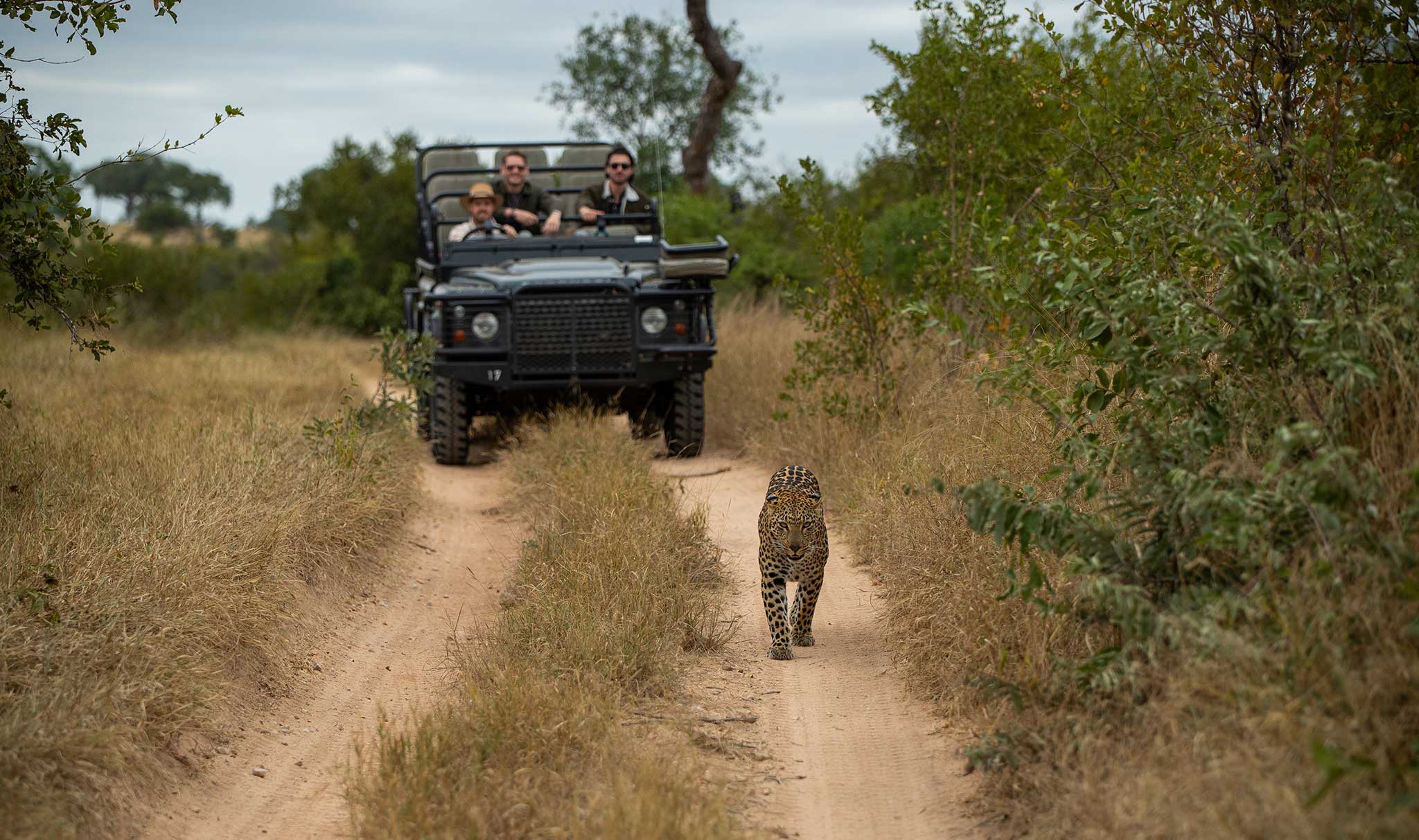 In Sabi Sand, you can get this close to leopards. Image Credit: Rhino Africa
Where to Stay in Sabi Sand
There are several incredible lodges to pick from in the Sabi Sand Game Reserve. Our top picks, however, offer exclusive luxury and unmatched leopard sighting opportunities. Londolozi, Lion Sands, Singita and Silvan Safari are all perfect choices for the ultimate gay-friendly leopard safari.
3. Glide Along on a Mokoro Safari in the Okavango Delta, Botswana
Botswana is considered Africa's "Garden of Eden", and the Okavango Delta is at the very heart of their wildlife story. Every year, during the dry winter months of May to September, the Okavango Delta is flooded (without any actual rainfall!). This is because the rainwaters of neighbouring Angola floods this inland delta.
The best way to experience this unique ecosystem and wilderness area is by boat. And by boat, we mean the traditional dugout canoe called the mokoro. Being able to glide silently through the waterways of the Okavango Delta, glimpsing Africa's spectacular wildlife around every turn, is an experience that you cannot find anywhere else in the world.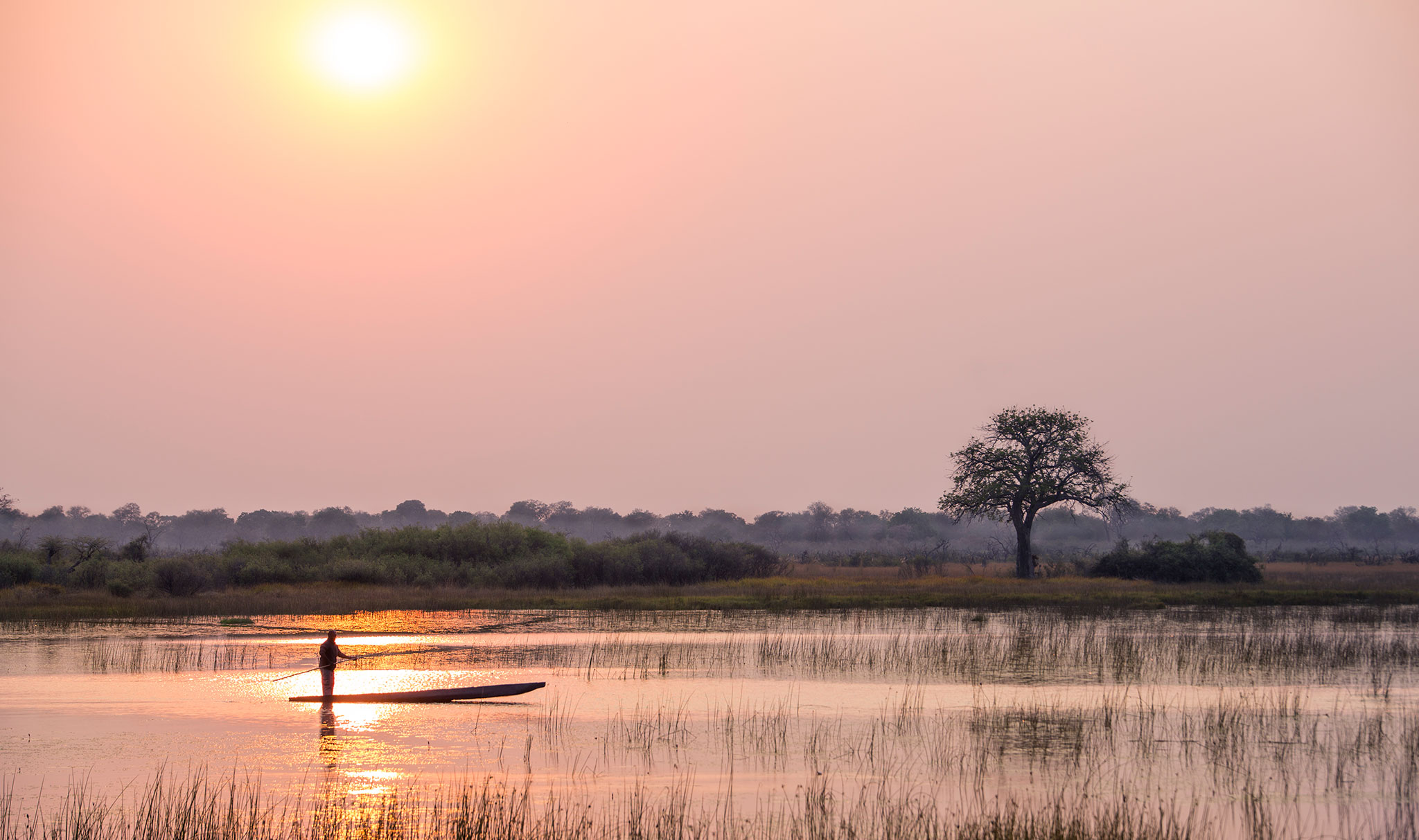 A sunset mokoro safari is nothing short of spectacular. Image Credit: Rhino Africa
When to Visit the Delta
The Okavango Delta is a seasonal destination. The peak months to visit are June, July and August, as this is when the floodwaters are at their highest, and the weather is warm, mild and dry.
4. Meet Gorillas on a Trekking Jungle Adventure in Rwanda
To experience the uncanny gentleness and grace of these primates is an emotional experience. Endangered and only located in small pockets of Africa, a gorilla trekking experience should be something everyone aims to tick off their bucket lists in 2022.
Rwanda has long been renowned for its conservation story and endeavours to save the mountain gorillas from extinction. Dian Fossey, and the movie Gorillas in the Mist, cast a spotlight on these magnificent creatures. And the eco-tourism model adopted in Rwanda has led to a drastic increase in the number of wild mountain gorillas over the past decade.
Sitting with a family of wild gorillas and watching them interact is an emotionally powerful experience you will never forget.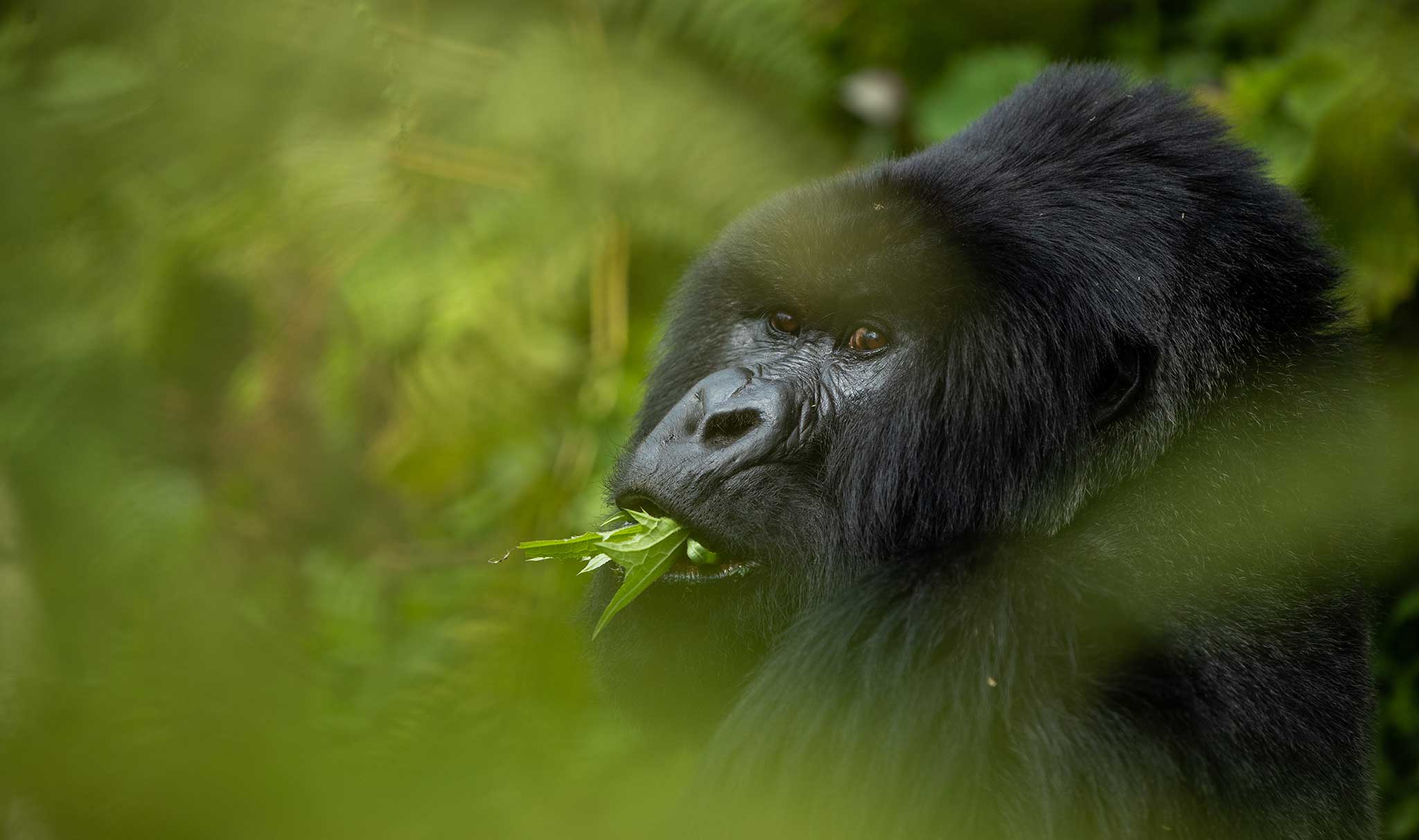 Meeting Rwanda's endangered mountain gorillas should be on everyone's bucket list. Image Credit: Rhino Africa
Where to Stay in Rwanda
There are several incredible lodges and resorts which offer a luxurious mountainous experience in the Volcanoes Mountains of Rwanda. Our top picks would be One&Only's Gorilla's Nest, Singita's Kwitonda and Wilderness Safaris' Bisate Lodge.
5. Take to the Skies in a Hot Air Balloon over the Serengeti, Tanzania
The sweeping plains of Tanzania in East Africa offer possibly the most iconic and romantic landscapes in all of Africa. The open grasslands, the silhouette of an acacia tree and miles and miles of pure wilderness is something to make everyone's heart ignite.
But to view this by air is undoubtedly an experience that will take your breath away. Generally done in the early morning, you get to experience the sun rising over the savannah as the bush starts to come alive with activity. Herds of elephant, buffalo and giraffe litter the savannah, and if you time your trip correctly, you might even be able to witness the "Greatest Show on Earth", namely the Great Wildebeest Migration.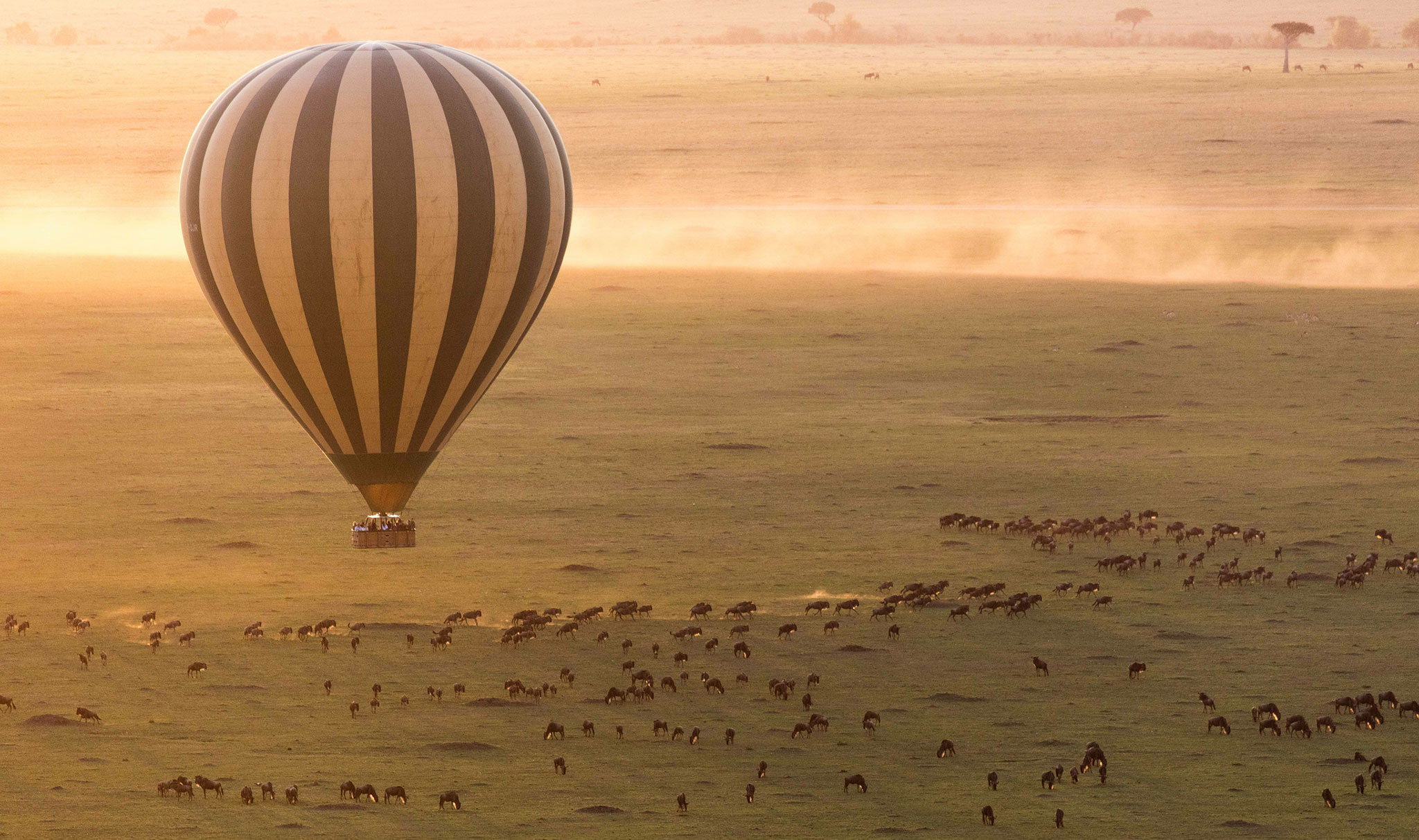 Float over the Serengeti to see the Great Migration in a hot air balloon
When to Visit the Serengeti
The Serengeti is an excellent year-round destination, with incredible animal sightings and warm weather throughout. However, if you wish to witness the Great Migration, you need to plan your trip during August, September and October for prime Great Migration viewing.
6. The Most Luxurious Train Journey in Southern Africa
Rovos Rail is world-famous for being the most luxurious train in the world. With exceptional service, elegant accommodation, and the epitome of old-school style, a trip on this train offers the relaxed, refined travel of a bygone era.
Offering travel throughout Southern Africa, this train journey could be the perfect way to connect iconic destinations in one trip without the hoards, hassles and queues of airports. Cape Town to Victoria Falls is possibly the most popular, but destinations further afield such as Namibia, Zambia, KwaZulu-Natal and even Tanzania are also possibilities.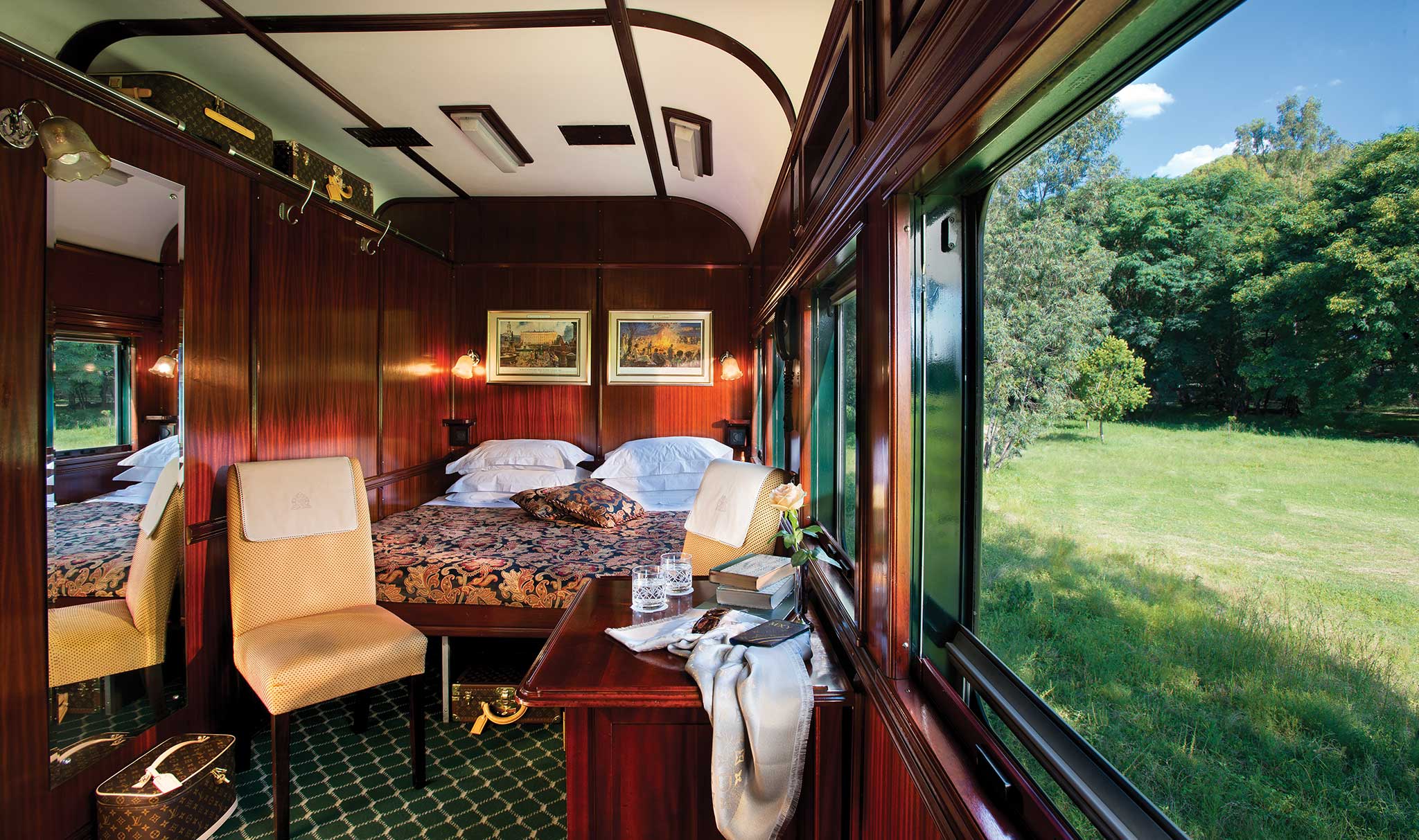 Old-world charm meets modern-day luxury. Image Credit: Rovos Rails.
Start Planning Your Ultimate Gay Travel to Africa in 2022 Today
Africa really does hold an endless list of unique places to see, magnificent wilderness areas to experience and adventure around every corner. Make 2022 the year of travel and Africa your destination of choice.
Contact our fabulous Travel Experts to start planning!