What is a gay group safari? Well, if you don't know the answer to that question yet, you're missing out. You might've strutted your stuff around Mykonos. Or perhaps you've partied it up in Ibiza. You've even explored the glamorous destinations of New York, Tel Aviv, Mexico and Berlin. But now you and your friends want something a little different. Enter Out2Africa. Our fabulous African Travel Experts love nothing more than tailor-making the perfect luxury African holiday for you and your chosen group of travel aficionados.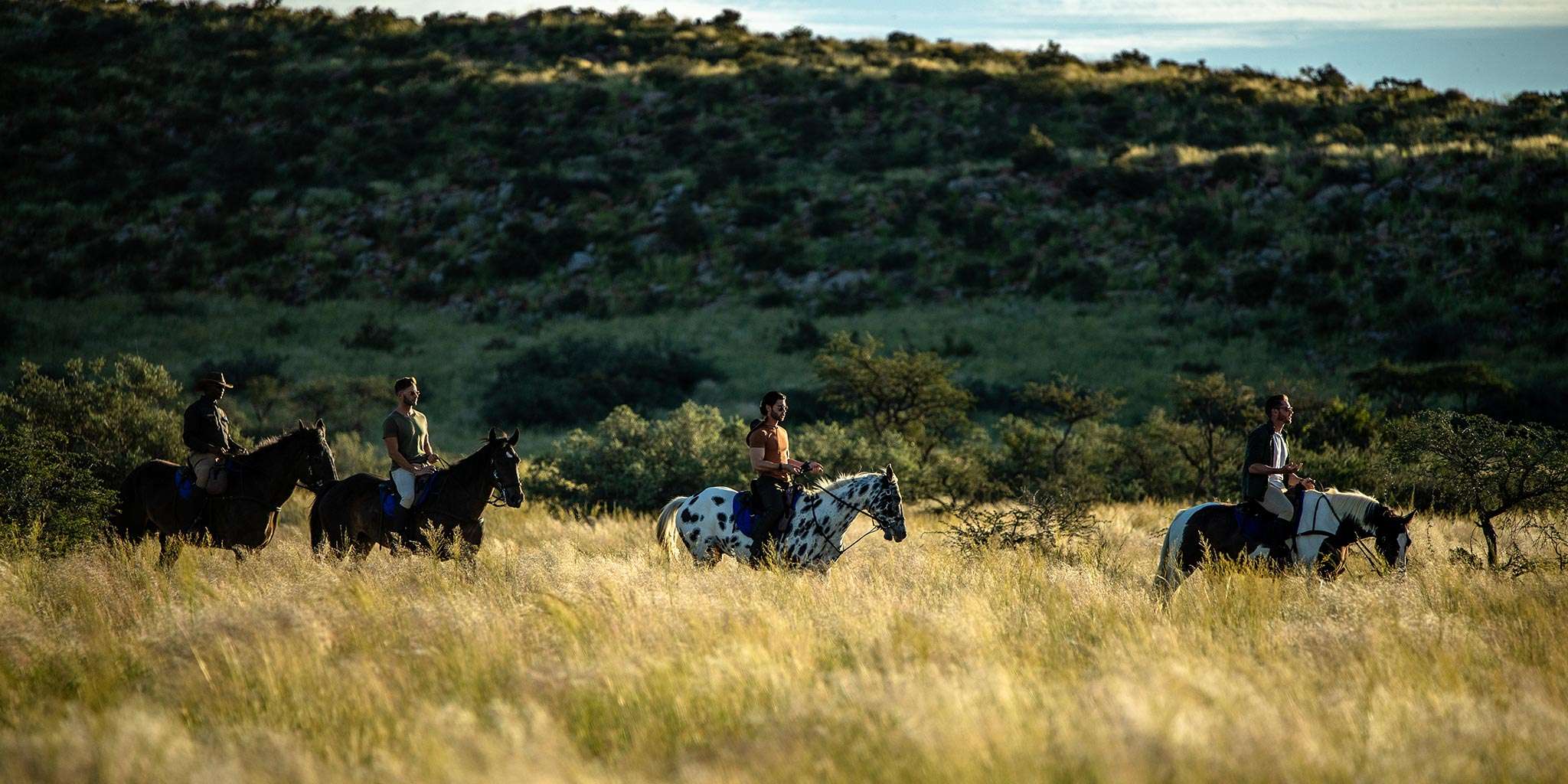 One of the best ways to traverse Africa's wide-open spaces is on horseback
Follow Us This Way for Your Bespoke African Gay Group Safari
A luxury gay group safari is not about set schedules, tours or joining other travellers. No, it's all about a personalised, bespoke African travel experience for your group.
Yes, organised group holidays can be fun. However, it can also be a bit of a hit and miss. Who will you end up with on your trip? And we've all been stuck with the proverbial "negative Nancy" or "complaining Karen", who just brings everyone down.
Out2Africa is the authority in tailor-made gay travel. Whether a solo warrior, power couple or a gaggle of gays, we know exactly how to create the perfect African experience. And like the perfectly tailored dinner jacket, our holidays are designed specifically for you and only you.
Tailored to a Tee
This is why we ONLY do tailor-made! We personalise every itinerary, like a drag queen crafts each performance with painstaking precision and accuracy. We know that one of the joys in life is to experience new things with the people you love. And there's so much to see and explore in Africa when travelling with a group of your nearest and dearest fabulous folk.
Our Favourite Luxury Gay Group Safari Destinations
So, to whet your appetite, we've outlined some of our top adventures, which are perfect for a group. Just imagine – perfect luxury accommodation, food to die for, matched with the perfect wine, of course – and stunning, natural beauty everywhere. Africa has fabulous written all over it.
1. Luxury Safari in Kruger National Park
Only a handful of places can claim to provide a luxury safari experience. And here's why. To provide the full package, you have to have the best of everything. There's a reason we all love Ryan Gosling. He's an actor, singer, dancer, and obviously ridiculously sexy – in other words, he has it all. Well, Kruger National Park is the Ryan Gosling of safari. However, the private reserves which share an unfenced border with the National Park are actually where the magic is.
Reserves such as the Sabi Sand, Timbavati and Thornybush all have exceptional high-end lodges, offer unmatched culinary delights and provide possibly the best Big 5 game viewing experience in all of Africa.
On top of this, several small lodges and private villas are perfect for a group of travellers to take on an exclusive use basis. Just think, not another whining Karen or bad-mannered child anywhere – just pure bliss.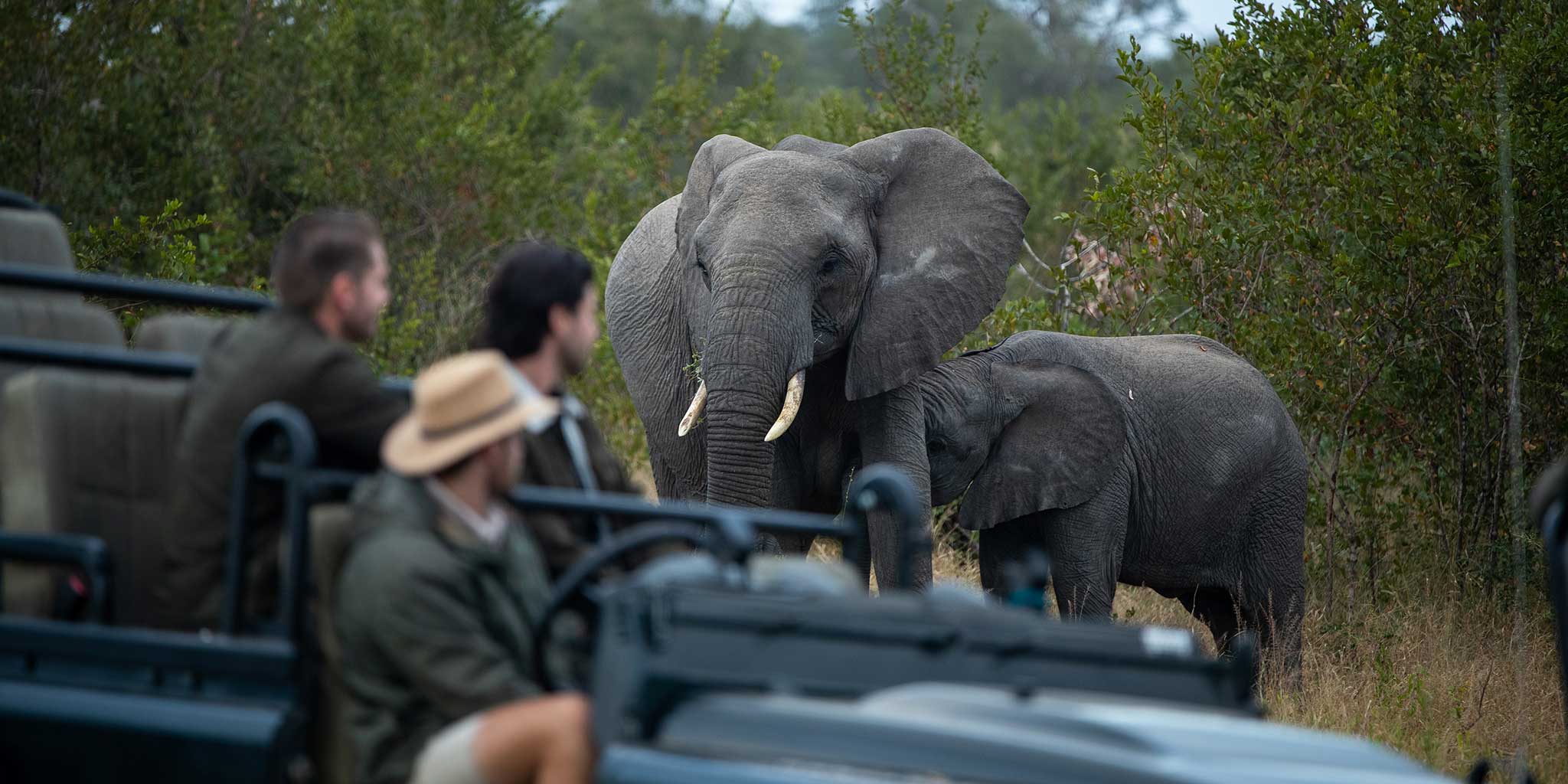 The Kruger National Park is home to Africa's biggest and greatest animals
Some Expert Out2Africa Advice
Our favourite lodges include Londolozi Private Granite Suites, Silvan Safari, and Singita Castleton. Also, you could add a few nights in Cape Town and a visit to Victoria Falls or even to Mozambique for an incredible holiday.
2. Great Migration Adventure
We have all heard about it (I hope!) and watched David Attenborough narrate the epic scenes of over 2 million wildebeest, zebras, and gazelles embark on their journey from the Serengeti to the Maasai Mara and back again each year. So no one should need an explanation.
The Great Migration is a once-in-a-lifetime adventure. And what better way to experience it than to be surrounded by your best friends. Like Kruger National Park, there are some incredible lodges and camps perfectly suited for gay group travel.
Add in a hot air balloon safari ride over the vast savannah with a private champagne breakfast (naturally, darling!) to finish it all off. Why wouldn't you want to be sitting under a tree in the middle of Africa surrounded by wilderness?
We can get you the best seats in the house to see the Great Migration in action
Some Expert Out2Africa Advice
Safaris are intense. It's a roller coaster ride of adrenaline and adventure, so we recommend finishing off your trip with a few days on a tropical island. Now that's the way to round off the perfect group holiday – with sun, sea and some sultry "sex on the beach".
3. Luxury Journey by Rail
South Africa is home to not one but two of the world's most luxurious trains. The Rovos Rail and Blue Train optimise the old-school charm of travelling we all dream about. Just picture lavish dinners, stylish wood-panelled coaches, stand-alone baths and butlers on call – this is a relaxed, elevated mode of transport that we long to return to our busy lives.
Both these trains offer experiential travel throughout Southern and even East Africa too. Combine incredible destinations such as Cape Town, Kruger National Park, Victoria Falls or even Namibia, and the Serengeti, and do it all in style!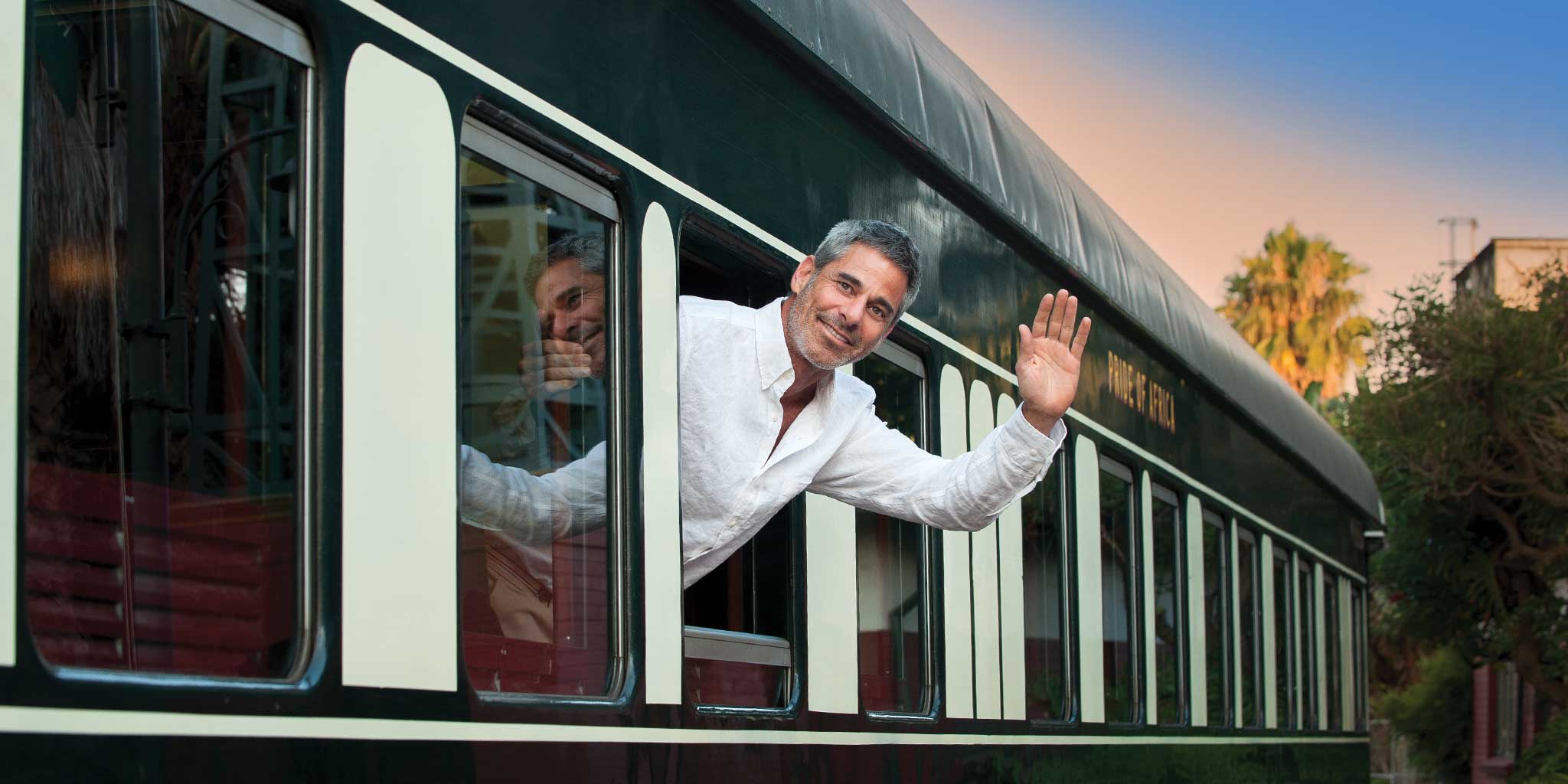 Wave hello to an adventure on rails in Africa, image credit: Rovos Rail
Some Expert Out2Africa Advice
We recommend you leave your "hustler" mentality at home and digital devices switched off. Life moves a lot slower on the tracks. Sit back, switch off and relax in the digital-free peace.. A train journey is all about slowing down, with no rush to reach your final destination.
4. Indian Ocean Island Paradise
Move over "Med", the Islands of the Indian Ocean are taking over. And this is no understatement, as the magical beaches of the Maldives, Seychelles and Zanzibar have seen prolific growth in visitors over the past two years.
Endless white sand, swaying palm trees and overwater bungalows make these Indian Ocean Islands incredible beach destinations. Add in sensational diving and snorkelling and all the watersports you could dream of, and you have an adventurous holiday ideally suited for the pickiest of gay travellers.
That said, there are some lesser-known Indian Ocean islands that offer an off-the-beaten-track experience like no other. From the volcanic islands of Reunion to the wildlife-rich island of Madagascar, there is something new to explore at each turn off the east coast of Africa. Or maybe Mozambique or Mauritius is more your style. Bet you didn't think there were so many islands to explore in "Africa"!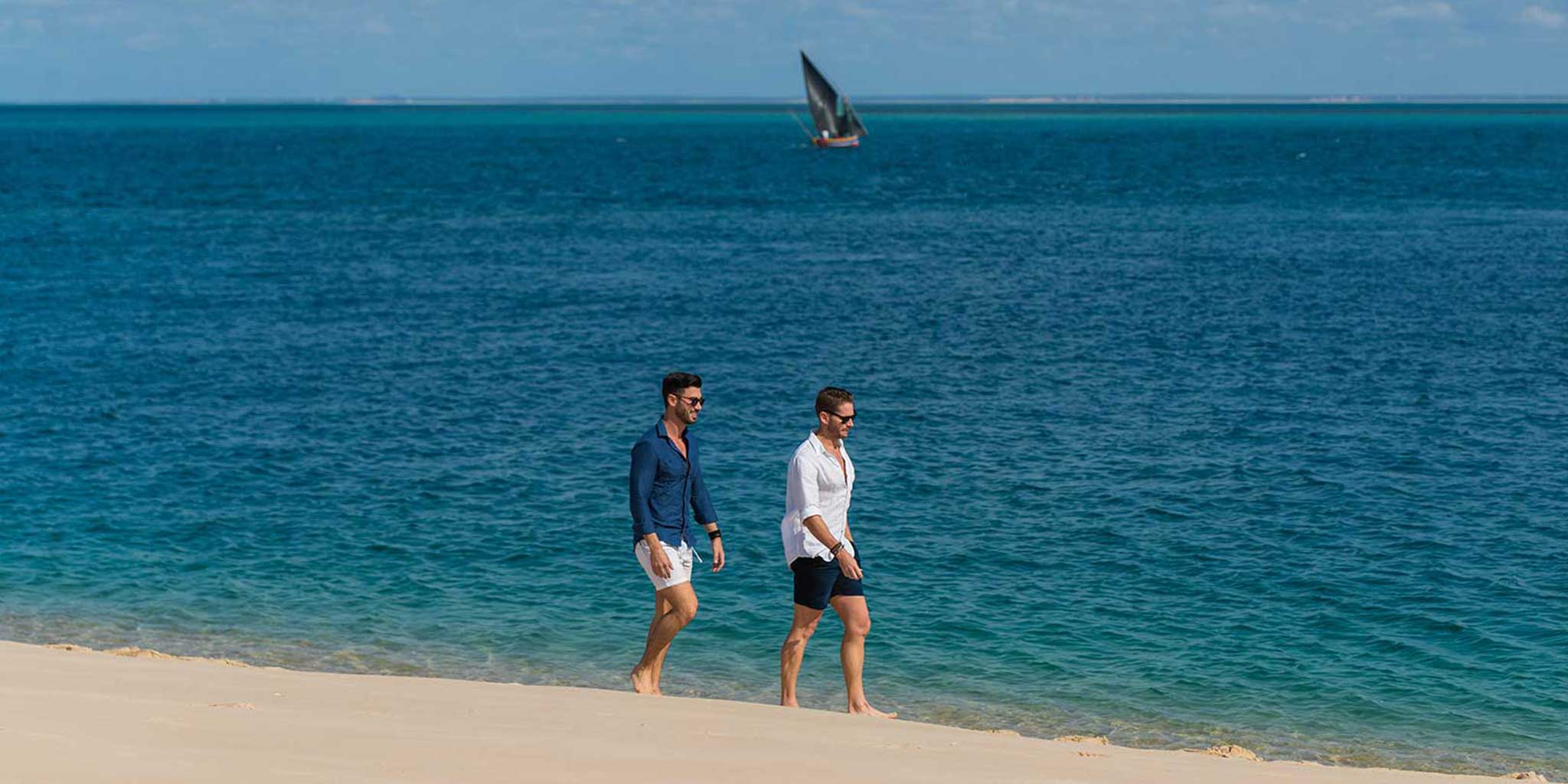 Long walks on the beach coming right up on one of the Indian Ocean Islands
Some Expert Out2Africa Advice
A bush safari followed by a beach holiday is such a popular combination for obvious reasons. Our Travel Experts are here to guide you in what is logistically the best combination for you and your group of travellers. Time is always of the essence, so use our experts to make sure you get the best of everything.
5. Trekking with the Great Apes
Much like sharing the Great Migration with your best friends, a gorilla trekking experience is something so moving and special that you want to have them with you so you can talk about it for decades to come.
All gorilla trekking expeditions happen in small groups, ideal for getting up close to these majestic creatures and thus perfect for a private experience with you and your travel companions. Once you have found the gorilla group (you have to trek through the forest to locate them), you get an hour to sit and enjoy their antics. They're social creatures and have close family bonds, so watching them play and interact will have you smiling for the entire hour.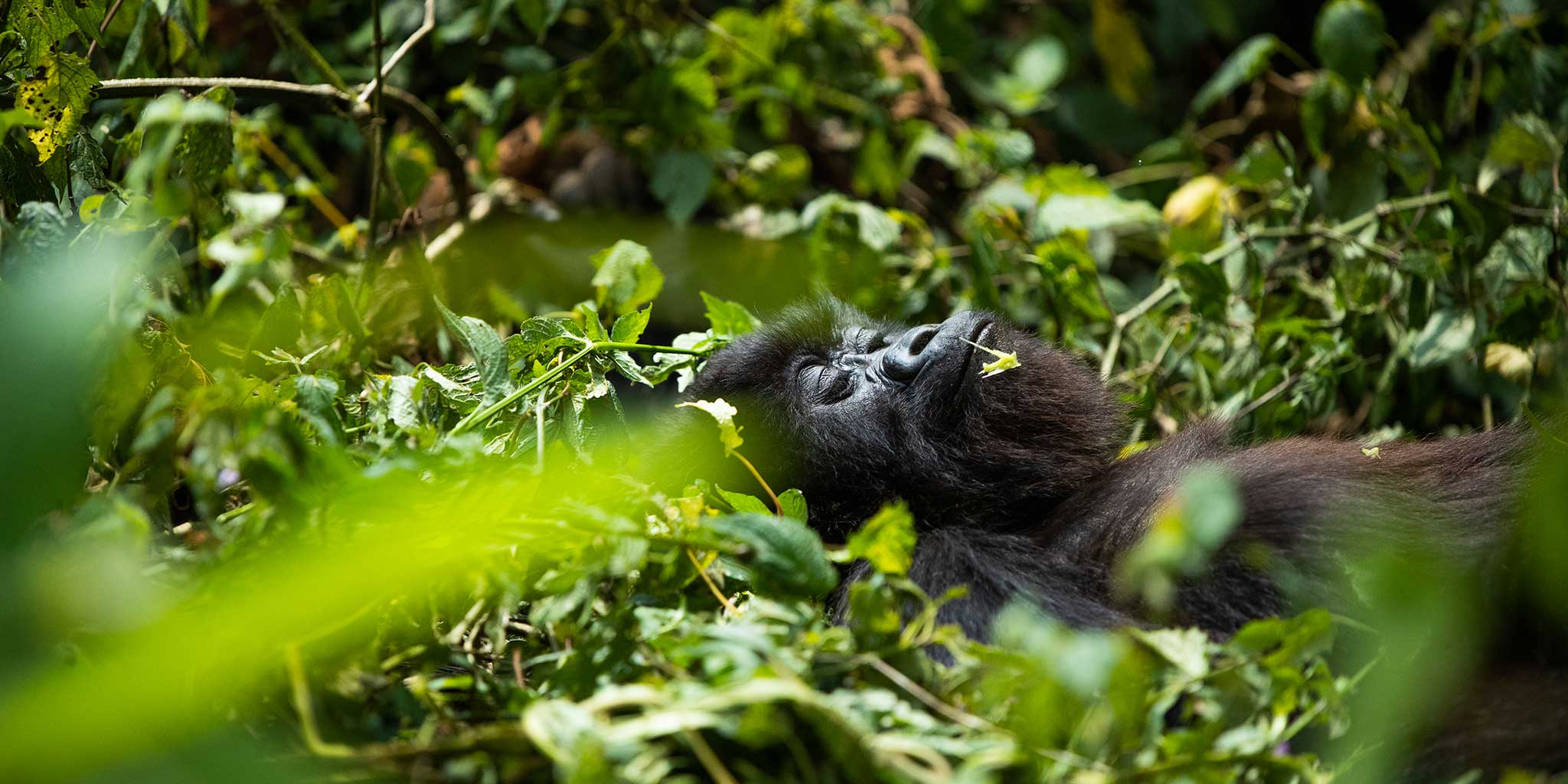 Africa's great apes await in the rainforests of Rwanda
Some Expert Out2Africa Advice
Rwanda is by far the best-known gorilla trekking destination. However, there are other secrets to "The Land of a Thousand Hills", as it's affectionately known. Why not explore all regions of Rwanda? In the south, you have Nyungwe Forest, where you can do chimpanzee trekking, and you can even have a Big 5 safari at Akagera National Park. Rwanda has it all!
Contact Us Today to Start Planning Your Luxury Gay Group Safari
We'd love to share the magic of luxury, exclusive gay group safari travel with you! Contact us today, and let's plan a holiday that will have everyone back home not part of your group green with envy! Let's start planning.