If you're looking for the best countries in Africa for gay travellers, look no further! We might be biased since we call this continent our home, but we can't think of a better holiday destination for the fierce and fabulous folk of the LGBTQ+ community. Africa wears many hats, and you can enjoy vastly different experiences, sights, and cultures. Our African Travel Experts have put their heads together to create a shortlist of the absolute best countries in Africa for gay travellers. Here you go…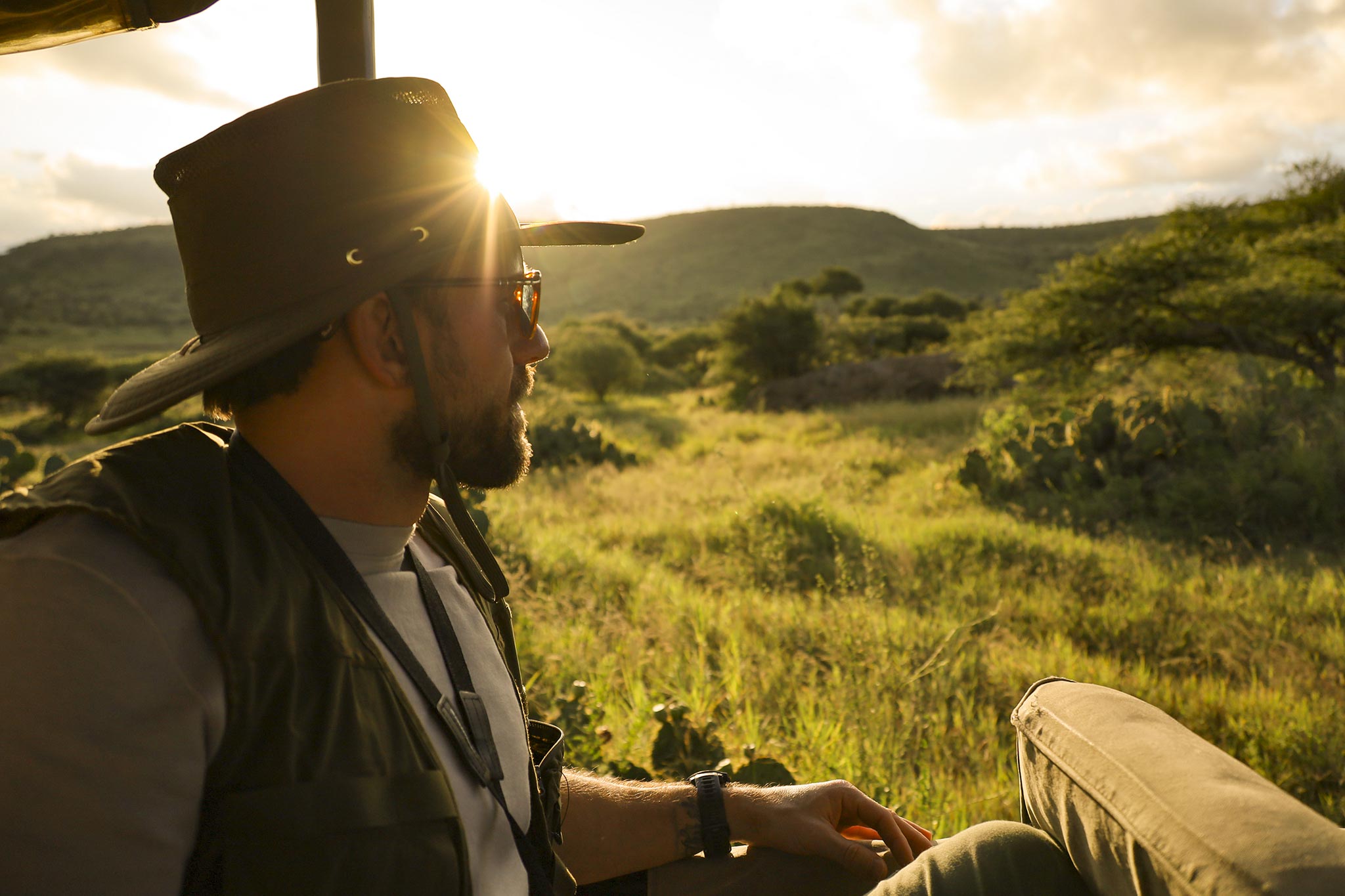 Africa is a playground for gay travellers
1. Seductive South Africa
At the top of our list is South Africa! This is our home country, so it's no surprise that we're besotted with her. Not only is she stunning, but she over-delivers in experiences! Whether you like shopping up a storm, going on cultural and historical tours to learn more about the country, wine tasting, hiking up mountains, going on a Big 5 safari, fine dining, or lazing on the beach, South Africa has it all and more.
If you want an action-packed holiday with a wide range of different tastes, sights, smells, and heart-stirring moments but don't want to spend your valuable leave days travelling between destinations, South Africa is a no-brainer.
The country is also super gay-friendly, having made history as the first in the world to outlaw discrimination based on sexual orientation. It was also the fifth country globally to legalise same-sex marriage. So, you'll certainly feel welcome in our rainbow country!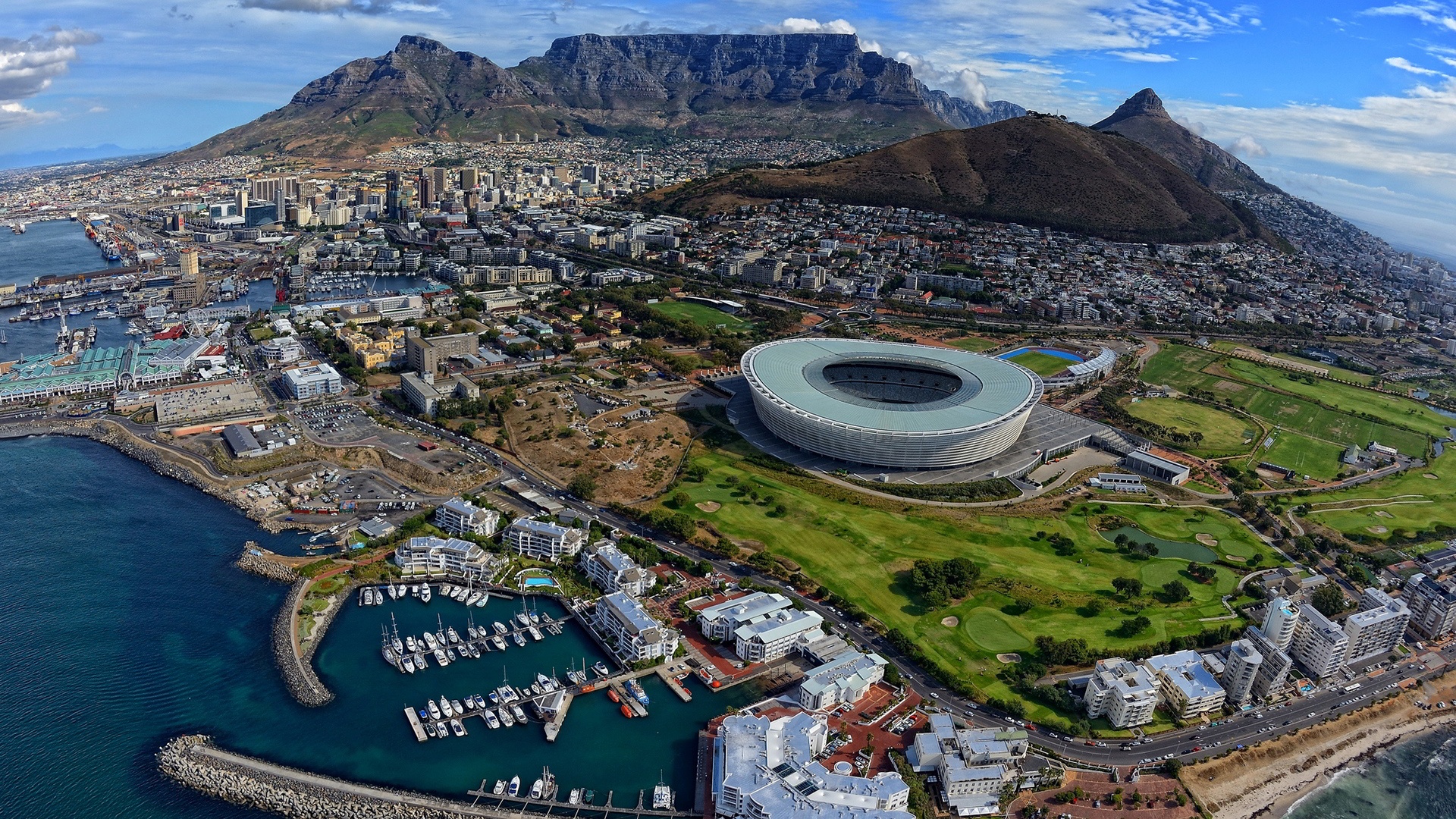 Cape Town is South Africa's oldest city
Must-Dos in South Africa
Go on a luxury safari in Kruger National Park or one of the many other game reserves in the country
The oldest city and Gay Capital, Cape Town has a lively nightlife, fine dining restaurants and powdery beaches
Swirl and sip some of the top wines in the world in the Cape Winelands
Take the ultimate road trip along the Garden Route and go zip-lining, bungee jumping, paragliding and kayaking
Explore the country's rich history and culture, from visiting Robben Island in Cape Town to the Apartheid Museum and Nelson Mandela's old home in Johannesburg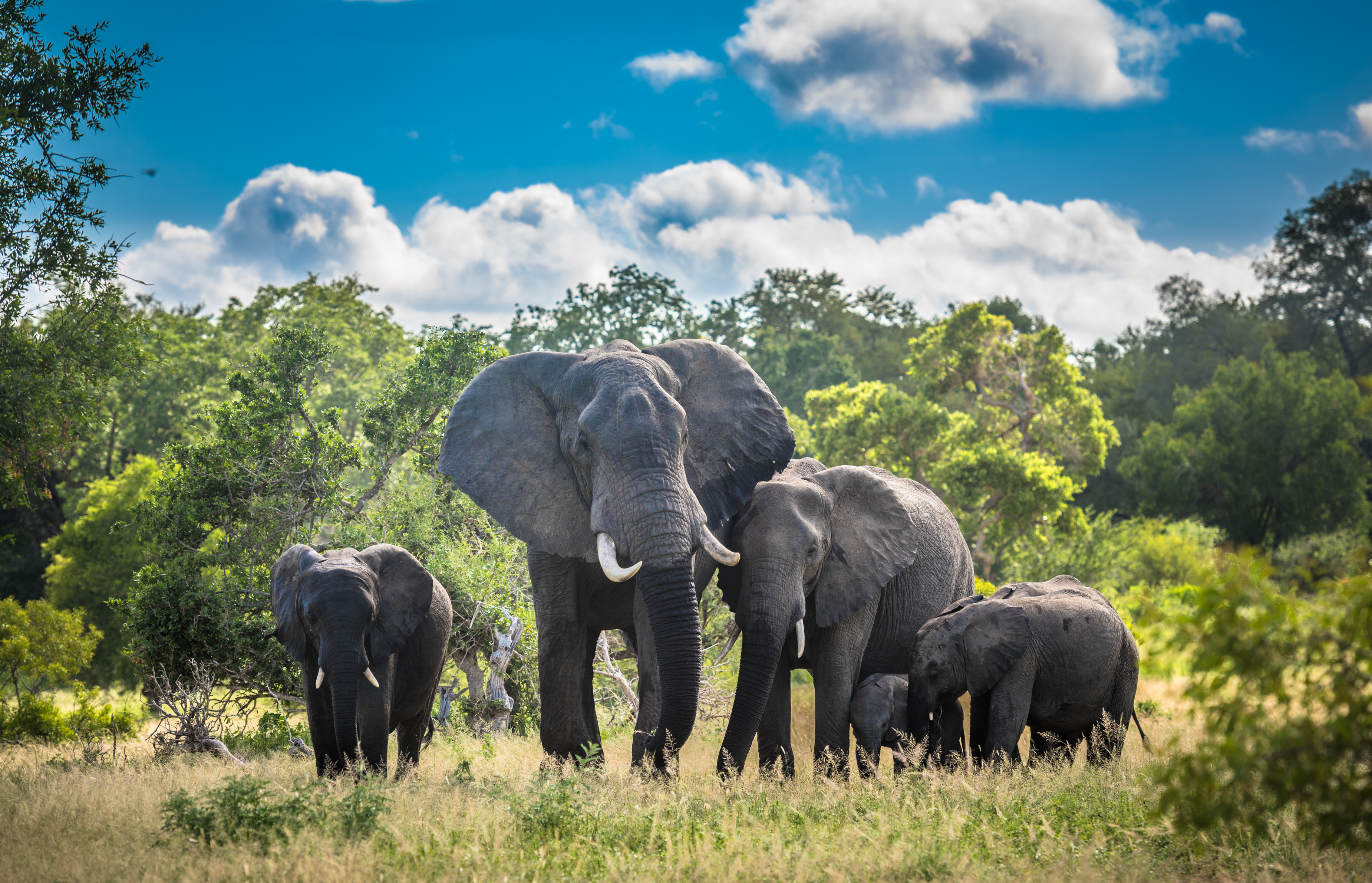 Safaris are a must when you're in South Africa
2. Bountiful Botswana
Botswana is for the wild at heart who cares about sustainability and wildlife. It's also oh-so-romantic!
Picture vast-open plains teeming with wildlife and very few other humans around. It's the perfect place to enjoy a digital detox and fall even deeper in love with your significant other.
Although homosexuality in Botswana was only legalised in 2019, the seclusion of the luxury lodges has made it a welcome haven for gay travellers for many years now. And we know the best gay-friendly places for you!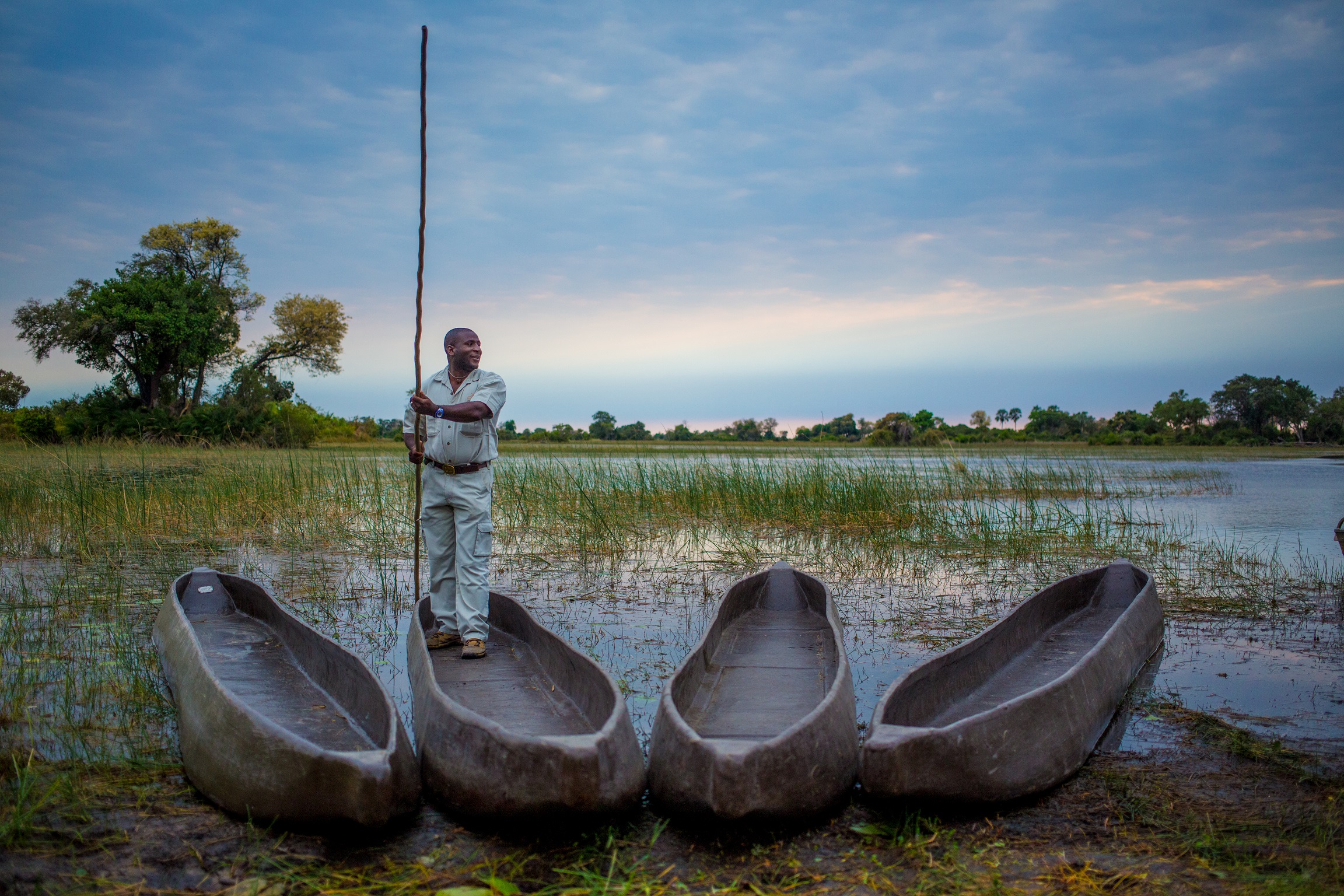 A mokoro safari in the Okavango Delta is one of our favourite activities in Botswana
Must-Dos in Botswana
Game drives for a land-based safari experience
Mokoro (traditional dugout canoe) and boat safaris for a different perspective of the wildlife in the Okavango Delta
Walking and horseback riding safaris to witness the smaller details
Stargazing and visiting the meerkat colonies in the Makgadikgadi Pans
Visiting Chobe National Park, home to the highest density of elephants in the world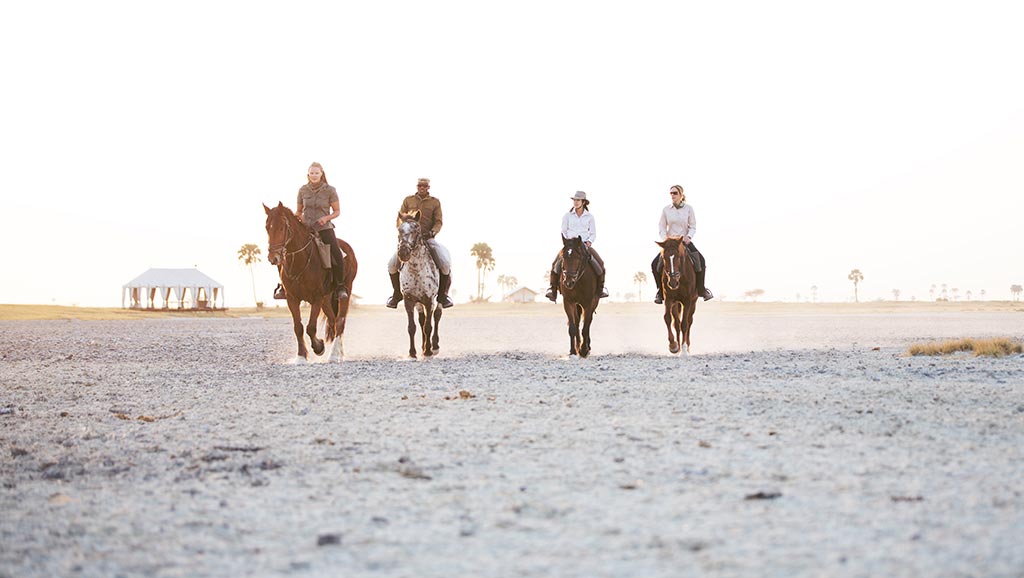 Horseback riding through the Makgadikgadi Pans
3. Remarkable Rwanda
You might not immediately think of rainforests when you think of Africa, but Rwanda is one of the best countries in Africa for gay travellers.
We love it because it feels like an entirely different planet in many ways, and you get to meet some of the last remaining mountain gorillas seeking refuge in the forested slopes. There are also other primates and wildlife and a wide range of birds and butterflies to admire here. Need some R&R? Rwanda is the perfect wellness setting for you.
If you're worried about the country being open to LGBTQ+ travellers, don't be. In fact, Ellen DeGeneres and her wife, Portia de Rossi, love visiting this neck of the woods! Tourists are welcomed with open arms, although we suggest you limit the PDA when among locals.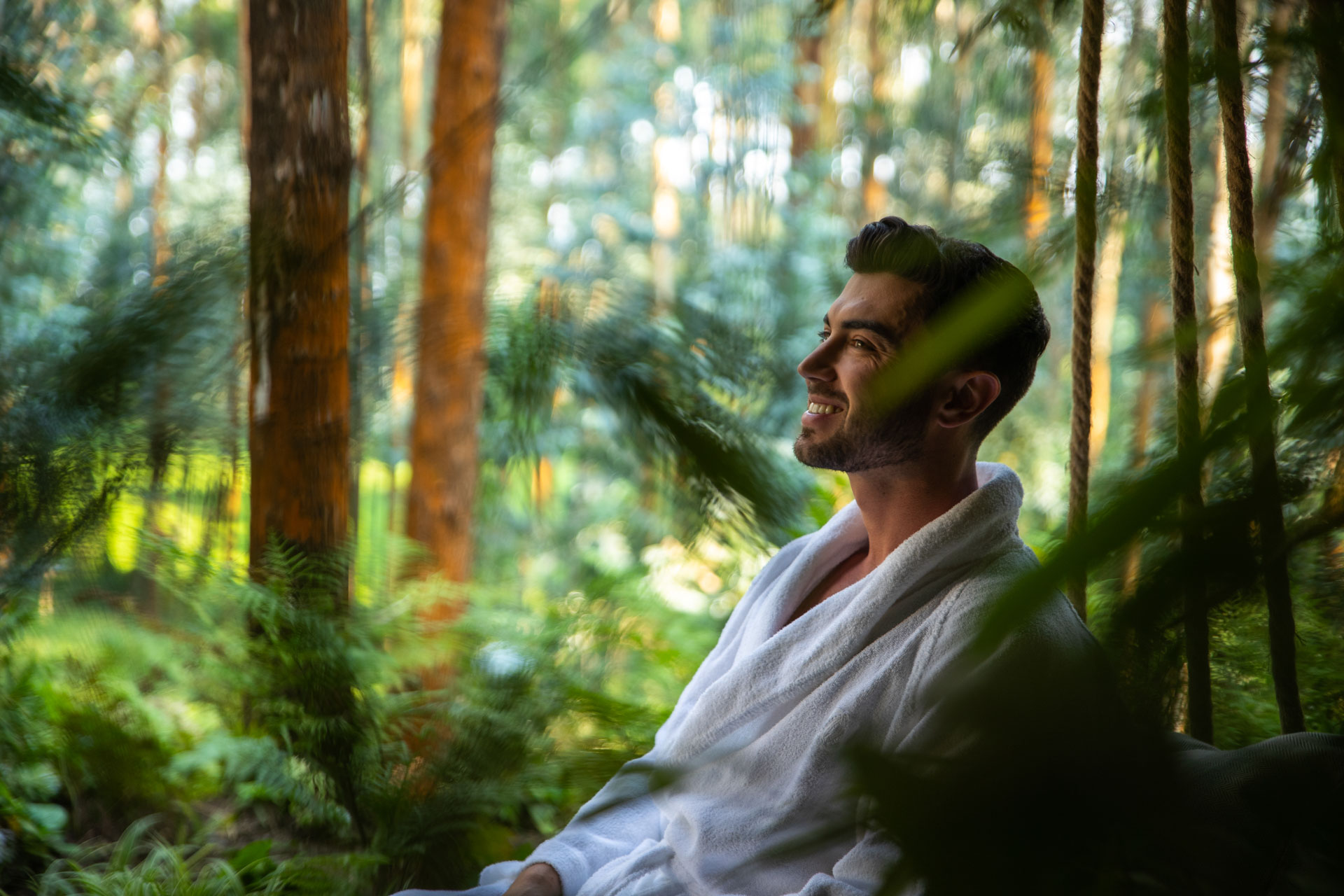 Rwanda is a wellness sanctuary
Must-Dos in Rwanda
Gorilla trekking to meet the endangered mountain gorillas and other primates in their natural habitat
Zip-lining and canopy walks through the forests for a different vantage point
Go on a Big 5 safari in Akagera National Park, Africa's largest protected wetland
Tea and coffee plantation tours and tastings and exploring the capital city of Kigali
Combine your forest adventures with Lake Kivu to relax on its sandy shores and swim in the predator-free water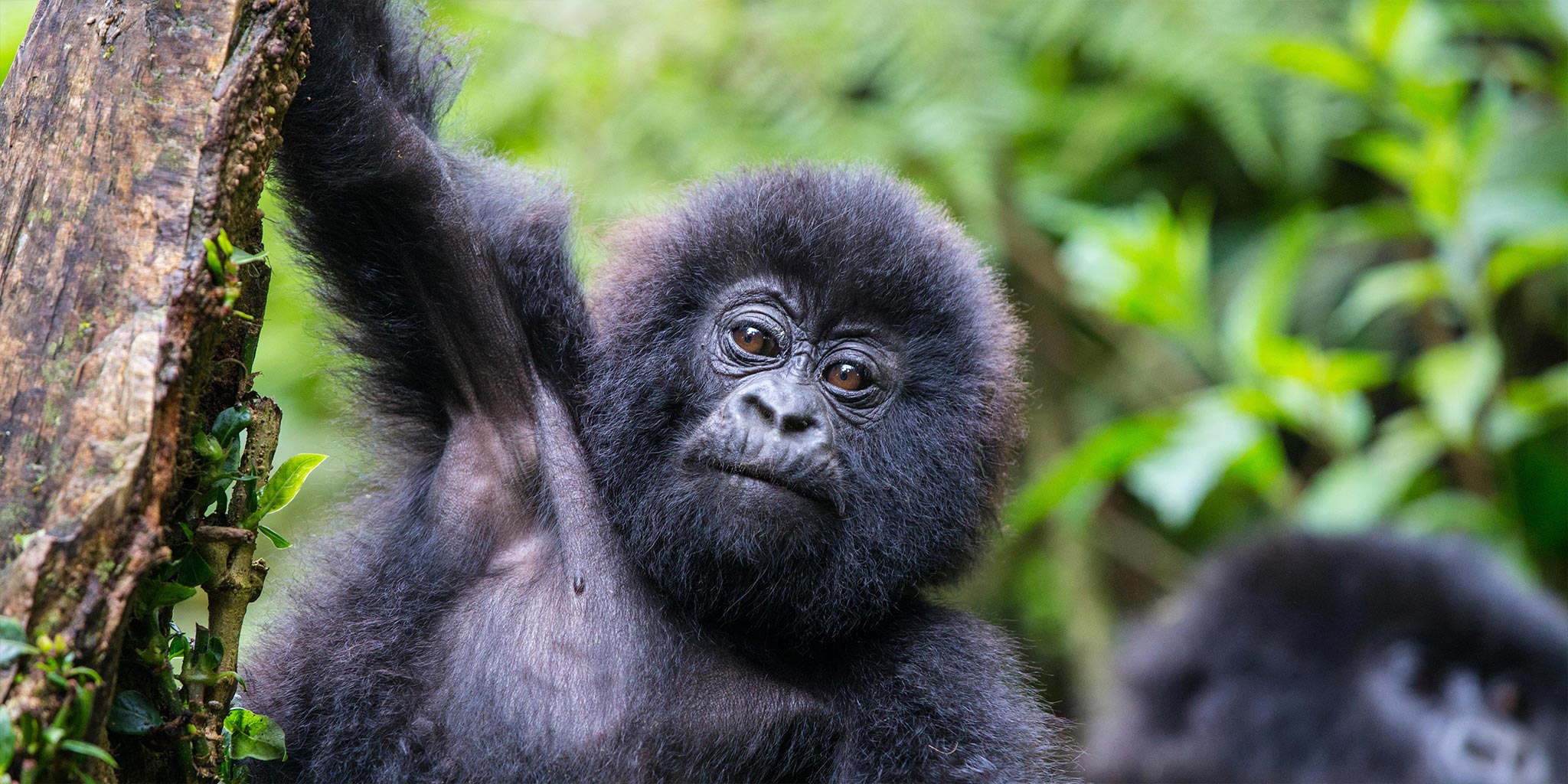 Meet the endangered mountain gorillas
4. Magical Mozambique
This coastline paradise is famous for its fabulous beaches and wildlife and for being one of the most underrated best countries in Africa for gay travellers. Sign us up!
Mozambique is for you whether you're a water baby and love swimming, diving, snorkelling or prefer to work on your summer glow. There's also an endless selection of cocktails and fresh seafood dishes on the menu. Yum, yum!
We love recommending Mozambique to our guests as it's one of the most gay-friendly nations on the continent.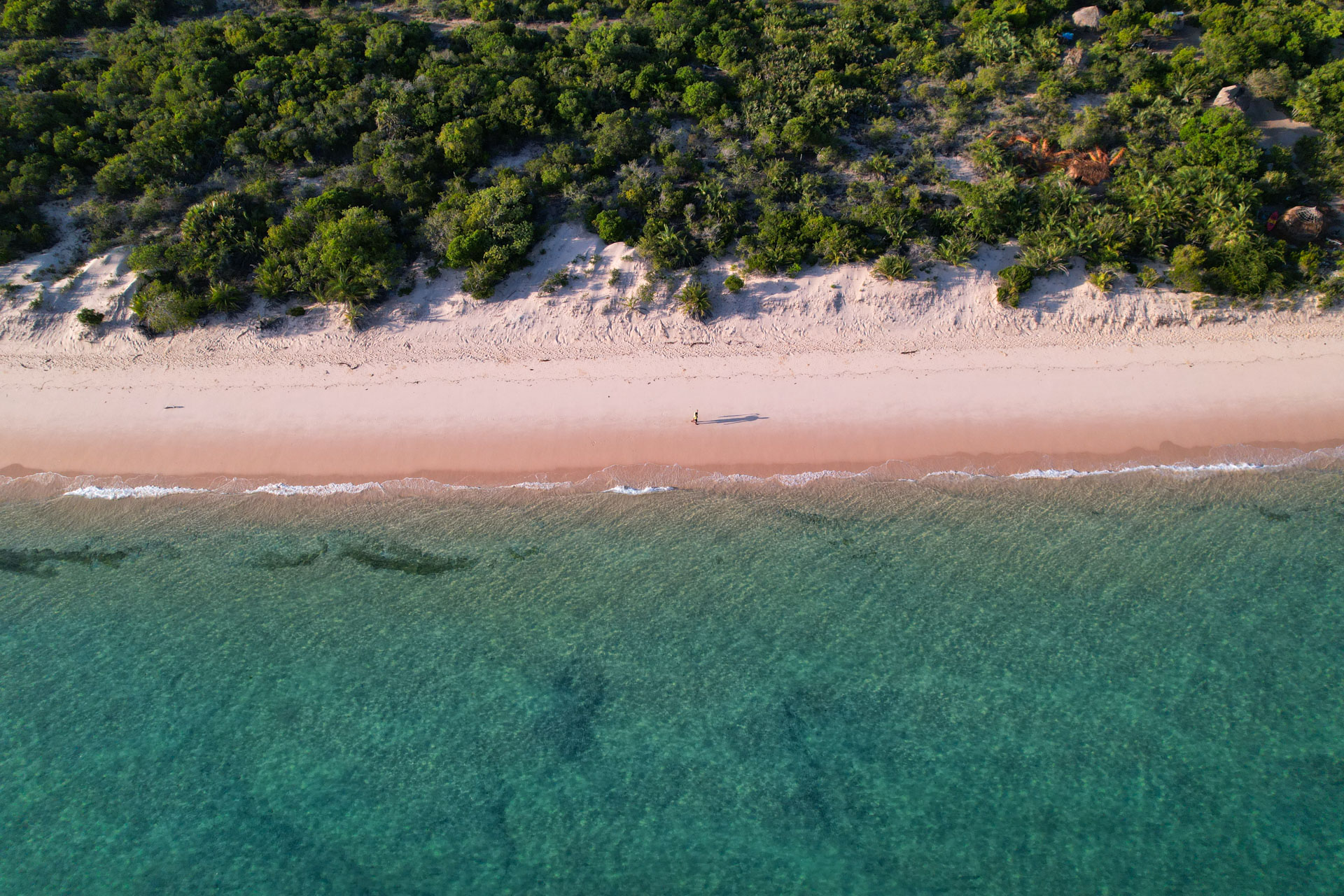 If you like long walks on the beach, you'll love Mozambique
Must-Dos in Mozambique
Diving and snorkelling, as it's one of the best destinations in Africa for these activities
Go on a romantic sunset dhow cruise, a traditional sailboat
Visit Machangulo Private Nature Reserve for a safari
Benguerra island is a birder's paradise with so many different species to see
You can see dolphins, manta rays and turtles in the ocean and crocodiles, flamingos and Suni antelope at the lakes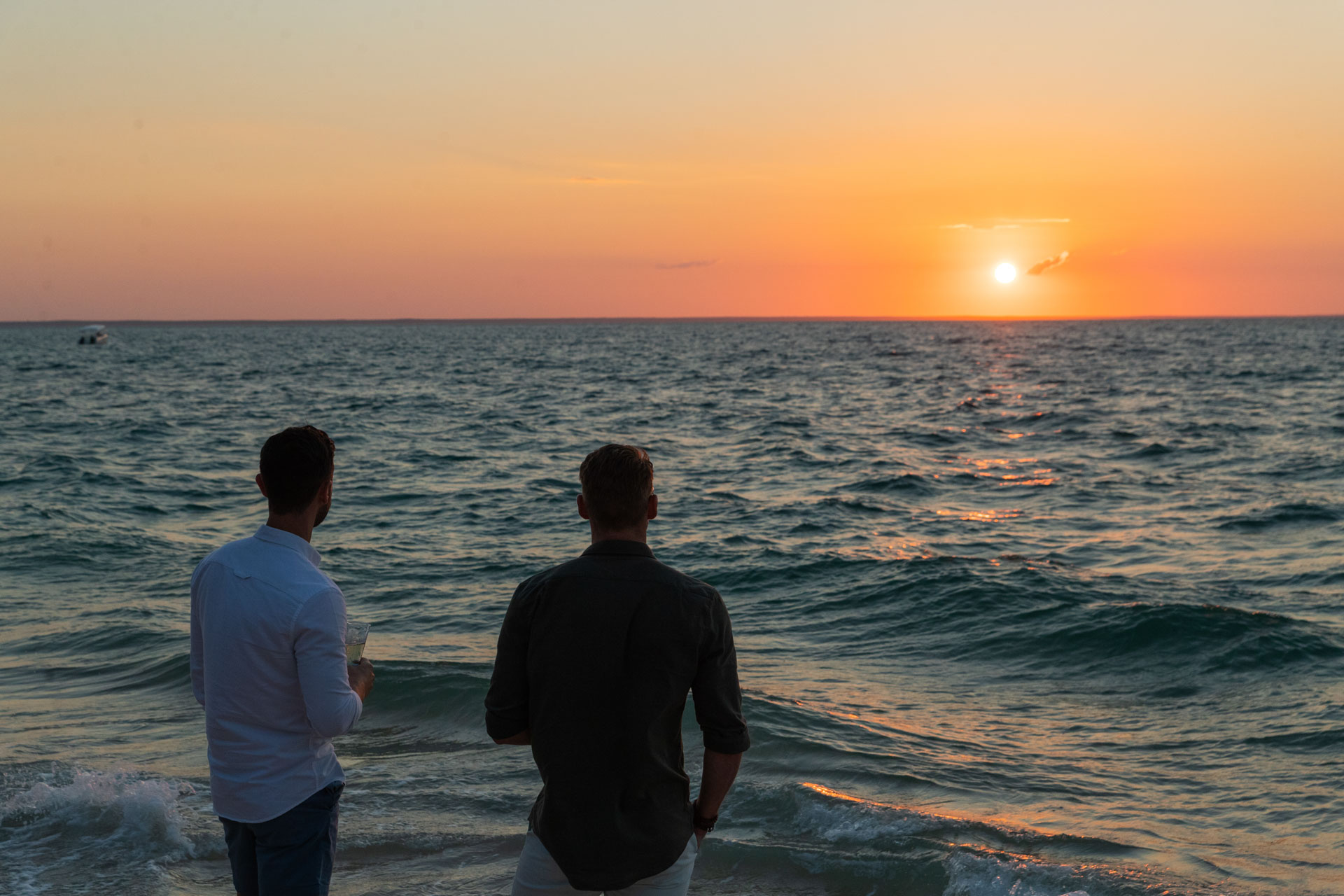 You can expect sunsets to die for
5. Sunny Seychelles
Wish it was summer all year long? Love swimming but hate icy water? Then say hello to Seychelles! With 365 days of sunshine a year and wonderfully warm ocean water, this is your island paradise, honey!
The beaches steal the show, listed among the best on our planet, and the silky white sand is framed by granite boulders, lush tropical forests and glittering cerulean ocean.
This picture-perfect setting is what gay honeymoons are made of, and it definitely doesn't hurt that same-sex sexual activity is legal, so you can proudly walk hand-in-hand on the beach, especially when in tourist areas.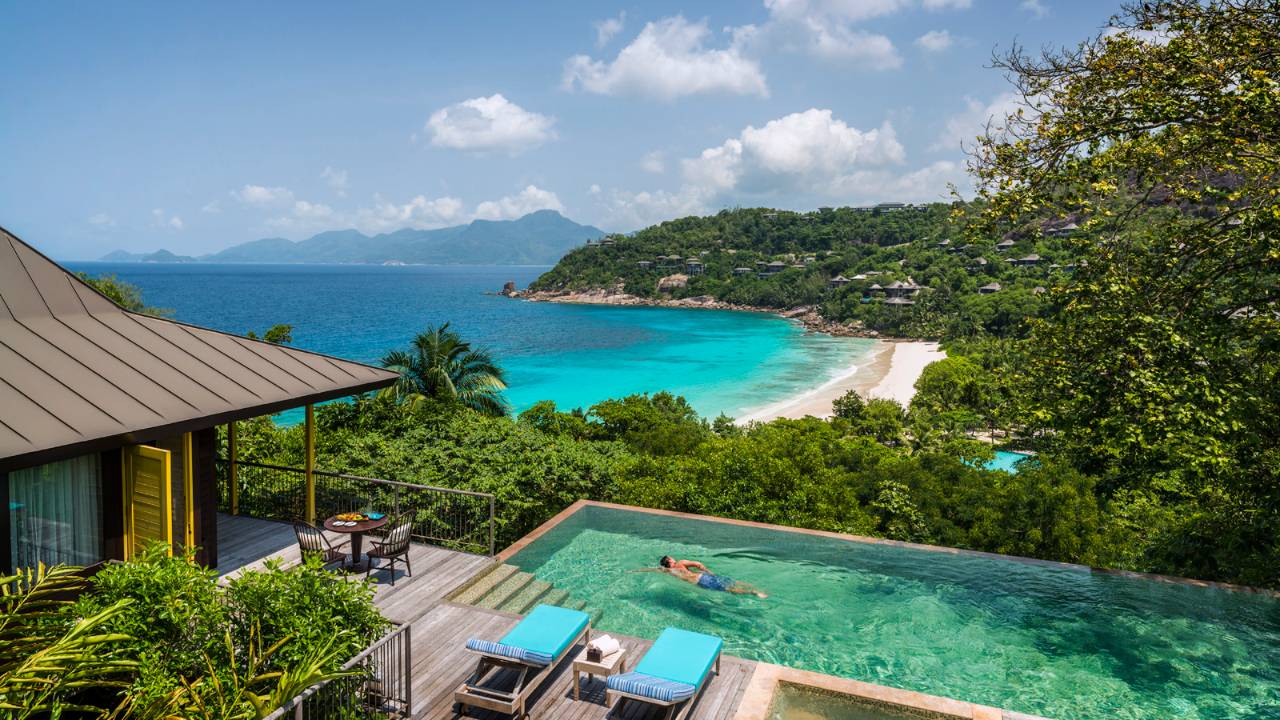 Your luxury villa home, Image Credit: Four Seasons Resorts Seychelles
Must-Dos in Seychelles
Seychelles has some of the best beaches in the world
Go out on a glass-bottomed boat to admire the underwater marine life (without getting your hair wet!)
Venture into La Digue, a town with no more than 2,000 residents
Hop into a helicopter and visit a couple of private islands
Diving and snorkelling are excellent here, with warm water and fantastic weather all year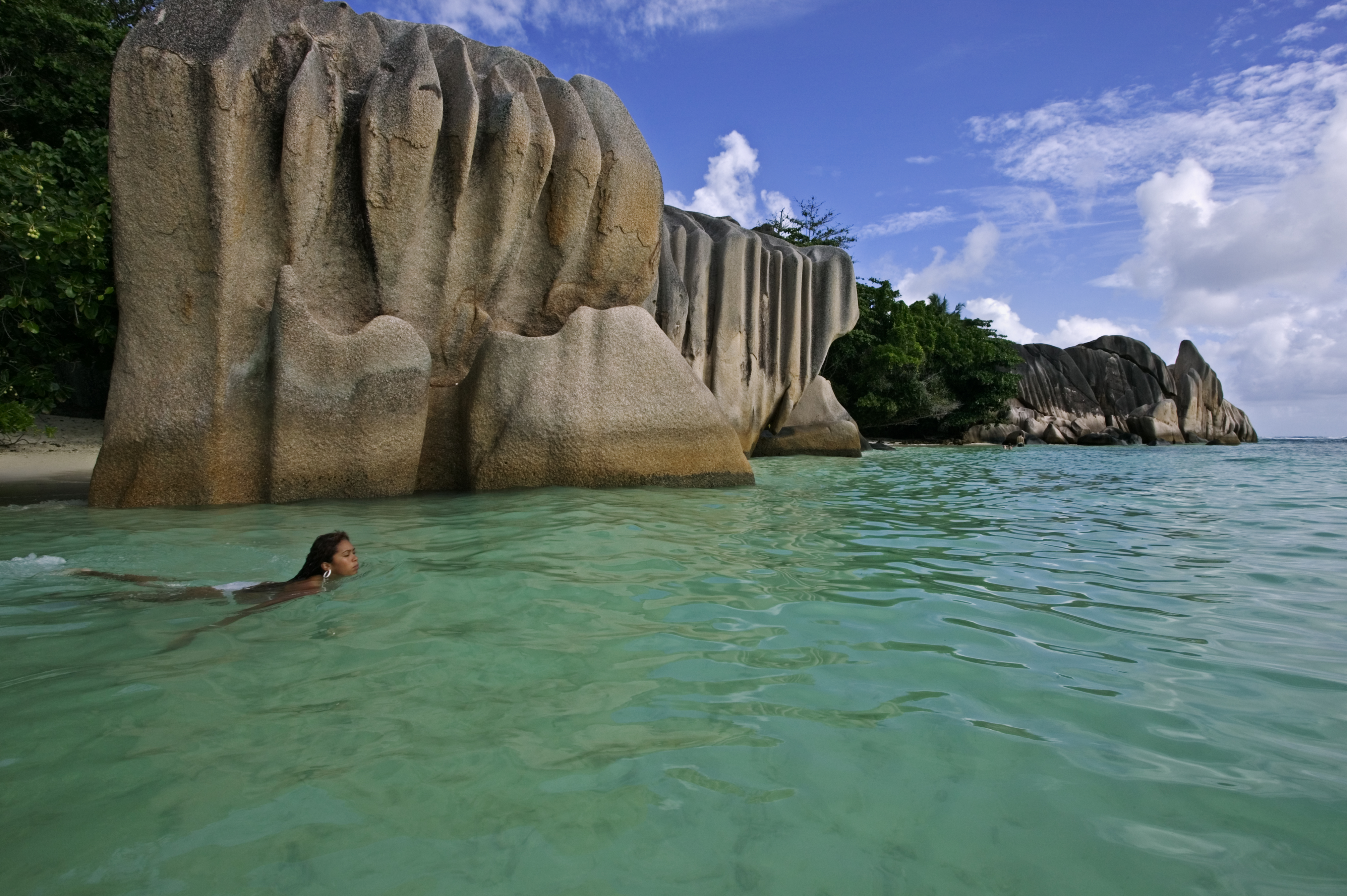 Swim in warm waters in Seychelles
6. Never-Ending Namibia
Namibia is a top-rated destination for gay travellers! We love it because it's so rich in mysterious landscapes and species.
Home to the oldest desert in the world, desert-adapted wildlife, a coastline littered with shipwrecks, safari destinations, and so much more, it promises plenty of adventure for nature, wildlife and culture lovers.
Namibia is very gay-friendly when you book with us, your LGBTQ+ Travel Experts. We know everyone worth knowing to make your experience fabulous!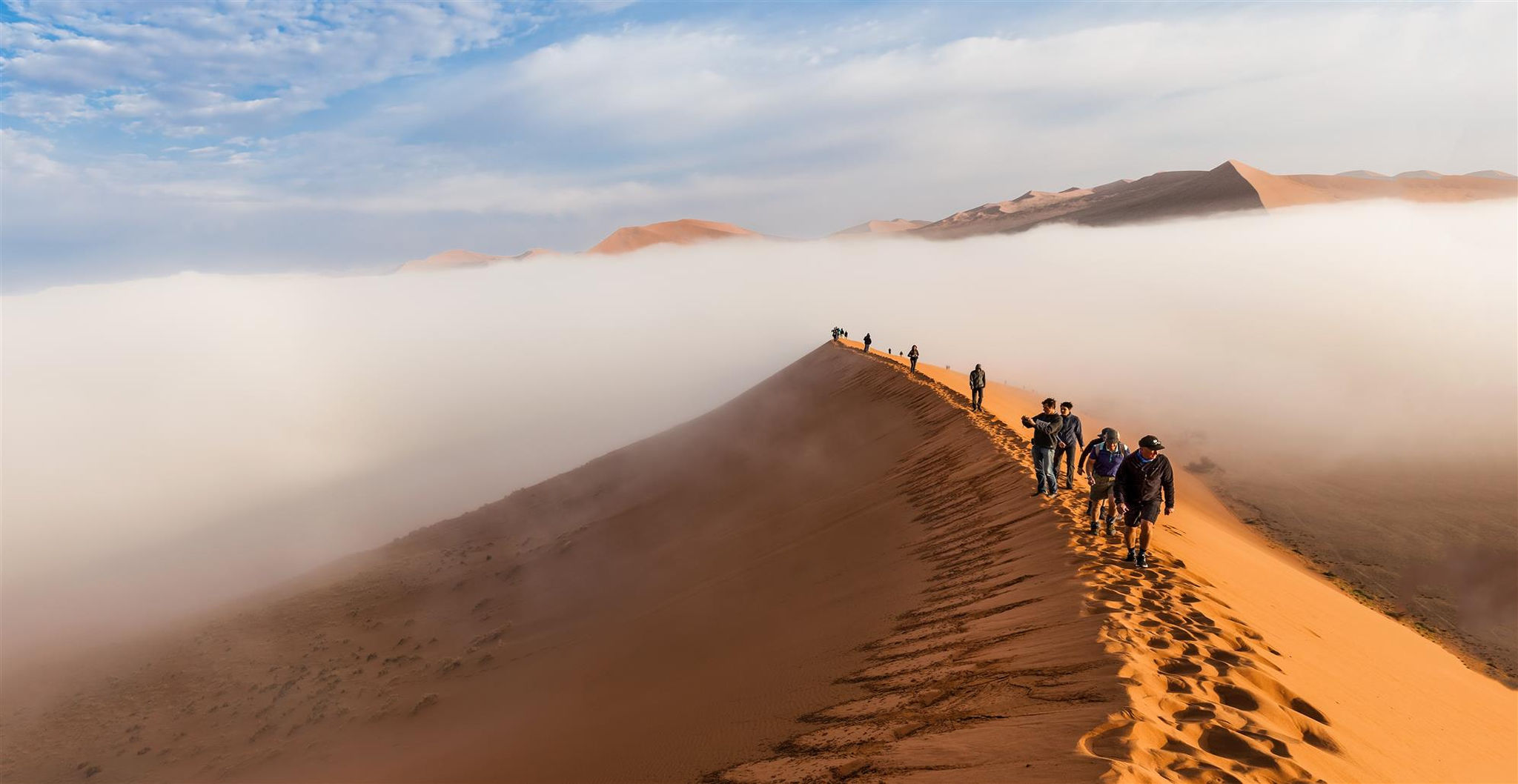 Climb the dunes at sunrise in Sossusvlei
Must-Dos in Namibia
Visit the oldest desert in the world, the Namib, for a hot air balloon ride, quad biking and hiking up the dunes
Go on a safari in the wildlife-rich Etosha National Park
Admire the desert-adapted wildlife in Damaraland
Helicopter ride over Skeleton Coast to see the shipwreck graveyard
Waterberg Plateau cultural tour to learn more about the many local cultures like the Herero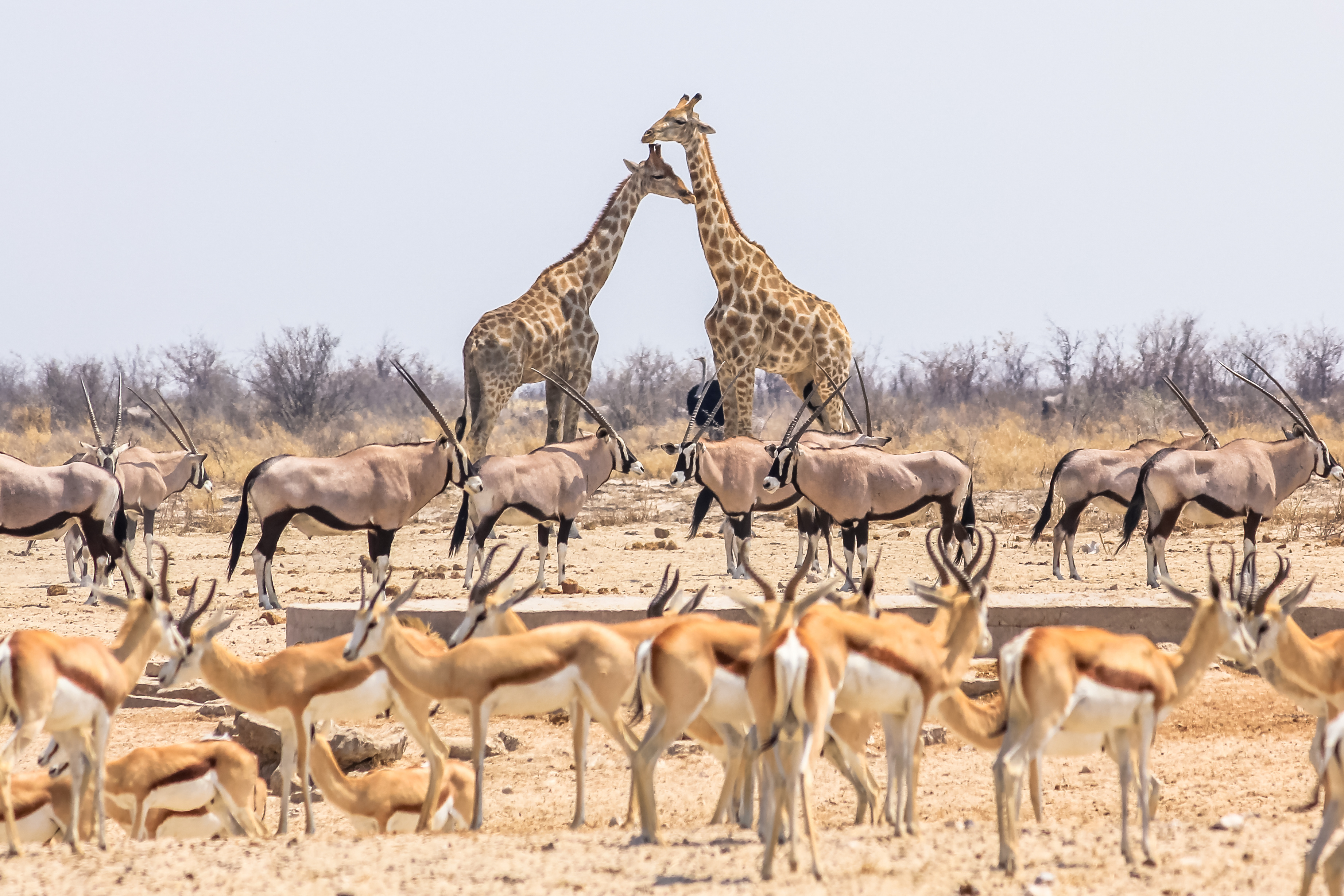 All kinds of wildlife are waiting to meet you in Namibia
7. Charismatic Kenya
Kenya is the classic "Out of Africa" safari destination, and staying at one of the luxury tented camps will make you feel like you've stepped back in time.
With wide-open savannah embellished with flat-topped acacia trees and East Africa's signature sunsets, it's a safari paradise.
We love recommending Kenya to our gay travellers because the country is very geared towards gay-friendly tourism. Although homosexuality is not outlawed here, you can rest assured that if you book with us, your journey will be smooth sailing from start to finish.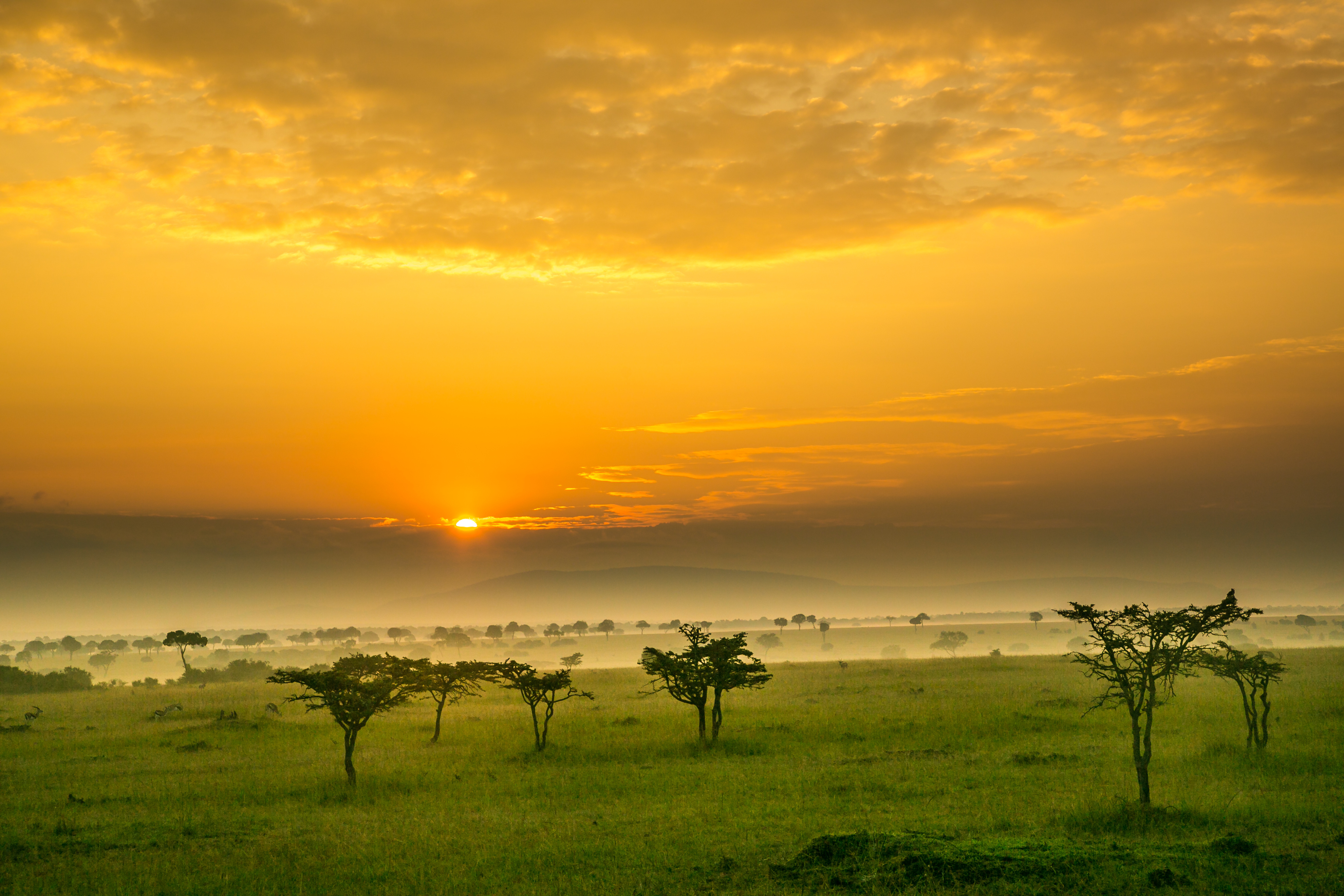 Splendid sunset views over the savannah
Must-Dos in Kenya
Witness the Great Migration in action in the Maasai Mara National Reserve (seasonal)
Go on a hot air balloon safari at sunrise or sunset for a bird's-eye view
Watch the sunset over Lake Victoria, the biggest lake in the African Great Lakes region
Learn more about the local Maasai culture through village visits
Run or go on a walking safari with a Maasai warrior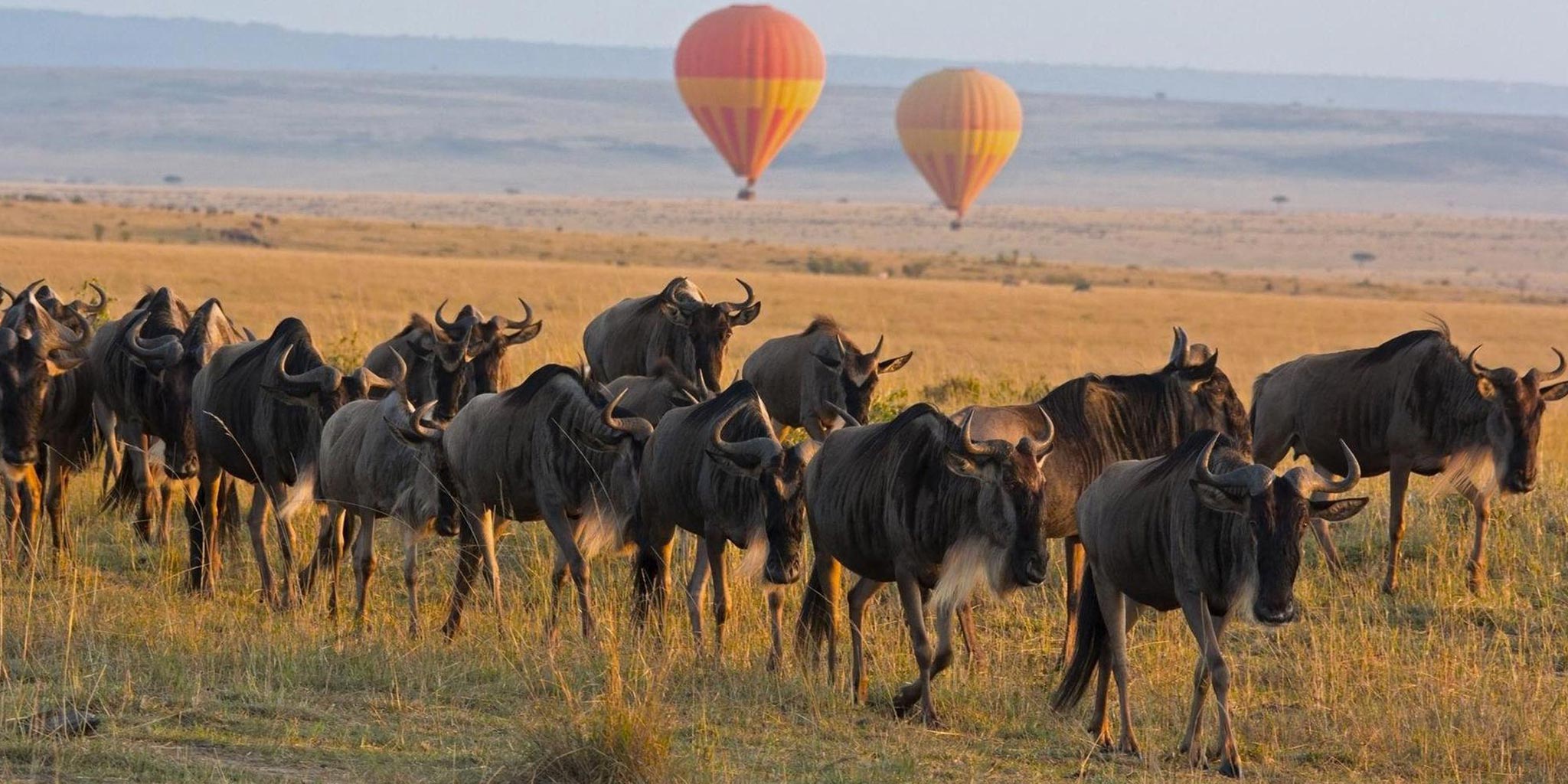 We love going on a hot air balloon safari in Kenya
8. Tranquil Tanzania
Tanzania is another one of the best countries in East Africa for gay travellers. As Kenya's neighbouring country, the annual Great Wildebeest Migration also passes through Tanzania's Serengeti National Park.
With the highest mountain in Africa, Mount Kilimanjaro, the famous Ngorongoro Crater, and Lake Natron that's pink-tinged by endless flamboyance of flamingos, there's so much to admire. Stone Town is another must-visit, where Freddie Mercury was born, and you can explore many architectural and cultural delights.
Although homosexuality is not yet legal in Tanzania, this country has been and still is a thriving tourism hub for many years, welcoming LGBTQ+ tourists.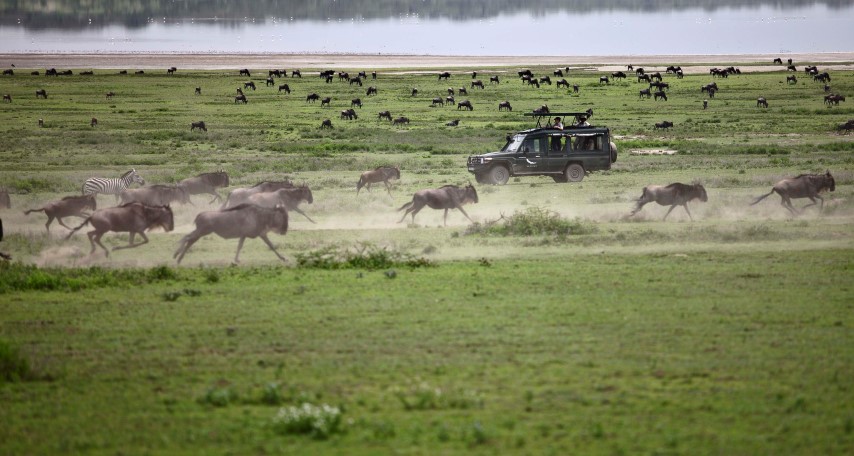 Enjoy a thrilling game drive through the Serengeti National Park
Must-Dos in Tanzania
Go on game drives and hot air balloon rides in the Serengeti National Park
Witness the Great Migration (seasonal)
Safari in the Ngorongoro Crater, the largest and only intact caldera globally filled to the brim with wildlife
Visit the culturally and historically rich Stone Town, a UNESCO World Heritage Site
If you're a serious hiker, take on Mount Kilimanjaro, the highest mountain on the continent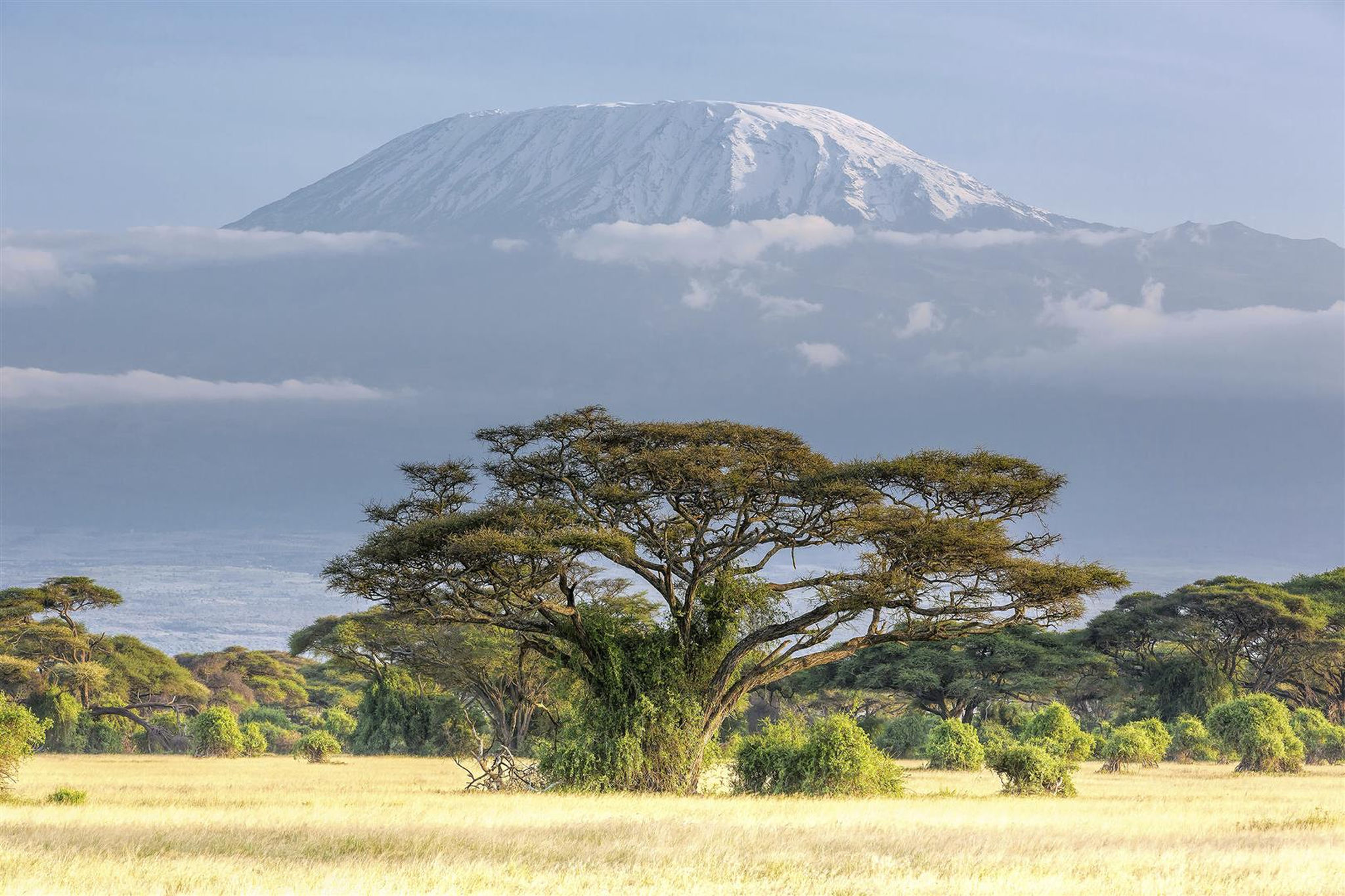 The majestic Mount Kilimanjaro
9. Mesmerising Maldives
Island escape, anyone? Yas, queen! Maldives is one of our favourite Indian Ocean Islands because of its overwater resorts, which means you can jump straight out of bed and into the deep blue sea!
Although you'll be tempted to simply soak up the sun and sip on cocktails, there's plenty to do in the Maldives. Even if you don't usually like swimming, you'll change your mind once you dip your toe into the delightfully warm ocean. Plus, the Maldives offer some of the best diving and snorkelling experiences!
Although homosexuality is not legal according to Maldives' local Islamic law, the tourism areas like the resorts are mostly exempt from these regulations, and you can freely express your love.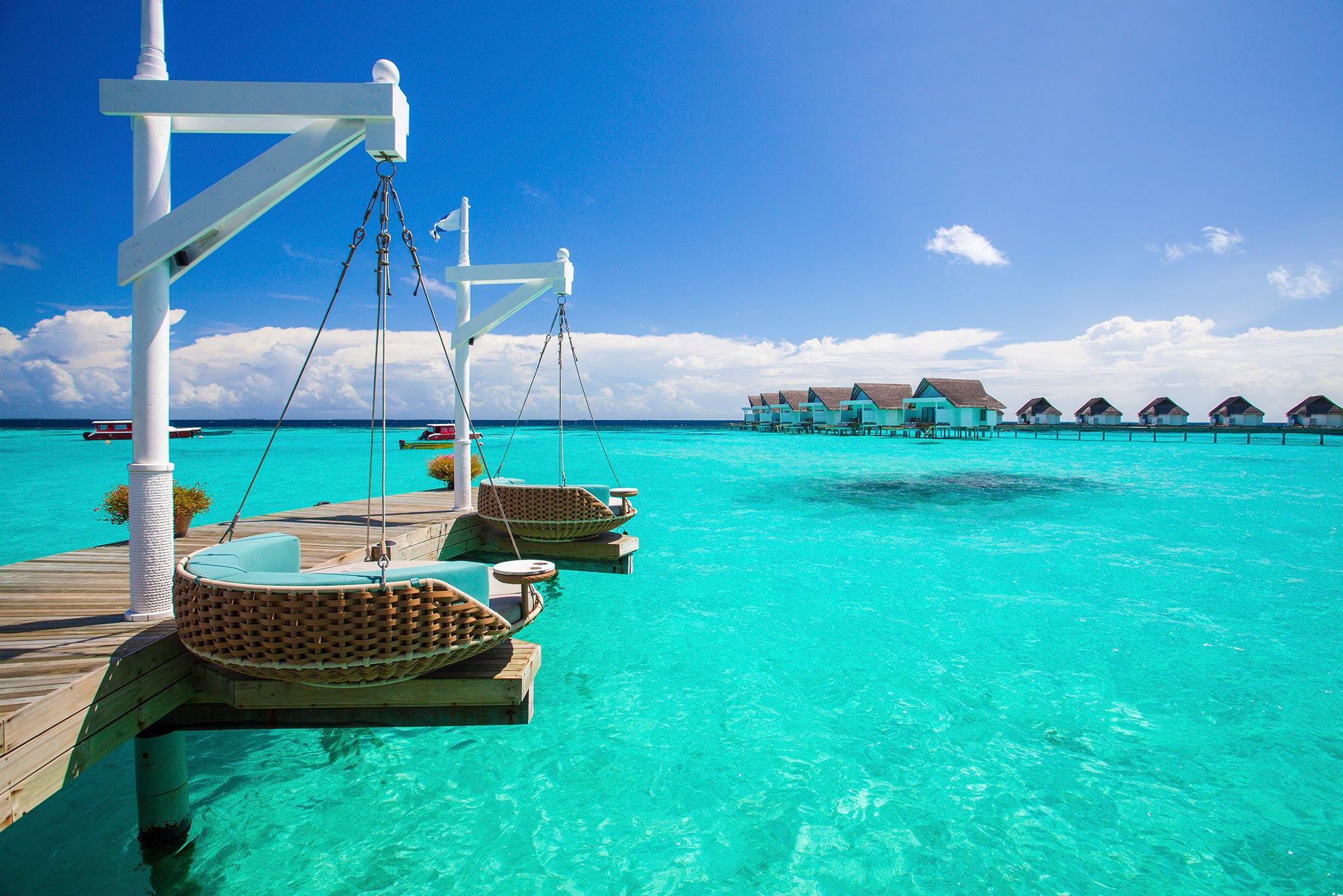 Maldives looks unreal but we promise you it's just as dreamy as it looks!
Must-Dos in The Maldives
Stay in one of the overwater resorts for incredible sunrise, sunset and star-lit night sky views from your bed
Snorkelling and diving to admire the underwater castles and myriad of marine species is a must
Spend a day (or a couple!) on the stunning beaches
Go on a romantic sunset cruise and explore the surrounding islands
Head to the capital city of Malé to explore the history and attractions like the oldest mosque, but keep PDA to a minimum among locals out of respect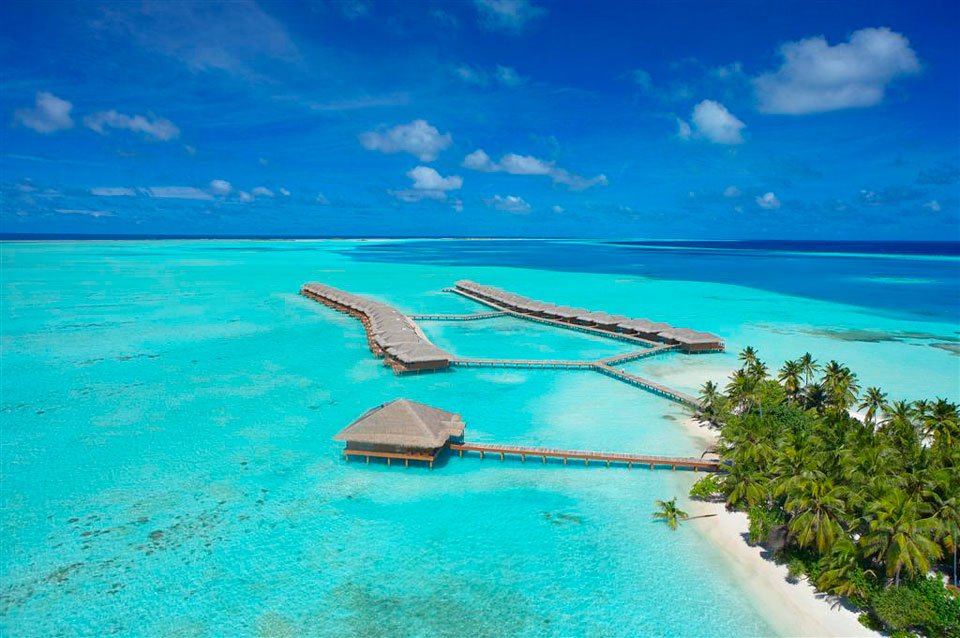 The overwater bungalows
10. Marvellous Mauritius
Mauritius is one of the most romantic best countries in Africa for gay travellers. It's the classic ooh-la-la honeymoon setting, but at the same time, some parts of the island are geared for families too.
This Indian Ocean Island offers the perfect mix of adventurous activities on land and underwater, cultural gems and plenty of nature, like botanical gardens and volcanoes to explore, as well as leisure activities, so there's really something for everyone here.
Unfortunately, homosexuality is not yet fully accepted in Mauritius. However, tourist areas have been very gay-friendly for many years.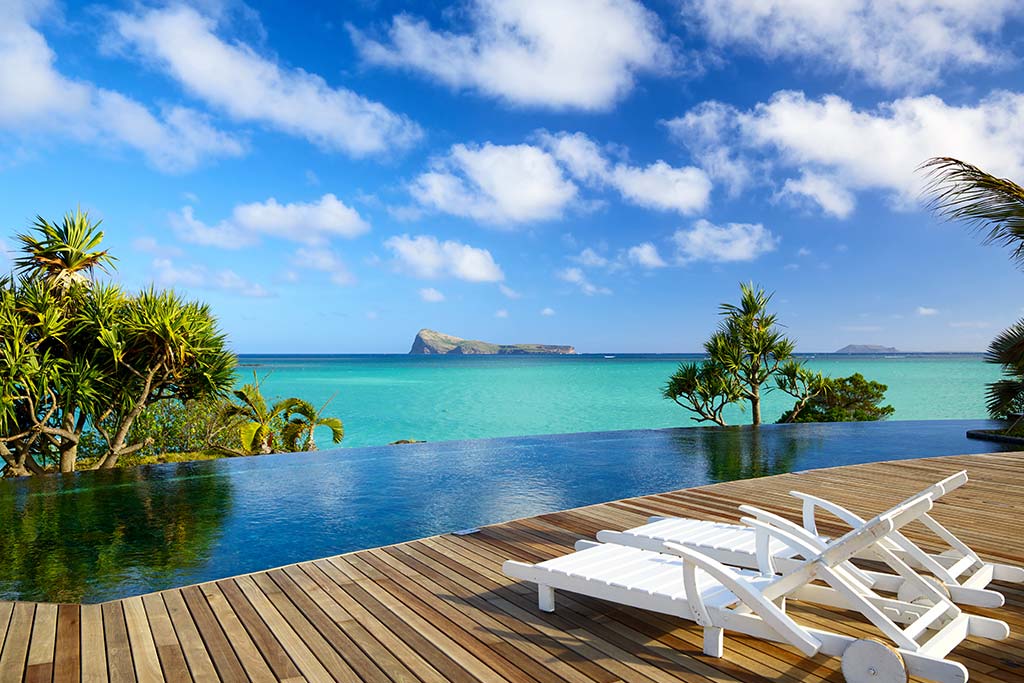 Mauritius is as relaxing as it's adventurous
Must-Dos in Mauritius
Relax on the pristine beaches while reading a book or playing some beach games
Go snorkelling and diving, as it offers some of the very best sites in Africa
Explore the Black River Gorges National Park to admire the forests and waterfalls
Visit the Seven Coloured Earths, a unique geological formation
Quad biking, horseback riding and hiking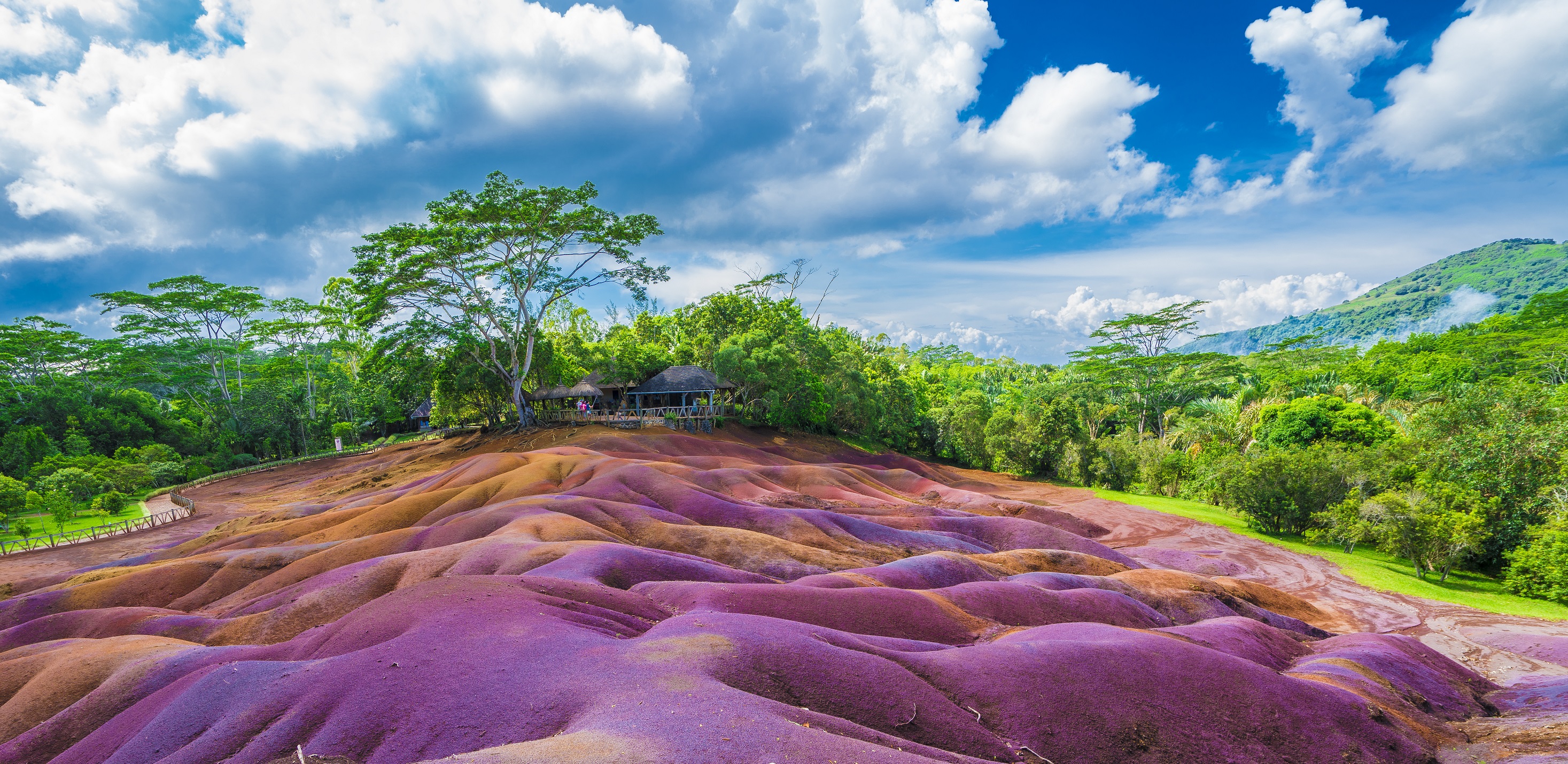 The Seven Coloured Earths
11. Victoria Falls – Zimbabwe/Zambia
Two countries share access to the mighty Victoria Falls, the world's largest sheet of falling water. And whether you visit Zimbabwe or Zambia, you'll love the experience!
We usually recommend you visit Zimbabwe if you want the best view of the Falls, whereas Zambia is exciting for specific activities like swimming in nature's infinity pool at the edge of the Falls, which is definitely not for the faint of heart! Both destinations offer excellent safaris, whether on game drives, bush walks or boat safaris.
Victoria Falls, as a tourist destination, is very welcoming to gay travellers. In fact, it's often referred to as the Gay Adventure Capital of Africa! So, even though Zimbabwe and Zambia's legislation still has to catch up, you can rest assured that the accommodation and activities we book for you will be gay-friendly.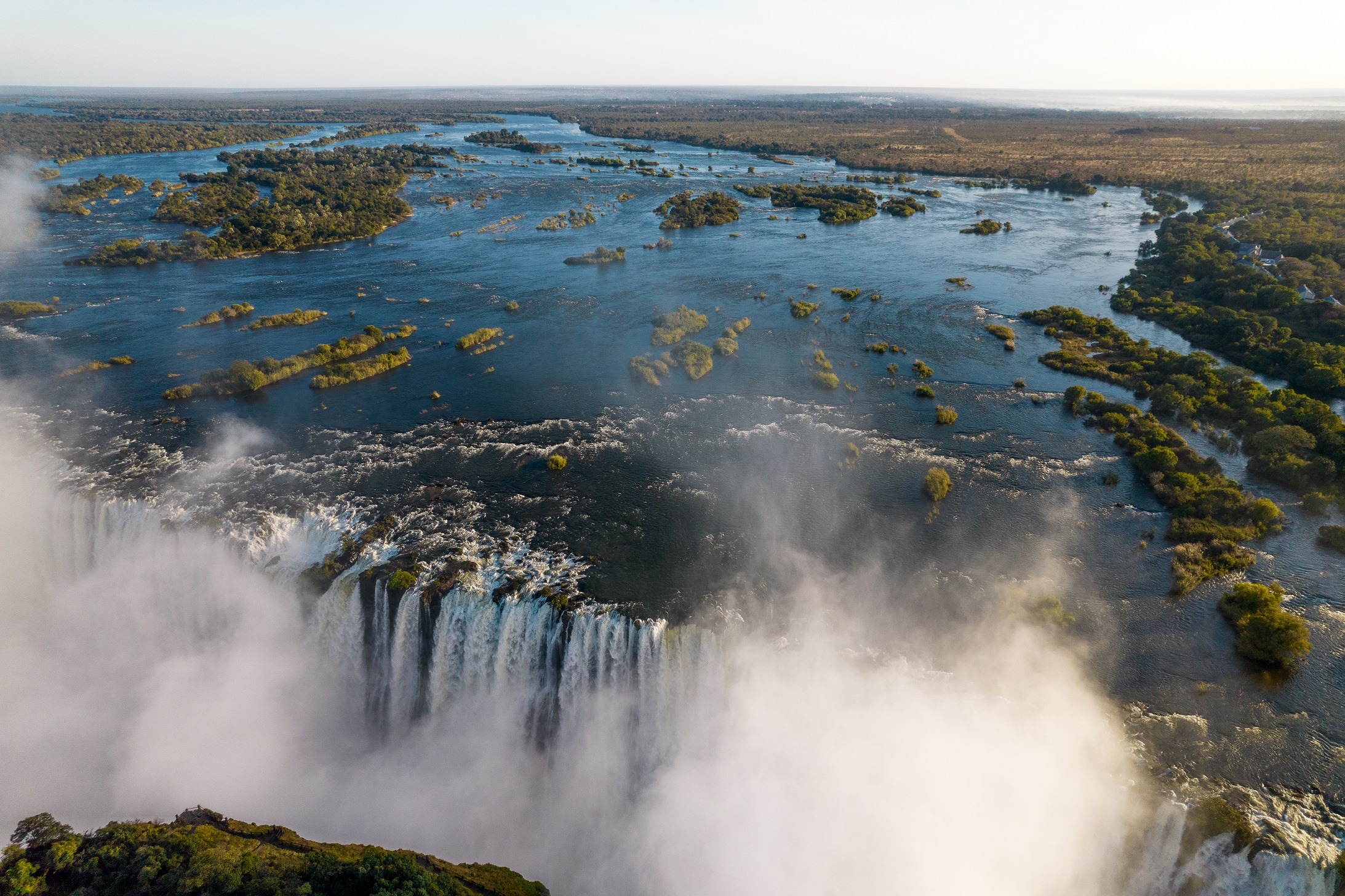 The Smoke that Thunders is a magnificent sight
Must-Dos in Victoria Falls
Helicopter ride to see Victoria Falls from above and visit Victoria Falls National Park's different viewpoints
Go on safari at one of the luxury game lodges, many set on the banks of the Zambezi River
Swim (and take incredible photos) on the edge of the Falls at Devil's Pool (eeek!)
Go gorge-swinging or zip-lining over the Zambezi River
Sunrise or sunset cruise on the Zambezi River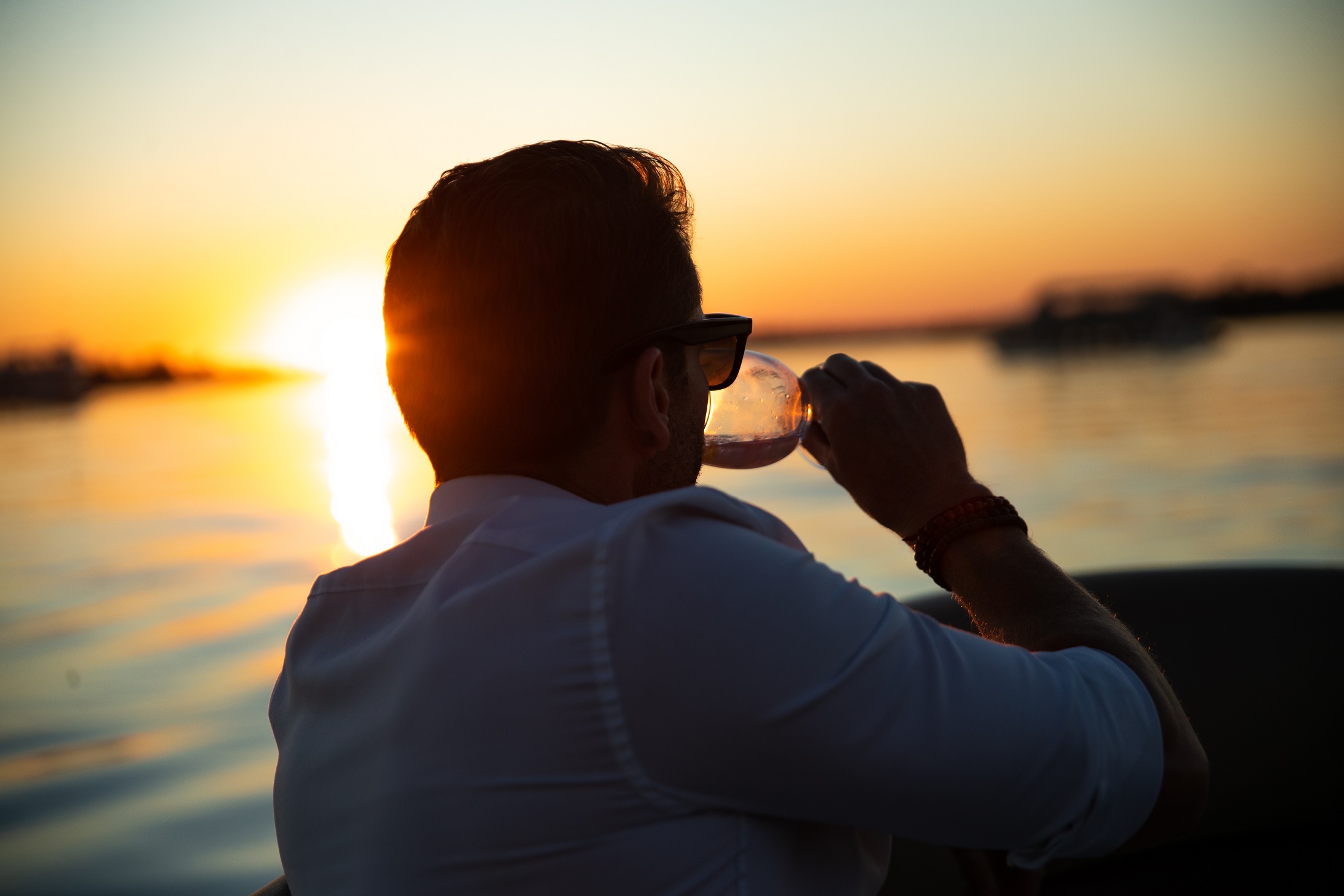 We love sunset cruises on the Zambezi River
12. Magnificent Madagascar
Hello there, mini continent of wonders! Madagascar is one of those secret tricks we have up our sleeves. Not many people know about this dreamy destination – perhaps only from the famous animated film "Madagascar". Well, if you're a fan of the film, you'll be happy to know that you can meet the lemur character King Julien in real life!
Lemurs are cute creatures found only on this island and nowhere else on earth. Watching them go about their adorable adventures is very entertaining! Madagascar is also the largest Indian Ocean Island, with a baffling diversity of things to see and do.
Luckily, Madagascar is very gay-friendly to anyone older than 21 years. When you book with us, we will ensure you have a gay-friendly holiday from the moment you arrive.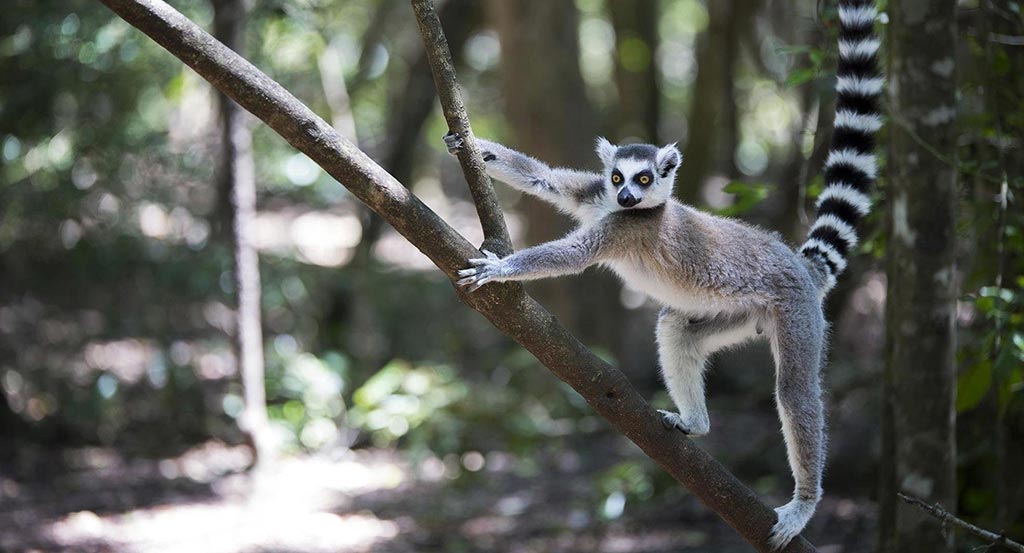 The lemurs in Madagascar are very entertaining to watch
Must-Dos in Madagascar
Witness the unique wildlife at the many national parks
Learn more about the local culture and enjoy fine dining in Antananarivo City
Go scuba diving at Nosy Be, where you can see whales, sharks, dolphins, turtles and manta rays
Hike to see the Tsingy de Bemaraha National Park's prehistoric landscape
Visit the Avenue of Giant Baobabs, a tree often called the "Tree of Life"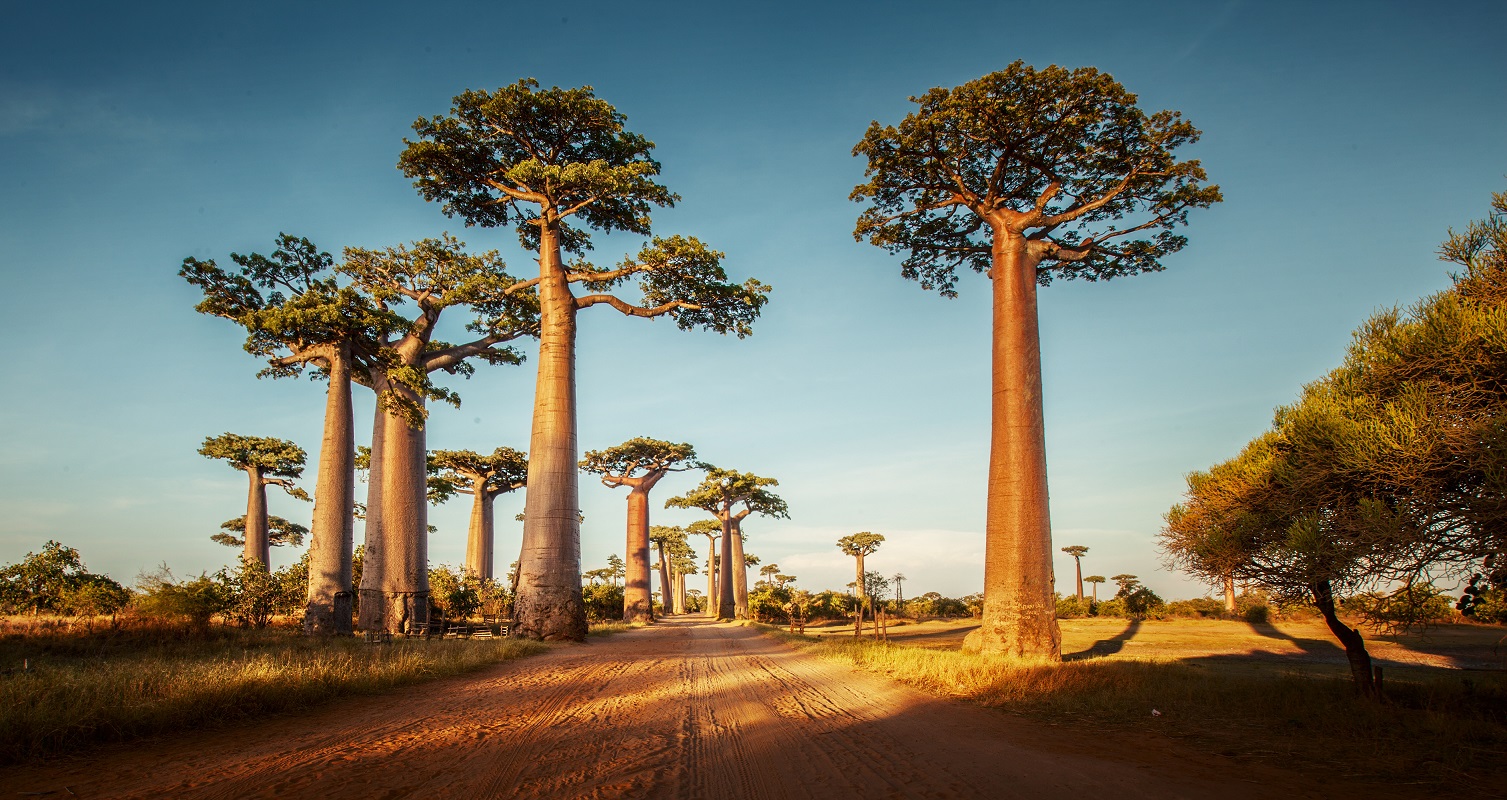 The Avenue of Giant Baobabs*
Visit The Best Countries in Africa for Gay Travellers
Ready to start planning your holiday to one or more of these best countries in Africa for gay travellers? Our African Travel Experts can't wait to get to know you and plan the tailored holiday that will exceed your expectations! Contact us today, and let's start planning!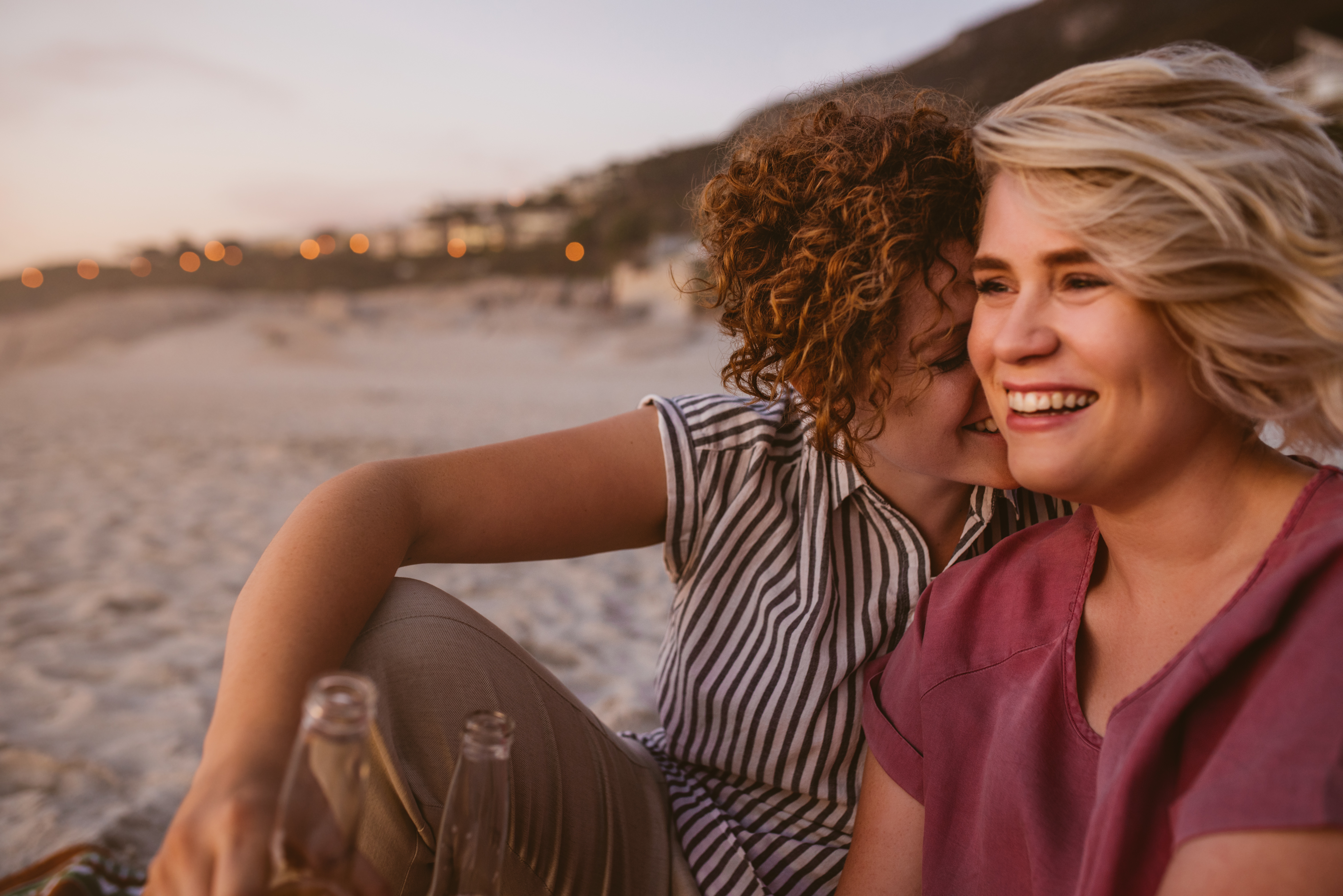 Gay couples can feel safe and welcome in Africa if they travel with Out2Africa